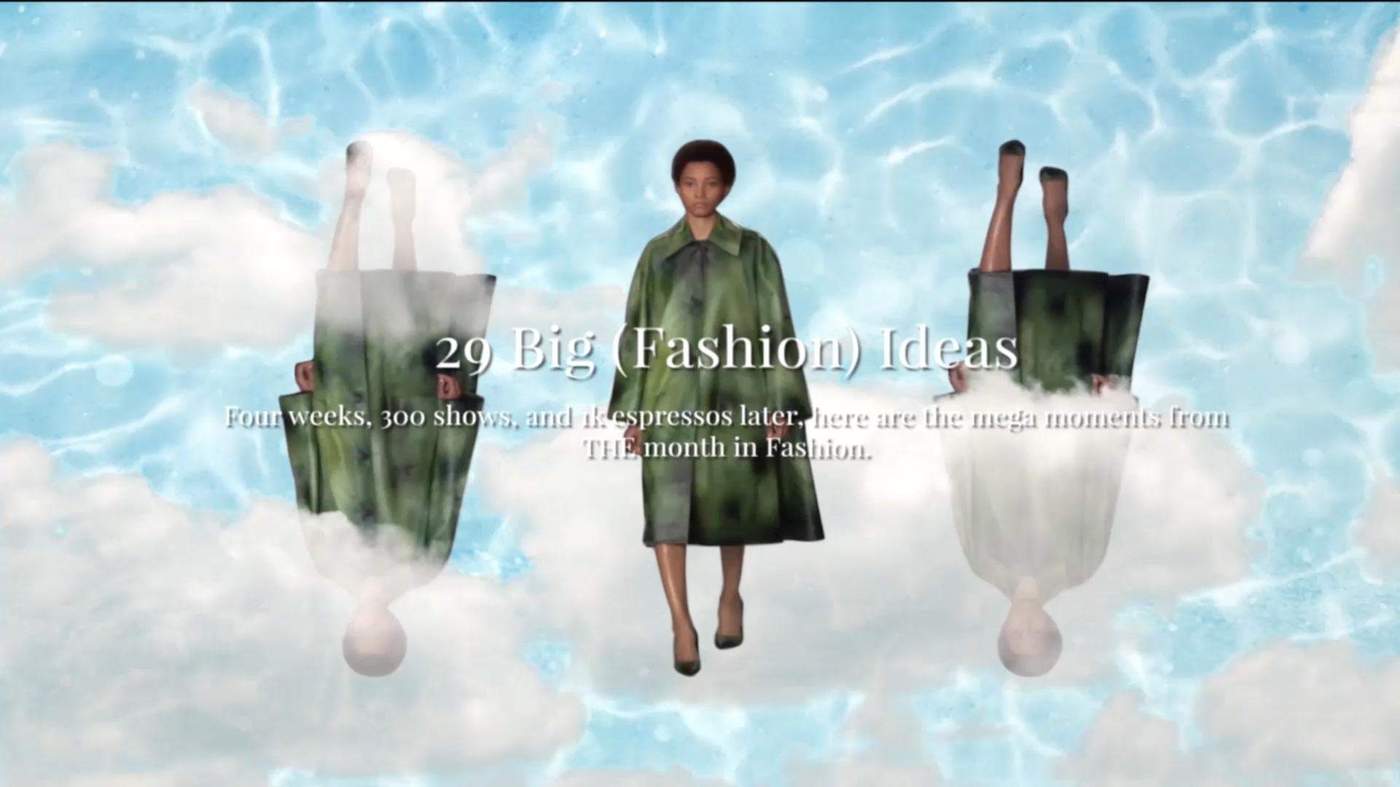 What inspires you? It's one of the most asked questions during Fashion Month, and also one of the least helpful for truly understanding why designers actually create what they create, or — more essentially — why we wear what we wear. For most people, clothes are a product of utility and often anxiety, too; they're what we need to put on in order to move through the world with least resistance. But capital-F Fashion hasn't been designed with "most people" in mind. Fashion Week can oftentimes be a play-world where real-life rules whiz out the window: everyone can afford anything, everyone is the same size, and the biggest concern isn't about safety or survival, but whether a ball-gown is chic enough.
But that veneer has cracked. Though the runways have always reflected the times in some way, 2017 has been an especially oppressive year. Forget inspiration. It's more about what motivates — what wills you to push forward, do better, and make something that propels others out ahead, too. Many of the collections this season didn't just show us the necessarily uplifting fantasies we can always depend on for dream-weaving; instead, designers did it within the contexts of the world we live in, in all its humbling ways.
And frankly, Fashion Month is better for it — because the more it recognizes that fashion needs to have a genuine purpose before it can inspire, the more interesting — and more wantable — the clothes can be. This past season did a pretty good job at addressing our needs while tapping into our wants. And so, with a few weeks to reflect, we're capturing the 29 biggest moments we think are the real inspiration, shaping so much more than just trends.
The Clothes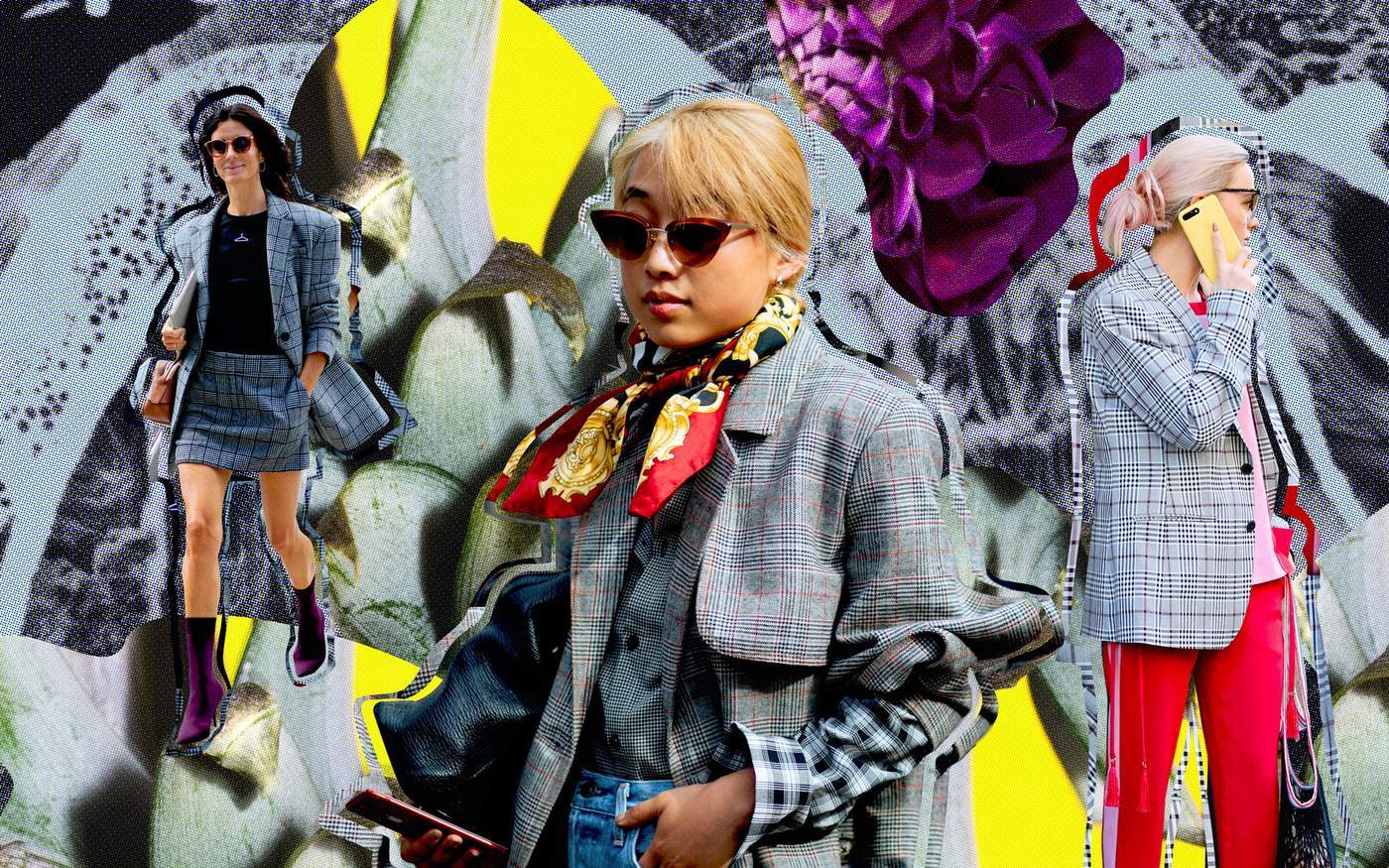 The Infinite Churn of Balenciaga Plaid
It was only a year ago that Balenciaga debuted under Demna Gvesalia's creative direction, and a year since we witnessed the return of the Power Suit. "How do you persuade a woman to wear a two-piece suit who is not the German Chancellor?," he's quoted as saying, and apparently the answer comes in the form of an oversized jacket and matching trousers, both in a stark and stereotypically stuffy gray plaid. Since then, glen plaids, tartans, houndstooths, and tattersalls have all had their place in the sartorial sun, with everyone from Zara to Reformation making their own versions. For those of us who always harbored Working Girl fantasies, this has been a glorious gift — a time to stock up for when the tide turns back to slip dresses or low-rise acid-wash jeans.
Calvin Klein Celebrates Warhol's Most Intense Art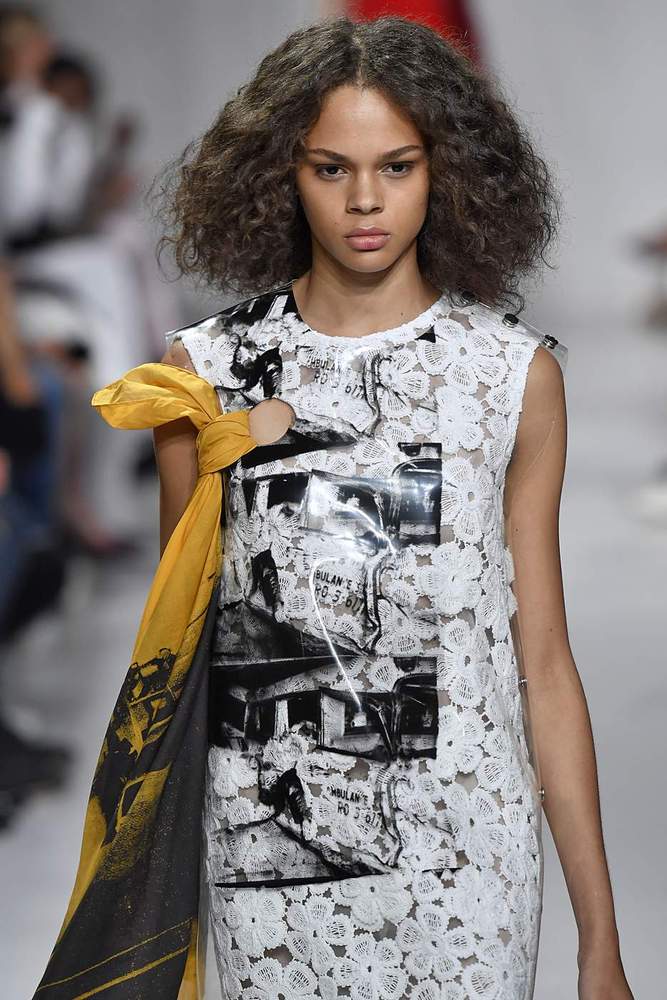 What do you put on graphic T-shirts? Ironic puns. Rock stars. Feminist bon mots. But scenes of death and destruction? Leave it to Raf Simons, whose spring '18 collection for Calvin Kleinborrowed artwork from the Andy Warhol Foundation for the Visual Arts that were far grimmer than rainbow-hued soup cans. There was a solitary electric chair printed onto a mesh top, an overturned ambulance on the bottom half of a sky-blue silk shift, and a screenprint of smiling faces and tins of tuna from a Newsweek report of two Detroit mothers who ate poisoned tuna sandwiches. Paired with pretty skirts, high heels, and strands of tinsel, the effect was both bewitching and disturbing. "Horror is juxtaposed, always, with dreams," the Calvin Klein show notes read. But, "it always becomes beautiful. Good always triumphs."
It's Apparently Time For Fashion's High-School Reunion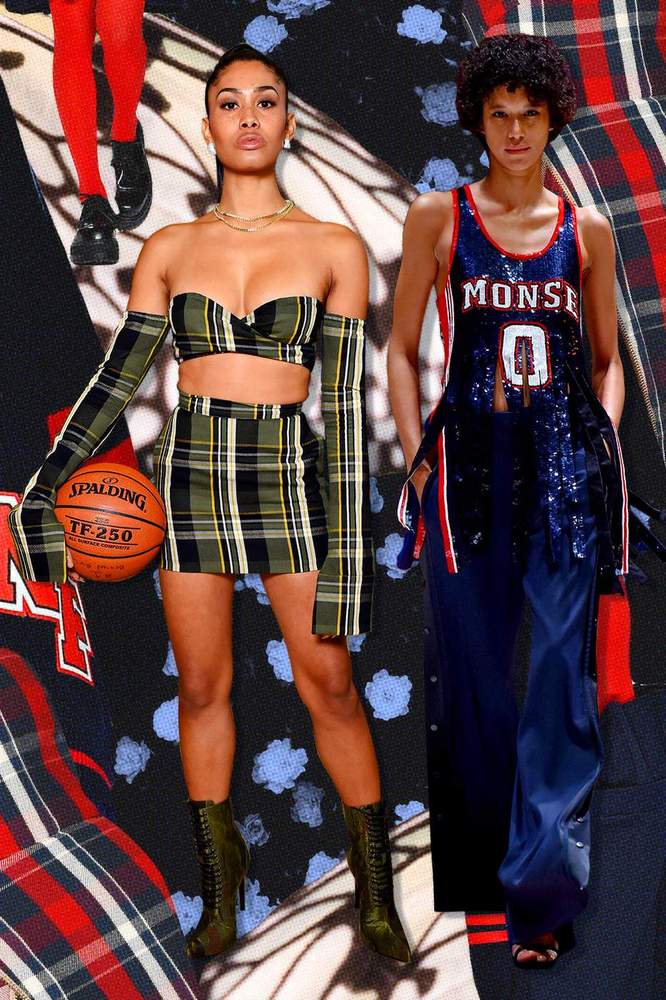 High school is both an exciting and terrifying place; it's a dichotomy that's full of discovery and self-reflection, sort-of like fashion itself. But the simplicity of the idea of way back when — maybe not the kind that exists IRL, but the type Hollywood's perpetuated as the quintessential American experience — emits youthfulness and fun, something that, given the state of the world today, we could all use a little more of. For spring, your classic high school cliques left the classroom and hit the catwalk, though the look is admittedly more Bring It On than The Breakfast Club. The Nicopanda and LaQuan Smith collections felt like navigations through the Mean Girls lunchroom, with jocks, preppies, and punks decked in head-to-toe athleisure. At Calvin Klein, Raf Simons' exploration of the American dream tapped into teenage subculture: On the runway, fringed skirts resembled pom-poms, while the designer's latest collaboration with artist Sterling Ruby saw pep rally-style banners hanging from the rafters. Perhaps the most literal interpretation, though, came from Monse, where designers Fernando Garcia and Laura Kim showed glittered basketball jerseys and remixed varsity sweaters in a logo'ed-out gym. It's all a bit kitsch, yes, but it strikes our need for nostalgia right on the nose — because really, who hasn't wondered what it would be like to be 17 again?
The Ever-Controversial Runway Croc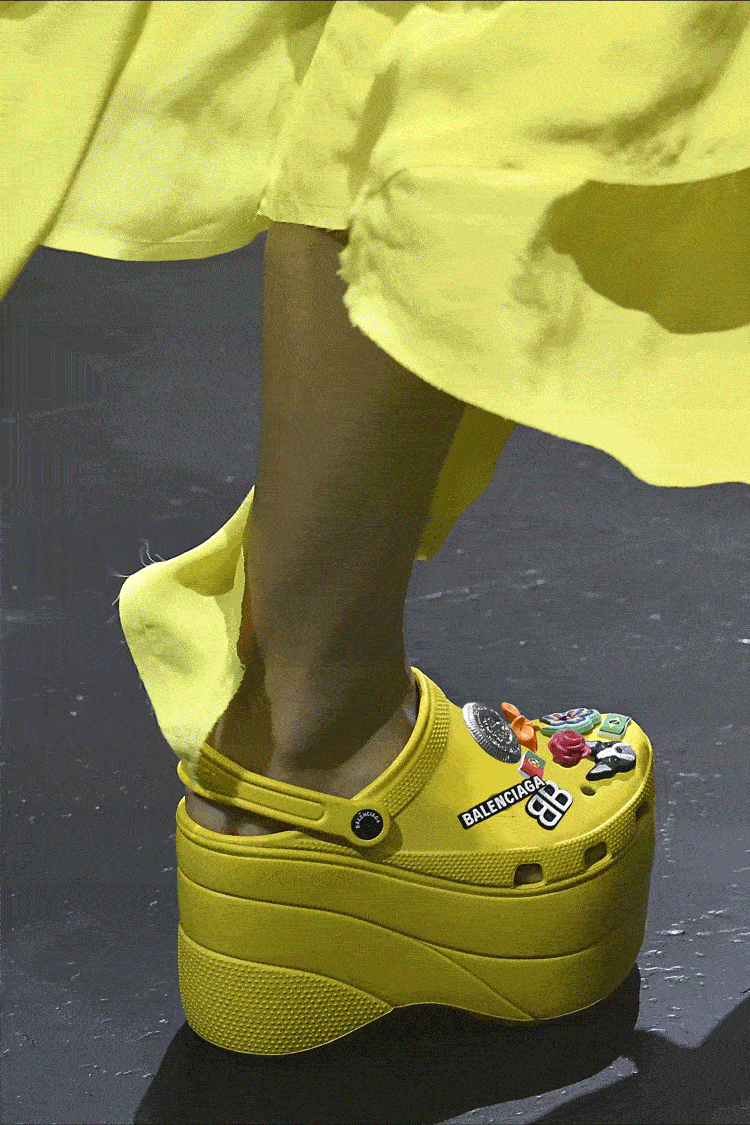 As much as fashion loves to pretend it's all about the newest and edgiest, sometimes, it can also be a bit of old man yells at cloud! You know, decrying the state of "kids today" with their new-fangled technology, and sharing stories about how back in the day things were different (a.k.a. better). But a certain group of designers have embraced the zeitgeist, creating pieces that are absolutely of the now. And nothing (and we mean nothing!) says 2017 like a Croc sent down a Balenciaga runway. Sure, Christopher Kane had already done it last season (and reprised it again for spring), but Demna Gvasalia has officially taken clickbait fashion to the next-level (like, literally — check out that platform). Will people wear it? Of course — it was made for street style! But when we look back at this 50 years from now, will we able to say anything more than we did it for the 'gram?
No One Is Immune From Logomania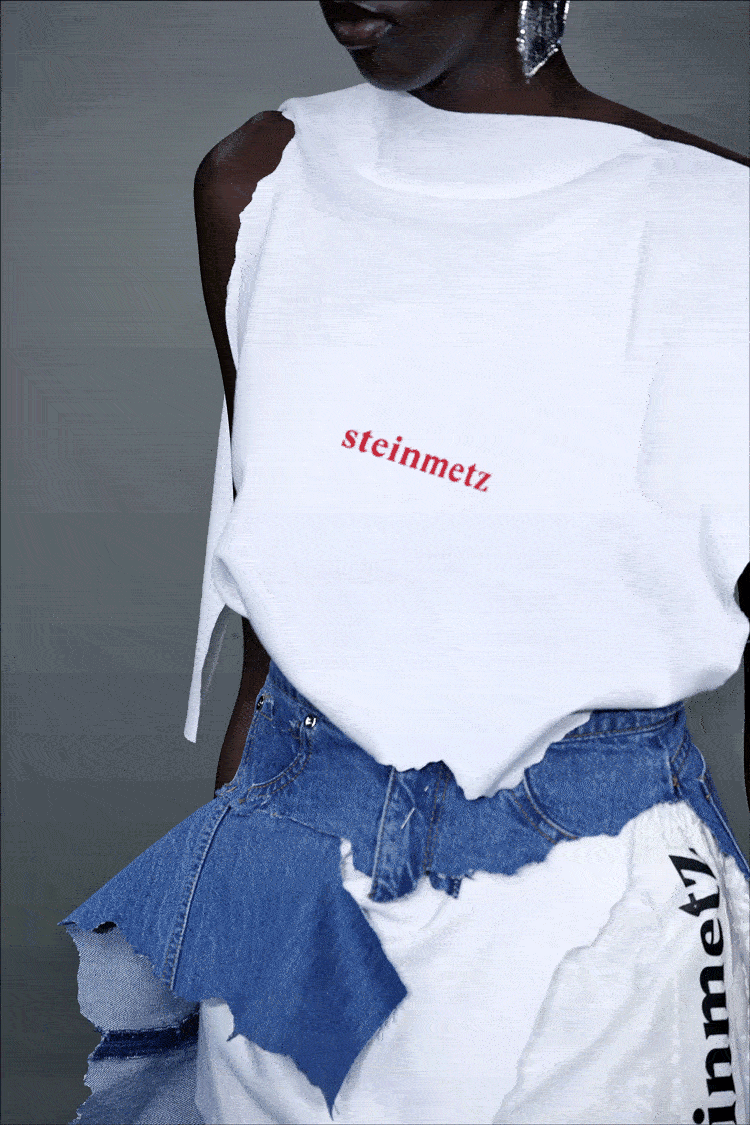 Logomania is back, baby! There's the classic route — a Fendi jacket (as modeled by Kendall Jenner), a pair of Gucci mules — or keep that vintage stuff in the past and try a new interpretation, like up-and-coming British designer Faustine Steinmetz'srepurposing of the Fendi logo. Or, take a less conventional approach and explore a signature via Oscar de la Renta's scribbled-on shirt dresses and long-sleeved tees, or pumps and boots adorned with Roger Vivier's John Hancock. Though not all iterations we saw this season were winners (sorry, Lanvin), we encourage you to wear your designer allegiances on your sleeve. Or your legs. You know, wherever.
Tacky Leopard Print, Amen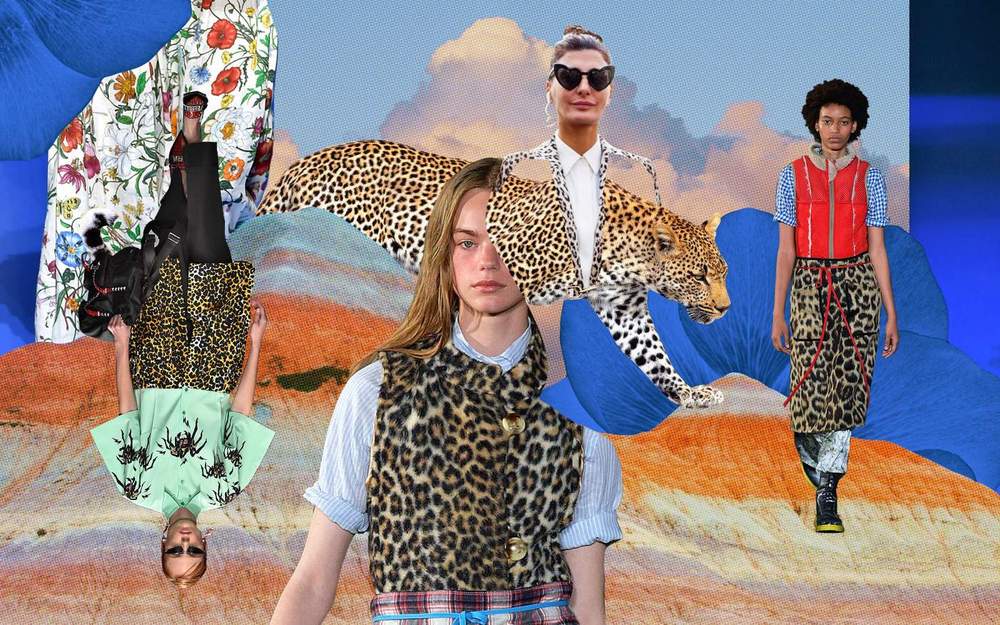 The first rule about leopard print is that not all are created equal: Some spots, tastemakers are sure to warn you, are tacky. Typically two-toned, flat-looking, or more '80s mallrat than '40s MGM star, tacky leopard print has been relegated to the back of thrift shop racks. But this season, tacky started to look awfully appealing. From Saint Laurent to Prada (and on the streets, too), full-blown leopard print — the kind you'd find attached to a strung-out hair-metal band — burrowed its way into our brain. If you decide to go there, throw any preconception of good taste you have out the window. Tacky leopard looks great with lots of stuff, but right now, we like it best with rockabilly shoes, lots of leather, and a good sneer.
The Modest Street Style Trend You Never Thought Would Happen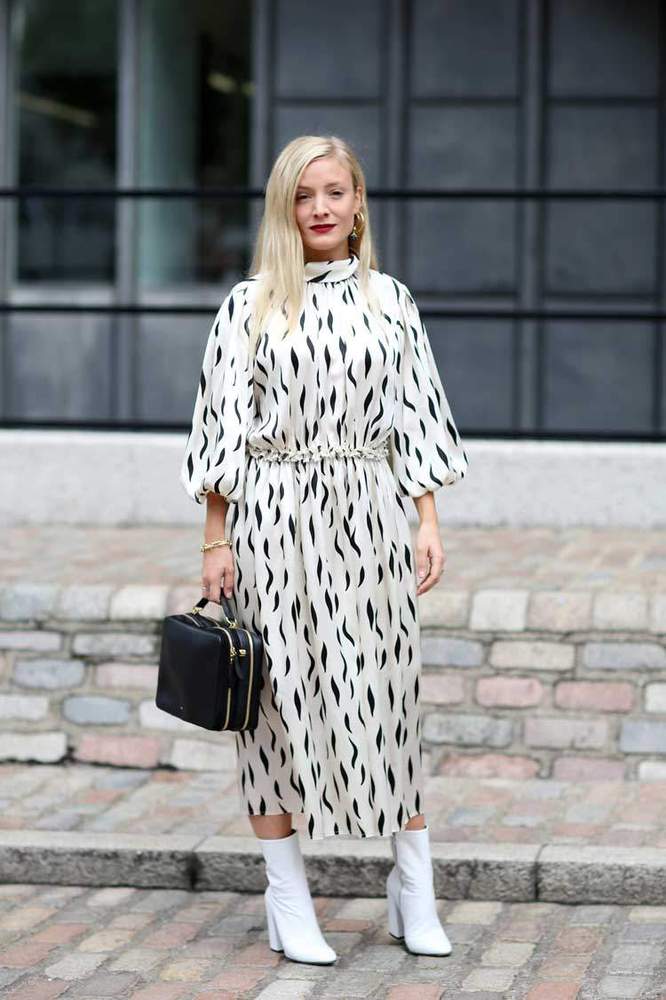 Cults are poised for a comeback — not literally we hope. But with last year's success of Emma Cline's novel The Girls (and it's eventual film adaptation), it seems as though a slew of Fashion Girls were inspired by the look of some cults/religious subcultures (tomato/tomatoe?). How else could we explain the sudden rise of the oversized, long-sleeved, floor-length, cotton dress that became a de-facto uniform outside the shows this season? Part-Little House On The Prairie, part-Source Family, is it only a matter of time before everyone starts wearing Nikes and purple shawls?
Are Designer Dad Sneakers Replacing Heels?
As fashion continues to reach ever more ironic heights, it comes as no surprise that the dad sneaker, you know, those chunky, weirdly proportioned, white sneakers that dads of a certain age are prone to wearing, would suddenly become the height of fashion. It makes sense though, you can't go around wearing an ironic pair of sweatpants, or acid washed high-waist jeans with a sleek pair of Stan Smiths or a pair of Louboutins, you have to commit to the look! As of now Demna is lighting the way with the pairs he designed at Balenciaga, which come with an already worn-in look, but Nicolas Ghesquière (who was formerly at Balenciaga before decamping to Louis Vuitton) went ahead and showed his take for the brand's spring collection. Whichever brand you end up wearing, don't be surprised if a kid stops you on the street and asks What are those?
The Styling Tips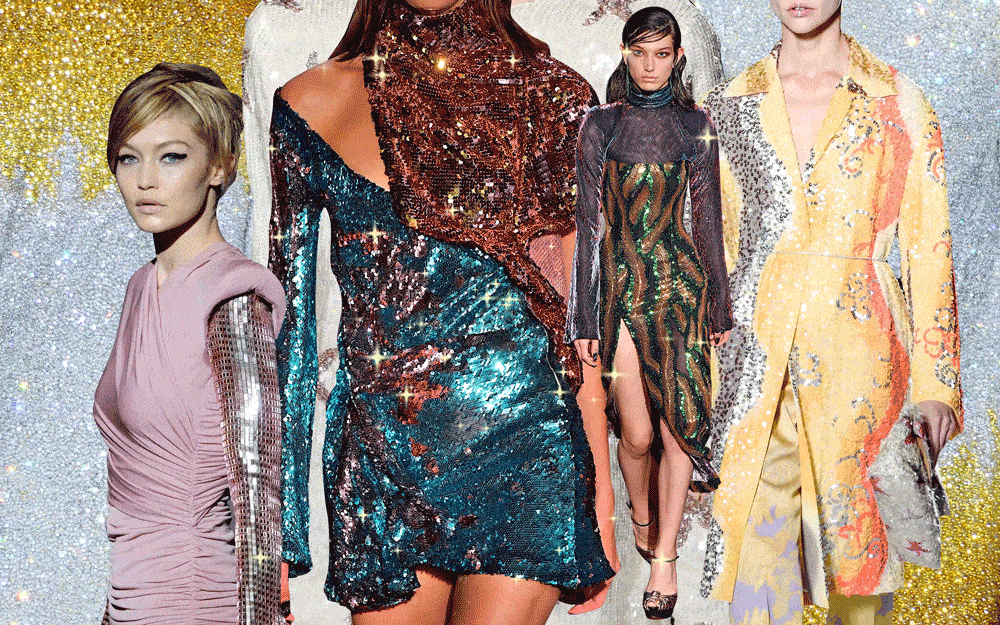 So, Schlepping Is A THING
Millennials are living like forever nomads thanks in part to an addiction to fancy avocado toast that's stealing all our money and preventing us from buying our dream home. At least, that's what the studies say. In any case, for spring, designers imagined a world where we're all constantly schlepping our most-needed (or not so) stuff around: blankets, pillows, the newspaper, or in the case of Rick Owens and Maison Margiela, our whole entire lives. By spring 2018, we may have turned into literal packhorses. What a very cool and casual way to live.
KiraKira+ Ignites A Season Of Super Sparkles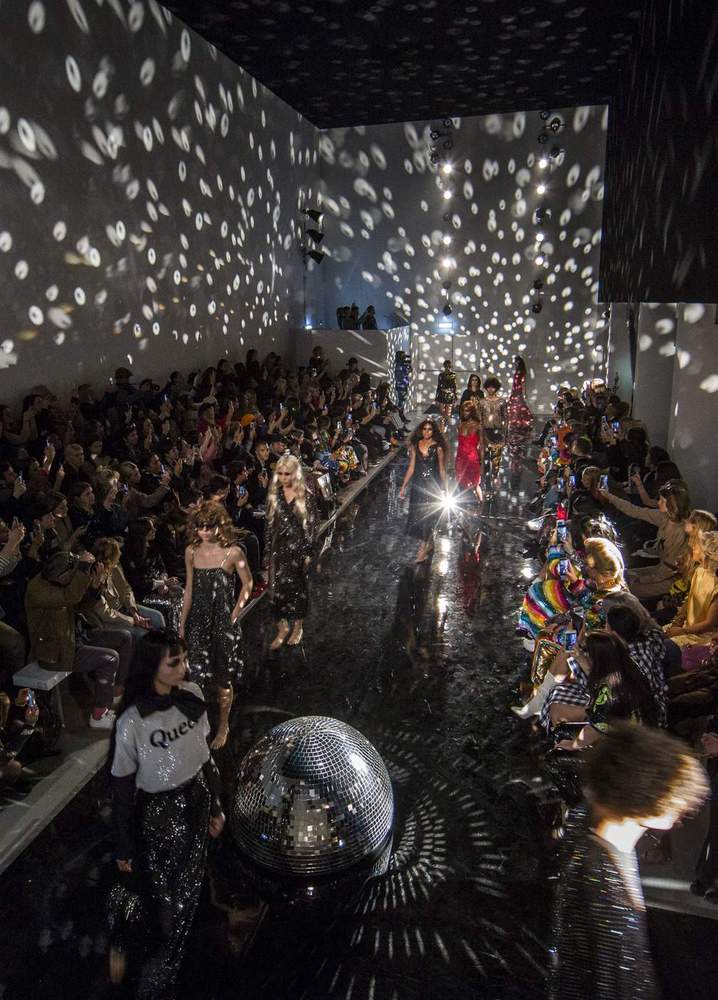 While Fashion Week isn't really known for affordable trends, the most purchased accessory this season was a $0.99 app called Kirakira+. The filter amplifies shimmer and shine, applying cartoon sparkles to anything brighter than a black hole. Trained to the sequin-ladened runways, the spring '18 shows looked like a dream sequence on social media. The chainmail micro-dresses at Paco Rabanne shone like they were made of dragon scales, gowns at Valentino seemed like they were embroidered with sunflares, Michael Kors' tropical prints got a glittery makeover, and photos from the already-sparkly Ashish should have come with sunglasses.
Jackets Move From Your Shoulder To Your Waist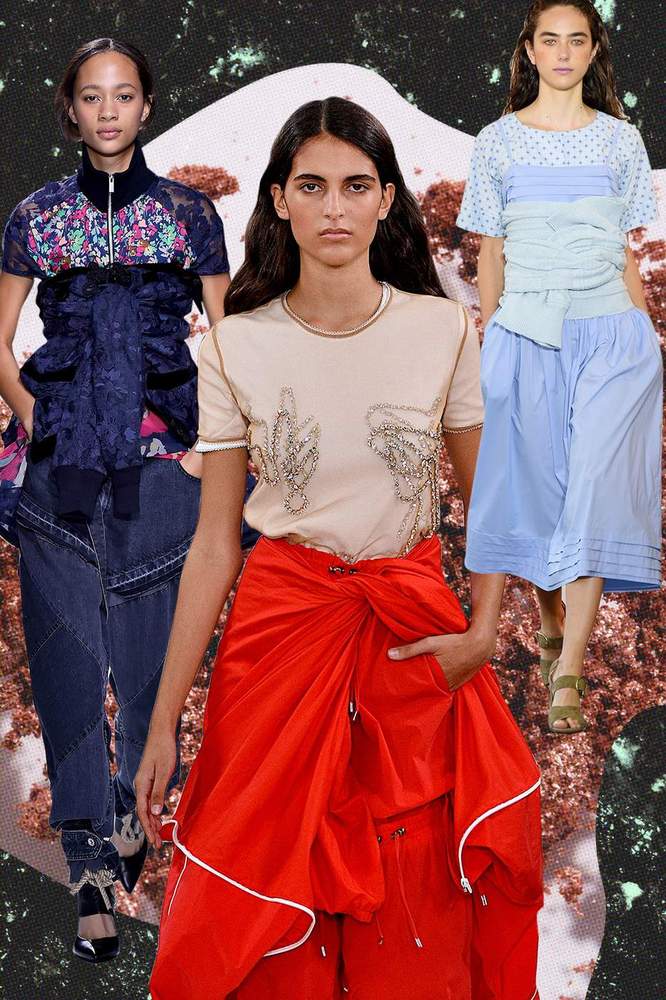 Some people are still arguing that global warming isn't real. Meanwhile, it's mid-fall, and we're still wearing sandals to work. But for those days that start off chilly and end up humid, you're oftentimes stuck carrying a jacket. This season, designers are turning that hassle into a clever styling tip, with brands like Creatures of Comfort, Y/Project, and Sacai transforming jackets and sweaters into fashionable, obi-like torso accessories. If you're really advanced, you'll take this as carte blanche that you can now wear anything on any body part. Socks as a scarf! Skirt as a sleeve! Pants as a hat! The world is your fashionably (off) oyster.
Earrings Grow To Comically Huge Proportions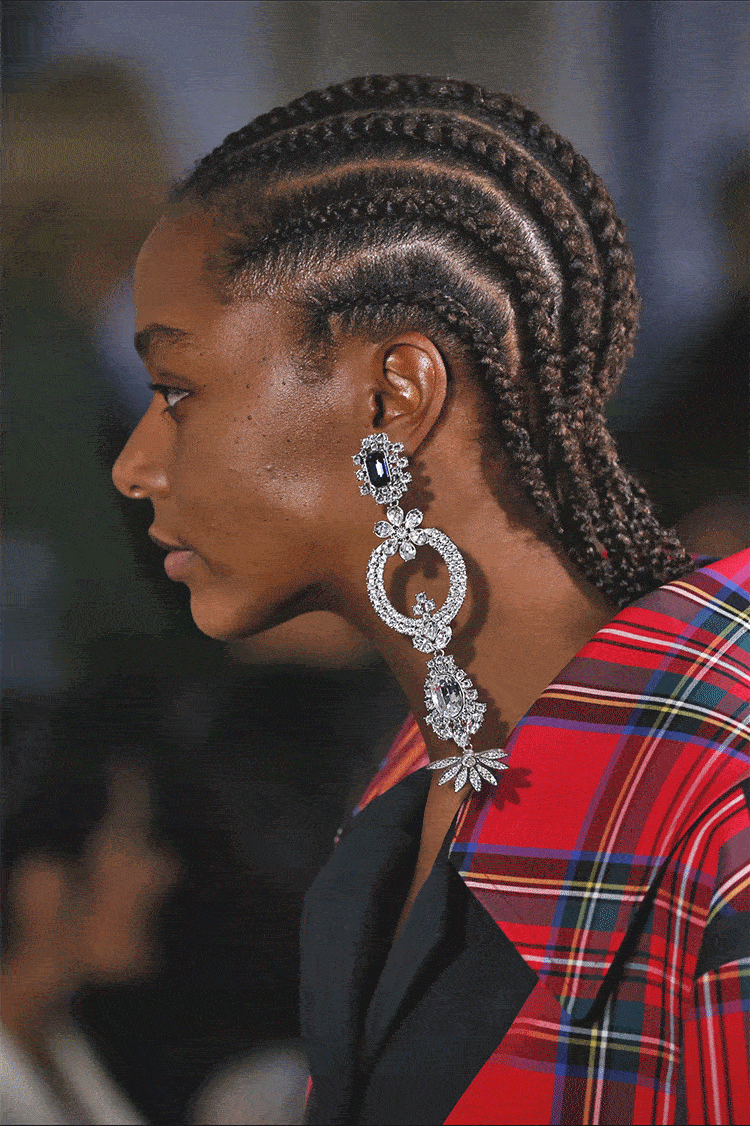 Statement earrings might be the selfie fans' favorite accessory, but judging from the size of the notable ones on the runways, we might need a selfie stick to capture the whole damn thing. There were giant crystal drop earrings the size of an adult man's hand at Burberry, hoops so big at Fenty you could fit Kaia Gerber's head through them, and chandelier earrings at Marc Jacobs so long they nestled into the models' clavicle; on the streets, Céline's rhinestoned reef earrings and Balenciaga's extra-large safety pinreigned supreme. If bigger is better, then these are the best (just make sure you thank your lobes later with some ice).
The Drama Of A Swooshing Hemline
There are few fashion experiences as satisfying as the feeling of a enthusiastic, cooperating hemline. When you move, it moves.When you dip, it dips. Seeing this extra-special swooshing on the runway from designers like Altuzarra, Céline, and Acne Studioswas maybe the most persuasive argument for gawk-now-buy-now we've come across. But until we can swipe, we'll just replay those videos on our phones.
The Buzz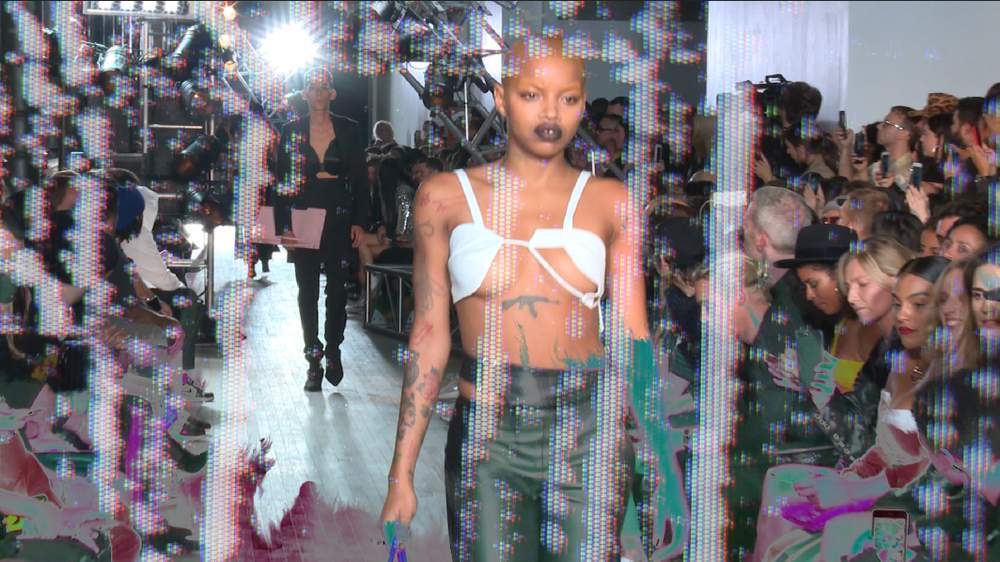 Helmut Lang Rises From The Dead
Helmut Lang may have pulled a Helmut Lang and reissued pieces from its own archive for its fashion week return — this time however, it didn't shred every single piece and turn it into sculptures. What it did instead was stage a comeback of the century — a hot ticket show for its new "designer-in-residence program," kicked off by Hood by Air's Shayne Oliver. Under the direction of 26-year-old "editor-in-residence" Isabella Burley, Helmut Lang is remixing its '90s best for an audience born, well, in the '90s. Beyond the cut-up bra tops that left little to the imagination and longline blazers that sat squarely on the shoulders, there was also a collaboration with Pornhub, and a wonderfully unconventional cast of models that included 46-year-old Kirsten Owens and transgender nightlife legend Sophia Lamar. The original Cool Kid is back, and it doesn't even have a creative director. Take that, industry critics.
Gianni's Girls Reunite To Celebrate The Man Who Created The "Supermodel"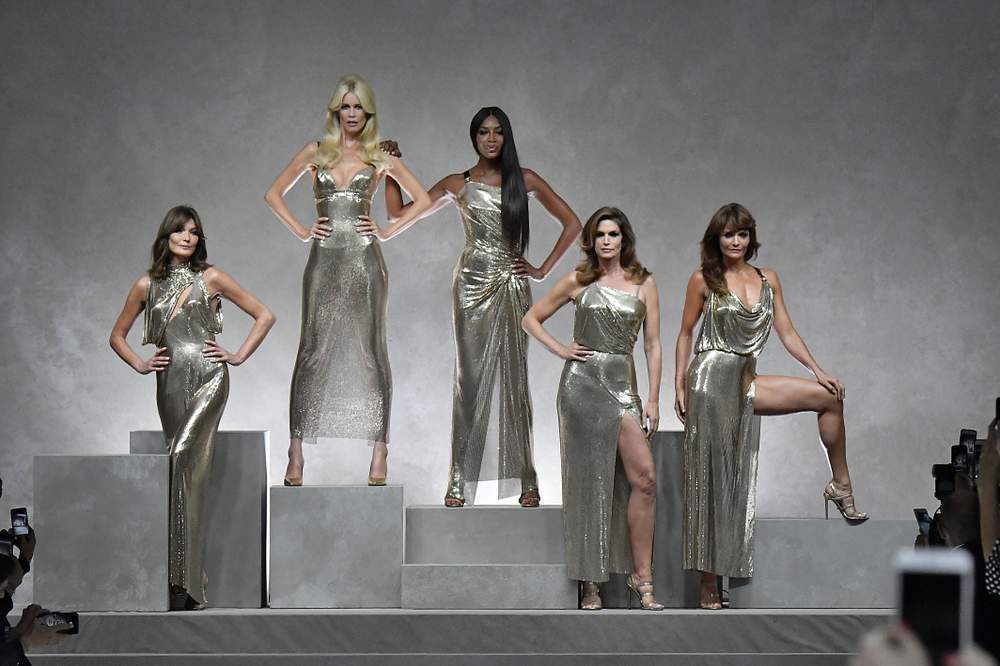 You might think that Bella Hadid is the only model in the world, but there's something to be said for those who came up in the pre-Instagram age. Sure, she and sister Gigi, Kendall Jenner, and now, Kaia Gerber, have become the millennial version of models known by their first names, but a not-so-low-key reunion of some of the original supes — Naomi Campbell, Cindy Crawford, Claudia Schiffer, Carla Bruni, and Helena Christensen — at Versace's spring 2018 show wasn't just nostalgic — it was a reminder of just how instrumental the brand has been in defining what the word "model" means today. And this moment — a collection of remixed archival hits, a recreation of the iconic fall/winter 1991 finale to the tune of George Michael's "Freedom" — honored the 20th anniversary of Versace's death in a way that emphasized the brand's power in reflecting on the past while predicting what's to come.
The Unpaid Labor Of Street Style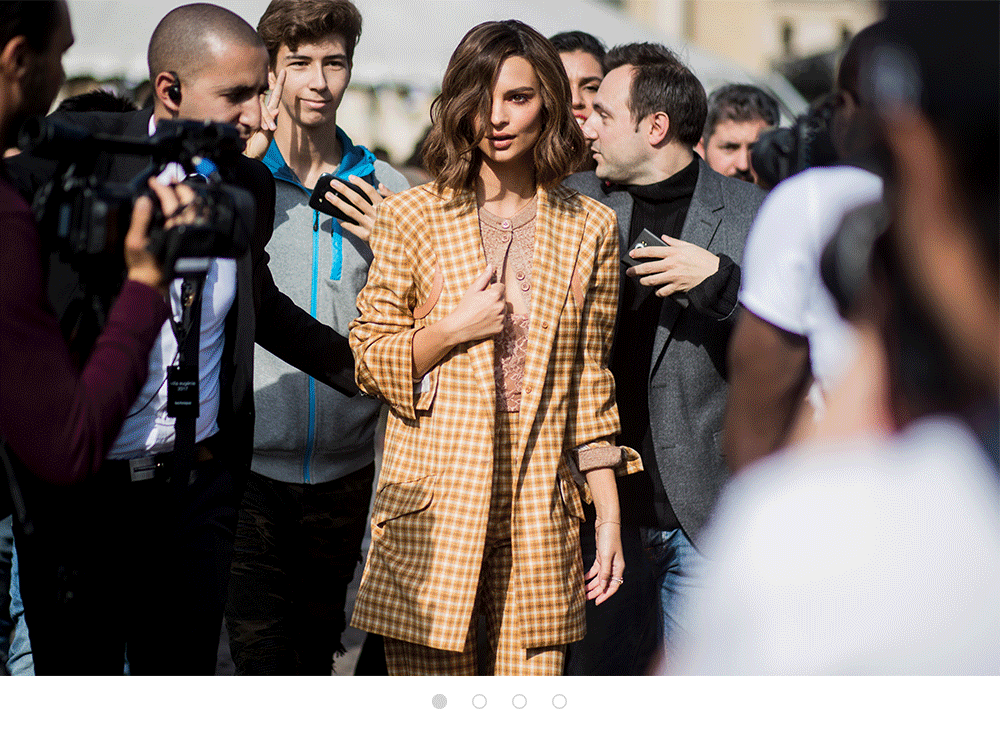 Bloggers versus editors. Paris versus New York. Fashion is full of opposing teams, but the latest fracas to bubble out of Fashion Month pitted those in front of the lens against those behind it. To protest influencers' use of taking copyright-protected photos to fulfill advertising obligations without paying for them, photographers like Le21eme's Adam Katz Sinding, Before Sunrise's Yu Yang, and The Style Stalker's Szymon Brzóska are tagging offending Instagram posts with the hashtag #NoFreePhotos. But it's not just photographers who feel like they have to work during Fashion Week for free. Influencers, too, need to court designers, brands, and PR firms through mostly unpaid partnerships. For a medium that looks as glamorous and easy-breezy as street style, the widespread culture of unpaid labor may have reached a tipping point where people have decided that the circus maybe isn't worth the effort anymore.
Paris' "Big" Debuts Have Us All Wondering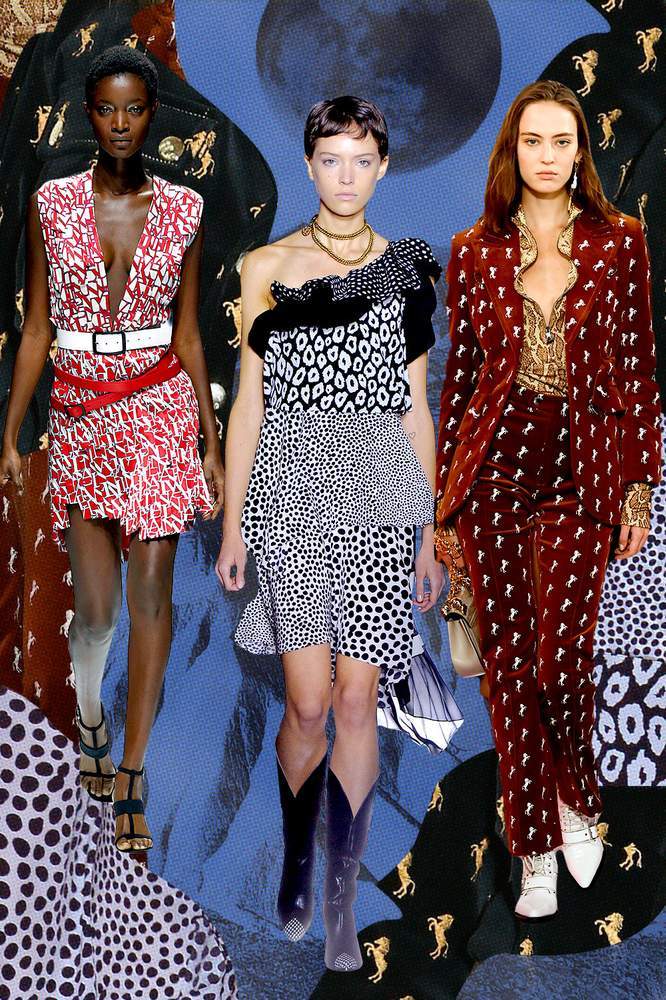 Olivier Lapidus at Lanvin, Natacha Ramsay-Levi at Chloé, Clare Waight-Keller at Givenchy. It was the trifecta of anticipated debuts at Paris Fashion Week — and, unsurprisingly, none of them quite added up to the hype. If the industry has learned anything over the past few years, it's that pressure can stifle creativity. (See: Bouchra Jarrar's less-than-one-year stint at Lanvin, or Peter Dundas leaving Roberto Cavalli after just three seasons). In November 2015, Raf Simons said he left his post at Dior because of the increasing pace, and how it hinders the ability to produce innovative products: "When you do six shows a year, there's not enough time for the whole process," he told System magazine. "...You have no incubation time for ideas, and incubation time is very important." Maybe now's the time to finally confront those concerns — and actually implement some tangible change. Because fashion's most interesting creative directors deserve better, and frankly, so do we.
Cardi B Is Fashion's Newest Frower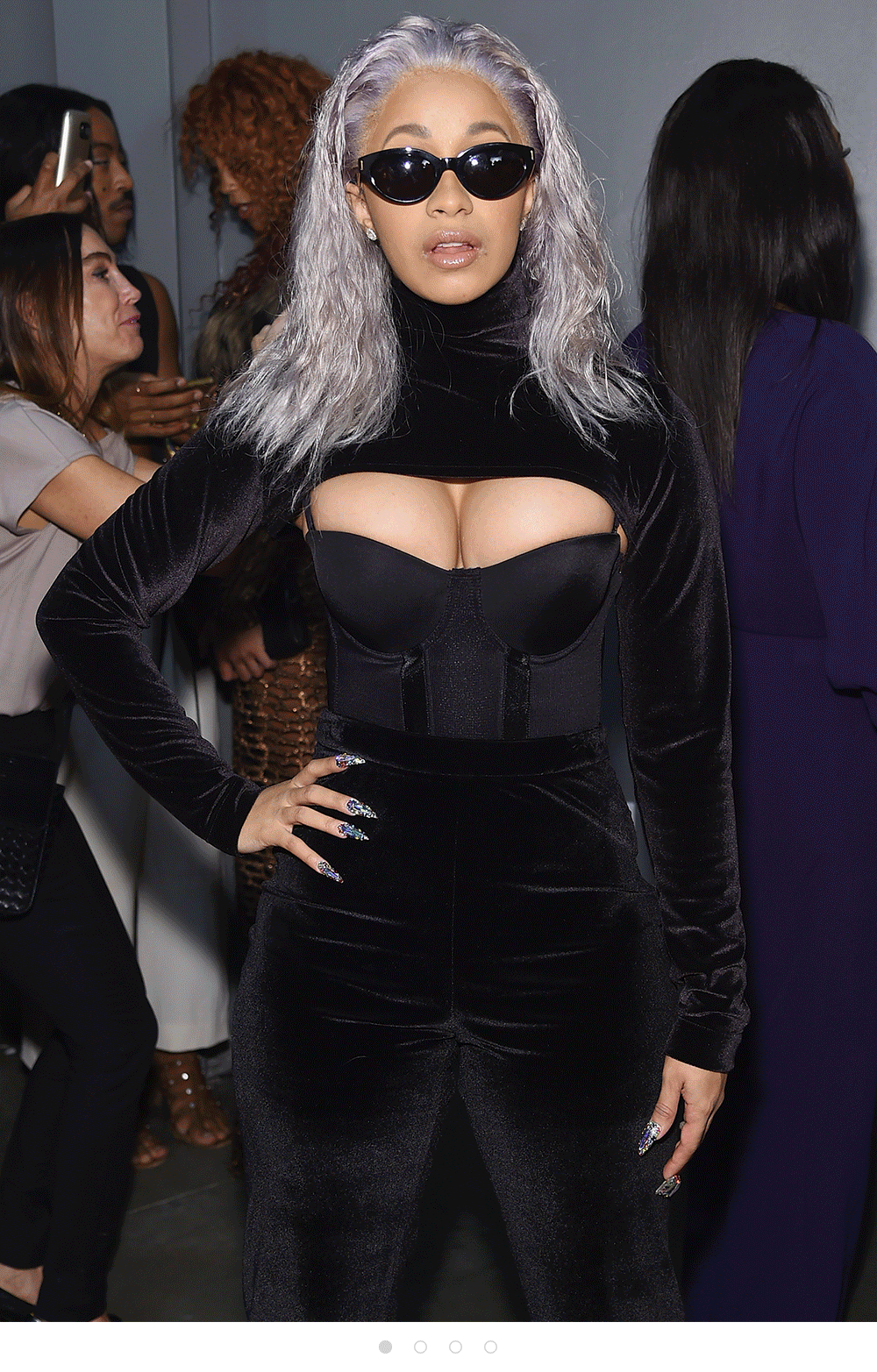 In her hit song "Bodak Yellow," Cardi B asks: "What bitch working as hard as me?" The answer: no one, because 2017 is 25-year-old Belcalis Almanzar's year. In September, she became the first female rapper to have a number one single on the Billboard 100 chart since Lauryn Hill in 1998 a feat for any performer, let alone one who got her start via hilarious Vine and Instagram videos and a short-lived role on VH1's Love and Hip-Hop: New York. But her allure isn't just her music — it's the fact that she discusses more controversial topics, like her past as an exotic dancer, as candidly as she does her favorite designers. Cardi B is the hero we don't deserve, and this season, she became the industry's new MVP. She made the rounds at New York Fashion Week, sitting front row at Helmut Lang, Christian Siriano, and Fenty x Puma by Rihanna, stopping by the LaQuan Smith presentation, and performing at Alexander Wang's #WANGFEST. Plus, with a rumored collaboration with Steve Madden in the works, lest she remind us all just how much she loves fashion? Well, Cardi B, Fashion loves you right back.
Chanel One Ups Itself (& Everyone Else) With An Indoor Waterfall
Nevermind what you see during Fashion Week — the biggest fashion trend of 2017 is still what you see when you go take a hike. It's leggings and sneakers, windbreakers and visors, and athleisure that lets you fit a lot more into your day than just being fancy. So, during Paris Fashion Week's fanciest show, it meant a lot that designer Karl Lagerfeld re-created one of the most beautiful hikes you can take — France's waterfall-filled Verdant Gorge long touted for its restorative effects — inside the Grand Palais. A tweed two-piece is probably not most people's idea of activewear, and the plastic-wrapped shoes, bags, and, jackets felt more like a gimmick than a real attempt at practicality, but the therapeutic waterfall did its job. By the time the show was over, the spray of the water and the shimmer of the sparkling tweeds provided showgoers a much appreciated one-hour holiday.
The Politics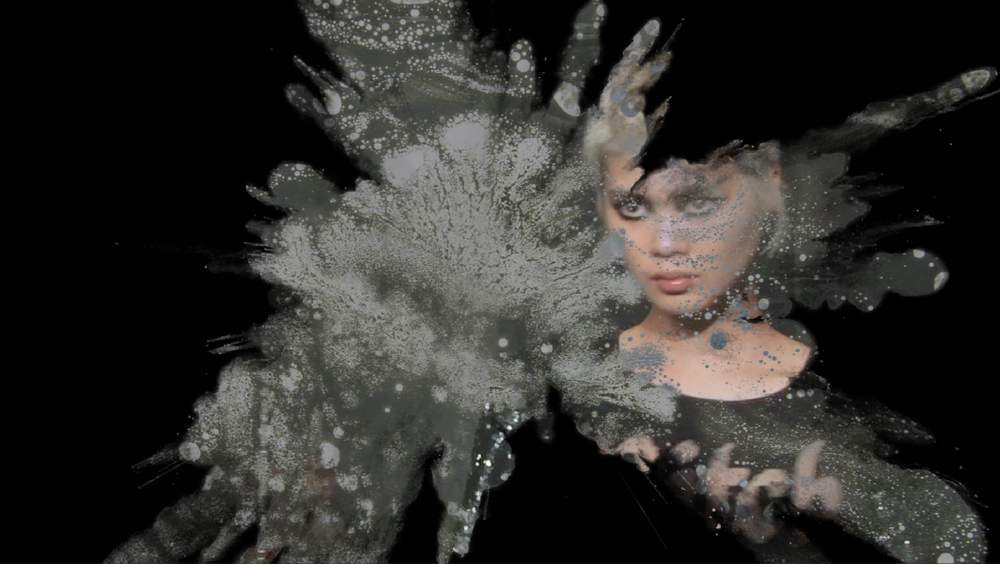 New York Embraces Size Inclusivity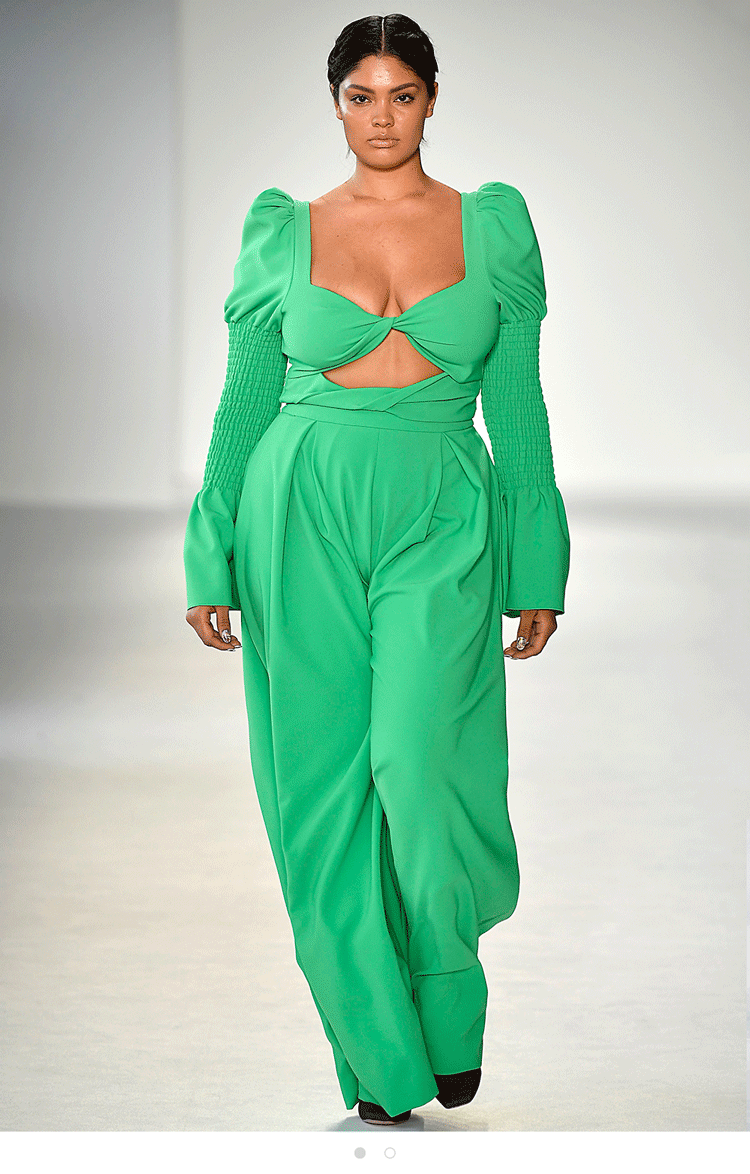 When Fern Mallis kicked off the runway show for Dia&Co., a multilabel e-tailer catering to plus-size women, she chose her words carefully: "Welcome to Fashion Week," she said, even though the show wasn't officially on the CFDA calendar, an institution she used to run. The founder of NYFW and longtime gatekeeper of the industry's biggest American event, Mallis has now turned her attention to body inclusivity. "It's about time American designers dress the 67% of American women who wear a size 14+, and address the $20+ billion plus-size fashion industry," Mallis tells us. Here, she nominates the five players she believes are leading the charge.
Christian Siriano — "It's always a pleasure going to Christian's shows and getting to see his beautiful clothes walk out on a fabulous cast of models of all shapes and sizes. Off the runway, he's stepped up to the plate as soon as he heard about curvy actresses who've publicly expressed trouble finding a designer to dress them for red carpet events."
Prabal Gurung — "Besides designing a collection exclusively for Lane Bryant, Prabal has also been sending curvy models out on his runway for several seasons now. I love how he's taken a stand in supporting size diversity in the fashion industry, as well as acknowledging other cultural issues when appropriate."
Eileen Fisher — "Since 1984, Eileen has been standing behind women of all sizes, dressing them in comfortable and stylish clothes. I also admire her ad campaigns, which feature diverse multi-cultural, ethnic women of all ages and sizes. I am looking forward to interviewing Eileen for my "Fashion Icons" series at the 92nd Street Y on December 5!"
Dia&Co. — "Nadia Boujarwah and Lydia Gilbert have been dominating the plus size e-tail market since co-founding Dia&Co. in 2014. Serving over a million women, Dia&Co. continues to inspire curvy women with exclusive collaborations with Tracy Reese, Nanette Lepore, and Rebel Wilson and their enormous network of stylists who work closely with their customers identifying what to send them each month."
Ashley Graham/IMG Models — "IMG Models has taken a leadership role in welcoming curvy models onto their main board without being labeled "plus size." Ashley Graham has been the breakout star for the curvy community, gracing the covers of Vogue, Sports Illustrated, Glamour, and Cosmopolitan and now has her own lingerie collection "Addition Elle" which celebrated its first runway show this past NYFW."
Why Can't Europe Get Runway Diversity Right?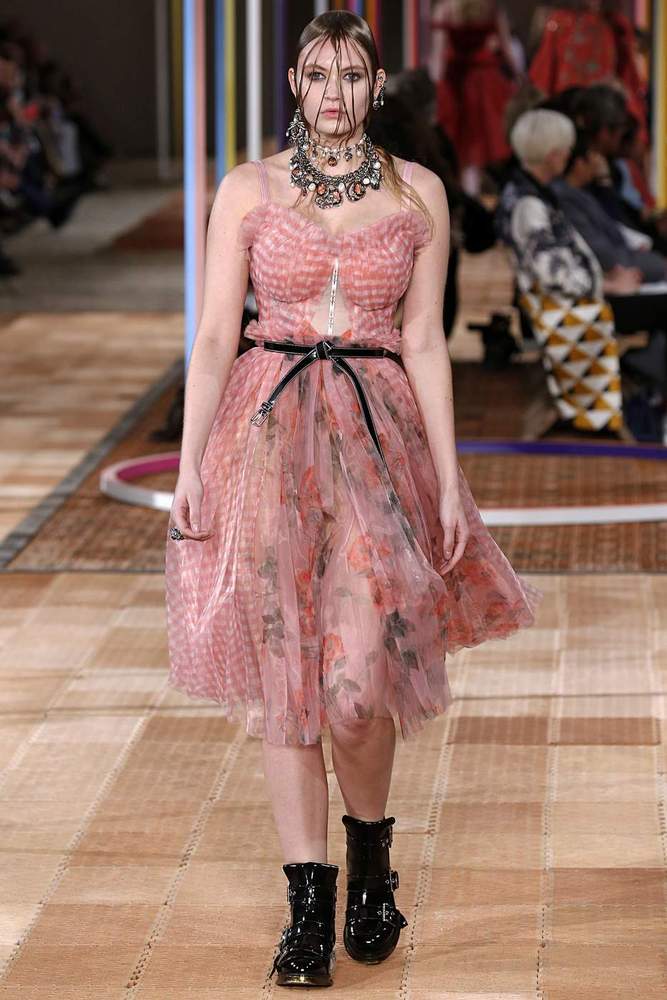 Total inclusivity doesn't happen overnight, but the fashion industry does seem to finally be waking up when it comes to featuring all types of models on the runways. Per The Fashion Spot's seasonal report, the spring '18 season was the most diverse yet — but, as it turns out, all Fashion Weeks aren't created equal. New York lead the charge in terms of race, age, size, and gender. Europe, however, could still learn a thing or two. Though the number of models of color increased across the board (up 30.2% from last season's 27.9%), the same can't be said for size inclusivity. In early-September, luxury conglomerate LVMH and Kering made headlines for committing to ban underweight models from the runway, a move we hoped would serve as a call to action for designers to include a wider variety of body types. But just one curvier model walked in London, for Teatum Jones, and in Paris, two were cast by Alexander McQueen (a first for the brand). None walked in Milan. How — and why — are so many labels still ignoring a $21.4 billion dollar industry?
The Runway's Apocalypse Now Moment
Take cover! Hide your kids! Stock up on soup! As much as fashion can be an escape from the Real World, it can also serve as a reflection of it. Angry at the current administration? Throw it on a jacket. Want to fight for your rights? Embroider it on a T-shirt. Prepared to just give in and admit that the world might be ending? Well, if we're on the brink of an apocalypse, we'll need clothes to get us through it. Some designers showed items that were more reactionary of the climate — Calvin Klein offered dirty, beat-up leather and pieces covered in red paint splatters that resembled blood; Ashish's typically colorful collection took a darker turn, with items that read "Good Mourning," and "A heart is a heavy burden." Others presented more practical solutions to the realities of 2017, like climate change, with everyone from Balenciaga and Burberry to Chanel and Kenzo offering up protective plastic, key for unpredictable weather. We live in crazy times, folks, and apparently, you can dress for it, too.
Fanny Packs Are The Bags We Deserve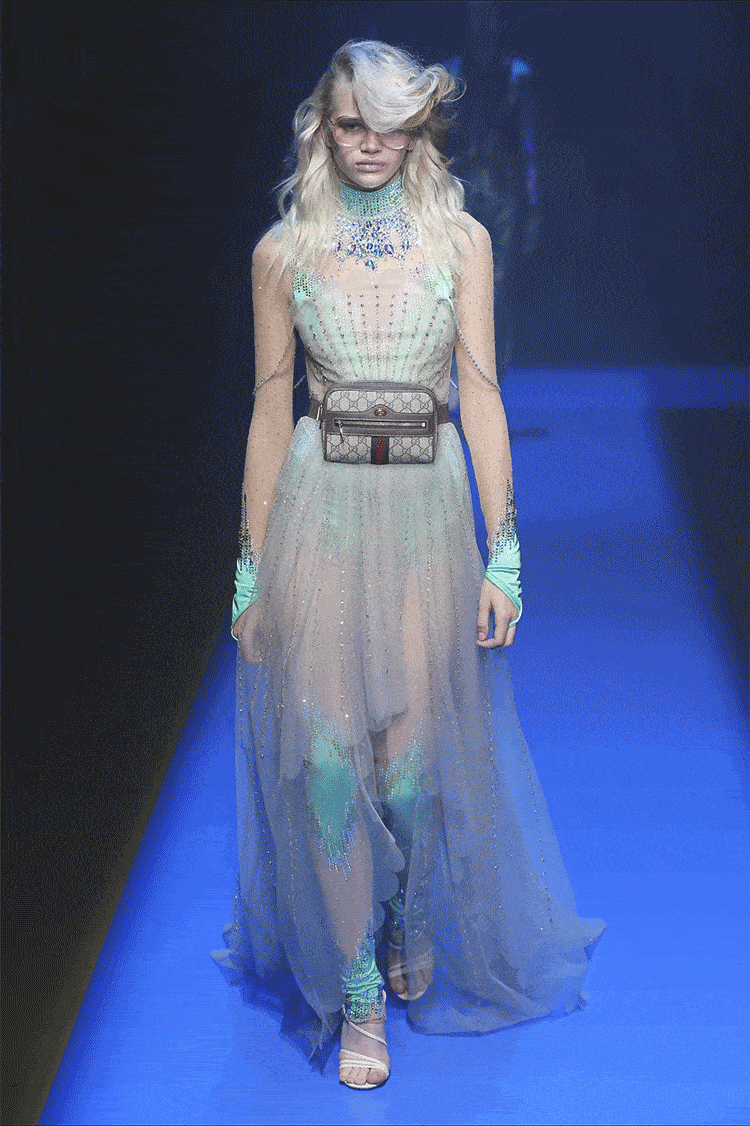 Looking back, it's so obvious the fanny pack would become the bag of 2017 that we're a little ashamed we didn't see it coming. Bum bags had already been spotted on the waists of super-cool Tumblr kids who love nostalgia and irony in equal parts, but they soon began making their way into the mainstream, as marches and protests started becoming an essential part of everyday life. Inevitably, that meant savvy trendsetters looked for vintage versions by designers like Gucci, which means that Alessandro Michele said I see your vintage and raise you a new one, and thus the new fanny pack sailed off into the runway sunset.
The Transformations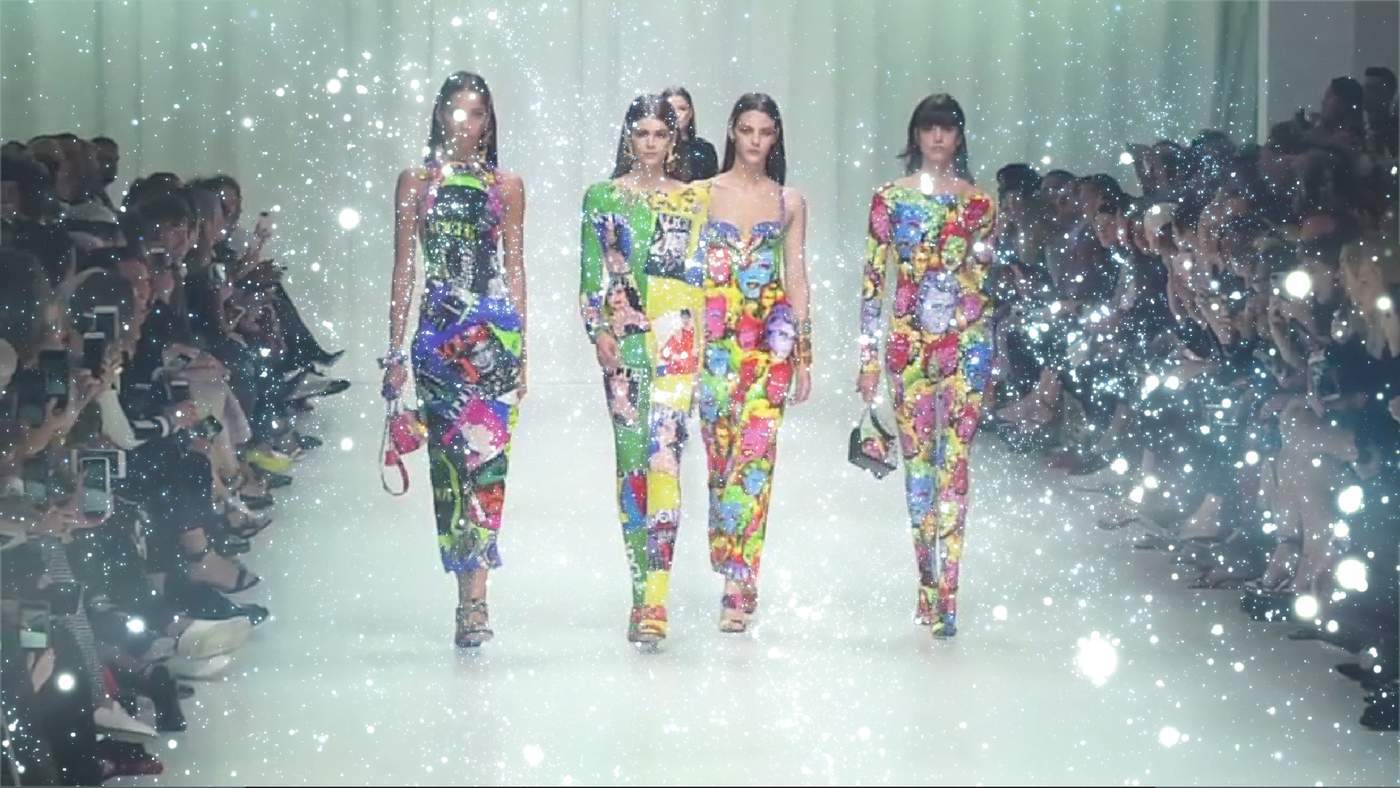 The Birth Of The ITsta-Girl Brand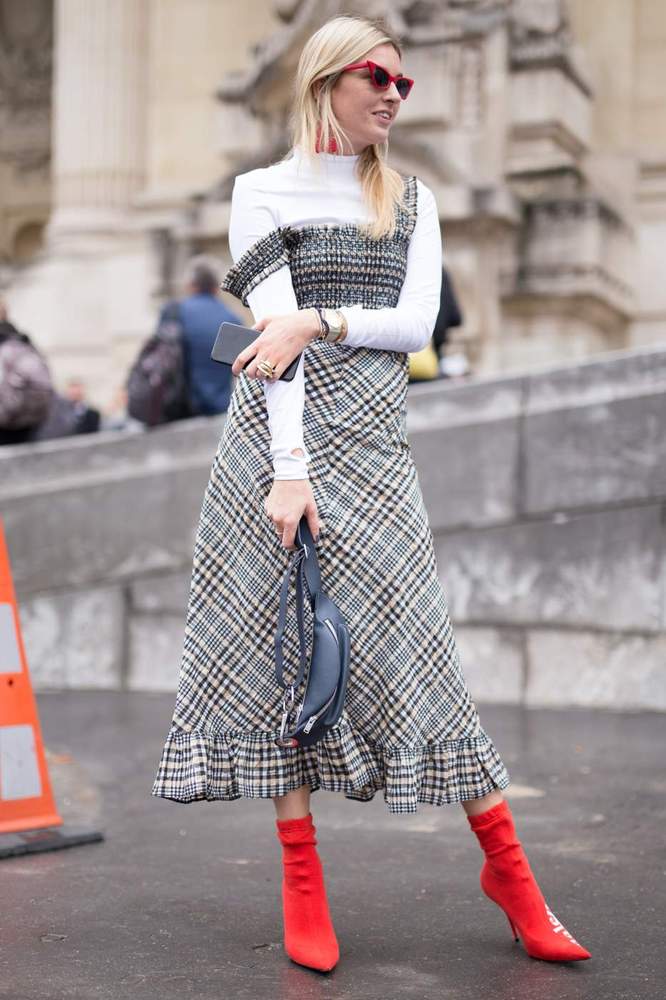 Danish-favorite Ganni may not ship to the U.S. just yet, but any Fashion Girl™ on Instagram is intimately acquainted with its long-sleeved floral dresses and cheeky fruit tees among other must-haves. Thanks to the new guard of style influencers — Reese Blutstein of @double3xposure, Emili Sindlev, and Lizzy van der Ligt — #GanniGirls has become the new #OOTD. Plus, it's made way for other social media-first "ITsta-Girl" brands like Rouje, Realisation Par, Nanushka, and Maison Cleo, which know the Insta-aesthetic as well as they do their consumer. They may not be as expensive as old-school luxury labels, but that's exactly the point. Today, finding something on the 'gram has just as much (if not more) clout as dropping $2K on a Céline bag. And considering most of these are smaller contemporary brands, that's a pretty impressive feat.
Editor Legends Depart En Masse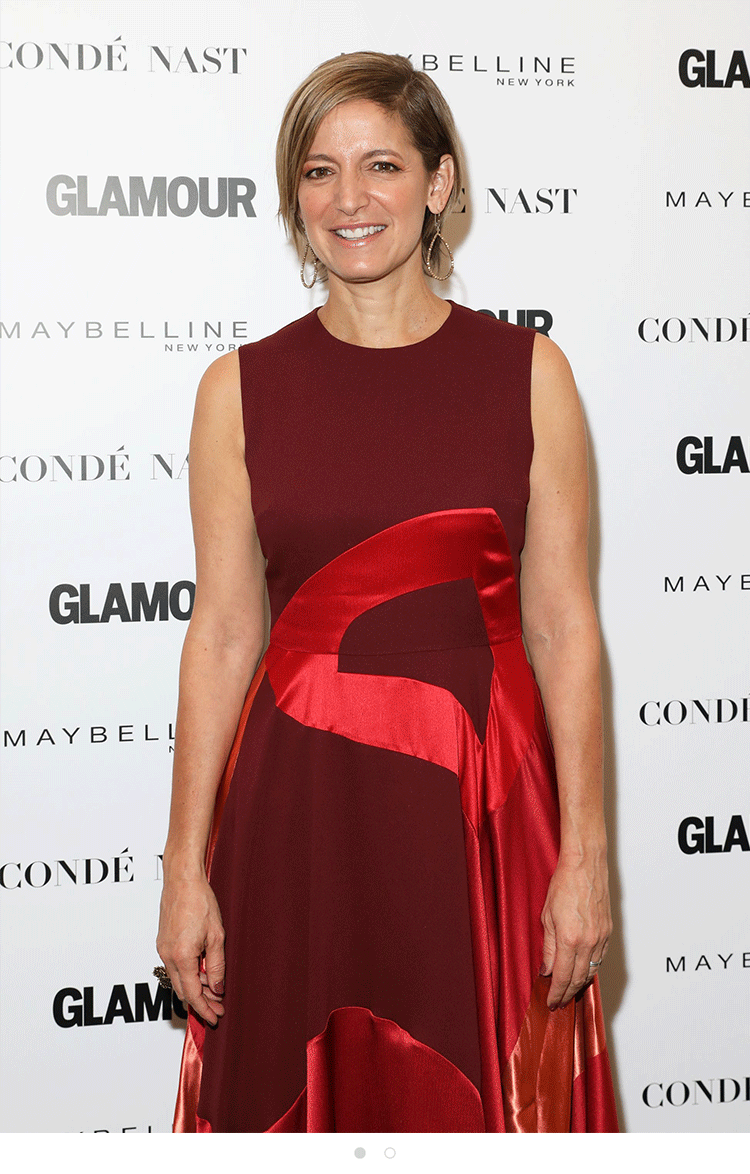 It's moments like these when you wonder if there's an executive version of a dog whistle. In the span of two weeks, four major editors-in-chief departed their titles without warning, including Cindi Leive of Glamour and Robbie Myers of Elle. Their resignations happened right in the middle of NYFW, after news that Nylon folded its print arm and multiple media laid off editorial staff as they pivoted to video, showing that fashion magazines — and their culture of prestige and extreme tradition — are indeed crumbling. As the world changes around us, now seems like the perfect opportunity for legacy publications to embrace change, leave their old ideals behind, and perhaps look to their younger, digitally-savvy counterparts for direction. Will there be an official changing of the guard? Let's hope so.
The New Model Guard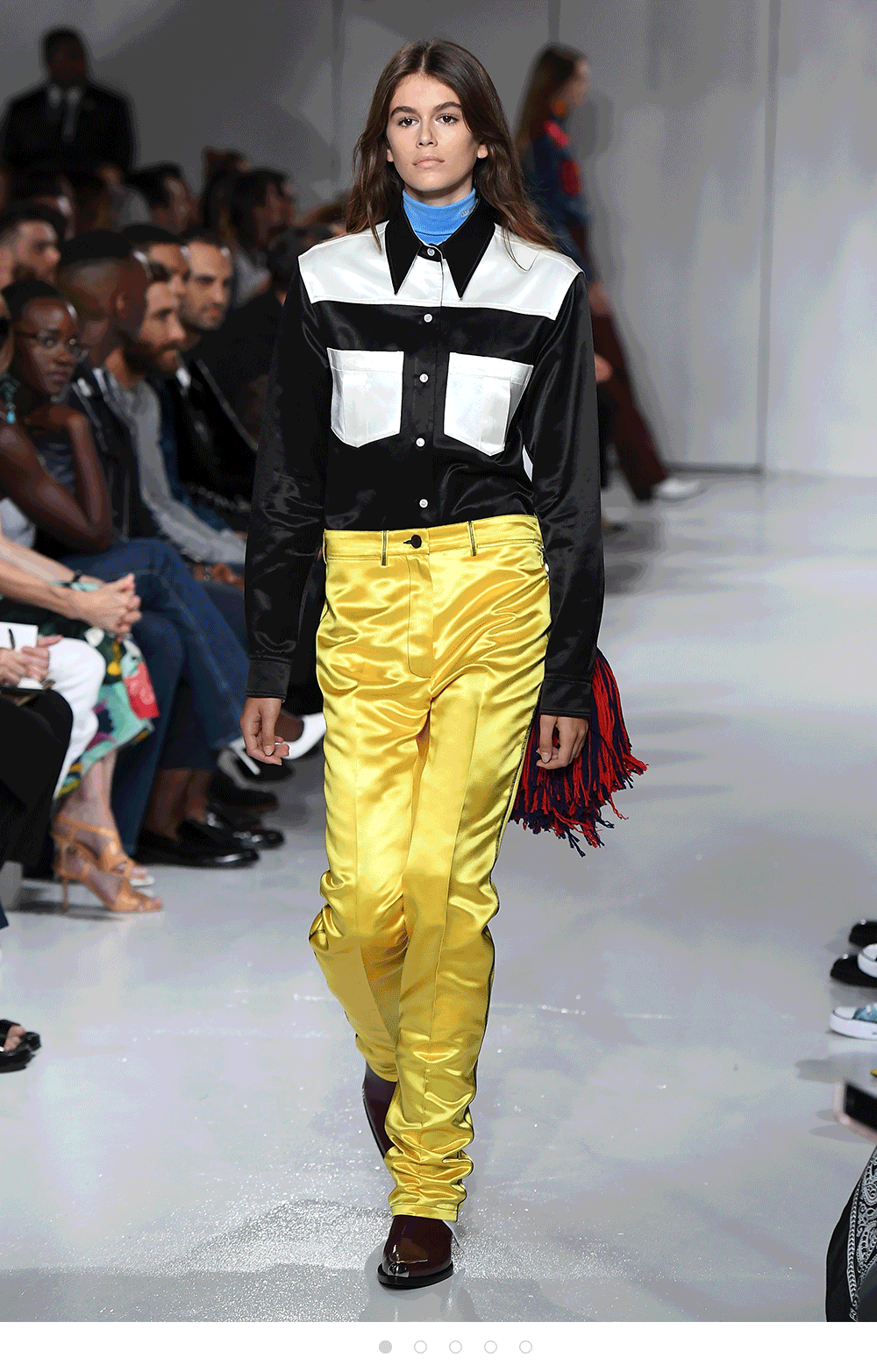 The absence of Kendall, Bella, and Gigi (save for Isabel Marant) at Paris Fashion Week, made way for some less expected faces. To much anticipation, Kaia Gerber, Cindy Crawford's 16-year-old daughter, made her runway debut at Calvin Klein, the latest in celebrity spawn to embark on a modeling career (though she's got pretty good genes, and an even better walk). After coming out as transgender in mid-September, Teddy Quinlavin went on to walk 27 shows and earned more Instagram followers than any other model during the spring 2018 season; she was discovered in 2015 by Nicolas Ghesquière, but 2017 proved to be her moment. Industry favorite Winnie Harlow continued her path towards runway domination, with appearances at Marc Jacobs and Elie Saab reminding the world that there's no longer one "way" models can (or should) look. Dominican model Hiandra Martinez showed her versatility; she was ladylike at Ferragamo, cool at Off-White, and quirky at Moschino. And then there was newcomer Janaye Furman, who becamethe first black model to open the Louis Vuitton show in the brand's 163-year history. Perhaps one doesn't need reality TV to make it after all?
NYFW Calendar Holes Give Way To Fresh Talent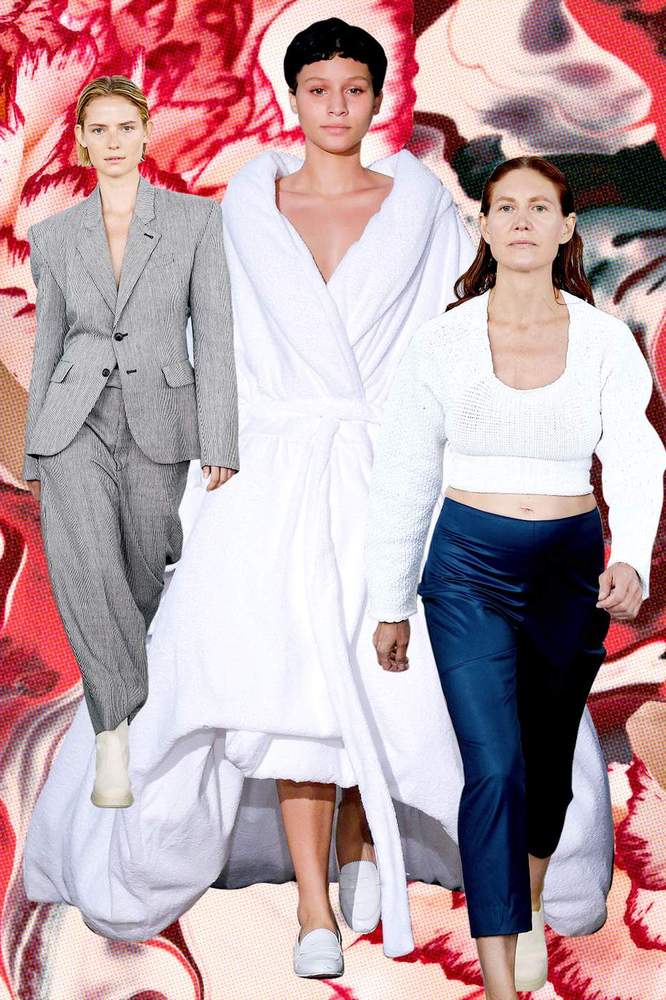 Rodarte, Proenza Schouler, Altuzarra, Gypsy Sport, and Thom Browne decamped to Paris this season, and suddenly the whole industry cried NEW YORK FASHION IS OVER! But just like that Semisonic song says, "every new beginning comes from some other beginning's end." And the only thing that happened to New York Fashion Week was a much-needed renaissance. There was Eckhaus Latta, which, for a few years has been calmly establishing itself as the new guard of American fashion; Vaquera, a label founded just four years ago that's following the footsteps of iconic New York art-meets-fashion brands like AsFour and Imitation of Christ (their vision blends clothing with the avant-garde, so it's not surprising they were named as finalists in this year's CFDA/Vogue Fashion Fund); and Area, which was exciting and fun and glamorous all at the same time. The kids are alright, and you know what? NYFW will be, too.
Brands Celebrate Their Greatest Hits
In the chase for newness, freshness, and innovation, it's easy to see how some brands might have strayed too far from what's earned them a loyal following in the first place. But galvanized by recent examples of brands who've seen success by digging through the archives (ex: Gucci, Calvin Klein), multiple designers this season took the opportunity to revisit some of their most iconic looks. Donatella Versace paid tribute to her late brother Gianni's genius with a throwback show filled with scarf prints, micro-minis, catsuits, and jeweled dresses (not to mention a supermodel reunion for the ages). Forgoing a massive party, Jeremy Scottcelebrated his brand's 20th anniversary with neon hoodies, oversized crystals, and even versions of the Santa Cruz skate-style cartoons that once landed him in hot water. Burberry doubled-down on its check, instead of trying to ignore its mass ubiquity, and Marc Jacobs and Saint Laurent explicitly referenced their pasts in an attempt to move forward. Whether these moves are made out of fatigue or some kind of clarity is up for debate — but judging from the outpour of acclaim for these collections, does it really matter?
So...What's Really The Point Of It All?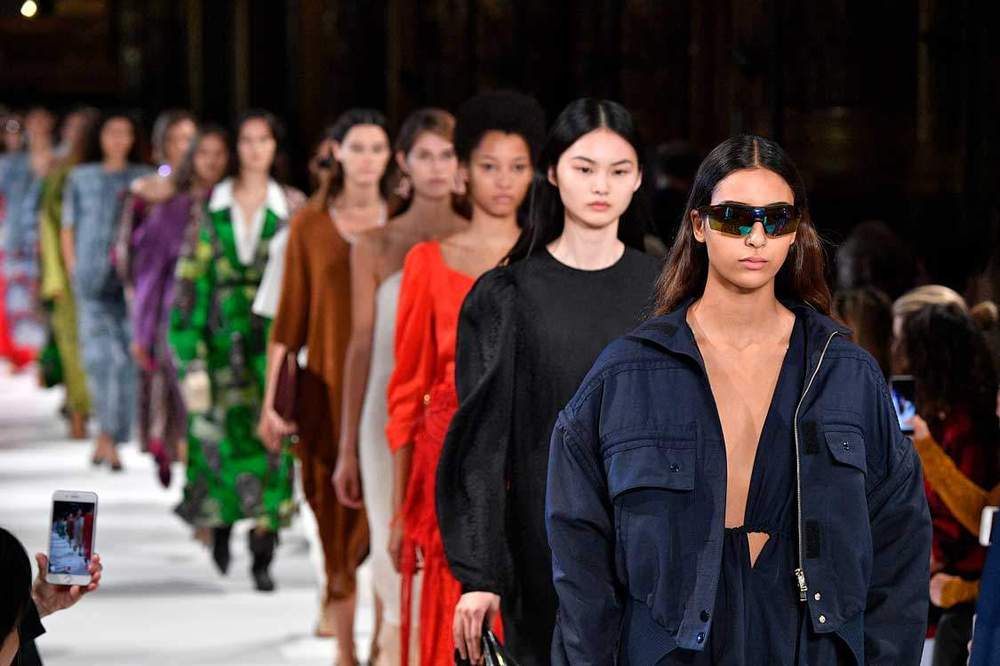 Okay, if we're really being real, when all the fanfare is said in done, you've probably wondered just like we have: Is Fashion Month kind of over? Let's assess: Going beyond the sluggish acceleration of see-now, buy-now, that peculiar three-year creative director curse, and a swift migration from the traditional business of magazines to the ever-adapting world of digital, it seems pretty obvious — most brands and emerging designers have the odds stacked against them. So what does a utopian Fashion universe look like, anyway? Probably one where editors can consume runway shows, presentations, and newer, fresher forms of collection storytelling like short films, pop-up shops, and, hey!, performance art (thank you Tome!) from anywhere. And a world where designers and brands commit to some of the biggest global issues directly tied to the industry. Like, say, sustainability.
With Fashion being the second largest contributor to waste in the world (second only to oil, seriously), it's time for some major shifts. And thanks to role models like Kering, who made a huge commitment corporately to convert to renewable energy, not to mention hiring their first Chief Sustainability Officer, Marie Claire Daveu, those shifts are underway. There's also Stella McCartney, who as a vegan, has never used leather in her collections, Reformation, whose entire business model is founded on transparency, and Gucci, who recently made a big declaration to go completely fur-free — a major win when you consider how a move like this could actually change the rules of luxury. But that's just a start. Because fashion isn't over...far from it. It just needs some new traditions in place of the old ones. Just like those platformed Crocs. Call us dreamers, but isn't dreaming what fashion is all about?