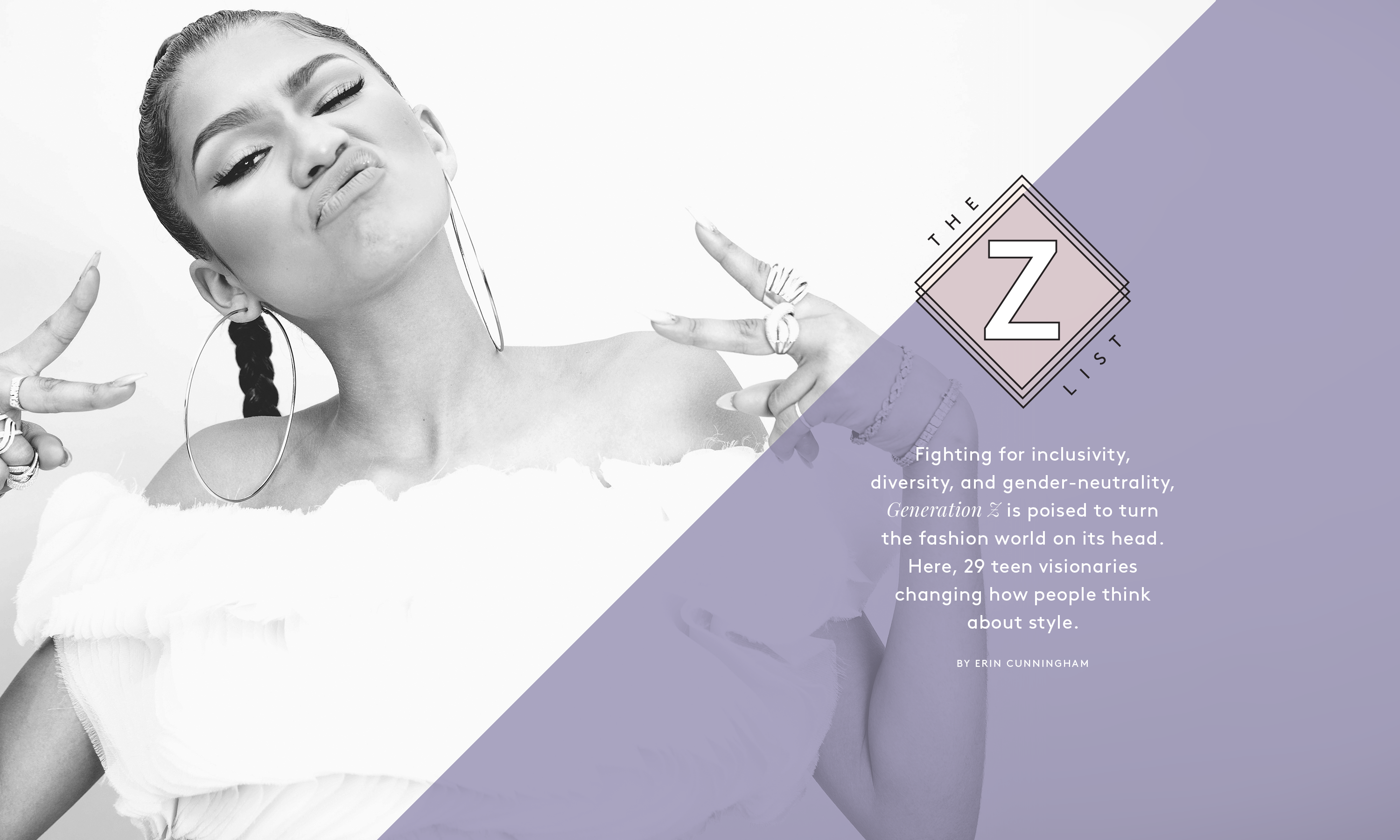 Millennials are so 2015. With the majority of Generation Y rounding 30, their priorities are shifting: They're settling down, spending less, and probably still using Facebook. Sure, there's nothing wrong with that, but there's nothing new about it, either. And in today's constant stream of change, if it's not new, it's boring.
Enter: Generation Z, the under-20 set that's putting everything on display through Snapchat, Instagram, Twitter, and other apps so new, most millennials haven't heard of them. And, though many "olds" out there might reject the superficiality of this kind of communication, it has made today's teenagers view the world as a blank canvas. Things that the rest of us always assumed were static — gender, jobs, community — are malleable for the Z-set.
Born between the late-'90s and 2010, this crop of cool kids is the first generation to have grown up with the internet and social media since day one. They look up to Bella Hadid and Jayden Smith. The names Cameron Dallas and Bethany Mota make them freak out. They communicate via emoji and memes. They're not only activists for individuality and inclusivity, but they assume all people have the freedom to define anything (and everything!) for themselves.
It makes sense, then, that fashion, an industry so rooted in newness, would move on from millennials to cater to the next generation. For retailers, they're dream consumers; for luxury labels, they're secret weapons. They differ from millennials in that they value things over experiences, typically thrift rather than shop fast fashion, and gravitate toward brands that promote a diverse, gender-neutral, edgy, and above all, authentic, vision. The old rules that the fashion industry has lived and died by (like status symbols and mass trends) ring hollow to them.
Before you scoff at their youth (and for many, the famous families that have helped leverage them to this point), let the designers, models, artists, actresses, and more below show you why they deserve to be taken seriously. Sure, they may be taking on conventional industry roles, but there's nothing traditional about the way they're approaching them: They're tackling today's "standards" of size, race, and gender; they're starting trends, rather than following them; and they're creating conversations around topics like sustainability and "plus-privilege." And, despite their varying accomplishments, they all agree: The freedom of self-expression through clothing is not to be taken for granted. Here's how 29 teen visionaries are changing the fashion industry, one selfie at a time.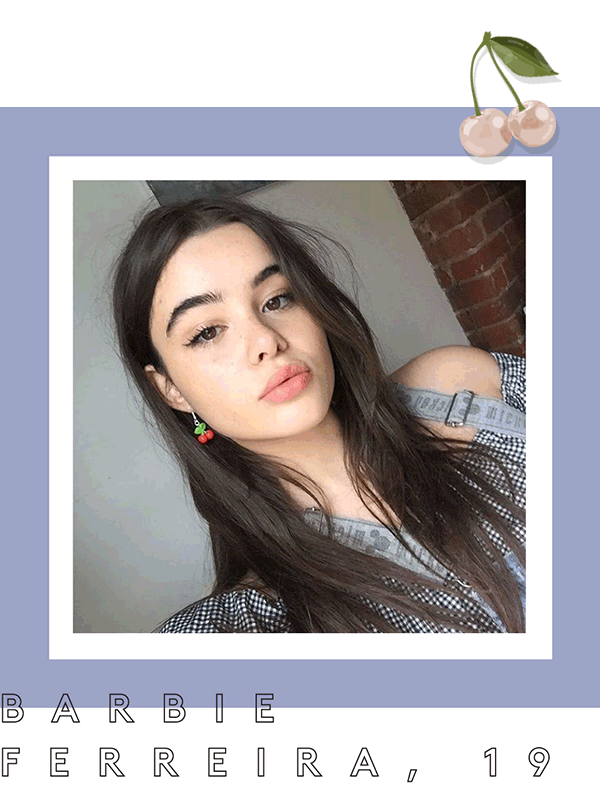 Model, Body Positivity Advocate & Self-Proclaimed Bo$$
@barbienox
Modeling for brands like Outdoor Voices and Eckhaus Latta, Ferreira is paving the way for size equality in the fashion industry — and sharing her #nofilter personality with nearly 350,000 Instagram followers.
You've talked about struggling with body image as a child. How did you finally gain the confidence to enter the modeling world? Is it something you're still dealing with?
"It kind of all fell into place. I wanted to act, so I was never shy in front of a camera. I wasn't very confident when I started, though, and it's not really [something] anyone can be prepared for. I would say I found my self-esteem while on the modeling journey. But, I'm still a 19-year-old girl. It'd be rare if I didn't have bad days."
In a world that's so over-saturated with photoshopping and size-0 models, what's one thing you wish the fashion industry would change or improve upon to make things more inclusive?
"Very simple: Cast people of all sizes for your clothing line, and don't always put curvy girls in only lingerie. We get it, you can't find pants that fit us, or can't fathom how curvy girls can look good in clothes. But, trust me, we're just as striking as everyone else."
Bloggers
@bellagiannulli @oliviag123
Their mom may be former Full House actress Lori Loughlin, but these sisters have earned their own loyal fan base by sharing their fashion and beauty tips on YouTube. We're calling it now: These two are the next Kendall and Kylie Jenner.
You've both developed a following for your personal styles. How would you describe them?
"Our styles are simple, comfortable, and chic. While we haven't completely embraced our 'aesthetics' yet, we have both learned to feel confident by wearing pieces we genuinely love and feel good in. The biggest compliment someone could give to us about our look is that they like the confidence we have when wearing different pieces; it makes our day when we see people who are confident."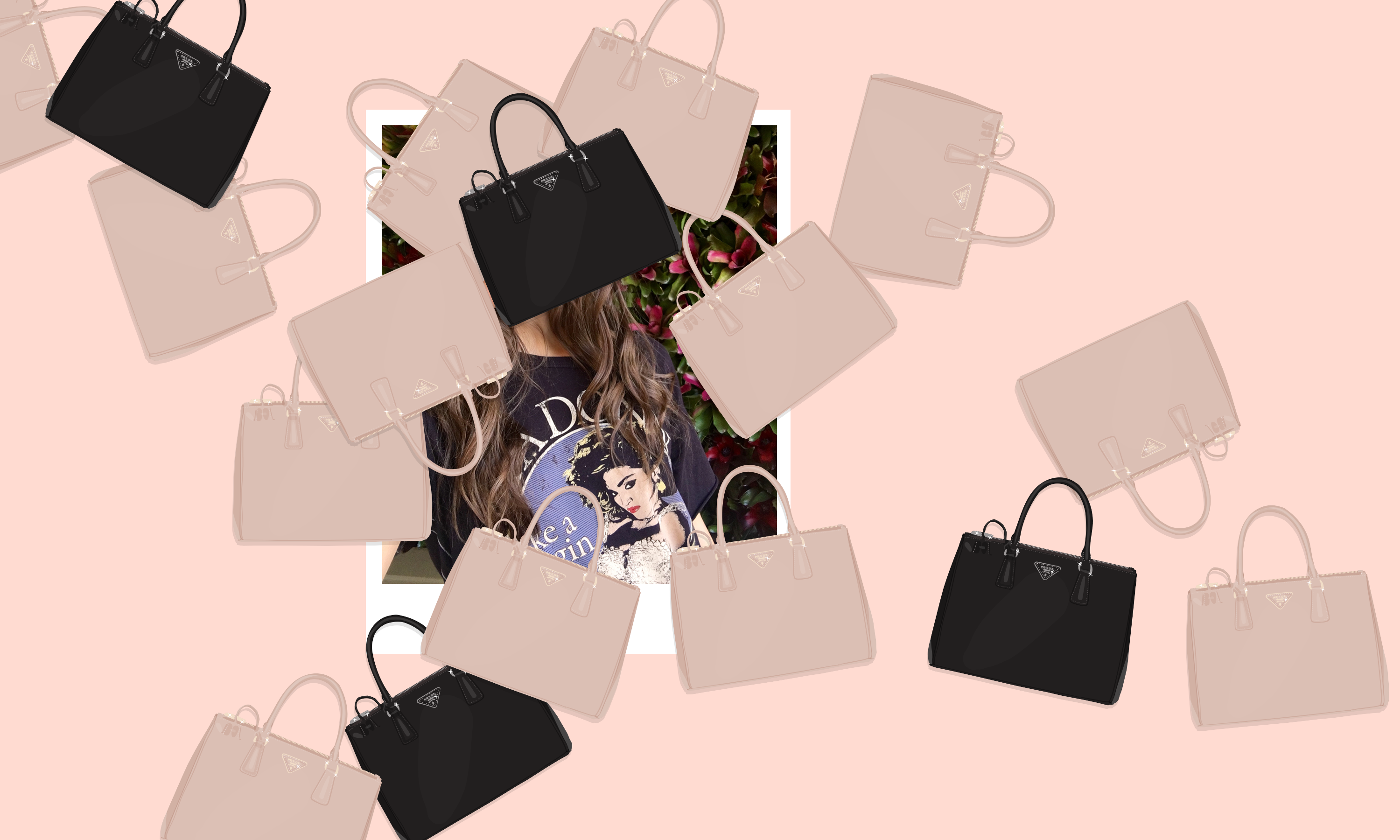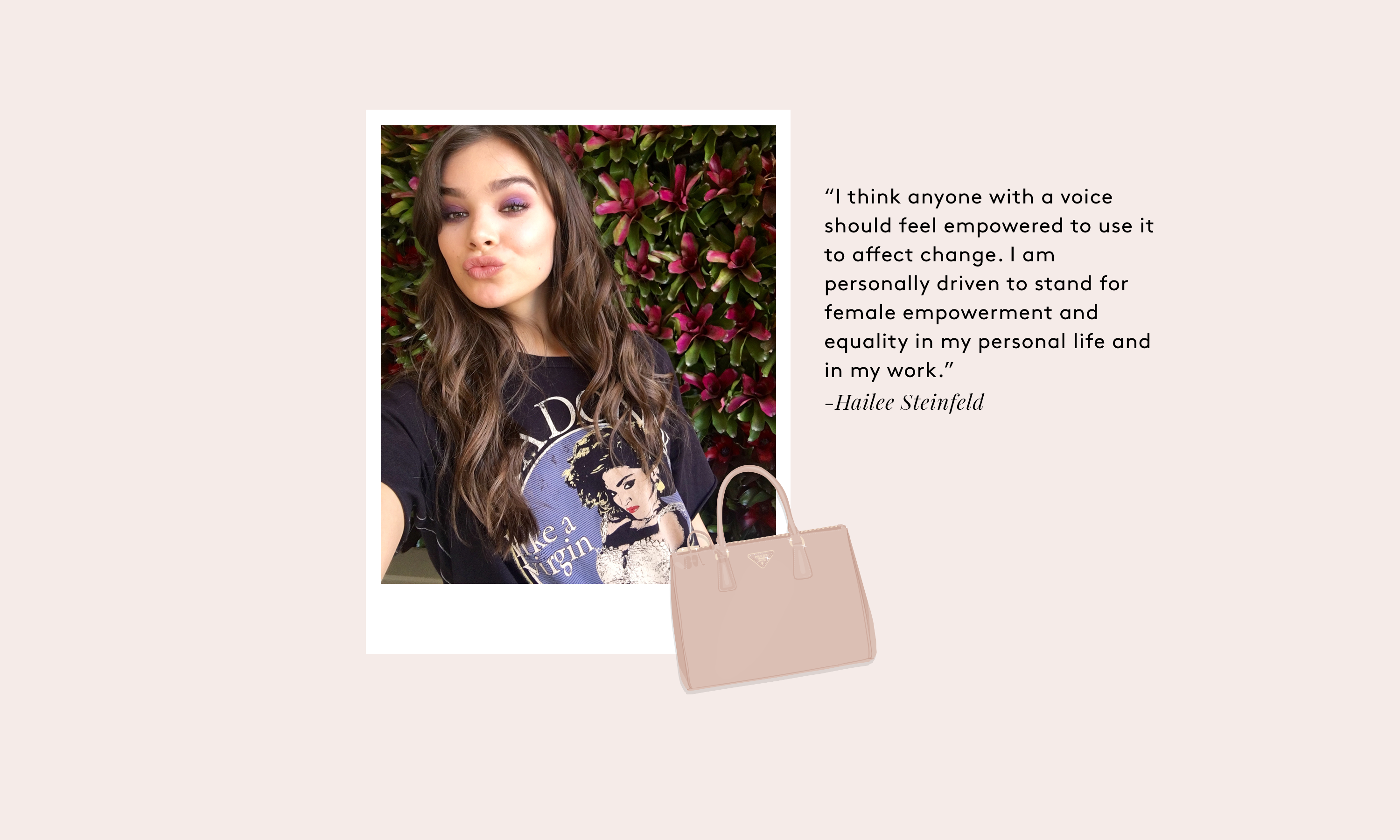 Singer, Actress, Model
@haileesteinfeld
She's an Academy Award-nominated actress, an accomplished musician, and a Miu Miu muse. Plus, she slays on the red carpet every single time.
How would you describe your personal style? When did you really start to recognize and embrace your aesthetic?
"I like to take risks, explore trends, and discover new designers, but in a way that keeps my personal style fluid. I want to maintain a certain integrity to my personality, where my wardrobe choices feel authentic to who I am. Early in my career, I was lucky to be exposed to designers like Miuccia Prada, Prabal Gurung, and the Rodarte ladies (Kate and Laura Mulleavy), all very different artists. I was able to find common elements in their creations that helped me define my aesthetic and my taste in clothing."
Between your single, "Love Myself," your upcoming solo tour, and even your friendship with Taylor Swift, there's a lot we can talk about in regards to female empowerment. Why is this a topic that's so important to you? How would you encourage other young women to speak up, and what does being strong and independent mean to you?
"I was raised to believe there's nothing I can't do, and I think it's important for all women to feel that way."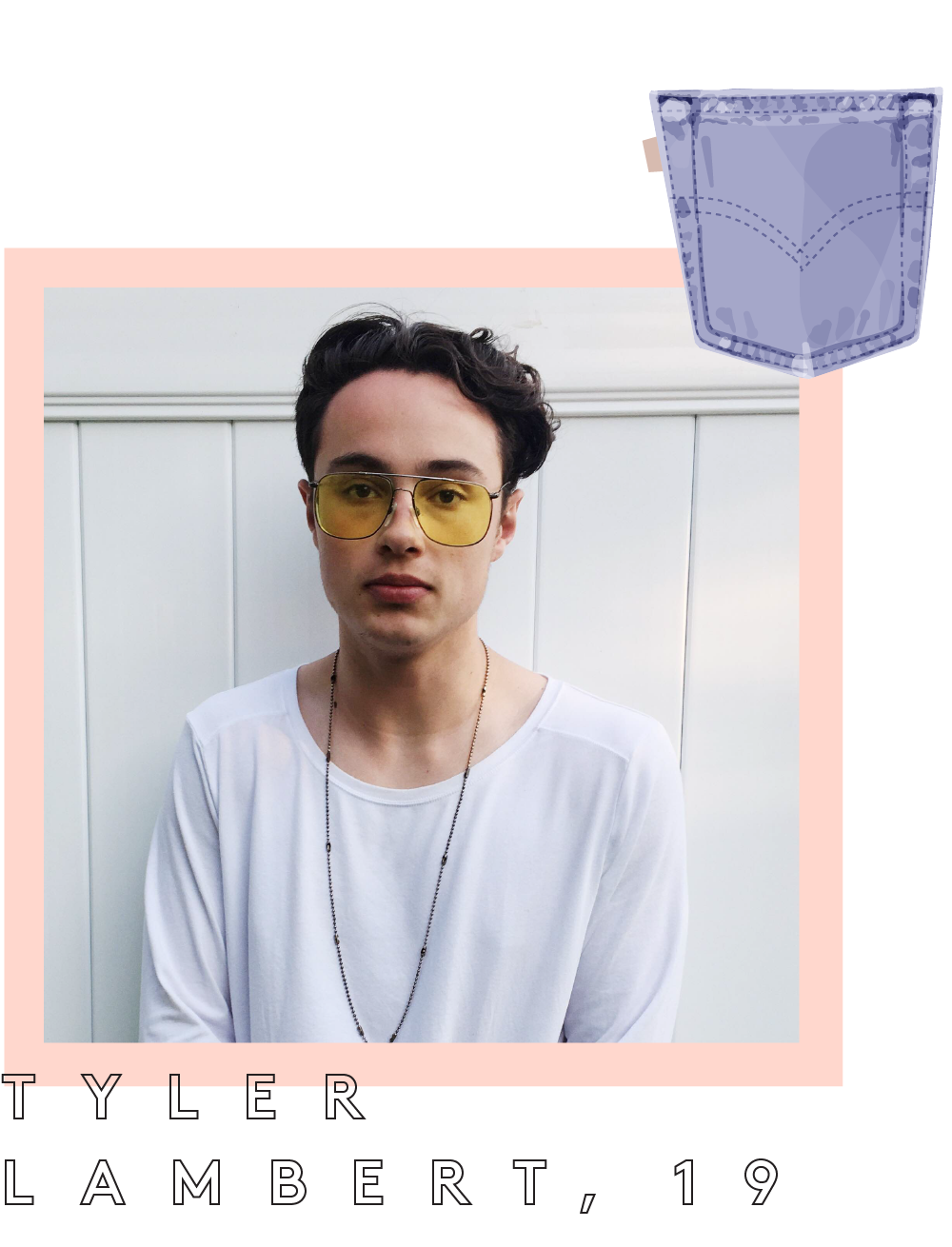 Fashion Designer
@__tylerlambert
His designs incorporate streetwear and agender clothing — two of the industry's most boundary-pushing aesthetics. So, it's no surprise this self-taught, Wisconsin-based designer already has one major fan: Kylie Jenner.
Tell me about Kylie Jenner wearing your clothes: As a young designer, how important would you say celebrity and social media is in terms of brand exposure?
"I mean, Kylie is who she is. My line is represented by Joplin Creative in Los Angeles, and that's how her stylist got ahold of my designs. She did help a lot to help the exposure of my brand. I knew not to expect a tag or comment, but somehow her followers still found their way to me. The fan pages started to get me involved, tagging and posting about the jacket and sweaters. Kylie has a loyal following, and it was nice to see that she and others appreciated something I designed. It's powerful that what I have worked so hard to develop was seen on someone so influential to such a large audience and culture. But what's more rewarding is knowing that all those photos, Likes, and views are real people who saw something I made, and, credit or no credit, that makes it feel so right and so rewarding."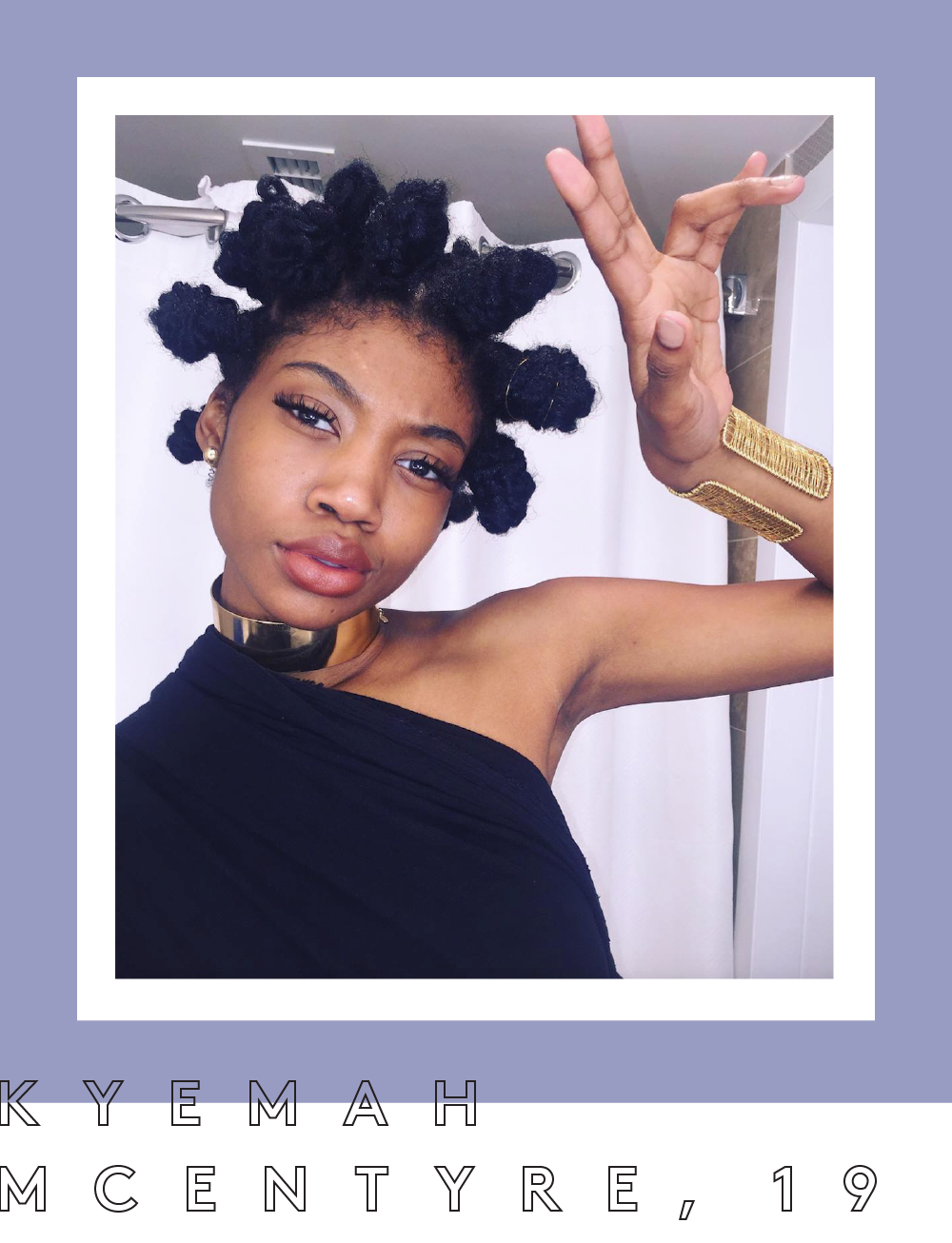 Artist & Designer, Mind Of Kye
@mindofkye_
You probably first heard of McEntyre when her Dashiki print prom dress took the internet by storm. Now, she's styling celebrities (like Naturi Naughton of 3LW fame), and working on her own clothing line.
After you posted your prom dress on Instagram, it went viral — not just because of the gorgeous design, but because of the message it conveyed. Why was it important for you to talk about the criticism you received, especially given today's political climate?
"My prom dress was a response to the criticism Black women receive for being exactly who they are. I recognized the platform I had; I decided to use that moment to spread some truth. I am tackling social issues through fashion design, by influencing the way women feel and look in their clothes, with grand African prints and revealing silhouettes. My paintings and designs dismantle European beauty standards, which is why it became therapy for myself and other Black women. By taking the risk of depicting controversial ideas, I hope to encourage other women to love [themselves] regardless of society's expectations."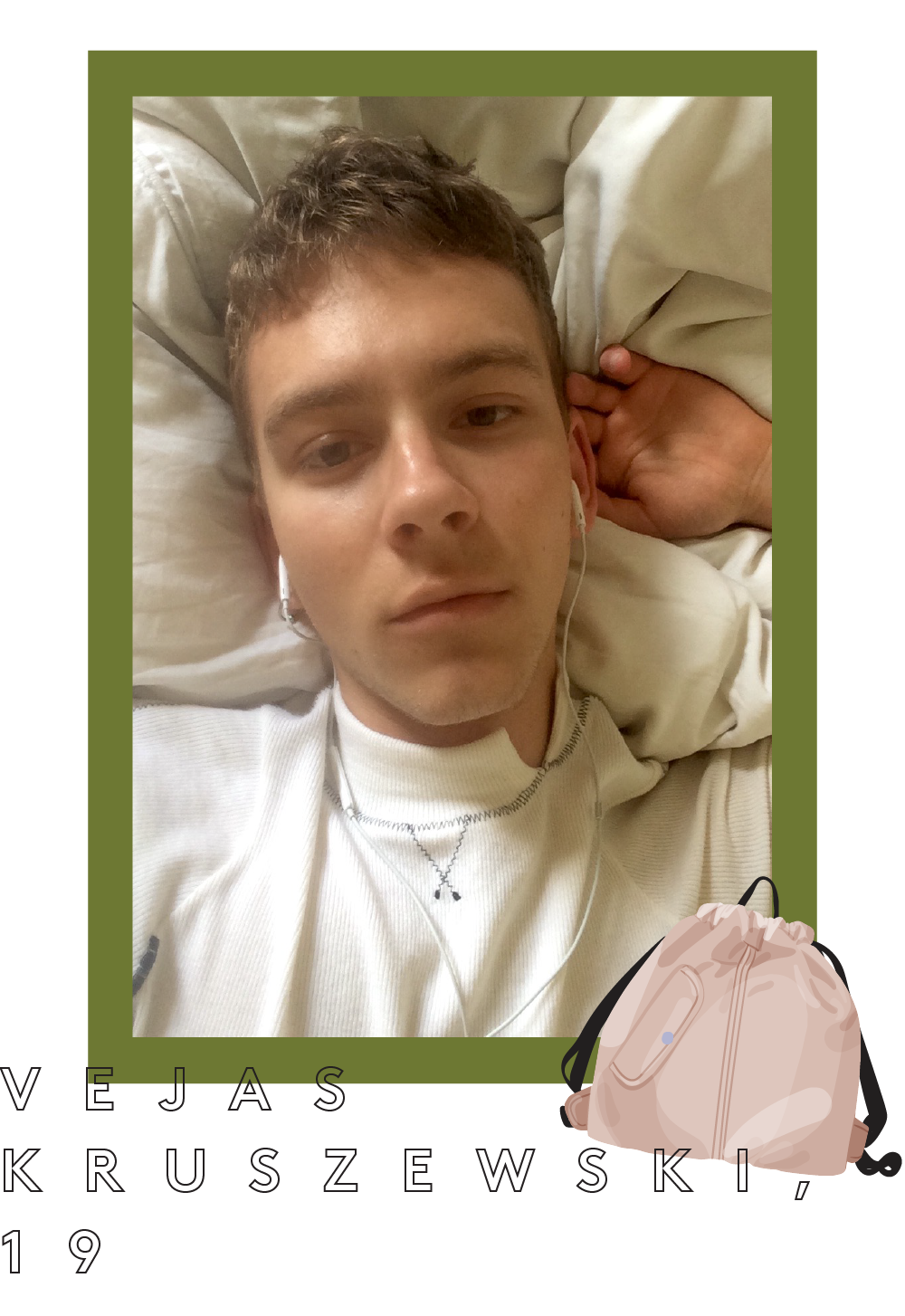 Fashion Designer
@vejask
After becoming the youngest designer ever to be nominated for the prestigious LVMH prize, Kruszewski was awarded 150,000 euros and a dedicated design team. One to watch? That's pretty obvious.
Describe what it felt like (and meant) to be the youngest person ever nominated for such a prestigious award.
"It was an incredibly validating experience (and an excuse to go to Paris). It means a lot to be recognized by those who are working at the height of the industry, but at the same time, youth is synonymous with inexperience and risk, which is not an asset when looking for others to essentially invest in you both on a personal and financial level. I am grateful they were able to look past that to recognize the dedication and hard work we've put [into our brand]."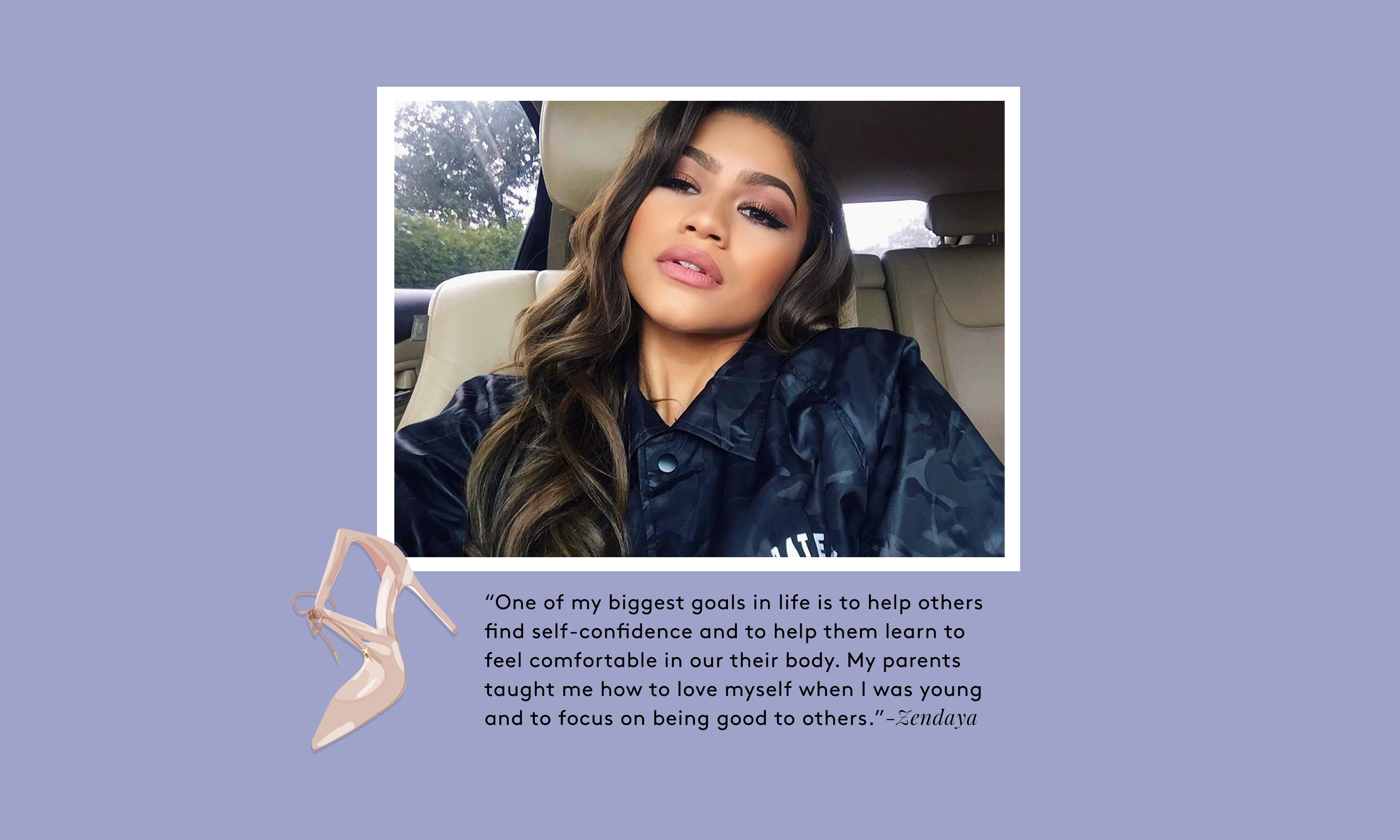 Actress, Singer, and Designer, Daya by Zendaya
@zendaya
Sure, Zendaya has a laundry list of accomplishments (leading roles in Disney Channel productions, a shoe line, and a cameo in Beyoncé's Lemonade), but one of her own career highlights was the fact that her personal style influenced Celine Dion's outfit choices.
What's the biggest compliment someone could give you about your style?
"That my style inspired someone. I still can't believe that Celine Dion was inspired by my red carpet looks. I love that we share a stylist now."
People your age are now considered more powerful and influential than millennials: With your shoe line, singing career, and success with acting, what is something you'd like to accomplish with that type of impact?
"One of my biggest goals in life is to help others find self-confidence and to help them learn to feel comfortable in their body. My parents taught me how to love myself when I was young and to focus on being good to others."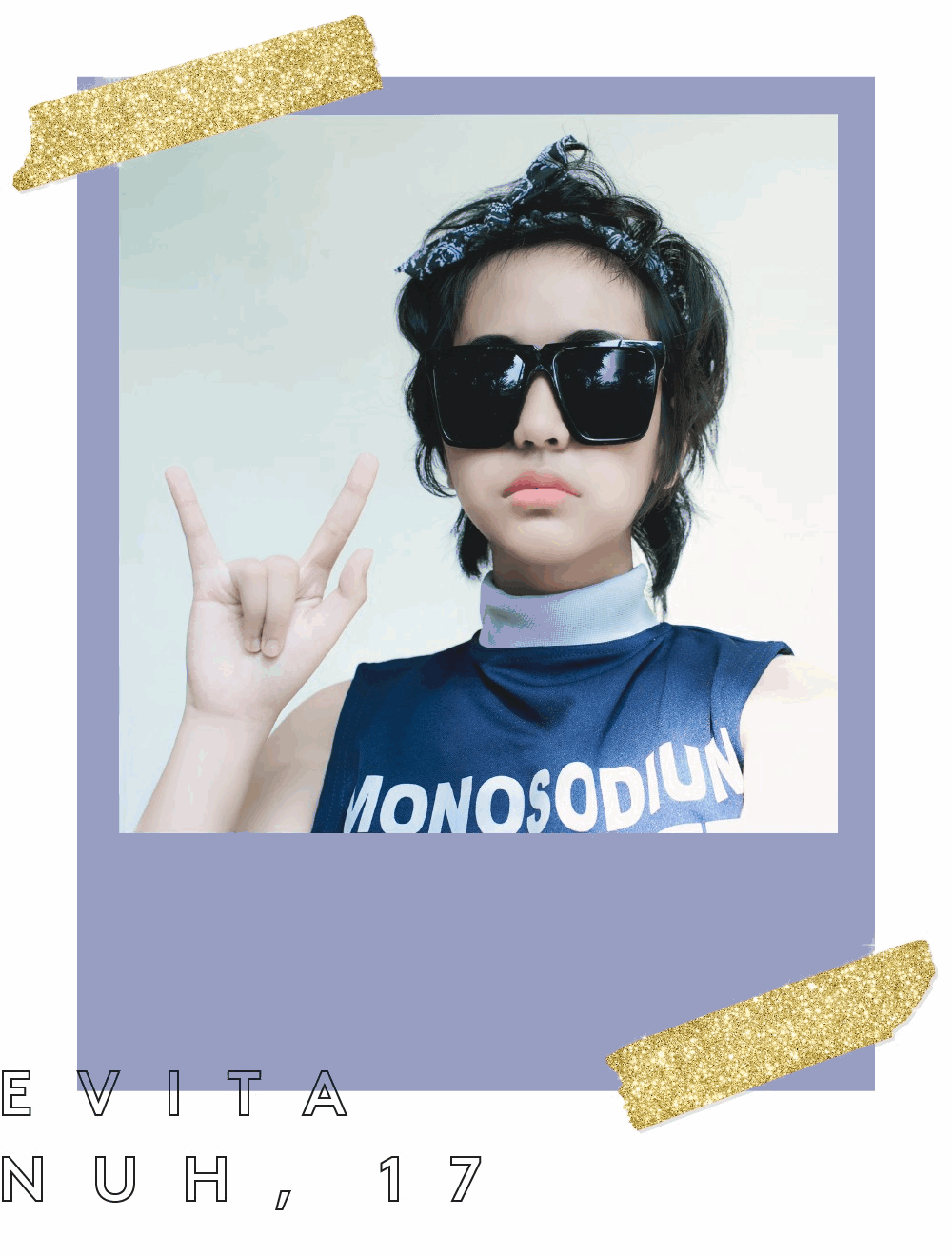 Blogger & Creative Director, EN.PENS
@nuhevita
In a sea of personal style blogs, Jakarta-based JellyJellyBeans is the type of site that reminds us why we fell in love with fashion in the first place. Started as a way to better communicate with people (Nuh has Asperger syndrome), her website is hub for visual inspiration and thoughtful reflection — it's no surprise she's been heralded a next-gen Tavi Gevinson.
Even though you're still young, you've been blogging for quite some time now. How have you seen the landscape change, and how have you and your site evolved with it?
"Back then, everyone had more character. Nowadays, there's a billion bloggers, and everyone only wears things that are 'in' or hype.' I know it's cool and everything, but what's cool about looking like everyone else? Truth to be told, it's a bit boring; I don't see much of a personal style. I miss sending emails to a blogger asking where they got a item, and the answer was, of course, either 'my grandma,' 'a thrift store,' or 'it's DIY.' I was always different from my peers, and I know there's a lot of people like me out there. I keep sending them messages that it's okay to be different. People are supposed to be different from one another. Be weird; it's attractive."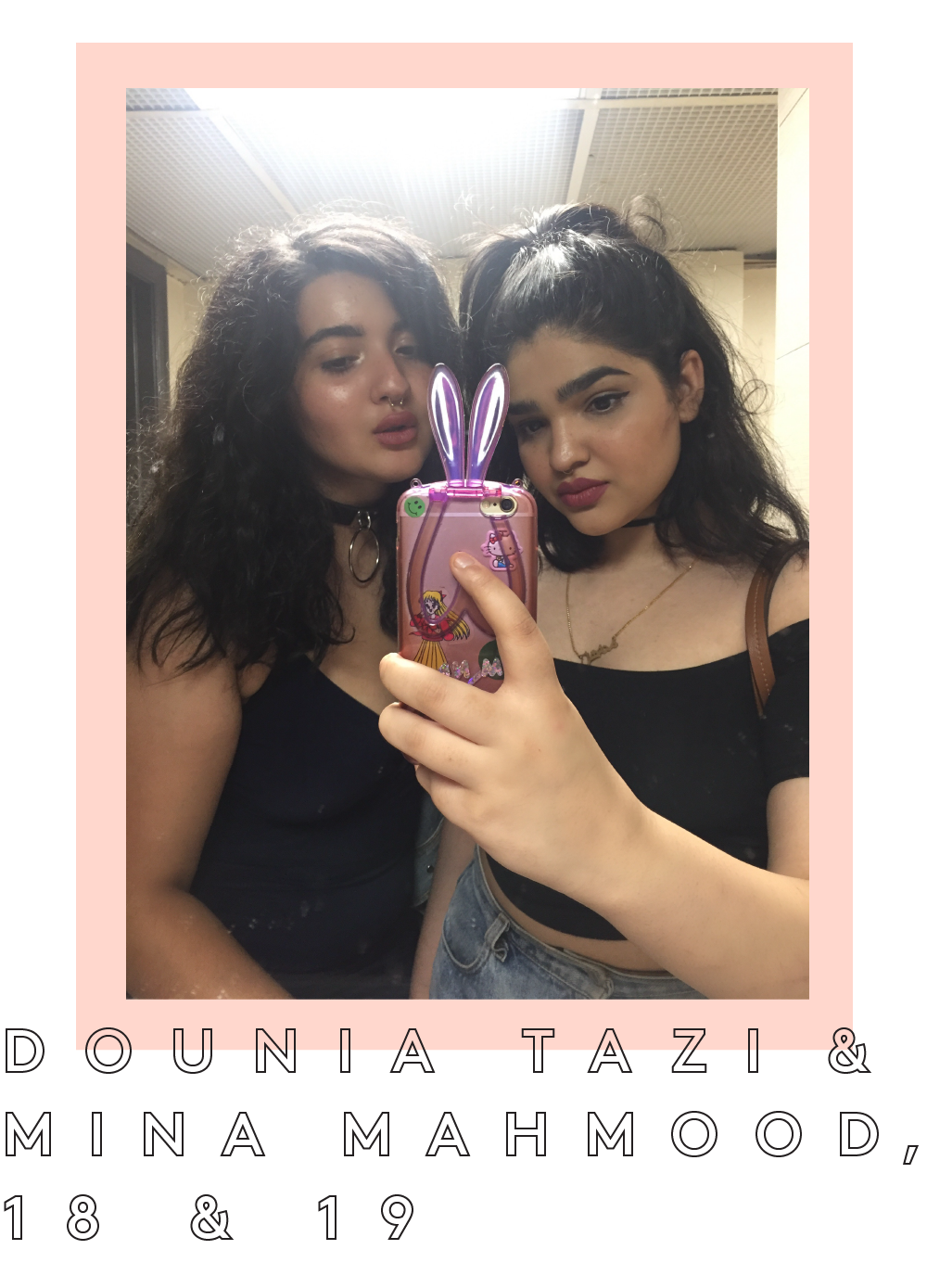 Some people may describe this duo as Insta-famous, but there's more to Dounia and Mina than a serious amount of followers: They're models taking on sizeism in the industry, speaking out against its lack of diversity, and shutting down "plus privilege."
You two have been outspoken about "plus privilege," global politics, and feminism. What do you want people to learn from your messages of social justice?"
Mina Mahmood: "No matter how corny it sounds, I truly hope we can change the world for the better. I hope kids look back at us in history books and think, Holy shit, these people changed the game and paved the way for me! What a time. I personally hope I can make all the future chubby girls proud along with everyone else changing the game in that way. I want bigger sizes to be a norm, and for my kids and grandkids to be able to shop freely without feeling excluded all the time, regardless of what their body type might be. I hope our political stances become a norm. I hope one day we won't have to say #BlacklivesMatter because it will be known, and Black lives will be treated like they matter. We have so much work to do, but Generation Z is so smart and beautiful; I know we can do it."
Dounia Tazi: "With every mentality I change, I'm further reminded of how immensely blessed I am to have this platform, to have a voice that holds weight. I want to empower women, to convey how necessary it is to detach yourself from a code of desirability constructed by cis men. I want to relay how important it is to take agency in your own body but not measure your worth with it. I want to do all I can to instill confidence in girls, a confidence that stretches far past body image."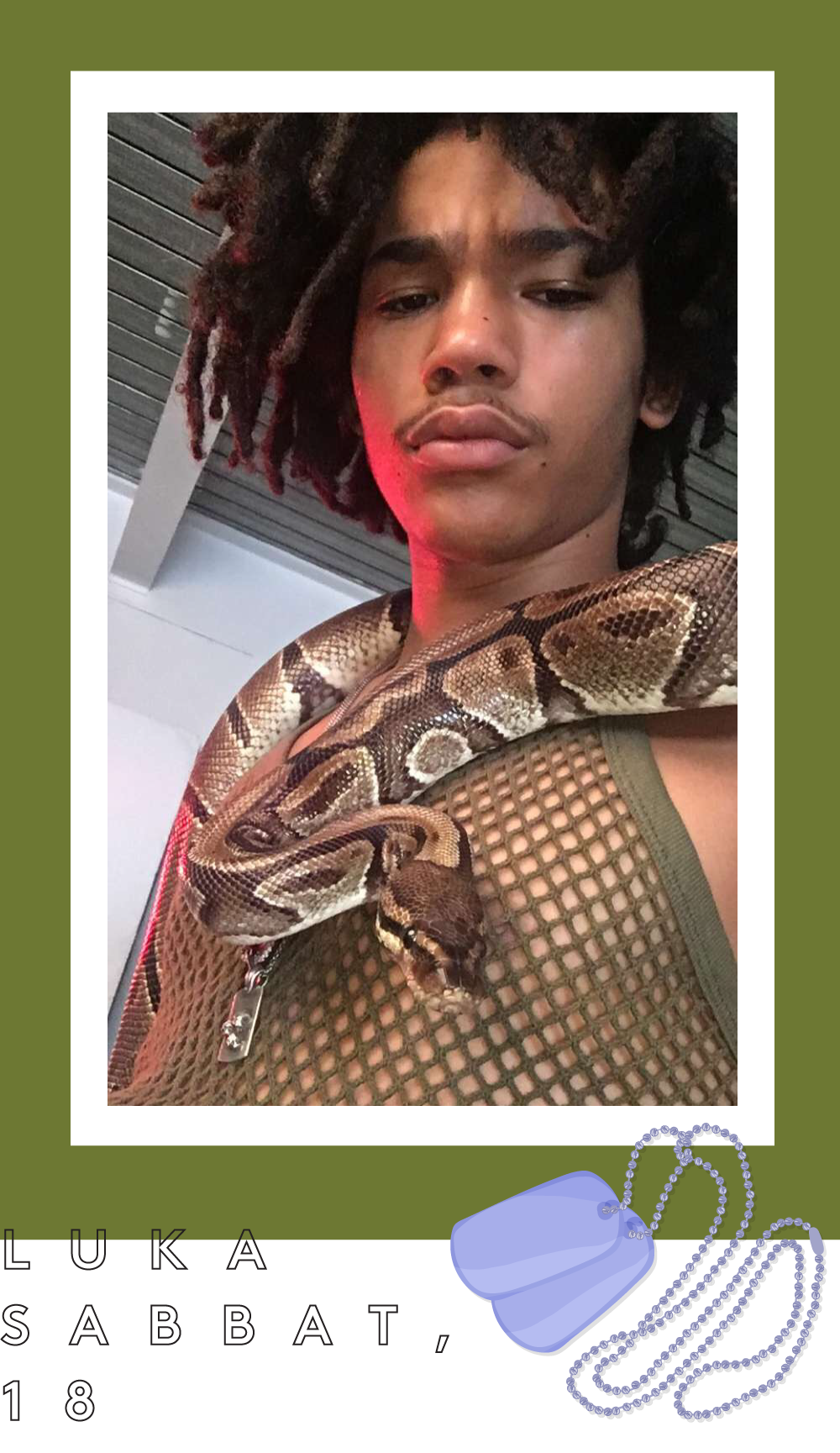 Creative Entrepreneur, Model & Stylist
@lukasabbat
When the world dubs you "The Internet's Coolest Teenager" and "Kanye's Protégé" you have some pretty big Yeezy's to fill. Luckily, Sabbat seems to have no trouble doing just that: He's starred in campaigns for Tommy Hilfiger and Calvin Klein, gained a cult following for his closet full of Saint Laurent and Hood by Air, and wore a Tom Ford suit to prom...gifted to him by the designer himself.
You've developed a massive social following for your downtown cool aesthetic. Do you think the rise of streetwear in fashion has to do with how "real" people your age dress today, or vice versa?
"Streetwear has become as important as high fashion. High fashion takes cues from streetwear, which is how important it has become. People my age want to be comfortable, but they also want to look good. We don't want to wear suits, but we still want to instill some style on the streets. Current streetwear marries style and comfort in a modern way that's never been done before."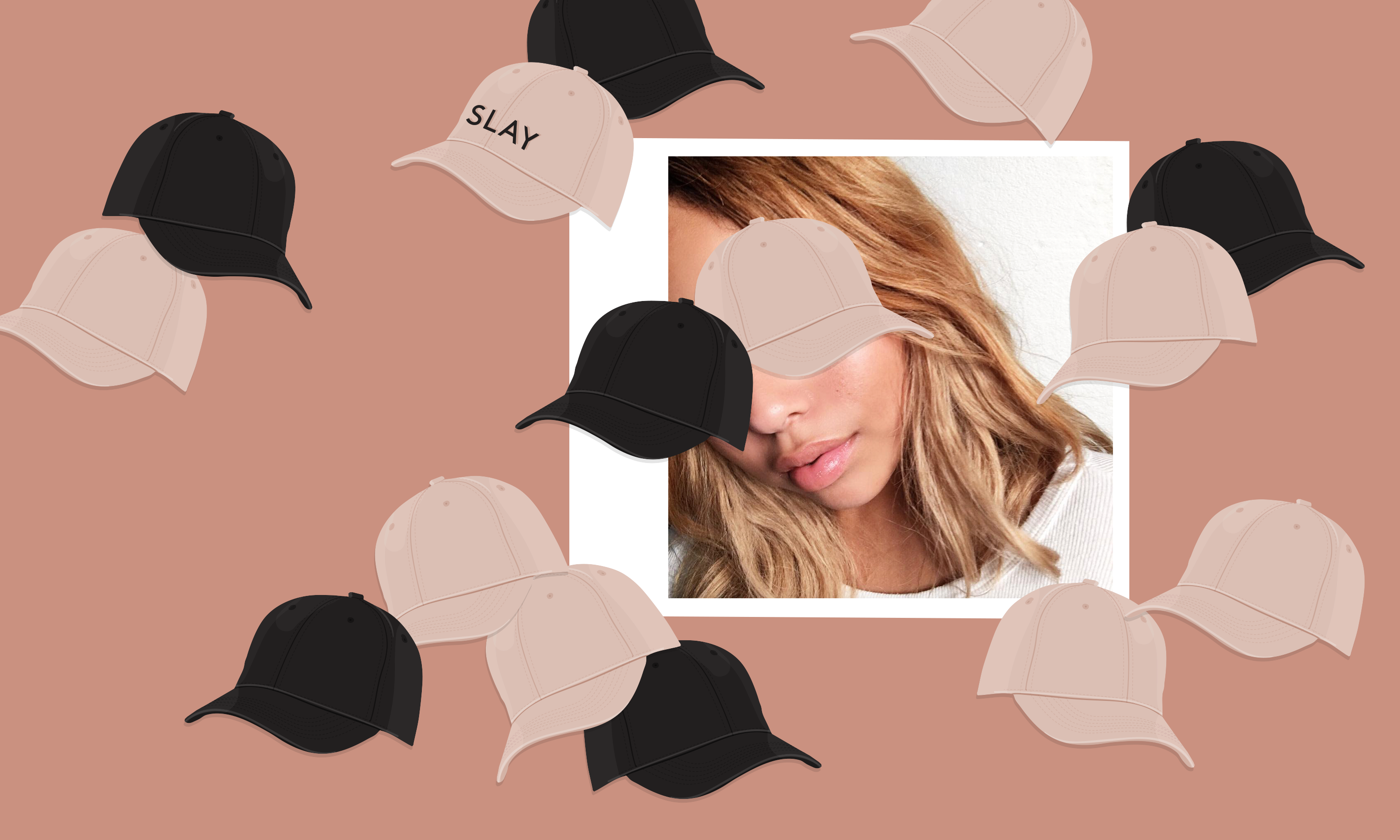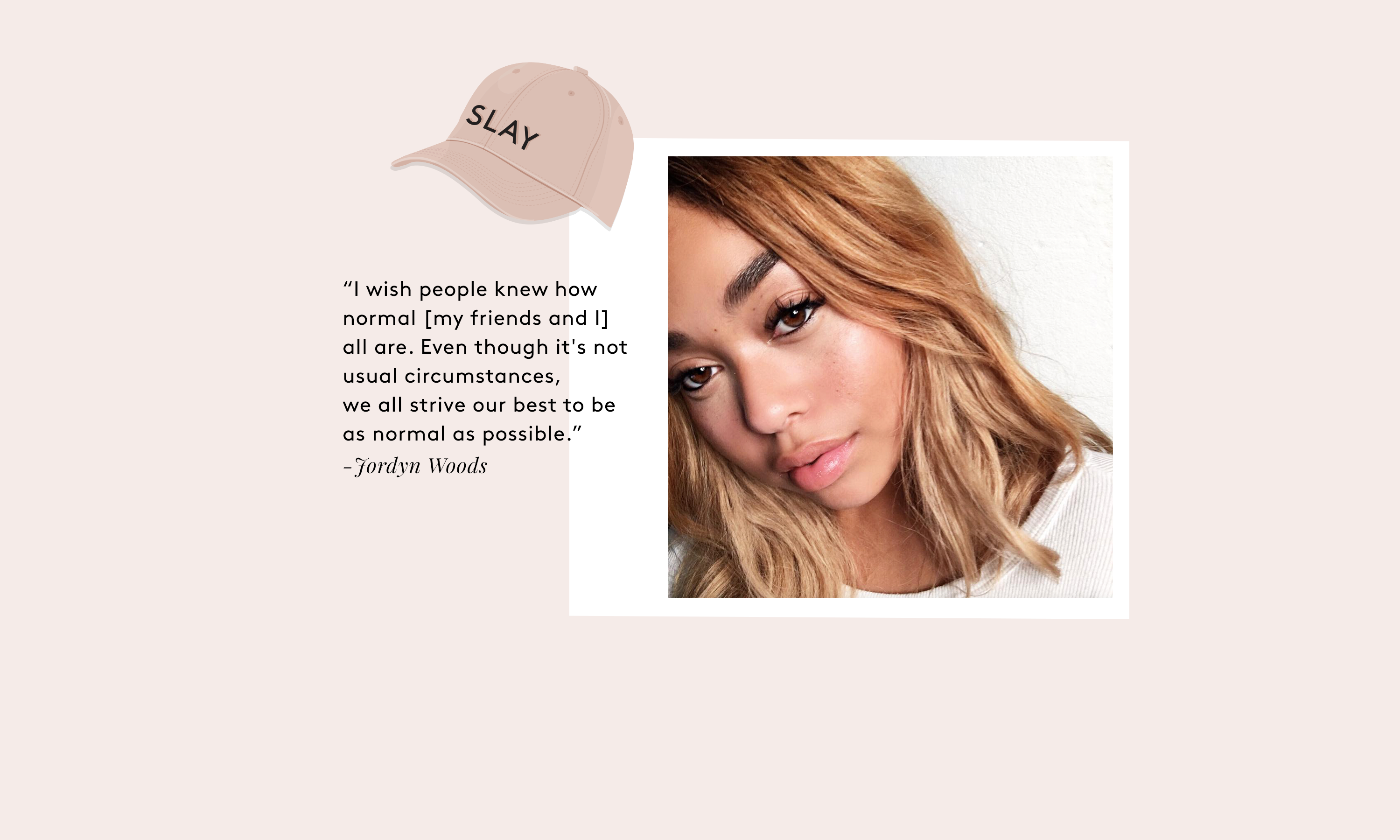 Model, Champion For Curvy Girls
@jordynwoods
The Internet may know her as Kylie Jenner's BFF, but Woods is making her own name in the fashion industry as a model looking to redefine the term "plus-size" — and soon as a designer, with her forthcoming collaboration with Boohoo.
You have 1.5 million Instagram followers and are best friends with people like Kylie Jenner and Jayden Smith. How do you plan to use your platform to evoke change?
"With the internet, this generation is definitely more powerful, because now everyone has a voice and can build a following and relationship with a crowd without actually knowing those people in real life. With this advantage, I'd definitely like to redefine society's standards of beauty and expand the fashion industry. I believe people of all sizes should be able to dress exactly how they want to and know that there are options."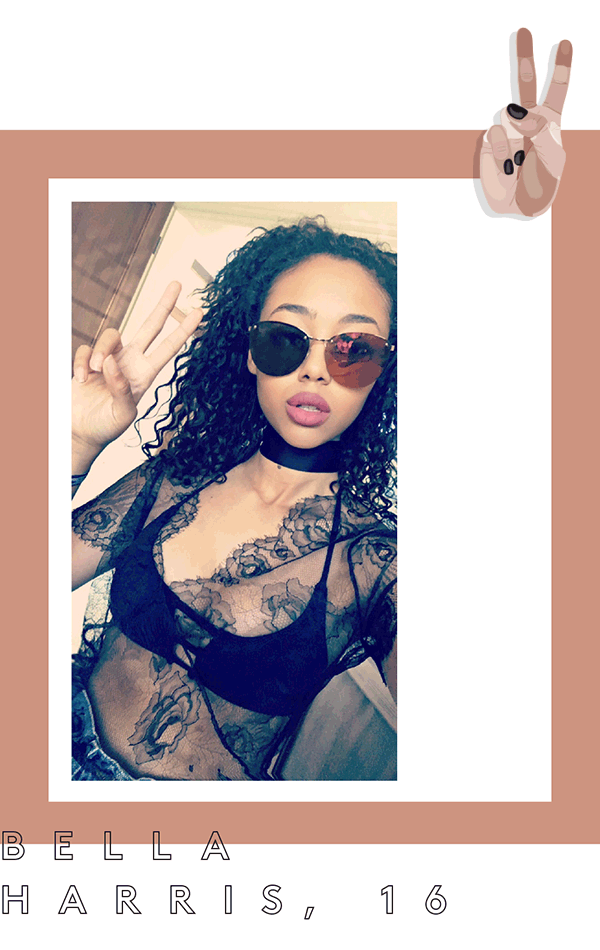 Model
@bellabharris
In the last few months alone, Harris has taken on modeling, hosted a charity event with Alice + Olivia's Stacey Bendet, nailed the red carpet at the Teen Choice Awards, and began work on her own clothing line, set to launch later this year. If there's a new (relatable) It Girl on the scene, well, you heard it here first.
How has growing up in the music industry influenced you (and your style)? Popular magazine called you the "anti-Kardashian." Would you say that's accurate?
"My dad, Jimmy Jam, is a respected music producer and for many years, he was also the chairman of the Grammys, so I have always been around the greatest in music. I have been going to the Grammys since I was 8 years old, and I think the experience has naturally influenced me and my style. The greatest perk for me has been going to the best concerts; my favorite moments have been with Taylor Swift, Selena Gomez, and Beyoncé. They seem truly happy for me and my career."
"I love Popular magazine; it was my first print editorial when I was 14 years old. But, I wasn't happy with the 'anti-Kardashian' line, mostly because I never said that and I didn't want to portray any negativity about someone else. It wasn't even part of the interview. So no, that's not accurate. I remember we talked about my education being my first priority. I can only go on go-sees and castings after school, and work on holiday breaks; [I told them] that I would definitely be going to college one day. And I guess that got misinterpreted to be opposite what the Kardashians do. I also felt bad, because my mom and Kris Jenner are friendly, as are my aunt and Kourtney Kardashian. I've met them both. Kris has always been so supportive and sweet to my mother and [me]. I'm glad I got the chance to address that: Let's build each other up, not tear each other down!"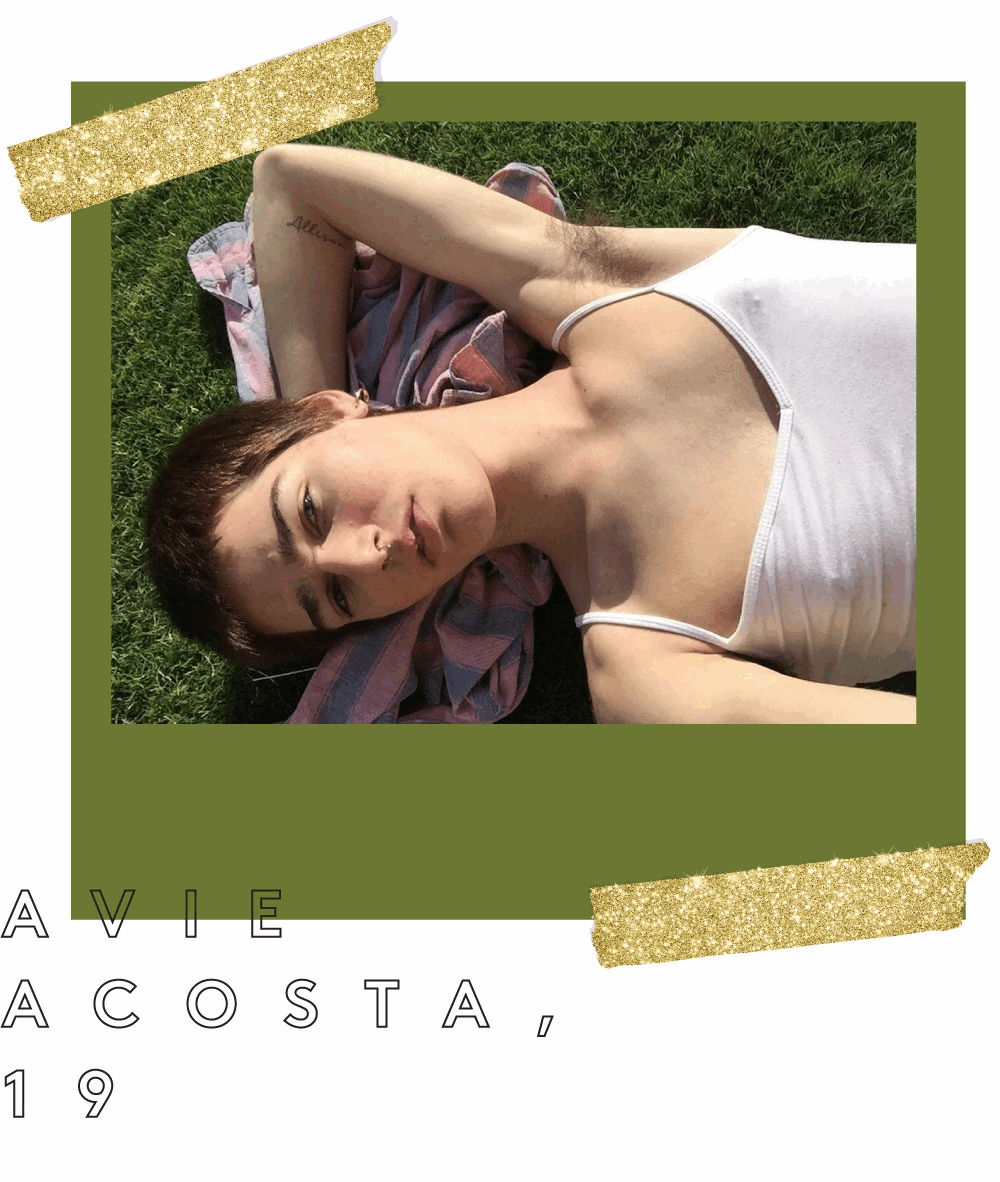 Transgender Model
@avie.acosta
With trans pioneer Hari Nef as her role model, Acosta is on a mission to prove that gender means nothing. Having recently relocated to New York City from Oklahoma, she has since begun work with the Wilhelmina men's board (where she says her body is less "under a microscope") after being discovered at a Marc Jacobs party. It's not just her look, though, that's quickly earning her recognition in the fashion industry; it's her anything-goes mentality.
Tell me about your relationship with gender. How did you finally learn to embrace and feel comfortable with who you are as a person? What advice would you give to others facing the same obstacles?
"I have struggled, of course, with things surrounding gender identity and presenting as a gender non-conforming person, but it is an ongoing relationship that I have with myself. I spend every day trying to embrace myself, working to love myself enough to get through the day, and attempting to feel comfortable in a world and profession where I make so many [people] uncomfortable. It takes effort, a lot of it, but eventually, you have to not let people's view of you change who you know yourself to be, even if it's just who you believe you are in that moment. I think that is the most important thing, too: allowing yourself to have fluidity and just exist, however you want, in any moment. There is no one way to be trans, a boy, a girl, a human, so just live, feel comfortable, and be you!"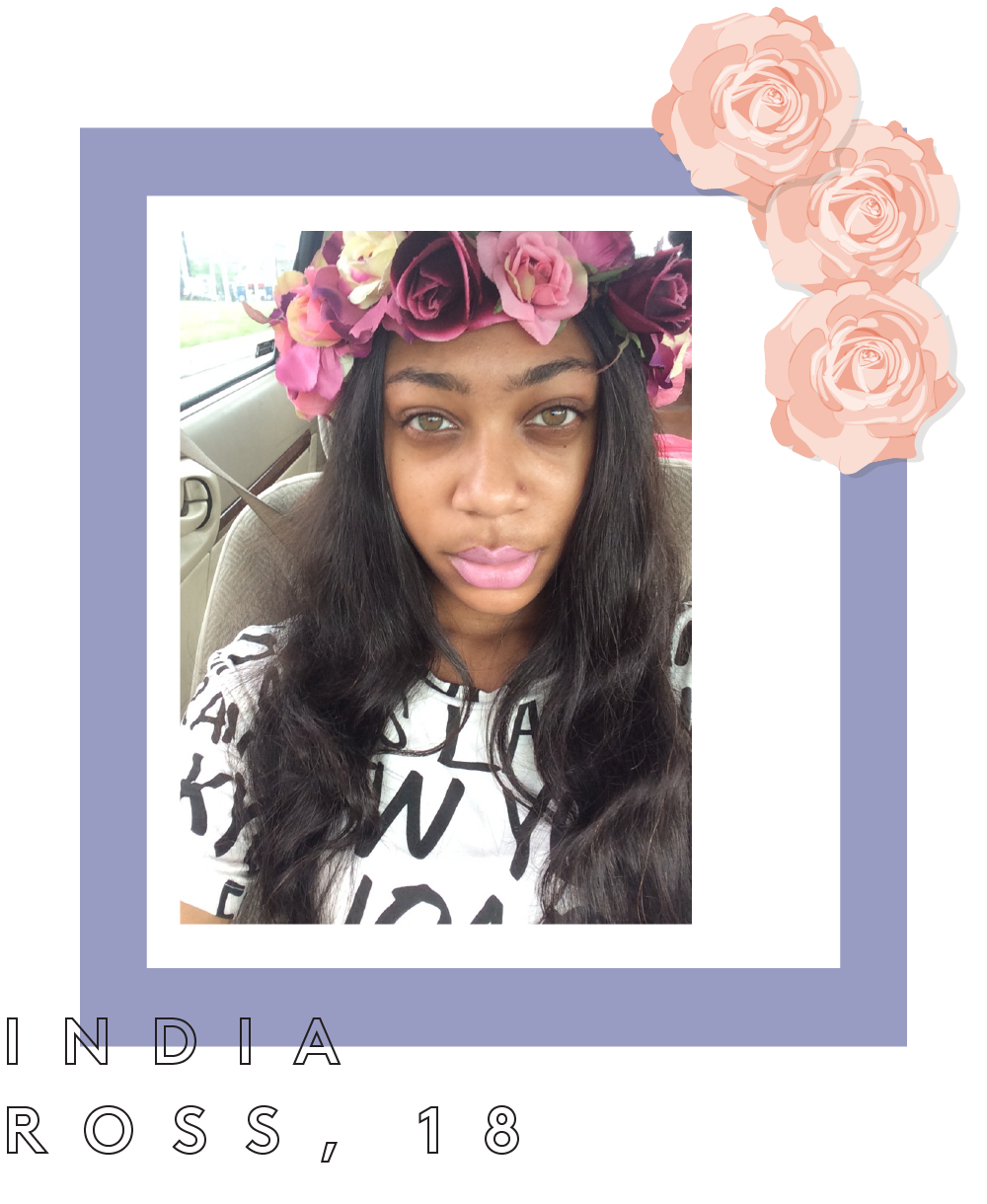 Internet Sensation, Aspiring Designer
@iamindiaross
When Beyoncé showed up to the 2015 Met Gala in a (practically) nude Givenchy gown and killer high pony, the world went crazy. And when this St. Louis teen chose to mimic the look for her senior prom, the internet predictably freaked out. In the fall, she'll be taking her talents to fashion school; let's just say we won't be surprised if her designs end up on Queen Bey one day.
Did you ever expect your Beyoncé look to go viral? How did you come up with that idea, and what does she mean to you as a young woman?
"I never expected my Beyoncé-inspired prom dress to go viral. Ever since I watched the Met Gala in 2015 and saw how she hit the red carpet in that sheer Givenchy dress with a high pony, I knew I would be wearing that same exact look to my senior prom. And that's what I did. I love Beyoncé; she is my inspiration. From her style to her music, she has inspired me. She is a brave-hearted woman, the true definition of a #GirlBoss. She shows the importance of self-love and girls coming together. One of my favorite quotes of hers is: 'To me, power is making things happen without asking for permission. It's affecting the way people perceive themselves and the world around them. It's making people stand up with pride.'"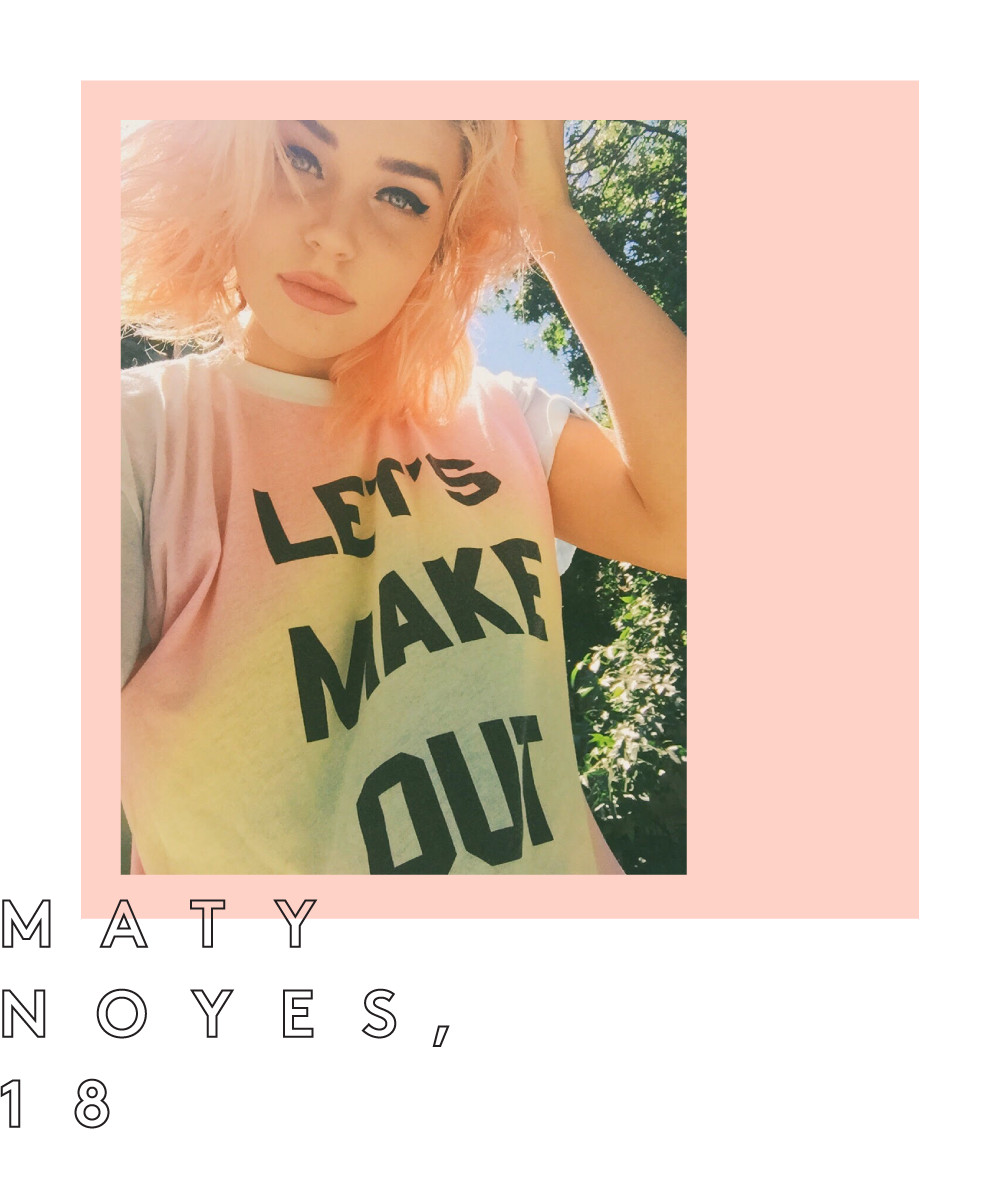 Singer
@matynoyes
With a California cool aesthetic and powerhouse voice, Noyes is about to go from background vocals to Rihanna-level superstar real quick. Having already taken style cues from BadGalRiri herself, we know this up-and-comer is going to have no trouble commanding a room.
How would you describe your personal style? When did you really start to recognize and embrace your aesthetic? Who or what in your life helped influence or develop it?
"My style is definitely diverse. I love so many different things and I embrace my aesthetic by not putting myself in a box. It goes along with my art in the fact that it's always changing and evolving. I can honestly say this is something I've embraced naturally since I can first remember. When I was a child, we were forced to wear uniforms to school. My teachers always joked that I still found a way to show up to school looking 'colorful,' whether it be crazy socks, or rain boots on sunny days, there was always a way to challenge my style. Being back and forth between Nashville and L.A. really helped me develop a style that was different from everyone else. Madonna was a big inspiration to me, too: She was ahead of her time, pushed boundaries, and didn't care what other people thought of her."
You made a pretty low-key appearance on The Weeknd's hit album. Can you tell us what that experience was like and how it prepared you for what's next in terms of your music career?
"I've been working in this business since I was 12 years old, but in a way, that experience felt like the start of it all. It takes a lot to get established in this industry, and everyone has to start somewhere. I was honored to get to sing on 'Angel,' because something about that song has so much meaning and beauty to me. I wanted to see if I could also bring something beautiful to it. It was a really good warm-up for me to discover and get used to what's to come as I release my own music."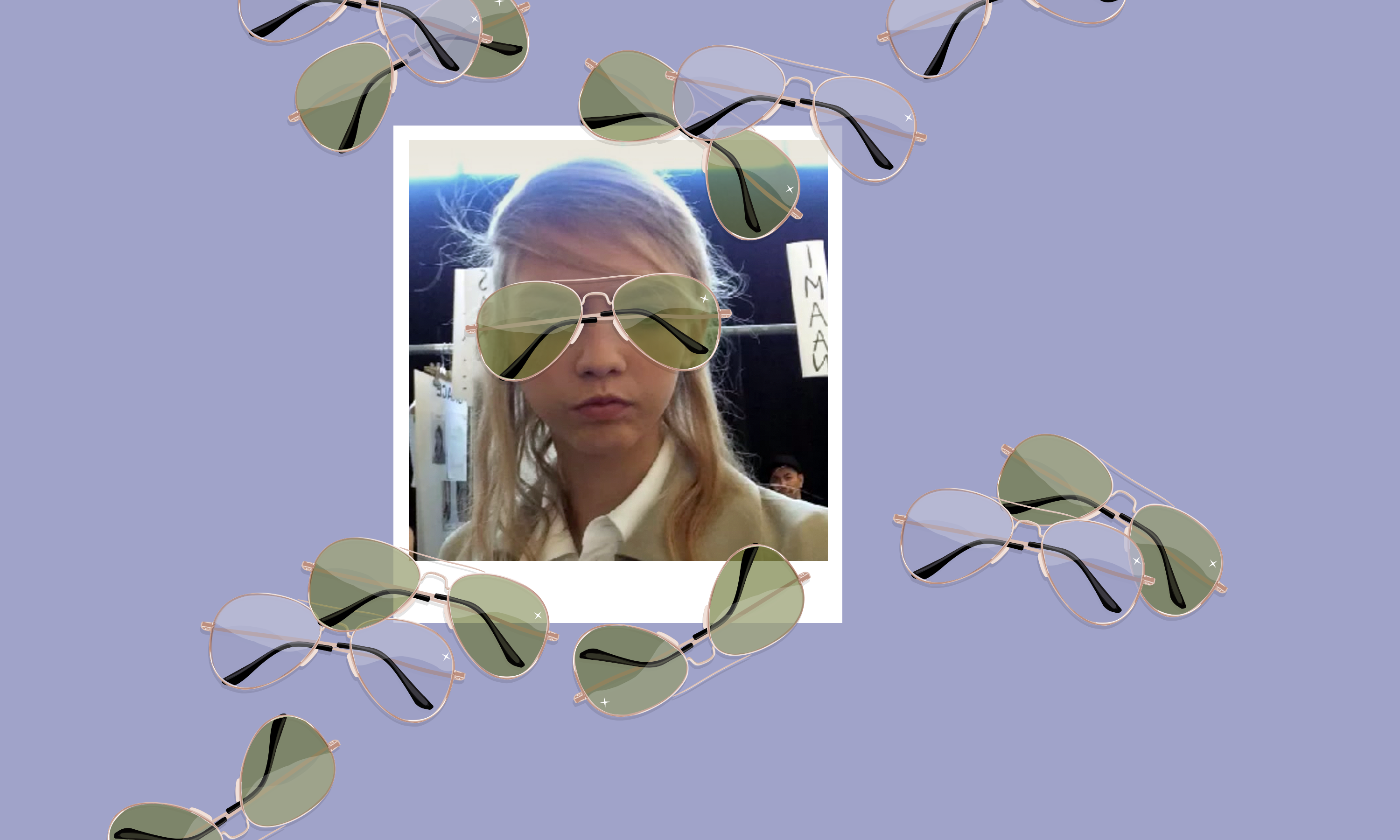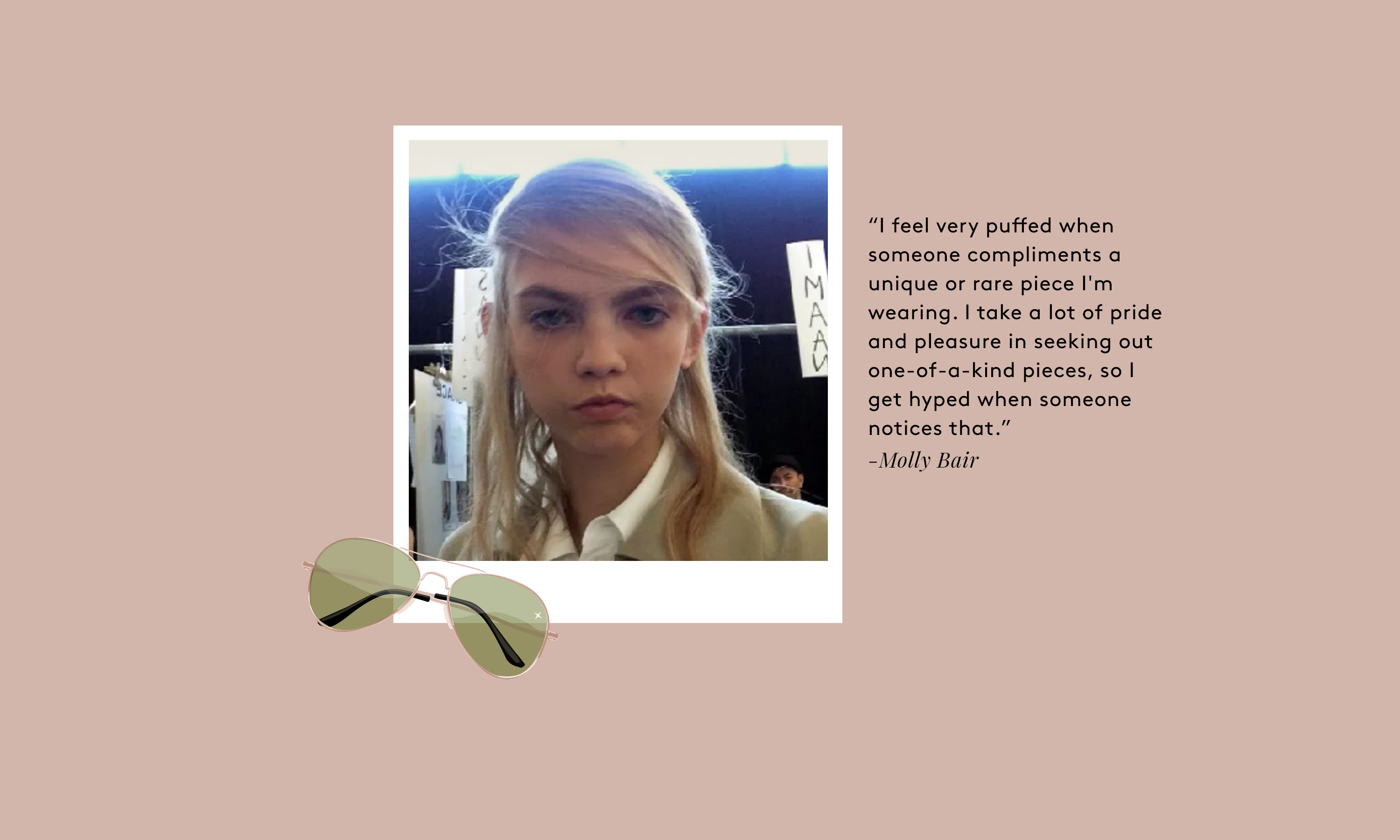 Model
@molllsbair
Last season, Bair walked the runway for over 20 designers. And, with a personality (and sense of humor) as big as the names she works for, well, consider her Cara Delevingne 2.0.
How would you describe your personal style?
"My style is based almost entirely on things I think are funny. I wouldn't really say that I have an aesthetic, because I'm constantly evolving and changing my mind. Actually, I don't think I'll ever settle into a certain aesthetic, because I enjoy the freedom of not defining my style; that way, I can focus on buying pieces I love. Right now, I'm really into the more bizarre realm of the '90s/early-'00s style. I draw inspiration from Aaliyah, Kimora Lee Simmons, and 3LW."
Your one of today's most accomplished runway and campaign models. Is there anything you'd like to accomplish outside the fashion industry?
"I'd like to bring major awareness to the rapid decline of our global environmental situation. With that, I would like to help people understand the changes they can make in their everyday lives to decrease their individual impact on the environment."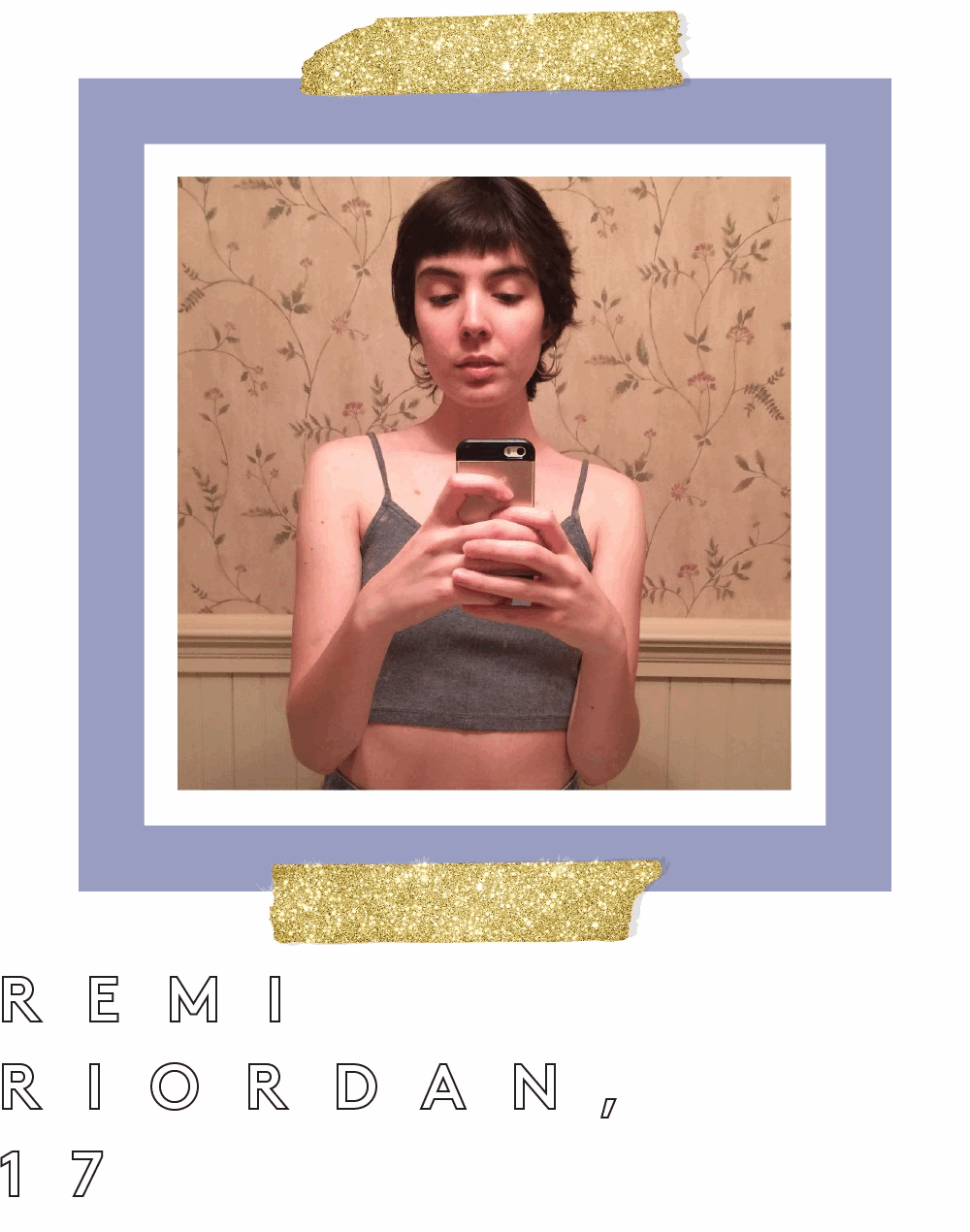 Founder, Crybaby Zine
@ghostgirlly @crybabyzine
While her peers were starting blogs, New Jersey-based Riordan decided she'd start a magazine — specifically one that's written by, and for, teens. Inspired by glossies like i-D and Dazed, Crybaby is a destination for young women looking for an art-driven escape from suburbia.
What made you want to start Crybaby Zine? As someone who is growing up in a time where magazines are dying, why was it important for you to start your own publication?
"I was 15 when I started Crybaby Zine. My work was getting rejected from all the publications I wanted to be in, so I thought I could make my own where my work and my friends' work would be accepted and appreciated. When I started it, my dad told me I shouldn't make print issues because no one would buy them. But, I've always loved print media, so I guess I didn't even consider how magazine culture was dying. I just wanted to have a place where I could share my work that wasn't just Instagram. Now, with the audience I have, I would like to create a more inclusive and empowering environment online for teens."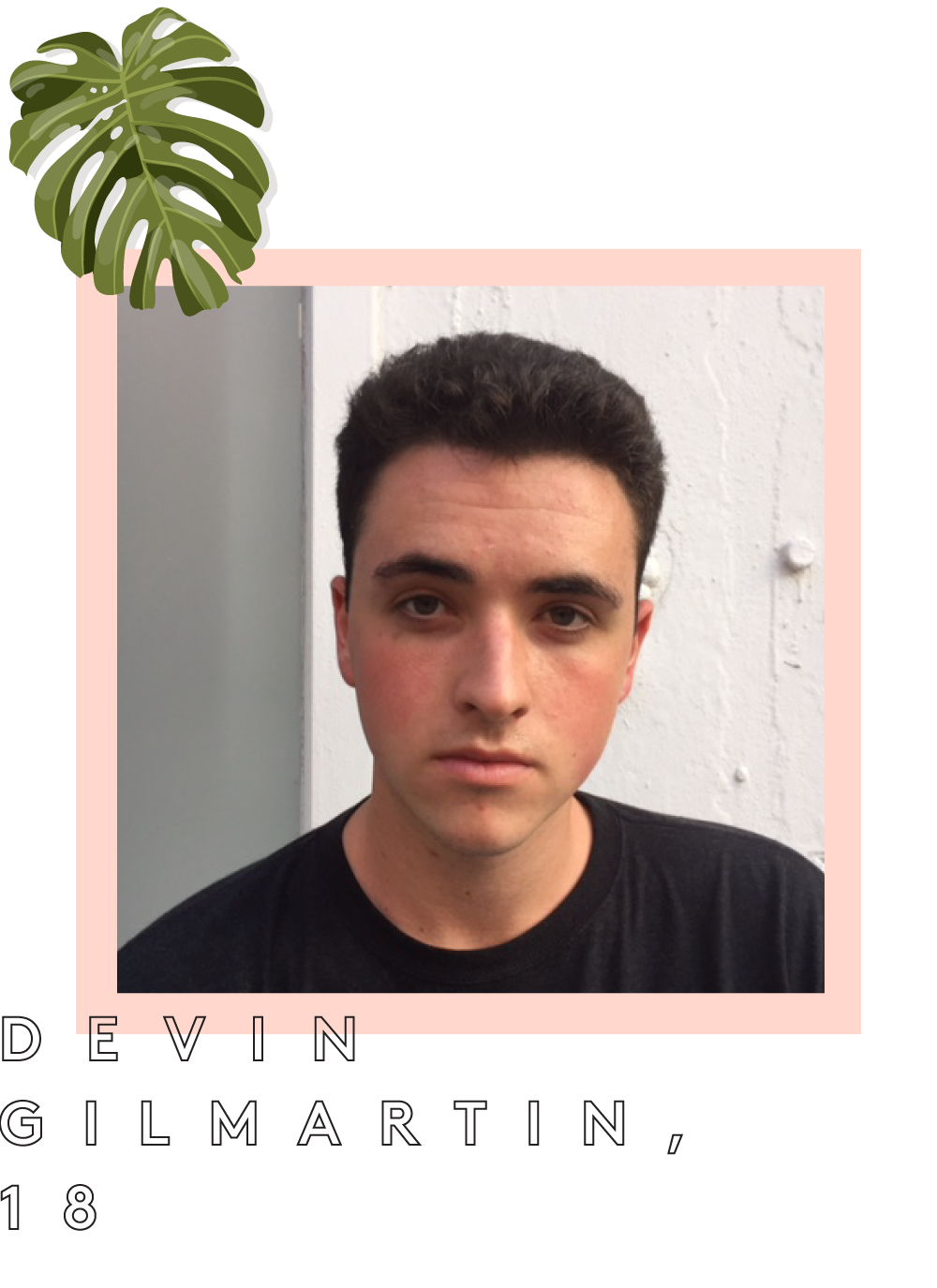 Designer, Cofounder & Creative Director, Querencia Studio
@devinjamesgilmartin
After spending a semester at The Island School in The Bahamas (wearing a uniform made from recycled water bottles, by Recover Brands), Gilmartin found his life's mission: to make clothing that does more. Earlier this year, he cofounded the 2020 Vision Project, with proceeds going to environmental research. Later this month, he'll be launching Querencia Studio, a collaborative platform to encourage the fashion industry to prioritize sustainability.
Generation Z is now considered more powerful and influential than millennials. Why do you think that is?
"Our generation has the ability to change the way we think about communication. Recently, I read a think-piece on why our world seems to be crumbling around us, with racism and violence in the headlines daily. And it seemed to blame a growing lack of human connection. People are growing disinterested in relationships. That results in isolation, which leads to frustration and anger. People seem to be losing sight of the fact that caring for others and treating people with respect is an integral part of one's own happiness. In other words, the world is suffering from a lack of communication in a time where, ironically, it has never been easier to communicate."
"That's where the power of clothing and fashion comes in. Clothing can be a form of communication and expression. If we improve the measures we take to express ourselves, we preserve the meaningfulness of expression. We are doing things too quickly, we are rushing human communication — and there's no place we see that more than in fashion. Why did Raf Simons leave Dior? He cited a lack of time to let his ideas incubate and evolve while building collections. That's one of the most respected designers of our time leaving one of the most prestigious fashion houses in the world because its timeline and commercial needs restrict the creative process."
"This generation has the opportunity to slow things down and bring fashion back to reality. Right now, it's out of touch. We're suffering from 'future shock,' as the late Alvin Toffler described it. We need to bring it back down to earth — pun intended."
Dancer, Actress & Model
@larsenthompson
Thompson is the epitome of a triple threat. Though she's currently focusing her attention on modelling (she recently starred in Juicy Couture's new #TrackIsBack campaign), it's her success with dance (she's one-half of the viral duo Fraternal Twins) that's earned her millions of fans.
When did you really start to recognize and embrace your aesthetic? Is there any person, place, or thing that has helped influence or develop it?
"Having red hair, blue eyes, and freckles is a very unique look, and one that I embrace. At an early age, I realized that God makes everyone differently by design. I have a heavy European descent and I love that it comes out in me. I have always been interested in creative forms of expression, whether it is through dancing, modeling, or acting. My aunt, Julianne McNamara, is a mentor and a role model for me; she was the first [American] woman gymnast to receive a gold medal in the Olympics (1984 on the uneven bars). She has instilled passion, creativity, and confidence in allowing me to express myself and to be the best me!"
What's one accomplishment you're particularly proud of?
"I believe in giving back and making a difference outside of my professional goals. I have a passion for helping others and will attach myself to campaigns and brands that do just that. Recently, I took part in the Global Goals Campaign, which is all about women's rights and empowerment across the world. It was an honor to be in the video, which was shot all over the world, leveraging artists dancing to the Spice Girls' song ["Wannabe"] with their personal endorsement and commitment to make a difference."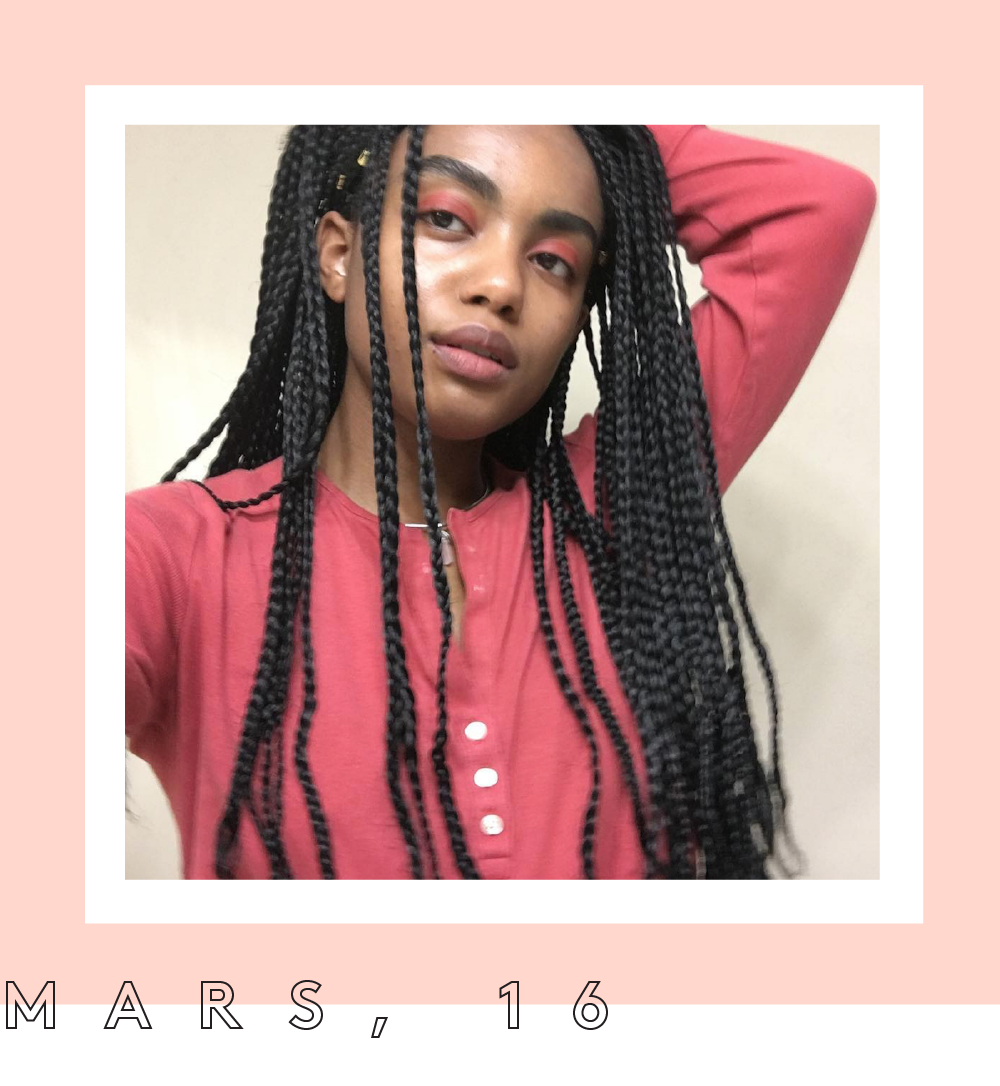 Founder, Art Hoe Collective
@sensitiveblackperson
Fashion is so much more than the clothes we wear: It's a form of expression, art, and self-discovery. Cofounded by Mars, Art Hoe Collective was formed as a safe space for young women of color to create and showcase their work. With famous names like Amandla Stenberg and Willow Smith as participants, Art Hoe's mission is simple: It's about inclusivity, accessibility, and showcasing a variety of perspectives.
Tell us about your personal style.
"An eccentric mess that's been refined throughout the years. My style has developed through my own experience and changing personality. I'm influenced by Rookie magazine, Solange, and Tumblr, but my style has always been a testament of my own progression."
Why is the Art Hoe movement important to young women and their growth as artists and people?
"I want people to take the youth more seriously, while also leaving us room to grow. With the Art Hoe movement and collective, we are creating a platform where marginalized people can feel safe with their art.The art world tends to be an exclusive setting that only caters to white cis males. With this, we are promoting love and acceptance while encouraging the youth to be more involved."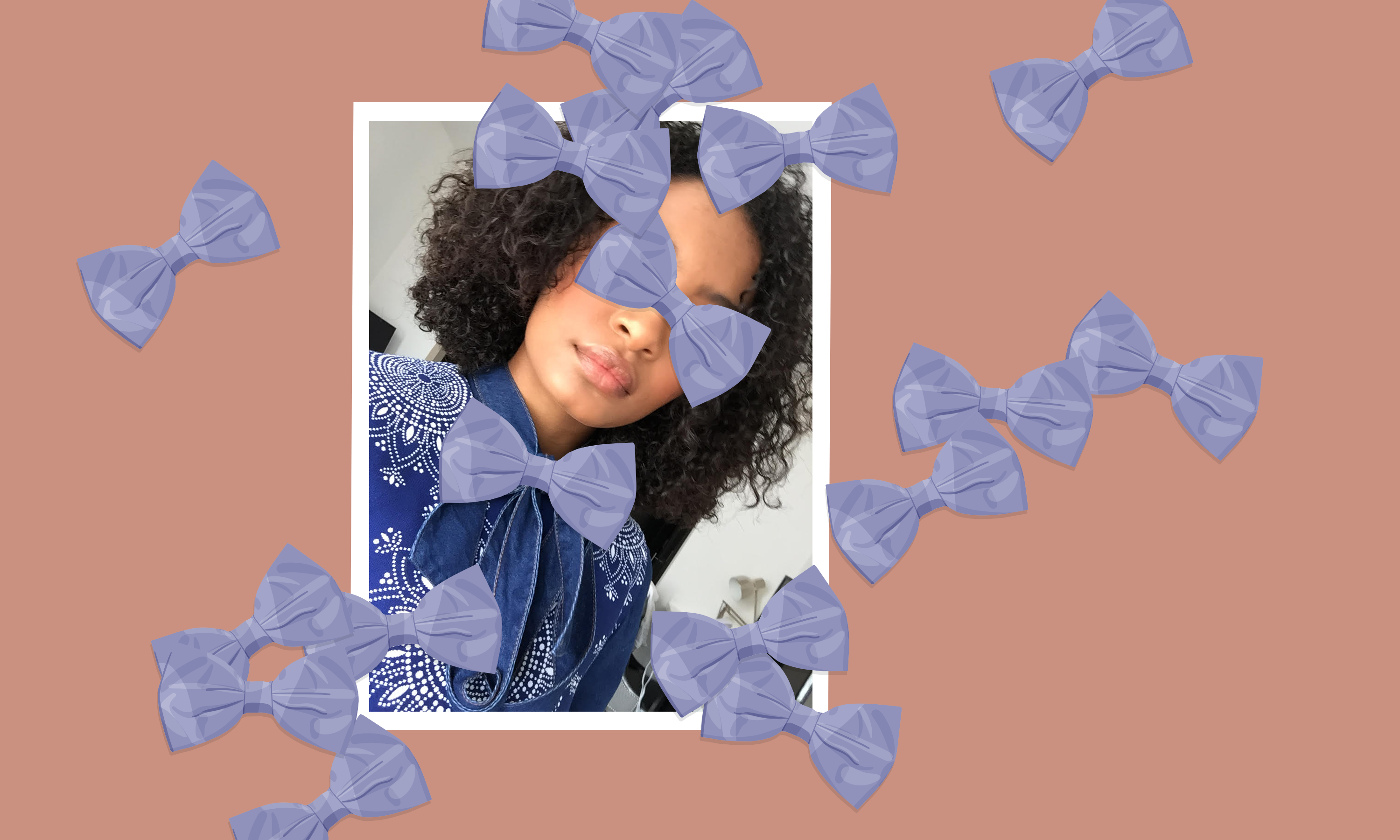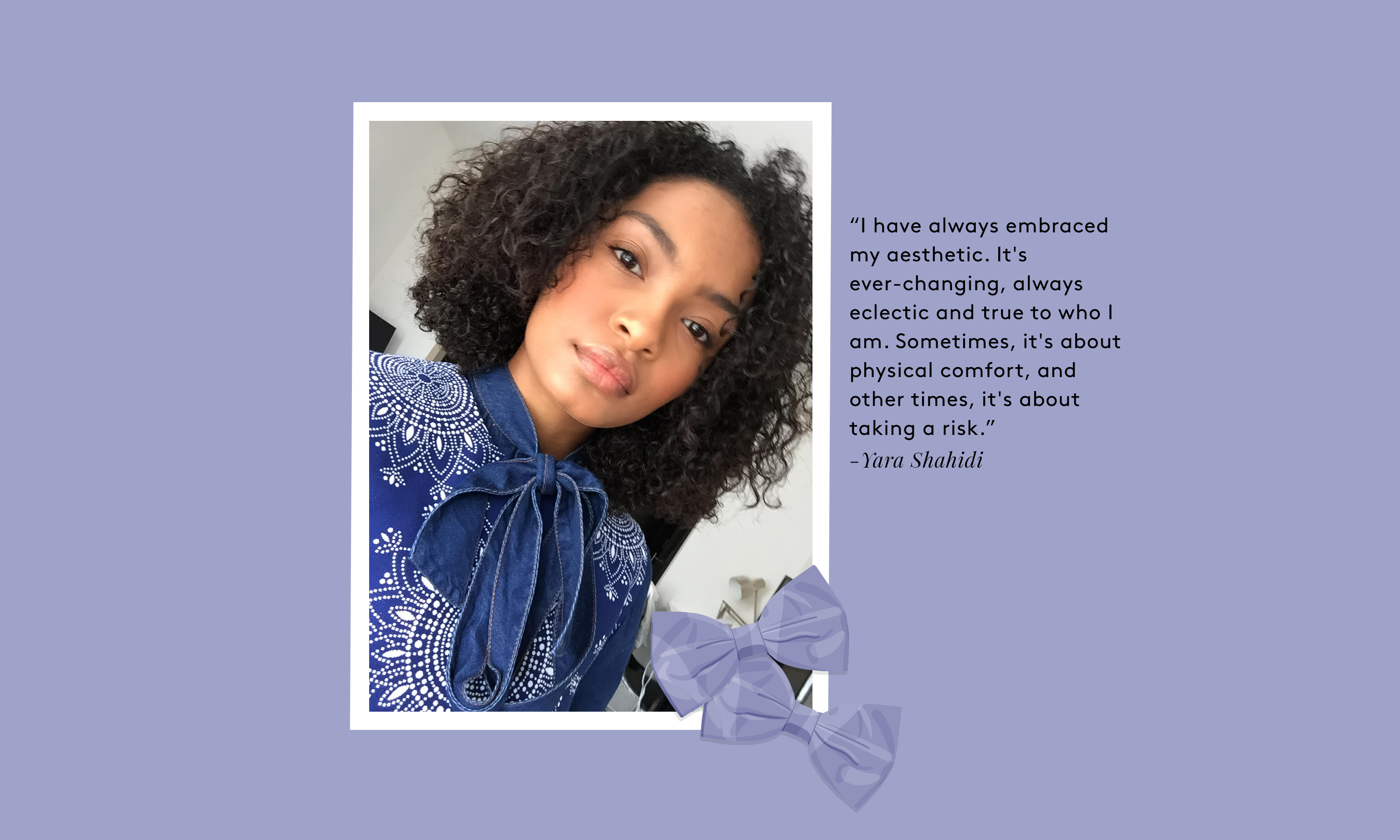 Actress
@yarashahidi
Starring roles on Black-ish and Scandal may have catapulted Shahidi to the top of young Hollywood, but it's her activism surrounding diversity and her self-expression through clothing that have the industry paying attention. If 2016 thus far is any indication of her star power, she's about to become a force to be reckoned with.
How would you describe yourself?
"I am a self-proclaimed retrophile, a proud nerd, and a fashionista. I like my grades and my shoes to be fresh at all times! My style is ever-changing. Depending on how I feel, I flip from utilitarian to quirky to classic without an issue."
How do you plan to use your reach to inspire and influence people?"
"I feel like I am on the path already. I intentionally utilize my platform to speak about the importance of art, activism, and representation. My generation is unique in that we have the support and history of generations before us, the burning desire to make a positive impact, and the benefit of having a global reach through social media."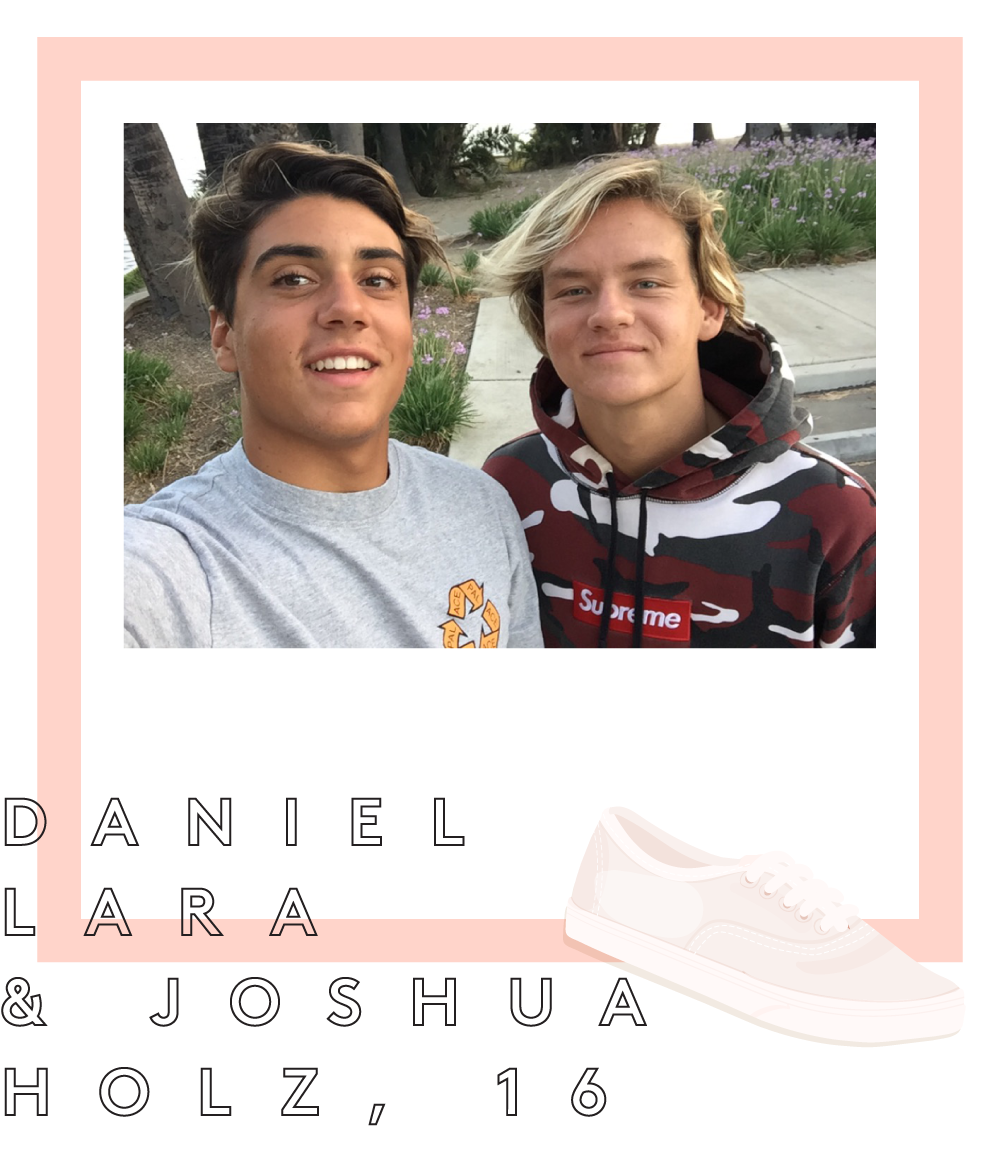 Meme Masters
@danlaraa @joshholzz
If you found yourself posting, sharing, or laughing over "Damn, Daniel" earlier this year, these two are to blame. What started as an inside joke between friends about a pair of white sneakers turned into a viral sensation that was responsible for increasing the sales of Vans by 20 to 30%. Now that's what we call "fashion influence."
Did you ever imagine the viral impact "Damn, Daniel" would haveboosted Vans sales by 20% for direct-to-consumer and 30% online? How have your lives changed because of it?
Daniel Lara: "I had NO clue 'Damn, Daniel' would become a viral video. I thought it was absolutely crazy how the video spiked the sales at Vans. Our lives haven't changed too much since the video, but we have definitely been a little busier (in a fun way)."
Josh Holz: "Never. I didn't make or post the video for that reason, so all of this is a huge surprise. My life is pretty much the same, just a lot busier with all these awesome opportunities to do new things that I never expected to do. I mean, who wouldn't love the opportunity to hug Ellen [Degeneres], or be a 50/50 business partner at the age of 16?"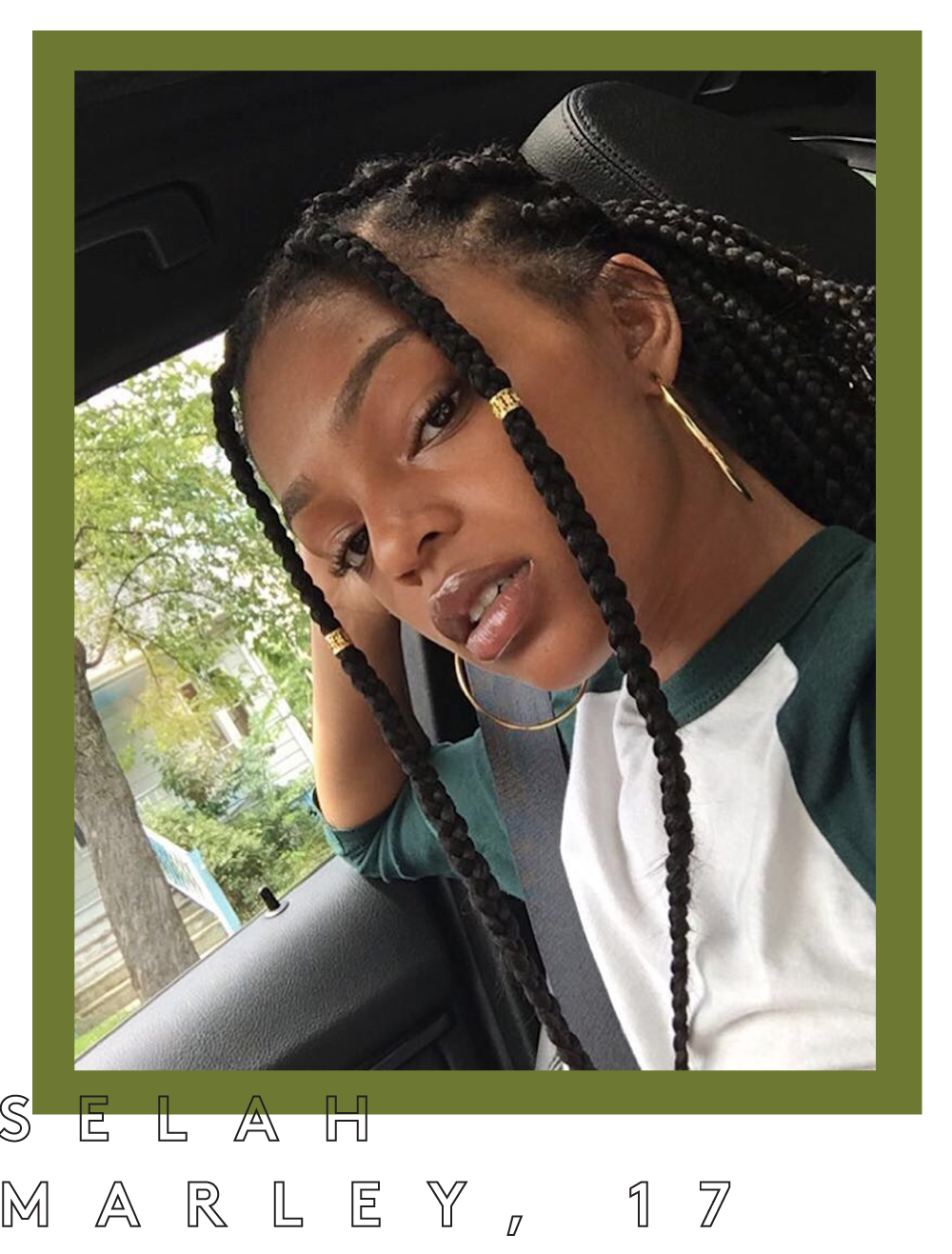 Model
@selahmarley
You might recognize Marley's face (and last name). One look at Marley's Calvin Klein campaign and you'll realize that she's a carbon copy of her mom, Lauryn Hill. All music royalty connections aside (her grandfather is Bob Marley), this is one model to keep a close eye on — if you need further proof, here's her latest campaign for Adidas Originals.
Tell me about your first major campaign for Calvin Klein. How did that come about, what was the experience like, and what are your thoughts on Raf Simons taking over?
"My Calvin Klein campaign was so dope, and I'm so happy I got the chance to be a part of it. It came about quite abruptly; my mom [Lauryn Hill] told me to check my email, and I found that they wanted me to participate in their fall 2016 campaign. The experience was amazing. Honestly, it really opened my eyes to a different view of what it's really like to be in this 'fashion world,' and better yet, to work. The set was huge, and I had so much fun going from interview to interview, just being able to talk about life. It's really awesome when I can just speak my mind with no restraints and represent fashion in a personally liberated way. I think the beauty is in being able to feel confident in being myself; I think everyone appreciates authenticity because it shows the inner child within all of us, the un-jaded, true side."
"Raf Simons for CK is going to be huge and take the brand to another level, just looking at his work with Adidas. I think Calvin Klein is going to experience something it's never seen before!"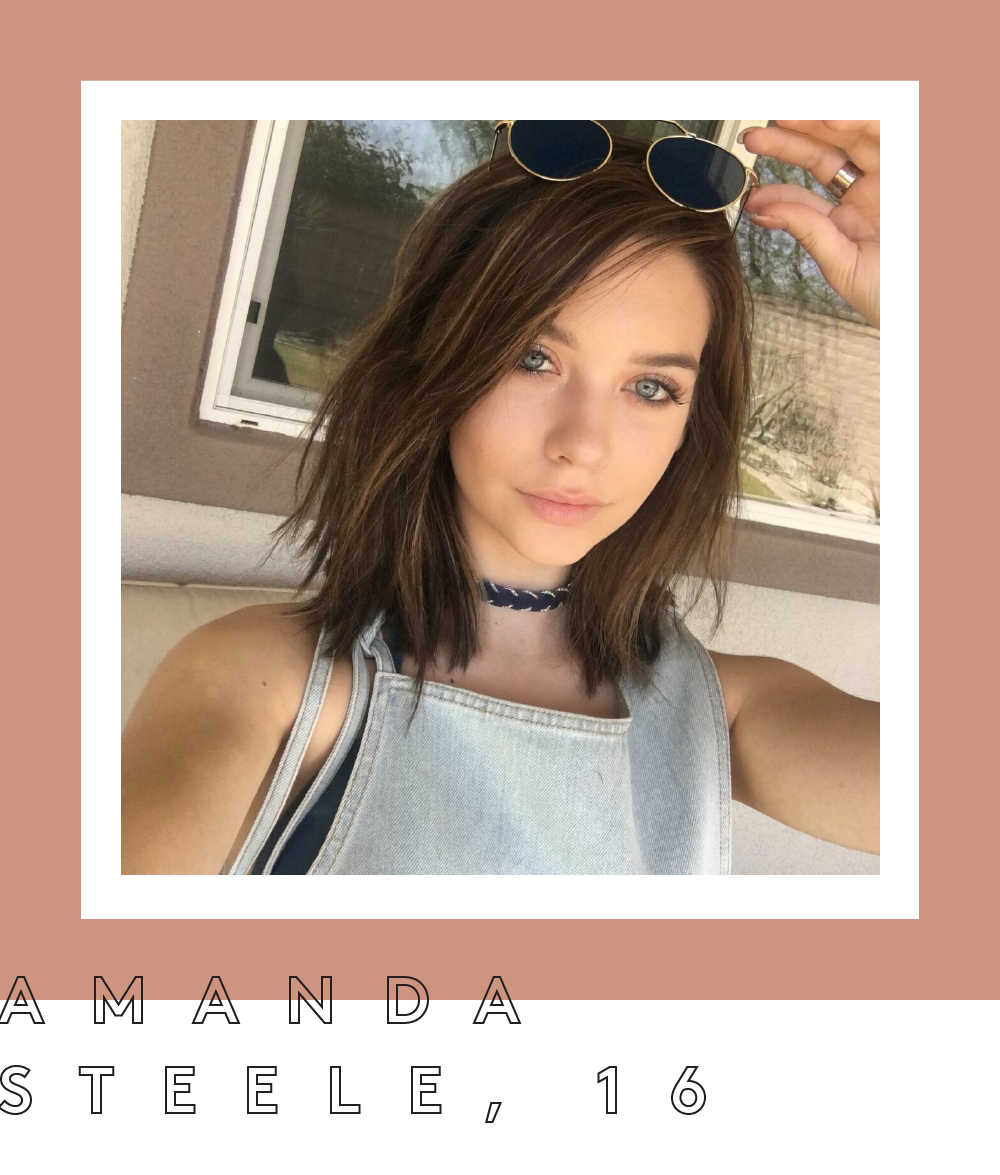 YouTube Star
@amandasteele
Though Steele has garnered millions of followers through her YouTube channel MakeupbyMandy24, she's currently setting her sights offline, with plans to take the fashion industry by storm (she recently signed a modeling contract with IMG). Her ultimate goal: Becoming a Victoria's Secret Angel. Sound familiar?
You started your YouTube channel a while ago — when did you realize it was going to be a hit? When did you realize that millions of people wanted to see the outfits you wore, the clothes you bought?
"When I was about 13 I signed with a YouTube network, and that's when it really hit me. Seeing all the careers and passion that are behind me and this new age made me really see how much impact I had. It was just something fun for me to do, and then suddenly so many people believed in what I was doing. Social media is so wonderful for that exact reason. Being on social media exposes you to what is currently happening or trending. When you spend as much time as I do on it, it's not hard to keep up with the fast changing industry. I make sure to know what is going on and then let it loosely inspire me. I don't try too hard to keep up and stay relevant, I just let all things inspire me and it works out best that way."

Artist
@lucia_santina
Growing up in Hollywood can be a tricky road to navigate, but Ribisi seems to have figured it all out. Though her dad (Giovanni Ribisi) may be an accomplished actor, the California-based artist has forged her own path — and she's already gained international recognition. After Saint Laurent's (now former) creative director Hedi Slimane discovered her work, the pair collaborated on two different seasons. Not bad for someone barely brushing 20.
Tell me about meeting Hedi Slimane and eventually collaborating with Saint Laurent. How did that influence your current path as an artist?
"I met Hedi once in Los Angeles, 10 years before our collaboration. They found me on the good-old Facebook. I've thought about deleting myself from the site because of how much time I've spent on there being unproductive. Ultimately, if I hadn't been posting pictures of my artwork there, I don't know where I'd be now. Saint Laurent changed my life. They ushered me into a world of opportunity, to access a greater audience with all that I might have to say. I am trying to make the best of it. I am making mistakes, learning a lot, and celebrating the little victories when I can. As an artist, I have tried to stay away from letting fashion influence the work I make. I just want to make genuine work."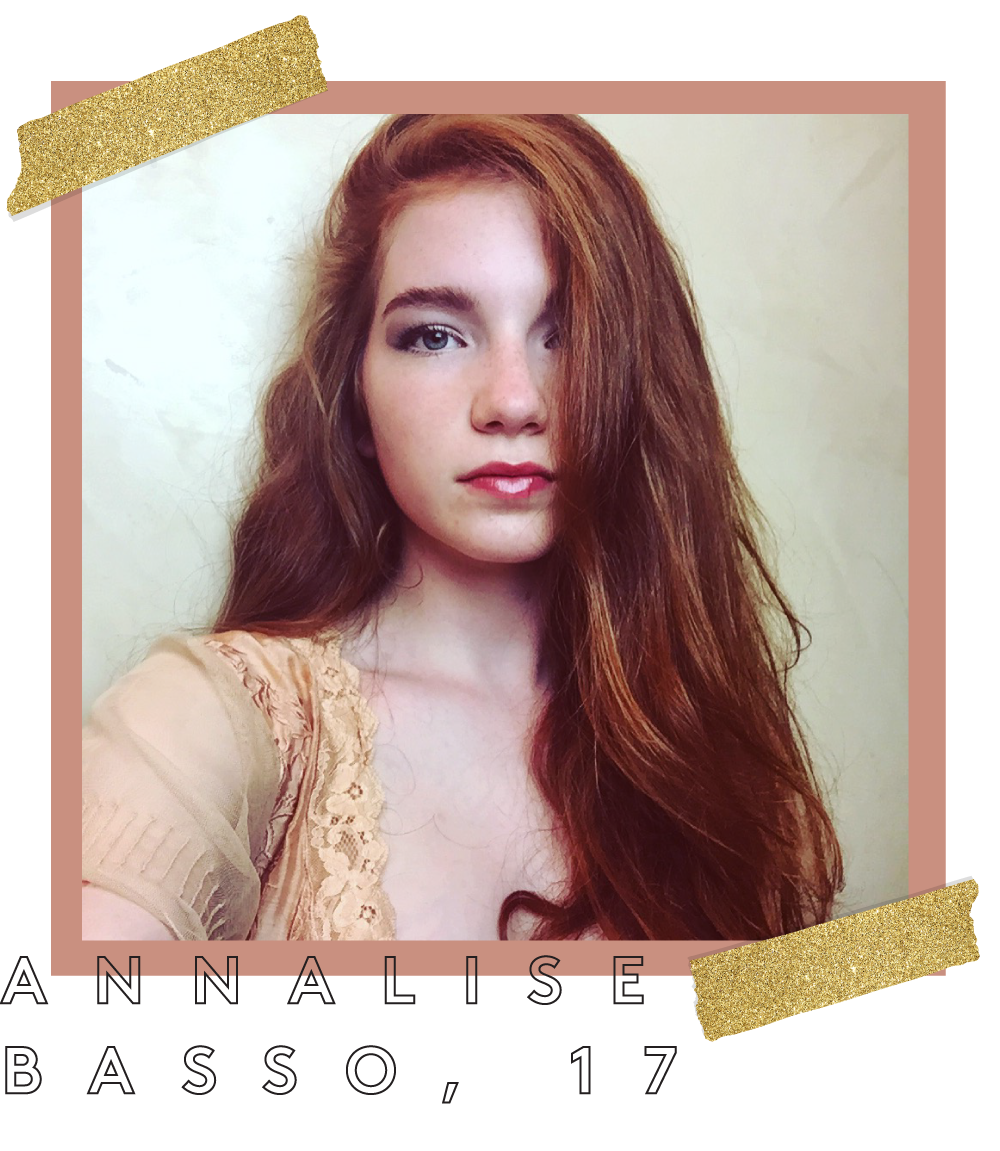 Actress
@annalisebasso
The red carpet has gotten stale — there's no denying that. But when Basso stepped out at Cannes for the premiere of Captain Fantastic, it served as a reminder of just how good (and authentic) the event dressing can be. With her upcoming film Ouija 2 set for an October release, our eyes are peeled for what she's going to pull off next.
In the past year, you've worn some incredible pieces by designers like Valentino and Temperley. How do you decide on your red carpet looks, and how much would you say they reflect your personal style?
"Before an event, I'll make a Pinterest board with my mom and older sister, because we love collaborating on this kind of thing. I really love [the aesthetic of] Valentino's spring/summer 2014 collection — something nature-inspired, delicate, and feminine, without being too princess-y. My stylist, Warren Alfie Baker, always delivers an outfit that goes above and beyond what I ask for, and he can be trusted to get a feral forest child red carpet ready. The Temperley and Valentino dresses were an absolute dream to wear; they're unique and age-appropriate, while also being youthful, and most importantly 'me.' He makes me feel like a queen fit for the Iron Throne (which makes sense, considering he also styles Theon Greyjoy (Alfie Allen) and Ramsay Bolton (Iwan Rheon) from Game of Thrones."
What would you say is one advantage your generation has over past ones?
"One thing Generation Z has going for us is the potential of technology. It's opening so many doors to fix the problems of previous generations, and presenting different platforms for change. But we have to remember not to disconnect from each other and to stay humble. That's something that I would like to start working on now; being more empathetic and aware of people. Our generation also has a responsibility to our environment. By 2050, there will be more water bottles than fish in the ocean. That's on us. It's our responsibility to fix that. As exciting as the future is, there's so much work to be done. The Northwestern Coastline, the Midwestern forest, Lake Michigan, the Colorado river, these are all places I've called home at one time or another, and I want others to have the opportunity to experience them, too."