Star power is something exceptional. Something undefinable. Something that tempts the most cliché-averse among us to utter the words
je ne sais quoi
.
But, when we see it, we know it. And, that is certainly the case with the seven incredible ladies ahead. These women are killing it. In every sense of the word. They're taking breakout roles and stealing scenes. They're writing alongside the likes of Tina Fey — and winning Emmys for it. They're casting and developing some of the most badass talent in the industry right now. And they're really and truly just getting started.
The women ahead are truly on the verge of something huge. These are the ladies we're banking on, not just to have 15 minutes of glorious fame, but to have serious careers that will shatter ceilings and redefine what it means to be a successful woman in Hollywood.
And yes, those are big promises. But we're pretty sure these multi-talented ladies are about to deliver. Ahead, get to know them on a personal level, marvel at their incredible style and beautiful faces, and commit these names to memory. These are legitimately the ones to watch.
Photographed by Olivia Malone.
The reality about Hollywood "newcomers"? A lot of these people aren't new to the scene at all — many clock upwards of 10 years of experience before gaining any recognition. Case in point: Caitlin FitzGerald. The striking blonde has shared the screen with everyone from Blake Lively to Ed Burns and the one and only Meryl Streep. Yet, it wasn't until booking her current gig, playing Libby Masters on Masters of Sex, wife of the titular Dr. William Masters (Michael Sheen), that she started to become a household name.
So, what does FitzGerald consider to be her big break? "Every job I've had has definitely paved the way for the next," she said. "Everyone likes to think of actors as being these overnight sensations, but even Jennifer Lawrence has been acting since she was 12. It's really just about sticking with it." This perseverance has definitely paid off for the actress — and, judging from the fervor and affection with which she discusses the job, it's going to continue to do so. Newcomer or not, this is one girl you'd be a fool to bet against.
Photographed by Olivia Malone.
Has being on Masters of Sex altered the way you view relationships in your personal life?

"Yeah, absolutely. I think it's made me more aware that these cultural assumptions — that are such a big part of the show — are still completely alive. I wasn't prepared for that at all. In a lot of ways, yes, we're much more liberated and sexually free than we were back then — but, in many ways we still have the same issues as we did back then."
What's one of the issues that you still see existing today?
"Well, what's interesting for me about [my character] Libby is that she believes this fairy tale — and that fairy tale still totally exists for some people. Like, if I find the right guy, and I get the perfect house, and I have all the right clothes, and the right hairdo, I'll be happy; the fairy tale will come true. And, I definitely have friends that bought into that mythology, too. And, now, as we get older, those friends are totally shocked and thrown that it's more complicated than that."
Photographed by Olivia Malone.
In what ways do you relate to Libby? "I think Libby leads from her heart a lot. And, I think I do, too — for better or for worse. I think that's what has led me to be an actor and pursue this insanity. She feels things really deeply, and things affect her on a very personal level. I remember an acting teacher once told me, 'Your greatest strength as an actor will be your sensitivity — but that will also be your greatest weakness.' And, I think that's really true for Libby, too."
If you had to travel back in time to the '50s, what's one thing you know would be a huge struggle for you?
"I don't know how I would be able to keep my mouth shut with all the blatant misogyny."
What advice do you wish you were given when you were first starting out?
"That it's all just a game of holding out, and it definitely just takes a long time to get there. And, that's been true for every actor I know."
Greta Constantine top, Suno pants; Oscar Tiye shoes.
Photographed by Olivia Malone.
What's the worst audition you've ever had?
"The worst? Oh yeah, I've got a good one. I auditioned for a play right out of college that Alan Rickman was directing. I got a callback, and I really wanted it, and I felt like he and I had a real connection. Anyway, I didn't get the part. Then, like three months later, I'm waitressing at this horrible restaurant, and I'm informed that the opening-night party for the play that I didn't get is happening that night at the very restaurant that I was a waitress at. So, I got really drunk in the back room since I was so horrified and stressed, and I proceeded to go right up to Alan Rickman and tell him how much I loved the play and how sorry I was that he hadn't cast me. All the while, I'm holding a tray of crab balls. And, he looks at me, and has absolutely no idea who I am or what I'm saying. It was awful. And, I was holding crab balls!"
You're on a show that's insanely sexual. But, you might be the only actor on it who doesn't have to worry about their family seeing them naked.
"Yes! I was literally the only cast member this season who didn't have to get naked. Literally, the only one! I was very grateful of that, and slightly offended [laughing]. But, no, seriously, my father and my three brothers were definitely quite pleased with that."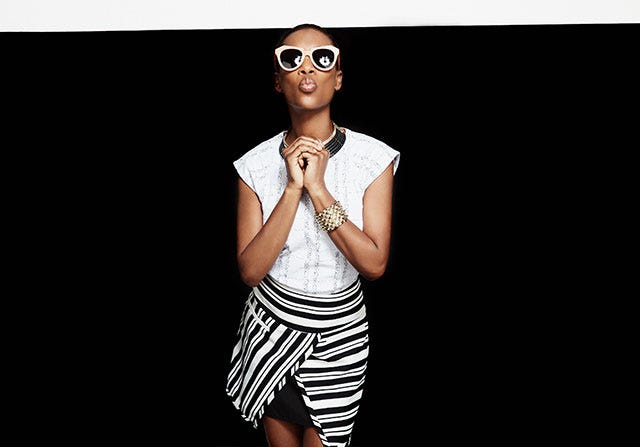 Photographed by Olivia Malone.
Your initial interest in
Orange Is The New Black
may have been sparked by Piper's plight, or the return of Laura Prepon, or possibly even a
Modern Love column
(or a book). And then, perhaps you met Crazy Eyes and decided you had to stick around. But, regardless of how you felt in the
beginning
, by the time you binged your way halfway through season one, you without a doubt had developed a major crush on
Poussey Washington
. Whether it was her hilarious sound bites ("My name is Poussey. Accent à droite, bitch."), her enviable friendship with Tastee, or that unbeatable smile, Poussey steadily inched her way up to become one of, well, everyone's favorite characters. And, that's all Samira Wiley (especially the smile). A Juilliard graduate, Wiley only started auditioning a few years back, and since then, has managed to book a hit series with Netflix, an indie film with Robert De Niro and Paul Dano, and a slapstick comedy with Jonah Hill.
But, that's not to say that she's in any sort of rush. Much like her character on OITNB, Wiley doesn't try to win you over right away — she's far too genuine for that. "I've learned that trying to win people over isn't a good way to do anything," she said. "I think being okay with myself and who I really am has been the biggest and most valuable thing I've ever learned." And of course, that approach won us over in the span of a heartbeat.
Kaelen top; Tibi skirt; Karen Walker sunglasses; Christian Louboutin shoes; Jennifer Fisher cuff; Pluma necklace.
Photographed by Olivia Malone.
What advice do you wish you were given when you were first starting out?
"The one thing I would tell myself is that you don't have to be anything for anyone. And, that it's all right to just be who you are. When I was first starting out, I would meet people who were famous, or who I thought were influential or important, and I would feel like I had to talk a certain way or be a certain way to have them like me. But, you kind of realize as you go along that either people are going to like what you do or they're not going to like what you do — and that's fine! Everyone has his or her own aesthetic. And, if you're changing yourself for every person and every situation, you can't really find out who you are for yourself."
What was your first acting job?
"It was right after I graduated from Juilliard — I had been out for about three months, and I booked this movie called The Sitter with Jonah Hill and Method Man. It was great, but it was also really overwhelming. It was kind of a big part to be my first one. But, I had Method Man by my side, so I felt very protected!"
Photographed by Olivia Malone.
Considering OITNB was not only created by a woman, but boasts a cast that's about 90% women, it's different from what else is out there. Was it an adjustment for you to work on such a female-dominated show?
"Well, Orange Is The New Black is definitely the biggest job I've had in my career, so I don't really have a lot to compare it to. But, it's interesting to hear a lot of other women who are on the show talk about how this set is so different from other sets, and how it's so much better. I think this show has probably made me really spoiled, because I haven't been on other shows' sets, so I'm totally not able to appreciate how different this set is."
Is it as empowering to be on the show as everyone thinks it is?
"Oh, it's very empowering! I think our show probably has the most women writers on staff than any other television show that's on now. There [are] so many women on the show, and so many women who work on the show behind the scenes. And, all of these women are of different generations — it's so wonderful to have a wide range of experiences and backgrounds. Orange feels like such a family. The girls feel like my sisters."
H&M top; Peggy Hartano shorts; Isa Tapia shoes.
Photographed by Olivia Malone.
Who are you closest with in the Orange Is The New Black cast?
"I was friends with Danielle [Brooks] before we got cast on the show, but I think the show has definitely brought us closer. Natasha Lyonne has really become one of my closest friends — and Uzo Aduba who plays Crazy Eyes. Those two have really taken me under their wing. It's great to feel like I have people looking out for me, regardless of whether I'm on the show or not. I feel like I'm forming lifelong friendships with them."

What's it like having to wear a prison uniform every day?
"That was probably the easiest thing to get used to! I go to work, and I get to put on basically pajamas. And, I don't have to worry about any vanity or anything like that. All the girls wear the exact same thing. I've actually really enjoyed not having to worry about wardrobe!"
As an actor, is there one genre you're drawn to more than others? What comes more naturally to you — comedic roles or dramatic?
"My motto these days is that I don't want to close myself off from anything. I don't want to say, 'Oh, this is the kind of actor I am.' I don't want to pigeonhole myself as just one thing. I want to be able to do high drama and high comedy. I would love to be the type of well-rounded actor that you can't put your finger on exactly what they do, or what type of actor they are."
Photographed by Olivia Malone.
A lot of women out there are funny. Heck, we even make ourselves a chuckle from time to time. But, building a career on the foundation of your humor is a beast of an entirely different stripe. That's exactly what writer and actress Amanda Lund is doing — and to say it's been an uphill battle would be an understatement. Even after landing a successful web series produced by Jack Black (Yahoo's
Ghost Ghirls
) and also inking a pilot deal for Fox, she'll be the first to tell you that the work never stops.
"I still feel like I'm struggling to launch my career," she says with a laugh. "The biggest struggle with it is just trying to get anyone to care about anything that you're doing, really. You just have to keep on with whatever it is that you find cool or funny. It just takes time."
Despite the volatility that comes with trying to make it in a one-in-a-million business, Lund retains a spunk and magnetism that are impossible to resist. Her secret to dealing with it, with such grace? "The important thing is doing your own activities, outside of all the work, that you find fulfilling," she says. "I have a lot of friends who I think are hilarious, who I work with.... I have a support system of people who are just laid back. It's good not to be totally defined by your career."
Wise words, indeed, but it's easier said than done. So, Lund looks for inspiration in (and finds humor in) everything from her recreational basketball league (her first time playing a sport, ever) to the Glendale Galleria. And, of course, there's the valuable advice the gets from Jack Black. But, all this success hasn't gone to her head. "It doesn't feel like I'm fully a part of 'the industry,'" she jokes. "But, that's only because I still don't get invited to parties."
Peggy Hartano jumpsuit; Oscar Tiye shoes.
Photographed by Olivia Malone.
What would you consider your big break?
"That would probably be Ghost Girls, a web series I did for Yahoo. We shot the pilot randomly, for fun, and to maybe put it up on YouTube, and Jack Black ended up signing on to it. We sold it to Syfy and eventually took it to Yahoo. It was the turning point in my career, because it got me my current representation, and it's also the project that I'm still most proud of — I put so much blood, sweat, and tears into it."
Do you think we're moving toward a place where a lot of the best material will be on the web, instead of more traditional places?
"I think the web is everything. It's like the Old West — there are no laws yet. It fosters creativity, but I also feel that all of TV is elevating in a way. Even network TV; I'm loving all the network shows. Everything is more provocative and more fun. But, if you want full creative control, the web offers more opportunities to do things independently."
What is the biggest thing that's changed in your life since you got your big break?
"Honestly, I still work my day job. Once a month, I host a show at Universal Studios — and work the theme park. But, for me, it's just having a little bit of money so that you're not working 100 different jobs. Two years ago, I was babysitting, going to my job as a hostess, and working as some weird promo girl on the weekends — which is just miserable. It's miserable when every minute of your free time is spent working to earn money and not doing what you want to do."
Photographed by Olivia Malone.
What is the best advice you've received?
"The best advice came from Jack Black, who has been pivotal in what's going on in my state of affairs, because of his support of Ghost Girls. His production company is also producing a pilot I'm writing for Fox. One thing he said was, 'Always pretend you're having the most fun.' I think that's really interesting.
"I've gotten to do some press with him and watching how he handles everything; he was always just enthusiastic and giving his all. It's the idea that even if you're nervous or self-doubting, just pretend you're having fun and fake it 'til you make it. It's contagious to be around people like that — you end up having fun."
You're writing the new pilot with your boyfriend — how is it working together?
"It's interesting. We can just work in our robes in bed, which is the dream. But, I've realized that, even though I love my boyfriend and he's amazing and super sweet, I can just go into a mean work mode where I'm very internal, so that took a bit of getting used to for him. Like, 'This is not my girlfriend; this is a mean lady.' But, once we figured that out, it's really fun. For me, writing has always been a torturous process, so it always has its ups and downs."
Photographed by Olivia Malone.
What can you tell us about the new show?
"It's just a pilot, so there's no commitment to film it or anything, but it's based on my time working at Disneyland as a princess. I was Cinderella from the time I was 17 until 21 or 22, so it's about what it would be like to work in a fictional theme park called Wonderland. It's a princess who's aging out of her role and a younger girl gets hired as a sort of All About Eve setting."
Do you feel like your personal dynamics have changed, now that you're more engaged in the industry?
"I feel like I'm kind of insulated in my own little world with my friends and the people I work with. When I go to things like SXSW or Comic-Con or cool industry events, I definitely feel like I'm 99% on the outside, because I'm still watching everyone and being a nerd about it. I think it is about surrounding yourself with people who are down to earth and are working."
Photographed by Olivia Malone.
Fame is a total double-edged sword, but that doesn't stop countless people from chasing it. And, Greta Lee knows a thing or two about the pursuit of fame, for better or for worse. After graduating from Northwestern University, she went straight to Broadway to perform in The 25th Annual Putnam County Spelling Bee — and thus began her acting career.
"I graduated from college and got the job and was sent away to San Francisco and Boston, and then brought back to New York to close out the show on Broadway," she told us. "It was my first job, which is crazy to think about now. I was a kid, and I had no idea what I was doing." From there, she started to book small roles on shows like Nurse Jackie and Royal Pains, but it was a slow and steady crawl that tested her patience, self-esteem, and, she candidly admits, her budget.
"The hardest part of trying to break into the business is money, just to be frank," said Lee. "Just trying to push through your waitressing job or your survival job and not getting really cynical — it's all the regular adult stuff that all of my friends in their early twenties were trying to figure out. How the hell am I supposed to literally survive after college in NYC?"
But, of course, we wouldn't be bringing you her story if it didn't have a happy ending — or, rather, happy middle, because Lee is nowhere near done in her quest for domination. The actress is currently enjoying a recurring role on Girls, and she just booked a gig starring opposite Natasha Lyonne on Amy Poehler's new pilot, Old Soul. What's that we hear? Oh right, it's the big leagues calling.
Photographed by Olivia Malone.
What is the hardest thing about being an actor?
"You're alone a lot. Ultimately, you are your own hovercraft of an enterprise, which is why I love living in New York. One trip on the subway is enough to remind me that literally no one cares that you didn't get that part in X-Men 5 or that unbelievably cool indie that was gonna change your life."
Do you have any insight as to why some people get their big breaks and others do not?
"I have so many different answers for that. It's like this big, unnamable thing. On the one hand, I feel like this is my endurance test. And, I think that luck definitely plays into it. I've had some amazing experiences on all kinds of jobs, and the jobs that you think are going to be the ones that will be the big payoff, sometimes don't turn out to be. But, everything always sort of works out — I was devastated about not getting a certain part, but then got a small play at Lincoln Center instead. That ended up catching the attention of Lena Dunham, and she wrote something for me in Girls."
What has changed the most in your life since you started booking bigger roles?
"I don't know — I think life can sort of stay the same. For the people that I really respect and admire work-wise, that's the common thread. It's keeping your life the same otherwise you could go insane. This job is so weird."
Photographed by Olivia Malone.
Does your confidence go up when you book roles, or do you become more self-aware and worried about being in the spotlight?
"At a certain point, you begin to see that all this could go away at any time. And, you realize there's no point in overthinking or over-strategizing about what things mean, or what will happen next. You can't make a timeline for yourself — none of that is relevant in this industry."
What's the best advice you've received?
"I think it's the age-old, 'If you couldn't do anything else, then you should do just that.' Saying no has also helped me. It can seem really scary at the beginning of your career, and it seems like a really big risk and you don't always see the payoff until a lot later, but it's the number one thing. Thank God I said no to a lot of things — otherwise, I would have been wearing a lot of different sets of chopsticks in my hair."
Tibi blouse and skirt; Oscar Tiye shoes.
Photographed by Olivia Malone.
On Girls, Hannah gets a lot of flak for being a self-centered mess. What do you think about that?
"I remember myself at that age, and I was kind of a flying asshole. It's sort of a survival instinct — that level of narcissism. It was totally true for me and my friends. I love Marnie and Hannah and Jessa and Shosh. All of them. It's very real. It's really rare to meet a person who's perfectly poised and has it all figured out right after they graduate from college."
What about the complaints about the lack of diversity on the show?
"I'm on the show and I happen to be Korean-American. I don't think Soojin had to be Asian. So, what's the issue? I feel about this issue the same way I do about the argument over women being funny — why is this still a thing? If Girls was a perfect cross section of America, it would be a very different show. I don't know if I'd watch that show, because what makes Girls so good is Lena's perspective."
Photographed by Olivia Malone.
From the moment we met Lesley Arfin, one thing was clear: This girl is fearless. It's hard to put into words, but we just knew that this was a woman who was down for anything. And, after picking her brain for an afternoon, we're pretty sure our first impression was spot-on. But, when your first big break in the world of screenwriting is a gig on Girls, fearlessness is basically a prerequisite.
"The show was a huge deal for me," Arfin said about her job working for Lena Dunham. "I wasn't even sure if I wanted it [initially], but it was the perfect storm. It changed my writing, it changed my career, and it changed my whole life."
While Arfin was given the job because of her quick wit and razor-sharp intelligence, there's no denying that she also brought a lot of personal experience to the writers' room. She is one of those cooler-than-cool (former) New Yorkers who so many idolize — from her in-depth knowledge of pop culture to her awesome tattoos and under-the-radar-designer duds. But, when art imitates life, it can make criticism of the art that much more difficult. It's no secret that Girls, while loved by many, bears the brunt of plenty of jabs. But, don't expect that to faze Arfin.
"I think that there's a specific type of person who acts this way while living in New York in their twenties," she said. "I can see how that would annoy some people. If people can't relate to it, they might start to think that we're doing it wrong. But, Hannah is in the minority — and, it's just a taste of one person's life. That's the fun thing about Girls."
In addition to the HBO drama, Lesley has added a few more lines to her IMDb page — Awkward and Brooklyn Nine-Nine included. But, impressive as those credits may be, she's adamant that you can never stop learning. "I don't think there's any writer who works in TV who will tell you that being in the writer's room is not a constant learning experience," she said. "You put a bunch of writers together and no matter what, it's going to be a nightmare. But, 90% of being a TV writer is talking, and I just get so excited about being with everyone and working with new people. I love it."
Photographed by Olivia Malone.
When you got the job with Girls, you made the big move from New York to L.A., but what else changed in your life?
"I guess I just made more money and was able to join a union. So, it was all that adult stuff. Just a growing-up kind of change."
What is the best piece of advice that you've been given since starting out with your career?
"Somebody once told me that when you're in a marathon, never look behind you. And, that works with writing. Just don't focus on other people and keep doing what you're supposed to do. Another great piece of advice is less is more — that's a constant struggle for me. I get very enthusiastic and excited and I have to remember not to take things personally."
Were there any parts of Girls that were reminiscent of your own life?
"Well, there was a lot of Jessa that I related to, but there was nothing super specific that came from my own life. It's such a collaboration that it doesn't do anybody any good to claim ownership. It's Lena's show, and we were there to service her needs. That's what it's like in any writers' room — it's the same with Brooklyn Nine-Nine and Awkward. Everybody brings what they can to the table and the showrunners decide what to do with it."
Photographed by Olivia Malone.
Why do you think that Girls, on one hand, gets so much admiration, yet also receives a lot of criticism?
"I just think it's because it's unlike any other show. People have a difficult time comparing it with other shows, which can be aggravating. But, Girls is funny, because it created a new genre and no matter what, it gives people something to talk about. Even now, when I watch the show, even if I'm not in the mood for it, I'm never mad that I watched it."
A lot of your work is centered around the humor in awkwardness — what is it that appeals to you?
"I think that's just the honest truth. It's important to keep things real in writing. Even if we're doing, let's say, a movie about Michelle Obama, we want to see her flaws. Let's see her trip, but only because it's real."
Araks dress; Jennifer Fisher jewelry; Oscar Tiye shoes.
Photographed by Olivia Malone.
Do you have any mantras or rules that you try to adhere to?
"I'm constantly reminding myself that success is about longevity. There's this quote from George Harrison's wife, when someone asked her the secret to marriage. She just said, 'Don't get divorced.' Which is really profound. What's the secret to writing, to having a career? Don't quit. Just keep writing."
What career goals do you have now? Is there anything else that you really want to do?
"I definitely want to write more books, just to make up for the last one, because I don't think it's that good. That's the problem with writing a book when you're young — I just wasn't a great writer. It is what it is, but I'm a better writer now. But, I want to make movies, self-publish, and all kinds of things."
Photographed by Olivia Malone.
Ida Ziniti is so humble and professional, she'd probably hate being called a wunderkind. But, we're doing it anyway. (Sorry, Ida!) After all, how else can you describe a 20-something who's well on her way to becoming one of Hollywood's top players? Ziniti has made waves as an agent for years, and she is well known within the industry for carving out the career of none other than Shailene Woodley. And, while making a name for herself in the hyper-competitive, supersaturated agency world is more than impressive, the most admirable thing about Ida is actually her sensitive and intelligent approach to Tinseltown — especially considering that she never planned on being here in the first place.
"I didn't think that I would be in Hollywood at all — I thought maybe politics or journalism," she told us. "I've never been a planner, so I never did a five-year or 10-year plan, but I think we all have moments where we really believe in ourselves and the power we have as individuals. As murky as that answer is, I've always believed in myself, and I've been fortunate enough to have a family that believes in me, too."
That confidence has served her well. Ziniti first found herself thrust into the industry as a temp assistant at Creative Artists Agency, after struggling to find a job in journalism. And from there, it wasn't long before she started getting noticed in a much bigger way. Although she has more than her share of standout accomplishments on her résumé — brokering Woodley's roles in The Spectacular Now and Divergent, and landing writer clients spots on NBC's The Blacklist among them — she's hesitant to toot her own proverbial horn. "For me, the secret was to pretend you know what you're doing until one day you do," she said. "As an agent, you eventually have one of those moments where you just feel like you know how to handle things. There isn't one big breakout moment; you just start hitting your stride."
Kaelen jumpsuit; Cadadei shoes.
Photographed by Olivia Malone.
Being an agent is one of the more stressful jobs out there. Do you ever have moments where you just want to give up?
"My whole thing is to not take things personally. I practice a lot of yoga, and I really try to stay balanced. My dad once told me, when I was trying to take things seriously, that 10 writers wrote The Flintstones, but only one writer wrote War And Peace. So, essentially, don't freak out. I feel really lucky and excited about the job that I do, so I don't often have bad moments. But, when I do, I love that I live on the west side where there are all kinds of yoga classes available."
Do you have any rules or mantras that you try to work and live by, especially when it comes to your clients?
"As simple as it is, do what you said you were going to do. I think follow-through is so important as an agent. Artists really want to know that something is taken care of. They want to have a comfort level and know that you have their best interests in mind. I really pride myself in that. Another thing I believe in is karma — it's just treating people well and how you want to be treated. Golden-rule style."
So much of being an agent is making demands and refusing to back down — do you have to adopt different mind-sets or attitudes to get things done?
"I definitely fight for my clients. I think people are going to be more supportive of giving you what you want if you're passionate; when there's advocacy versus just anger. I think being an agent is more of turning a 'no' into a 'yes' — as opposed to just making demands. When you look at it that way, it's a positive thing. It's like trying to figure out how to get through a door that's about to close."
Photographed by Olivia Malone.
In the beginning of an agent's career, there's a lot of going after clients and trying to sign them. But, then it becomes the client wanting to sign with you — are you at that point now?
"There are a million writers in L.A. who are trying to make it, and so many actors in L.A. who are trying to make it. There are always going to be people that want to sign with you, even when you're an assistant, because you have an 'in.' For me, I try to respect and honor that whenever I get a submission from someone. When I'm reading a script and I'm tired or not giving it 100%, I try to remember the man-hours it took someone to write it. It's 120 pages and they're only asking for an hour of my time. As far as big movie stars or big directors, that's always an effort on the part of the agent."
Do you have any specific things that you look for when you're trying to break talent?
"With writers and directors, it's all about a voice. When I'm watching a film, it's when I don't feel like I'm an agent — when I'm taking myself away from it and just watching as an observer. It's really the voice. With actors, it's the amount of openness they have. My clients are very open people who makes you feel really comfortable, and I think that's how they can go into different roles and act so well."
Photographed by Olivia Malone.
Have you ever done anything crazy to land one of your clients a part?
"Every day. It takes a lot of creative energy to do the job that I do — I think that's probably one misunderstanding people have of agents, that there isn't a craft to it. Whether I'm wining and dining a director, or getting an assistant who I know has influence to be on board, I use tricks I learned as a journalist. Before clients go into rooms, I will have researched the person and tell the client to refer to something specific that the person likes. 'You love Cool Runnings, too? That's my favorite movie!' Then they're best friends. Maybe it's a little manufactured, but it works."
Aggressively advocating on the part of your clients is a big part of your job. As a woman, do you ever struggle with being perceived as bossy in those moments?
"For me, being called a strong woman is always a compliment, and I don't ever allow it to be something disparaging. In my experience, being female and being uniquely who I am has not been a hindrance. I think that we're at our jobs for way too long to not be honest about who we are, so I'm just who I am, and if that doesn't work for people, or doesn't fit the mold, that's fine, too."
Photographed by Olivia Malone.
Remember that anxiety-ridden period immediately following college graduation, when you had no idea what you wanted to do with your life, and every potential career seemed more tedious than the next? Well, that's not what happened to Tracey Wigfield. Her first boss was Tina Fey. And, her next one was Mindy Kaling. Yeah, not your average post-grad trajectory.
At 23, Wigfield started off as a writers' assistant on 30 Rock. Two years into the job, she heard the show was looking to hire a new staff writer and she submitted a spec script she wrote for The Office to Tina Fey. "After I gave Tina that, she hired me right off the bat," said Wigfield, cracking a huge smile that shows she still can't believe that moment — now five years past — ever happened.
Fast-forward to this past September, when Wigfield won an Emmy alongside Fey for the final episode of 30 Rock, which the two cowrote. "It was totally surreal and crazy. It felt like such a cool celebration of how awesome the show was, and what a great experience it was for me. It was like an extra, awesome thing that didn't need to happen — like the icing on the cake," she said of winning the award. "And, yeah, it was totally terrifying. Because, I won, and then I realized I had to go up and actually talk in front of all of these famous people."
Immediately following 30 Rock's tearful finale, Wigfield moved to L.A. to take a job as a writer on The Mindy Project, where she's been working ever since. At the age of 30, she's already collaborated with two of the funniest women of our generation, and we would bet big money that her accomplishments won't end here. In fact, if we were the betting types, we'd say Wigfield herself was set up to be Hollywood's next major comedy mainstay.
Photographed by Olivia Malone.
When you first started as a writers' assistant on 30 Rock were you terrified to pitch jokes in a room filled with exceptionally talented comedy writers?
"Oh my god, yes! I was like 23 or 24 years old and not super confident about my abilities at all. I was so in my head, I would think of a joke, and I would wait like 20 minutes and in my head [be] thinking, 'Should I say it? Just say it! No, don't say it!' Then, I would finally come out with it, and either people would laugh or they wouldn't. And then, for like the next 15 minutes I would be there thinking, like, 'That was stupid! Why did you say that? You shouldn't have said it.' But, then you just sort of get used to it, and get over thinking about it so much. Like, sometimes people laugh and sometimes no one does, and you just have to learn to move on."
You started at The Mindy Project within weeks of 30 Rock coming to an end. Was it an easy transition for you?
"30 Rock was such a family for me because I had been there for six years. So, it was definitely really sad for me [when it ended]. But, Mindy's been a really fun experience for me, too. I got to start on the first season, and see it grow from its inception, and get to contribute to how the show looks and the kind of stories we tell. That's been really cool and new for me."
Photographed by Olivia Malone.
What's been the most surprising difference between working on 30 Rock and working on The Mindy Project?
"You have to dress so much better with Mindy! Tina is obviously so glamorous and beautiful, but when she was just coming in to work on a normal day, she would dress like myself or [how] any other writers I know dress — like a gym teacher. You know, like wearing a sweatshirt you got for free and don't like and a pair of old mom jeans. I don't think she'll get mad at me for saying that [laughing]. But, Mindy is super into fashion. She's super glam. And, I feel like she sort of expects her writers to step it up a little bit with how we dress. When I first started working there, I remember calling my mom and being like, 'Well, I have to go buy an entire new wardrobe.' So, yeah, Mindy's definitely made me a better dresser all around."
What's the most important thing you learned while working for Tina Fey?
"Oh, wow — a lot! Well, one thing that I learned from working with Tina was that everyone she hires for a show not only has to obviously be talented and creative and work really hard, but, most importantly, everyone she hires also has to be nice and respectful and kind. I think that is something that you don't hear that often, and people definitely don't always factor in when they're hiring people for a movie or show. Tina really focuses on hiring good people that she trusts and who would respect each other."
3.1 Phillip Lim pant; Suno top; Oscar Tiye shoes; Jennifer Fisher jewelry; Elodie K jewelry.
Photographed by Olivia Malone.
In addition to writing comedy, you've also done a bit of improv, right? Do you want to pursue acting, or do you prefer to stay behind the camera?
"Yeah! If the opportunity came up, I would love to do what Mindy or Tina does and be a part of both worlds — behind the camera and in front of the camera. Acting and stand-up were so liberating for me when I first started writing, because such a big part of stand-up is just trying things out and failing. I would come up with a joke that I thought was funny, and no one would laugh, and then you just learn to move past that. So, it was such a gift to me in terms of getting more comfortable pitching jokes and other things."
There's so much talk about comedy in Hollywood being a boys' club. Having worked on two female-run shows, do you feel like the inequalities are lessening a bit?
"For me, I know that in other writers' rooms, it can be really difficult for young women, and it's still definitely an issue. Particularly those writers' rooms that are run by older male writers, and people who aren't interested in having a bunch of different points of view, or a bunch of diverse voices. But, for me, I've only ever worked for TV shows that are run by women, so I've never really had to experience that. If anything, both Tina and Mindy — as well as all of the other women and men in the room — always made me feel incredibly encouraged to voice my opinion or pitch a joke."