Photographed by Heather Talbert.
I love the holiday season. There are dinners to eat, parties to attend, and gifts to open, but coming up with a new seasonally appropriate outfit for every occasion is starting to drain my funds. So, instead of buying a new outfit for every dot on my iCal, I'm figuring out clever style guises to turn the same dress into three totally different looks.
And, what better fashion chameleon is there than the ol' trusty LBD? I originally bought this lacy designer frock at
T.J.Maxx
for a holiday launch party at my favorite restaurant in Lincoln Park. Since it was a dressier occasion, I knew that a statement necklace and sparkly belt would change up the shift silhouette and help the dress feel a bit more festive. The cobalt blue clutch toughens up the lace, too.

Like this post? There's more. Get tons of style secrets, insider shopping dish, fashion news, and more on the Refinery29 Fashion Facebook page!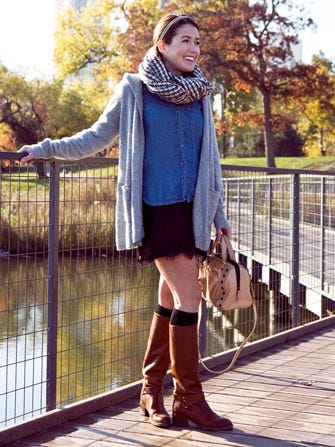 Photographed by Heather Talbert.
Not only can you dress up the frock for a party, you can use it as a cute layer on a chilly fall Sunday spent at the Lincoln Park Zoo. With cropped sleeves and a shift silhouette, this dress acts as the base for my layered look.
I threw on a baggy chambray shirt and cashmere cardigan that I got at a steal at
T.J.Maxx
to complete the outfit. Saying it's cold in Chicago is an understatement, so a cozy scarf and a pair of knee-high socks is essential to cover up any bare skin. The finished outfit is put-together but looks and feels effortless.
Photographed by Heather Talbert.
During the holiday break, all my friends are back in town and we usually like to meet at a coffee shop to exchange gifts and have our seriously overdue catch-up chat. To look festive but ultra casual, I'm turning this dress into a skirt by topping it with this cozy red sweater I snagged at
T.J.Maxx
.
Red and green might sound like the uniform for a really bad, mother-mandated outfit for the family Christmas card photo, but here, the colors are muted and not in-your-face cheesy. Of course, no outfit of mine is complete without some print. My favorite leopard spots is making an appearance with my flats as the finishing touch of my wintery look.
P.S. If you want to show off your own style, tag your T.J.Maxx find with #Maxxinista on Twitter or Instagram for a chance to win a $1,000 gift card. Find out more
here.
Lace dress, cardigan, chambray shirt, and tights courtesy of T.J.Maxx.