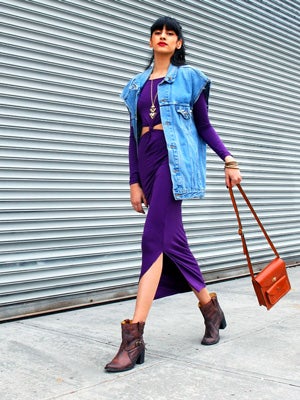 New Yorkers take their weekends seriously. Those few nights of freedom are a release from a hectic workweek or, in my case, a series of unfortunate midterms. Weekend style is all about staying comfortable yet stylish, and wearing something that will translate well from my boozy afternoon brunch to a night out at one of the numerous music venues Brooklyn is home to.
For this agenda, my ideal outfit is something cool, casual, and kick-ass. This is where this awesome bodycon cutout dress comes in! I wore it with an oversized vintage vest to combat the unforgiving skin-tight jersey material. Wearing just a few key accessories has become something of a signature of mine, since I don't usually opt for the "arm party" trend. Practical footwear on weekends is always a must, and a sensible, small bag to carry only the essentials is necessary to keep my hands free.
What's an indispensable part of your weekend look?
Wasteland dress, vintage vest and bag, Diesel boots, Muses & Rebels bracelet, Forever 21 necklace, Verameat rings.