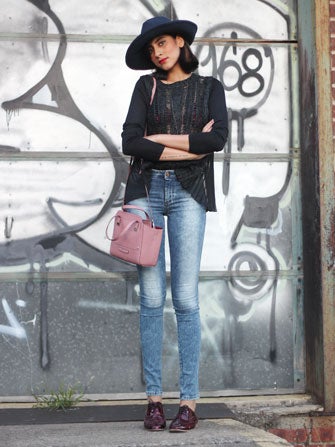 Photo: Courtesy of Mark Dommu.
In a rush to get out the door and enjoy the perfect weather, a fancy outfit is likely the last thing on my mind. The trick is to strike a balance between something that is casual enough for lunch in the park but suitable to hit the city streets in as well. Here's your perfect picnic outfit breakdown that's effortless to recreate, but chic all the same.
Picnics can take hours (how languid of me), so while other jeans stretch out at the knees or get droopy in the thighs, my Skinzees can handle being cross-legged in the grass. Plus, this style runs with an extra long inseam, which means the days of cold ankles and forced cuffs are gone forever!
Never one to be without a hat, I picked this navy BCBG number where the brim can be flipped up or down depending on my mood. This sweater features a sheer pleated back, instantly turning it from boring to awesome. Plus, the flirty open knitting on the front allows my velvety bralette to peek through. The sweater's floaty and oversized fit balances out my ultra-skinny jeans.
Now that you've got a little outfit inspiration, it's time to start planning that picnic!