I've unpacked the moving boxes of the essentials: socks, gin, loaf pan, spatula, and mixing bowl. I've managed to find the fancy candles I love, a few pictures of my family, and the face wash. The cookbooks are lined up on the book shelf, color-coded just like Shutterbean taught me.
I'm far enough in the whole moving process to miss home. Strange, because I am home. It's simply that I have to build up a familiarity to this new space. I don't yet know its nuances.
What I do know is that I'm mostly responsible for feeling at home where I'm home. It's a state of mind. It's coming to understand the different shade of light. It's the different sounds of the street. It's the familiar smell of comfort. Since banana bread feels like home, that's what's going into my new oven. I'm not looking to reinvent the wheel here. This banana bread recipe is more about settling in and planting roots.
I love that banana bread comes together rather effortlessly. A bowl, fork, and spoon and I'm in business. Good news for all of you, right?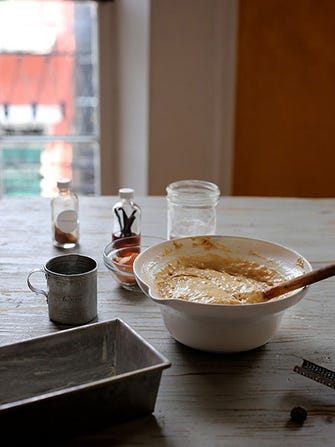 Mashed bananas are stirred together with granulated sugar and molasses. I realized too late that I'm fresh out of brown sugar. We can make our own…or just stir it all together with gumption.
The butter is melted until it's golden brown and smells
just
nutty. I love the depth that brown butter adds to this bread. Extra delicious goodness is what it is. Oh! I don't have buttermilk either. I squeezed a big wedge of lime into a bit of milk.
Buttermilk substitutions are key
.
Eggs and butter into the banana mash. No nuts. No toasted coconut. Nothing too fancy. Just cinnamon-spiced, brown butter-magic banana bread. The smell that fills the kitchen is home exactly. I thought about sharing this loaf with my neighbors, but there's plenty of time for that. I just needed to sit in front of this warm loaf and breathe it in. The texture is dense but soft, with a lightly cinnamon- spiced and hearty flavor that feels just right in the morning. This banana bread is sweet, and I find it's best sliced into thick wedges and paired with a cup of milky coffee. No need to be coy. We're home.
Brown Butter Banana Bread
6 oz unsalted butter, melted and browned to just over 1/2 cup of butter
2 cups all-purpose flour
3/4 cup granulated sugar
1 tsp baking soda
1/2 tsp salt
3/4 tsp ground cinnamon
1/2 tsp freshly grated nutmeg
2 large eggs
1 tsp pure vanilla extract
1/4 cup buttermilk
1 1/4 cup mashed banana (from about 3 medium bananas)
2 tsp molasses
1. Place a rack in the center of the oven and preheat to 350 degrees. Grease and flour a 9-by-5-inch loaf pan and set aside.
2. Melt butter in a saucepan over medium heat. Butter will begin to foam and crackle as it melts. When the crackling subsides, the butter will begin to brown. Swirl the pan as the butter cooks. When the butter browns and begins to smell nutty, remove the pan from the flame and transfer the butter to a small bowl. Taking the butter out of the hot saucepan will stop the butter from overcooking and burning. Set aside to cool.
3. In a large bowl, whisk together flour, sugar, baking soda, salt, cinnamon, and nutmeg.
4. In a medium bowl, whisk together eggs, vanilla extract, and buttermilk. Whisk in the mashed bananas and molasses. When butter has cooled, whisk in the browned butter.
5. Add the wet ingredients all at once to the dry ingredients. Fold together, making sure to scrape the bottom of the bowl to reveal any hidden pockets of flour. Fold together ingredients, but try not to over-stir.
6. Spoon batter into prepared pan. Bake for 50 minutes to one hour, or until a skewer inserted into the center of the loaf comes out clean. Remove from the oven and allow to rest in the pan for 15 minutes, before inverting onto a wire rack to cool completely.
Bread will last four days, well-wrapped at room temperature. This loaf also freezes well.