29 Big (Fashion) Ideas
We did a close read on the 300-plus shows from the recent fall '17 Fashion Month — here's the lowdown on all the moments that really mattered.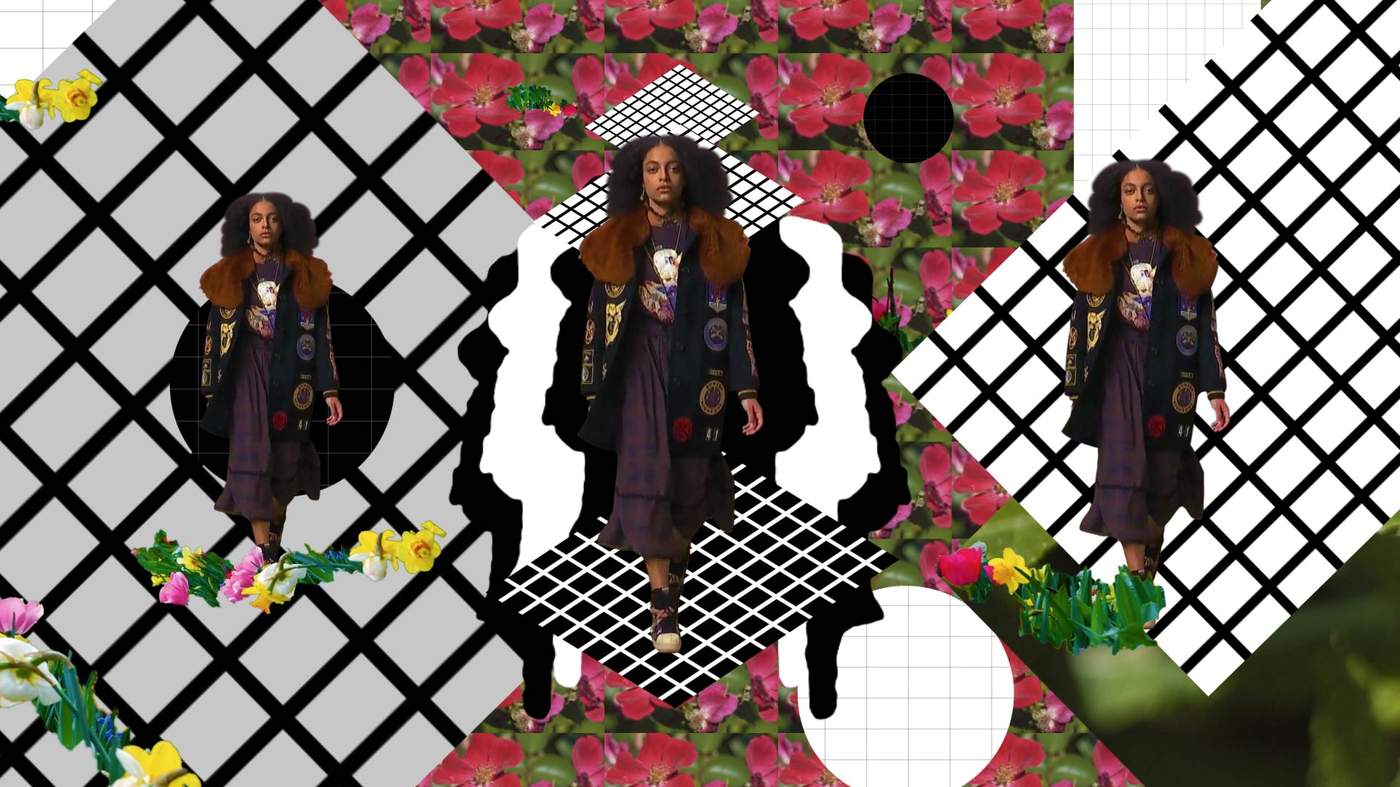 Let's go through a little thought exercise, and say that Fashion Week is like a dream: It's sometimes surreal and often fantastical. It's where anxieties and aspirations play out, and the worst and best parts of your personality become magnified. Rules never seem to apply, and sometimes, someone shows up in front of a whole lot of people wearing only their underwear (hi there!).
And just like the fact that you have richer, more visceral dreams during moments when your life is being upended, Fashion Weeks are rife with things to unpack — and for good reason. The ideas we worked through via this season's runways — everything from battling for women's rights and race, gender, and bodies to furriest faux fur that was DEFINITELY better than the real deal — were as urgent-feeling, escapist, and sometimes as terrifying as dreams (or nightmares) can be.
Of course, Fashion Week is real. Those clothes are made with fabric and thread, not cosmic dust and spaghetti, which is helpful whenever the "ACK MUST OWN" feeling hits (and it hit us many, many times in the past month). Its impact, too — on the Earth, on communities, on the way we think about and treat our fellow dresser — has tangible, often costly consequences. And so, consider the below a dream analysis: the 29 ideas, trends, and topics that might just look like a cute dress or a fun bag at first glance, but in fact tells a vivid tell about the past six months, how designers have taken their broken, full, and pounding hearts, and turned it into art.
The Clothes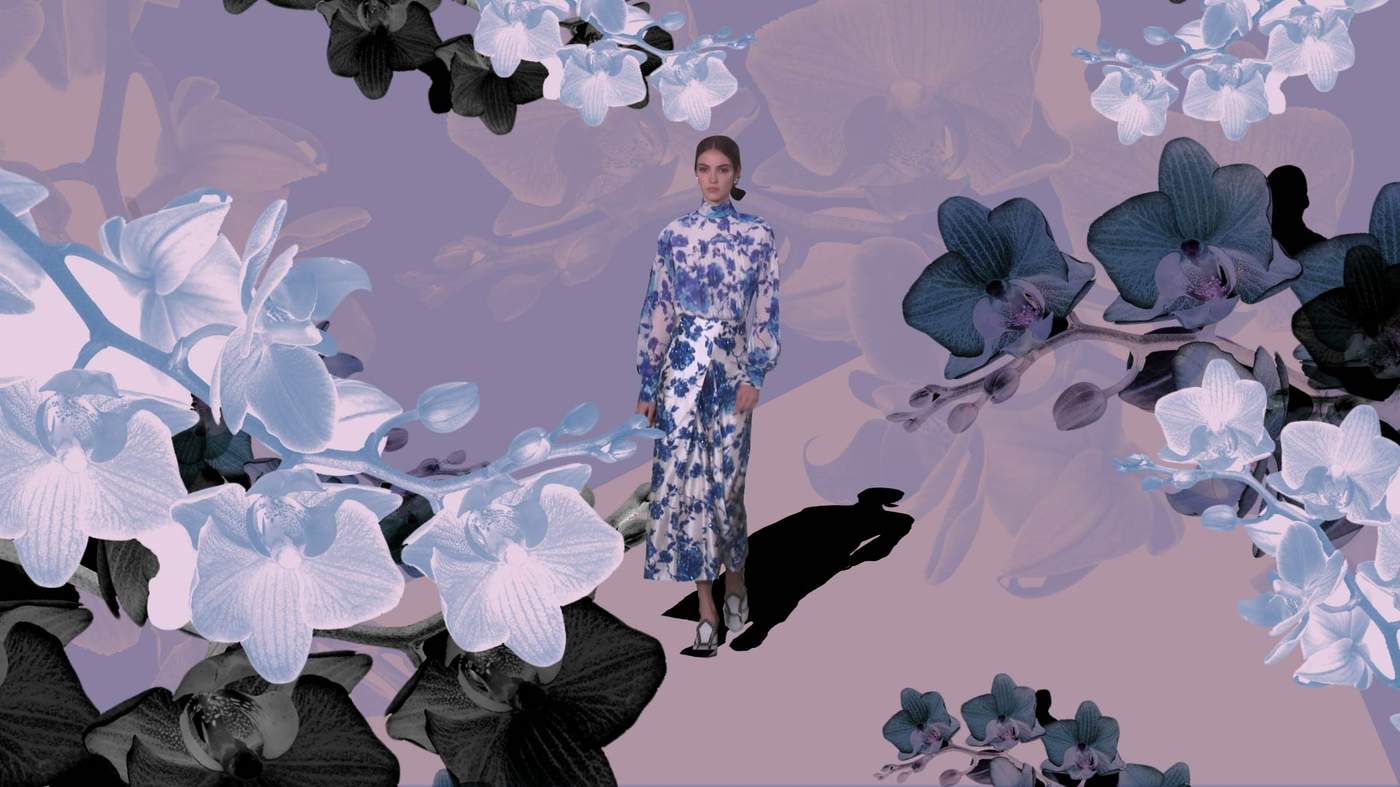 A "Proper" Woman
Perhaps as a response to the androgynous, gender-fluid look that's dominated what's cool in fashion for the past few years, the runways were stacked with the kind of aggressively feminine clothing you see in old-moneyed, tony establishments — the kind with patrons who still regard armpit hair a social travesty (imagine what they'd say about rainbow armpit hair). It was Bunny MacDougal hair bows and Nancy Reagan knee-length skirts, and coats so white you could only wear them to country clubs. Considering that the mandate to #dresslikeawoman is coming from our country's highest office, we kind of expected to see that line of thinking trickle down — and much like the response to that dictum, there were stereotype-smashing looks delivered by other designers to counter it.
The MVP It-Bag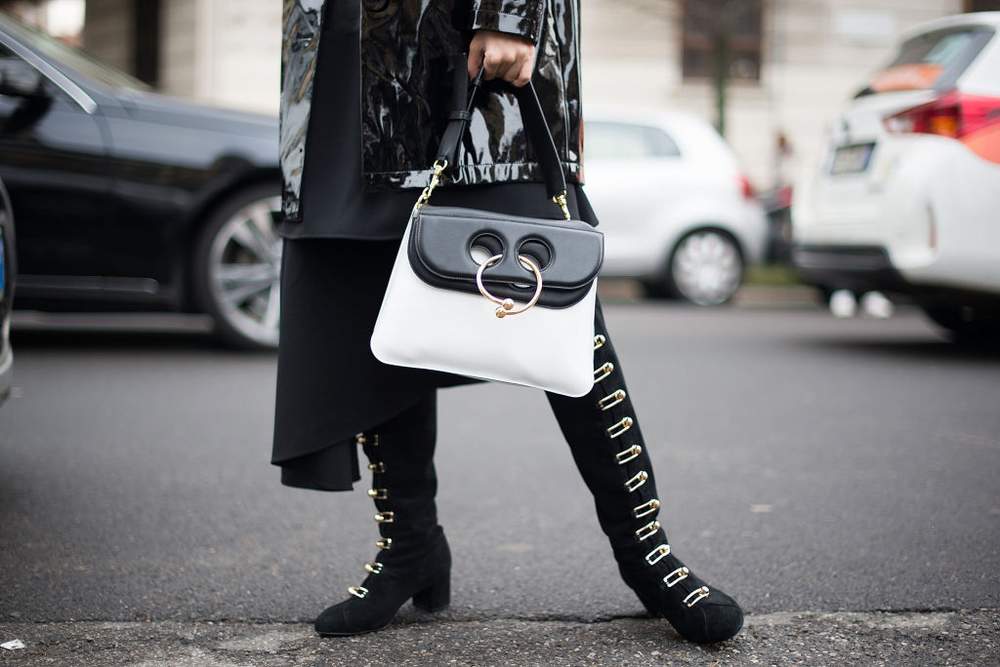 No longer is fashion's most coveted bag priced upwards of $10K, named after a French icon, and the product of a nearly 200-year-old design house. For pre-fall 2016, London-based Jonathan Anderson, of J.W. Anderson, introduced what has now become his signature Pierce bag, signaling a shift in what a "status" symbol means to an up-and-coming generation. At just over 30 years old, Anderson seemingly cracked the ultimate must-have code; Lyst notes that searches and purchases for the bag have all "gained momentum" since 2016. Perhaps the tides have changed: Out with the old, in with the young, fresh, and fancy (Pierce bags start at $1,480). One scroll through Instagram during Fashion Month, and, well, the proof is in the pictures — because these bags have become some serious street style bait.
The Shrimps Effect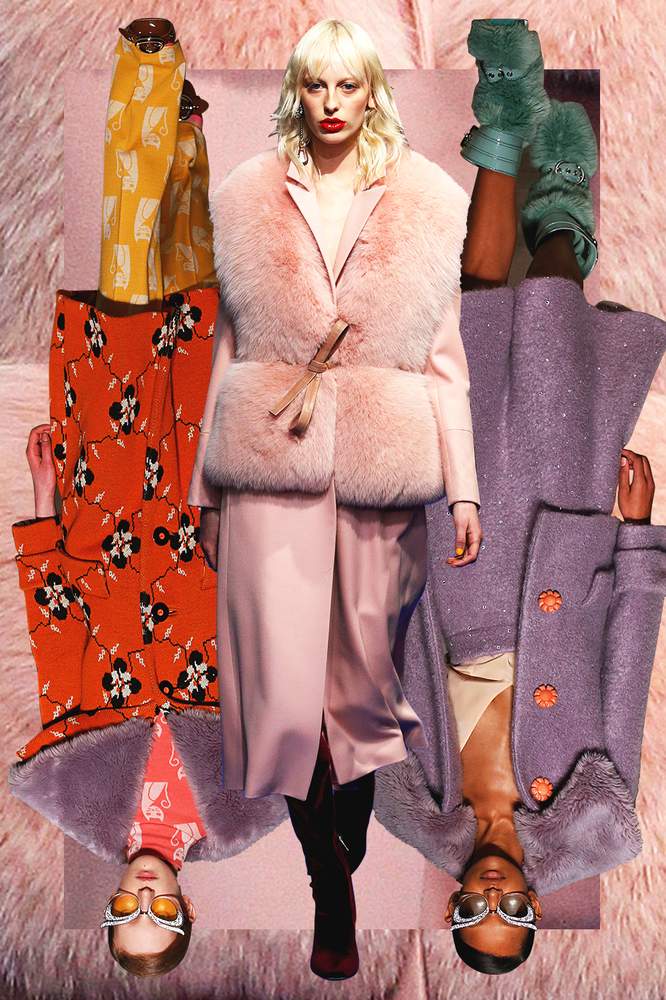 At one point, maybe long ago, leopard print was considered the loudest outerwear statement you could make. But today's of-the-moment furry styles make classic leopard toppers look like tame little kitties. A) Oversized, B) plush, and C) really, really, bright — if your go-to winter coat doesn't have D) all of the above, it's probably time for an upgrade. But let's give credit where credit is due: to Hannah Weiland, the designer behind London-based faux fur label Shrimps. Weiland's signature toppers haven't just kept us warm on those too-chilly-to-deal days, they've also launched an entirely new subset of fur-free outerwear. This season, everyone from Alice & Olivia to Miu Miu followed suit, providing further proof that faux can be just as good (if not better) than the real deal.
In Case You Missed The Sleek New Marc Jacobs Logo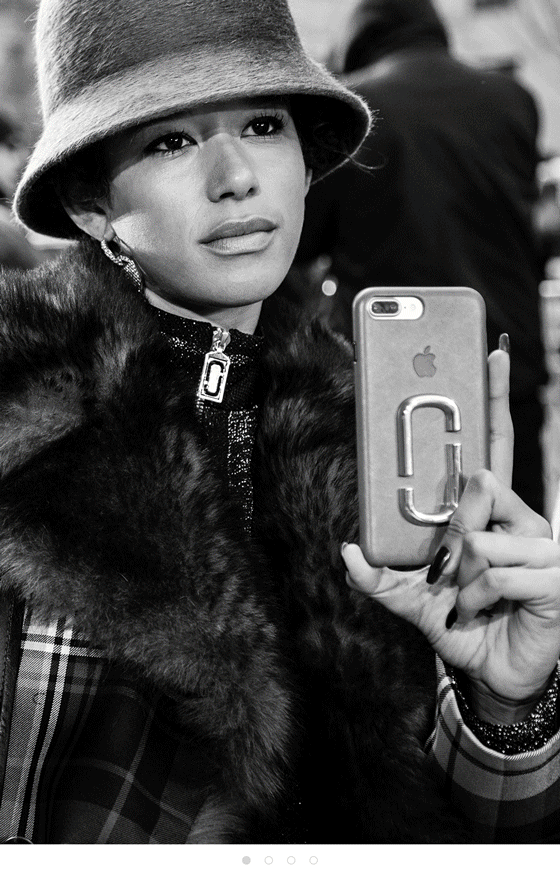 Marc Jacobs' spring show might have been an exercise in quiet restraint — foregoing music, an official runway, even social media — but if the brand went heavy on anything, it was its hardware. Models wore doorknocker earrings, rope chains, oversized zipper pulls, bedazzled keys, chunky rings, and multiple belts, often all at once. It was easy to become distracted and heart-eyed over all the glint, which is why you might have missed the fact that the hardware all featured Marc Jacobs' fresh new logo. Consisting of two interlocking J's as an homage to the man himself, the new logo is an official update for the label that, up until now, relied on a golden placard and oversized block letters to brand its bags. And now that Marc Jacobs has patterned monogram abilities...do we smell an imminent new It bag for next season?
We Looked Up Gucci's Vocab For You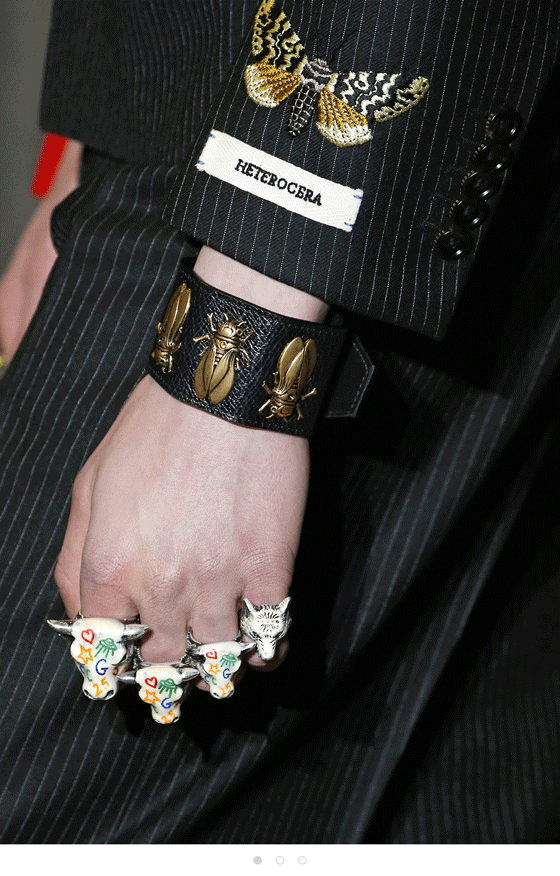 It's not often that you hit up an encyclopedia, not Instagram, after a fashion show, but we had to decipher a few of the more exotic-sounding words that cropped up during Gucci's latest collection. We asked the label for the footnotes, in case you too were unsure if Biddenden was a Harry Potter spell or what. Consider this your botany, biology, and building lesson for the coming season.
Heterocera — A classification of insects relating to moths.
Chiroptera — The scientific order of winged mammals that include bats.
Giardino dei Semplici — The informal name of the Orto Botanico Firenze, the botanical garden belonging to the University of Florence. The garden is home to over 9,000 types of plants.
Scarabaeidae — The insect family consisting of over 30,000 types of scarab beetles.
Sissinghurst Castle — A castle in Kent owned by the 1930s British writer Vita Sackville-West known mostly for its gardens (creative director Alessandro Michele was inspired by it, but has never been there himself).
Biddenden Road — The street where Sissinghurst Castle is located.
Pleather Gets A Makeover...Finally!
Stella McCartney is a devoted vegan, and eschews all leathers, furs, and skins from her collections. So, imagine how confused we were when we saw just how many full-leather looks were in her fall collection in the form of patent trenches, slouchy pants, and soft suede dresses — we half-expected McCartney to do her final bow while holding a cheeseburger. But, it turns out that she didn't abandon her animal-loving mission, and instead doubled-down on it: That leather was just really, really convincing faux-leather, and every piece was made from recycled water bottles and vegetal skin. McCartney has always included plastics-based leathers in her accessories lines, but it was never presented as the showpieces they were this time around, which is a testament to the material technologies she has helped promote. But, don't call it "pleather:" According to the tag included on all vegan-leather Stella McCartney products she produces, it's "skin-free skin." Sold.
Bags, But Not Really
What is a bag, really, other than a thing that makes it easy for you to hold many other smaller things? But this season, designers stretched the definition of the word to include shirts, hats, and purses that seem like they'd only "hold" things in zero-gravity environments. This surrealist sartorial exercise came at an interesting time when up seems like down, right is wrong, and America is Russia. But unlike the more sinister (fake?) reworkings of facts, these "bags" provided a much-appreciated chuckle attached.
The 411 Behind The "205"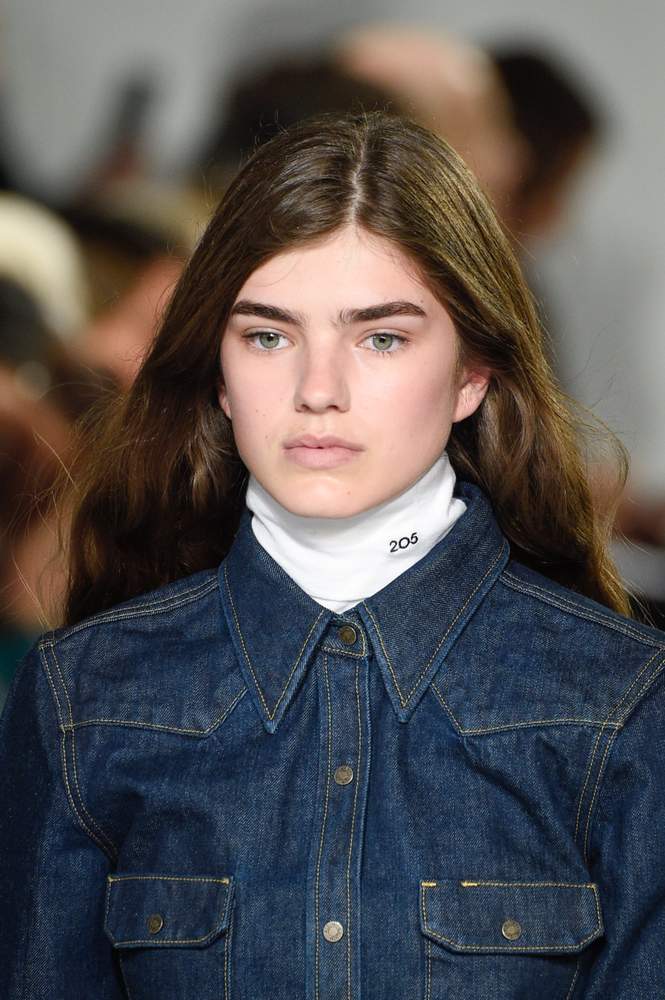 Raf Simons hid dozens of Easter eggs in his debut at Calvin Klein for fashionphiles to find. From the Brooke Shields stamp on the back of jeans to the Sterling Ruby set design, the collection both utilized Raf's aesthetic touchstones and celebrated Calvin Klein's history. So, when it came to sleuths trying to figure out the meaning behind the "205" on the turtlenecks, they just had to plug it into Google Maps. The brand's headquarters have been based at 205 West 39th street since the '70s, when Calvin Klein first purposely rented out the space from his former employer, with whom he had bad blood, in an epic real estate power move. Today, the art deco building sits within NYC's Garment District and houses every single item ever designed under the label. The building itself tells a pretty neat story about redemption, pride, and a veneration of history — which are pretty apt themes for Raf to be celebrating in his first collection.
The Styling Tips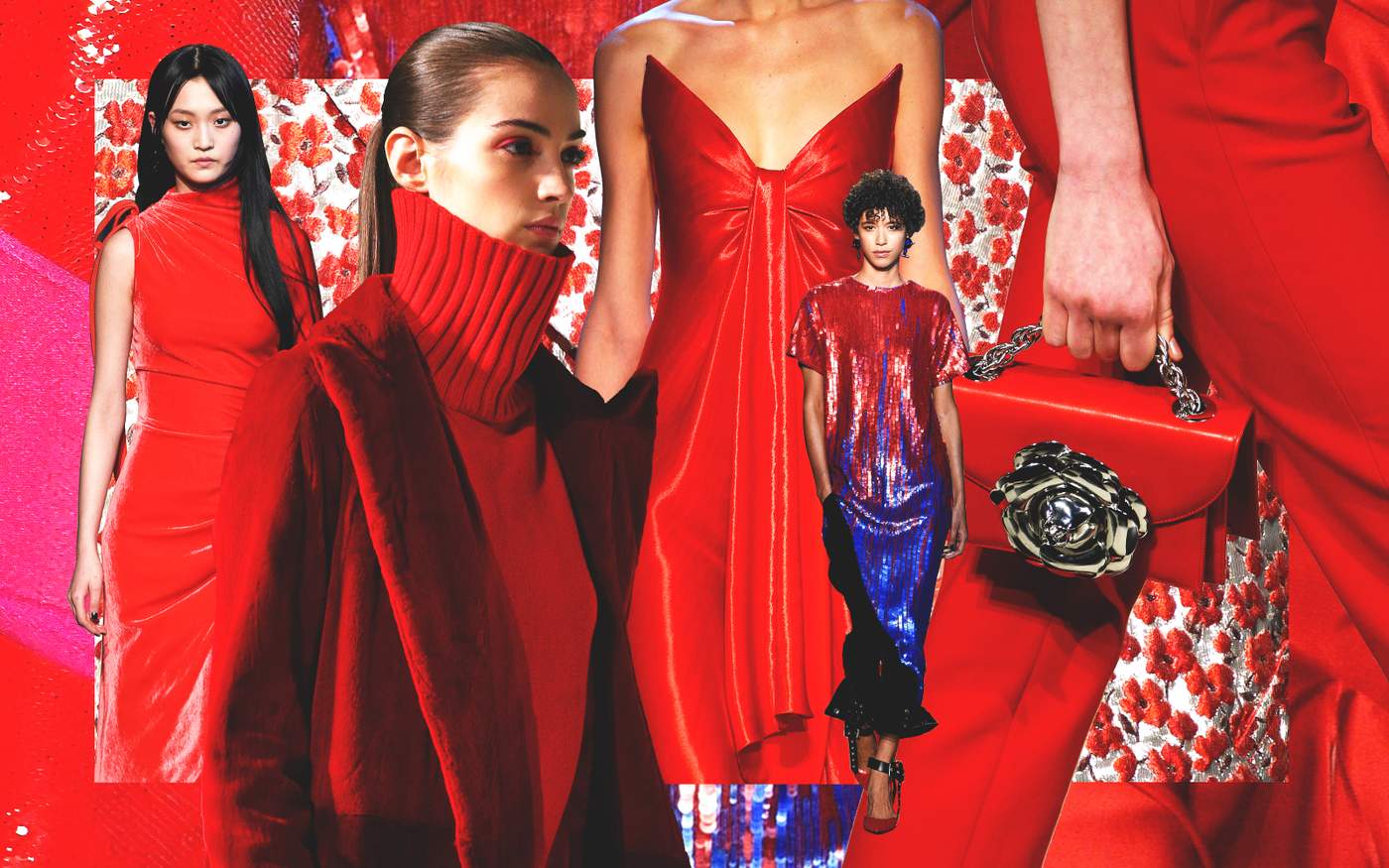 Fashion Sees Red, Now We Do, Too
There is perhaps no color as laden with meaning as red. It's the color of lust, of evil, of luck, and of danger. During WWII, women working with the American Red Cross wore red lipstick to boost the morale of soldiers. During the French Revolution, women knit red caps for fellow radicals who wanted to overthrow the monarchy. It's the official color of labor rights, of Trump's MAGA hats, and of A Day Without A Woman, too. With so many signifiers, some of which are conflicting, there's no one universal meaning behind the color, except that a woman in red is a woman with something to say — and designers like Oscar de la Renta, Prada, and Proenza Schouler this season made it clear that they weren't dressing wallflowers.
Forget Monochrome — Meet Monotactile
You know about monochrome — outfitting yourself from hair tie to fishnet in the same color. But what about dressing all in the same texture? From Victoria Beckham to Tibi, designers went hard with the velvets, tweeds, silks, and denims to create tactilely irresistible looks that — it goes without saying — give us all the feels.
Waist Management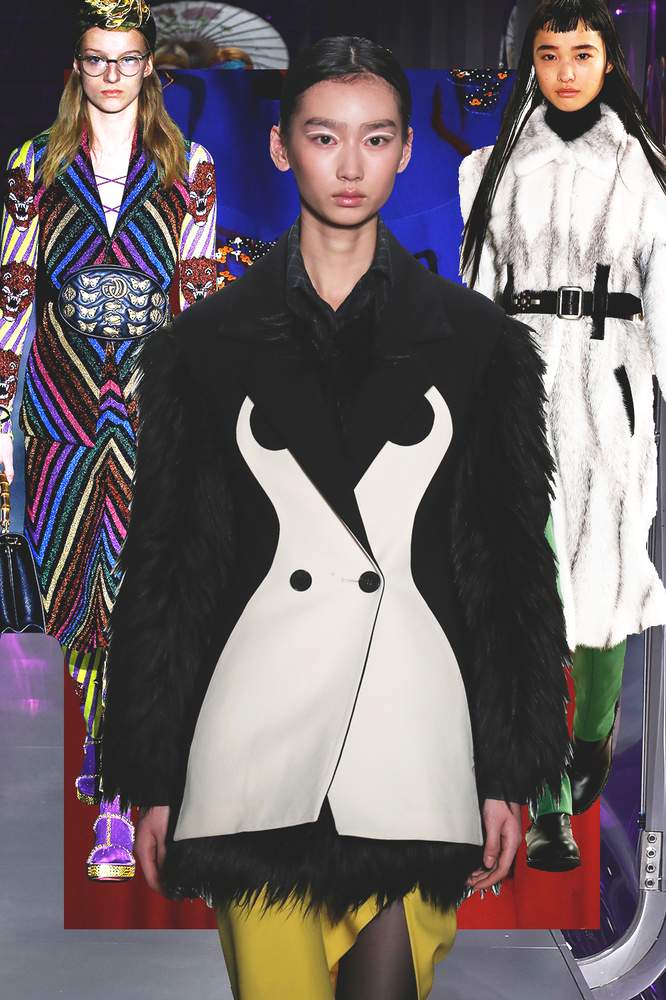 After seasons of boxy, flowing silhouettes (we like to call them "clothes that don't touch your body"), it seems like some designers are making a case for a more structure. Certain designers like Ryan Lobo and Ramon Martin of Tome went for a surrealist approach, using colorblocked panels to mimic an extreme waist on a roomy coat or maxi-dress. Others, like Roksanda Ilincic cinched billowing gowns with soft leather belts, obi-style. The result highlights a woman's body, but doesn't go so far as to constrict it (like the bone-crushing corset trend of the mid-2000s, or — ahem — the 1800s). Waists are in, but, thankfully, so is breathing.
The Last-Minute Sweater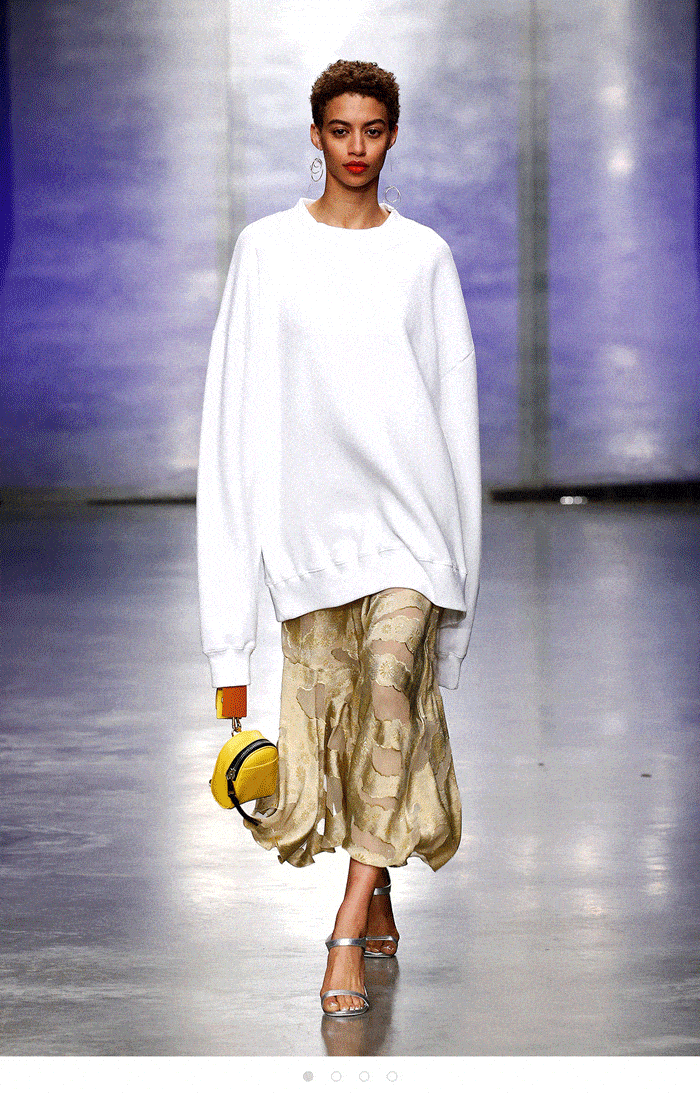 Quick — you're back home after a swanky night out, about to make yourself a microwave meal, but you're not quite ready to say goodbye to Glam You yet. What do you do? Chances are, you reach for the random sweater you've got hanging off a chair and finish eating your enchilada by the sink. The idea is feeling fancy and pretty for as long as possible, just for your own pure enjoyment. The last-minute sweater trick reminds us of that personal, private, enchilada-accented moment, but unlike watching a season of Hoarders while marinating under a sheet mask, this look won't scare your neighbors.
Breasts, Boobs, Whatever You Like To Call Them Make A Triumphant Return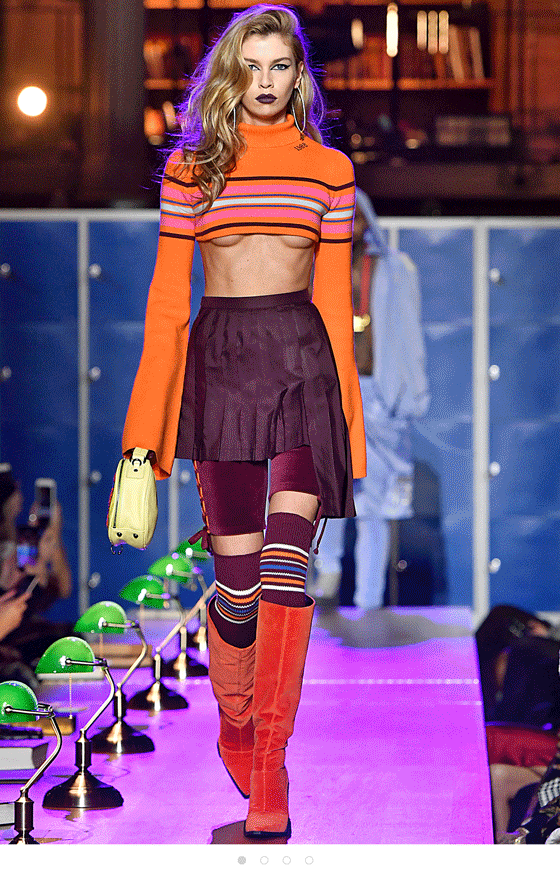 After decades of push-ups, we're finally living in a bra-fee world. While fashion's relationship with cleavage has always been a little all or nothing, runways this season championed the natural, unencumbered, bra-free breast. Underboob, too, was a surprising recurring trend, showing up on runways as diverse as Calvin Klein and Fenty — creative director Rihanna is a fan of the look herself. And in support of this lack of support, Nicki Minaj sat front row at Haider Ackermann wearing a blazer that exposed an entire pasty-covered breast, Lil' Kim-style.
The Politics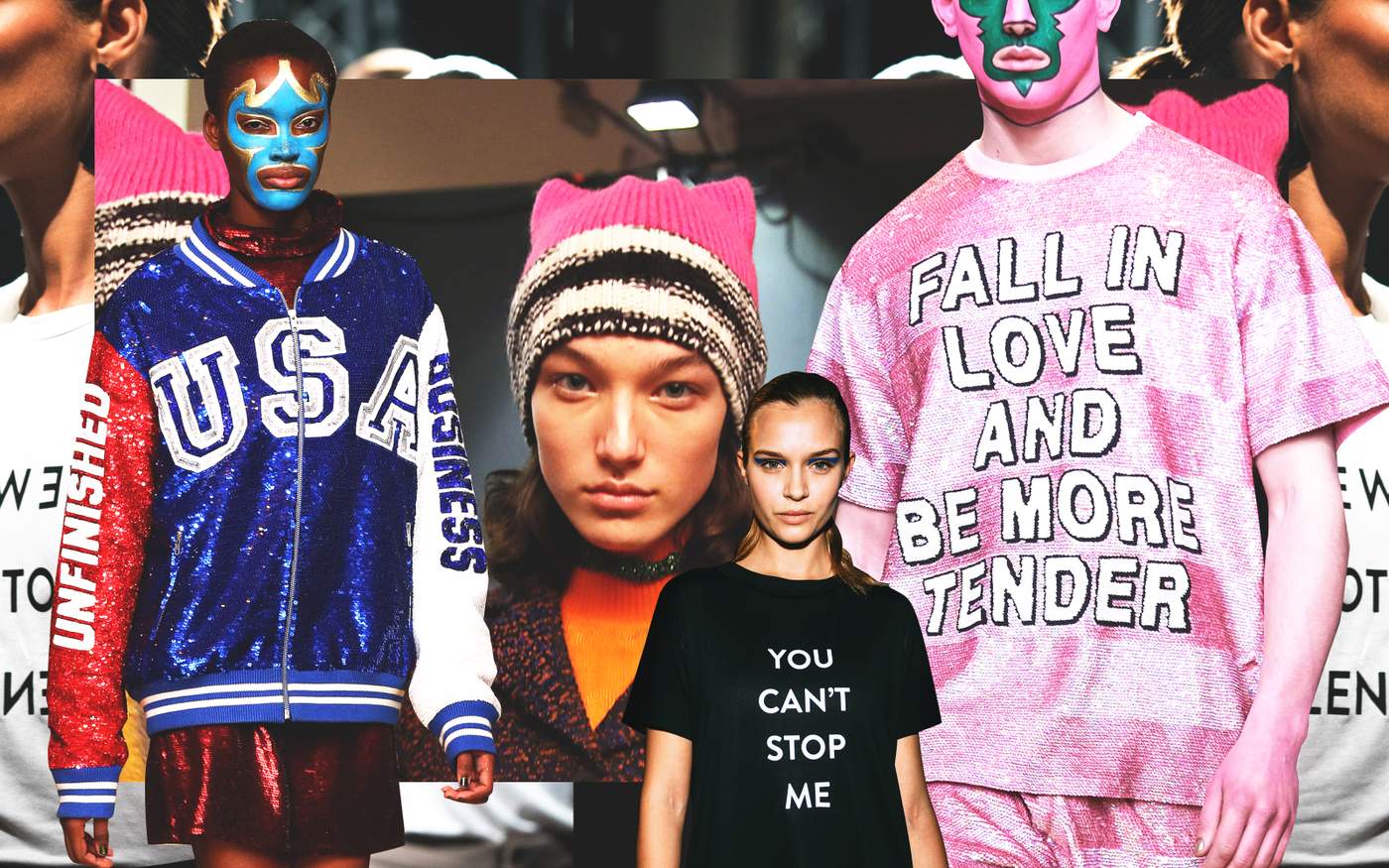 The Protest Tee
For the final walk of his fall show, Prabal Gurung dressed his models in a range of protest tees inspired by what he witnessed at the Women's March in Washington, D.C. back in January. It wasn't the only instance of political messaging on the runway, by any count, but to those in attendance, many of whom were moved to tears, it was among the most emotional. Here, Prabal Gurung recalls for Refinery29, his thought process, in his own words:
"As a designer with a platform, I feel a responsibility to use my voice, and to lead the conversation in a way that can provoke change. I've been told by some to keep quiet — that fashion and politics do not mix and that I should stick to my trade. I couldn't disagree more. I feel compelled to take a stand and challenge notions of what fashion's role can be in our society.
"I was at the Women's March and I became so taken with all the signs I saw. The signs told such a complex story about what it means to be a woman in our society. In my designs, I've always tried to capture the essence of a woman — and I wanted those words from the March, written by real women, to be a part of that.
"What I love about this industry is that it can create a conversation on a global level, and I believe the more who participate, the more powerful we can be together."
Symbolic Activism Hits The Runways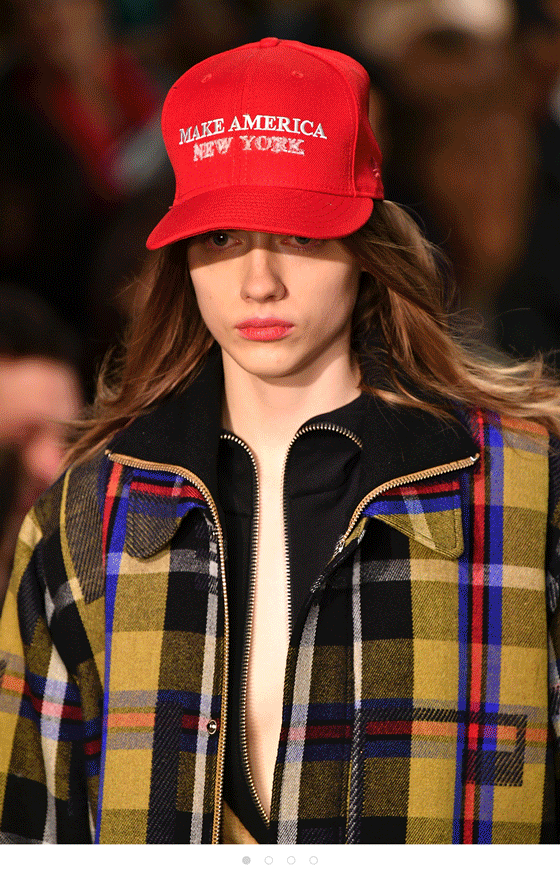 Between the CFDA's official NYFW Fashion Stands With Planned Parenthood initiative and Business of Fashion's white bandana campaign, and all the political messages that framed the collections, it seemed that unless you were directly commenting on the state of American politics and the civil society it's disrupted, you might as well sit down. There were aggressive, provocative statements, like "stay great, despite," which was among the most pointed phrases at Ashish. Some were more subtle, like the way Dior's blue-uniform themed show hinted at the idea of women's rights. It's dubious whether T-shirt activism achieves anything other than helping those who participate in it feel like they've made an impact. In any case, politics was top of mind, and it seemed like the fashion industry, along with everybody else, was still figuring out the best way to respond and resist.
What's Up With Those Joan-of-Arc Hoods?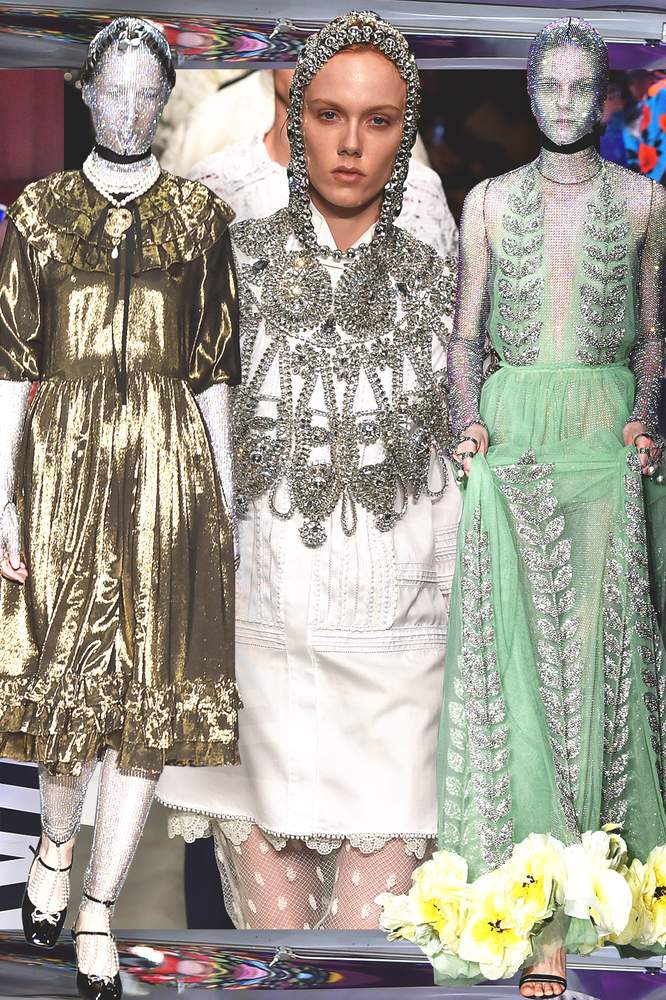 They looked like hijab underscarves or scuba diving hoods. Refinery29 editors joked after the Delpozo show that the tight-fitting headgear was like a bodycon hoodie. But the biggest point of comparison has to be that the fabric headpieces we kept seeing across so many shows looked like Joan of Arc's chainmail hood. When you consider all the battles that women are confronting these days, it doesn't take a huge mental leap to think we may want to start dressing like actual warriors.
Halima Aden Challenges Industry "Standards"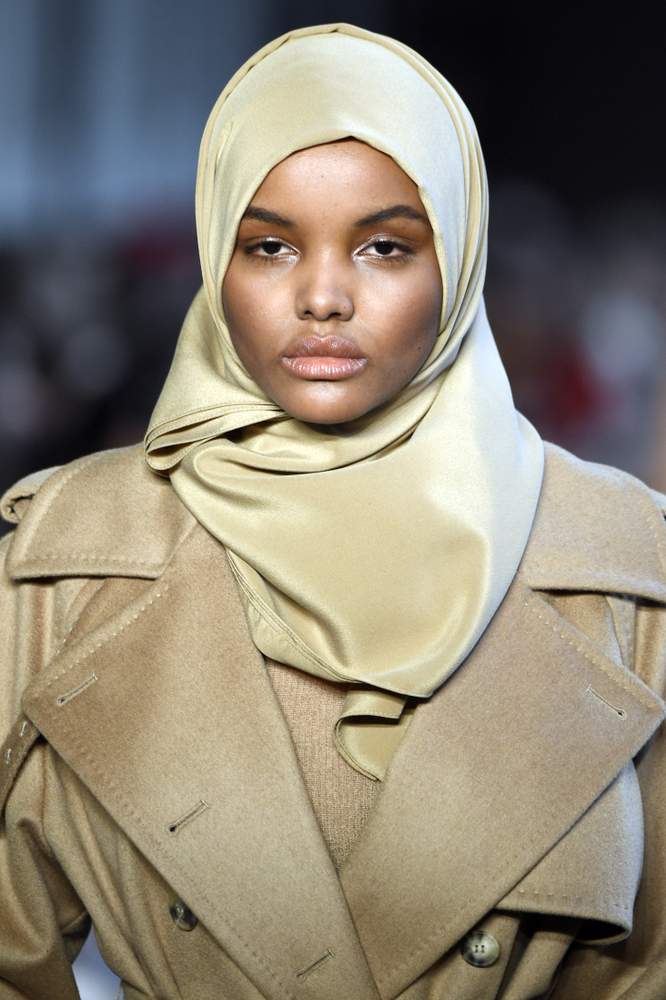 Carine Roitfeld has a knack for discovering young talent. So, when the longtime editor cast Halima Aden, a 19-year-old Muslim-American from Minnesota, for the cover of CR Fashion Book's 10th Issue, we knew she was no one-hit wonder. Over the course of Fashion Month, Aden made her runway debut at Yeezy, and later walked for Alberta Ferretti and MaxMara (all styled by Roitfeld), sending social media into a frenzy for being the only woman in recent history to wear a hijab on a high-fashion runway. Like Ashley Graham or Hari Nef, Halima's presence helped challenge the "conventional" idea of a model (read: tall, thin, young, and cisgender). In a sea of still-not-so-diverse shows, though, her presence this season was a reminder of how far the industry has come, but also how much farther it really has to go.
The Buzz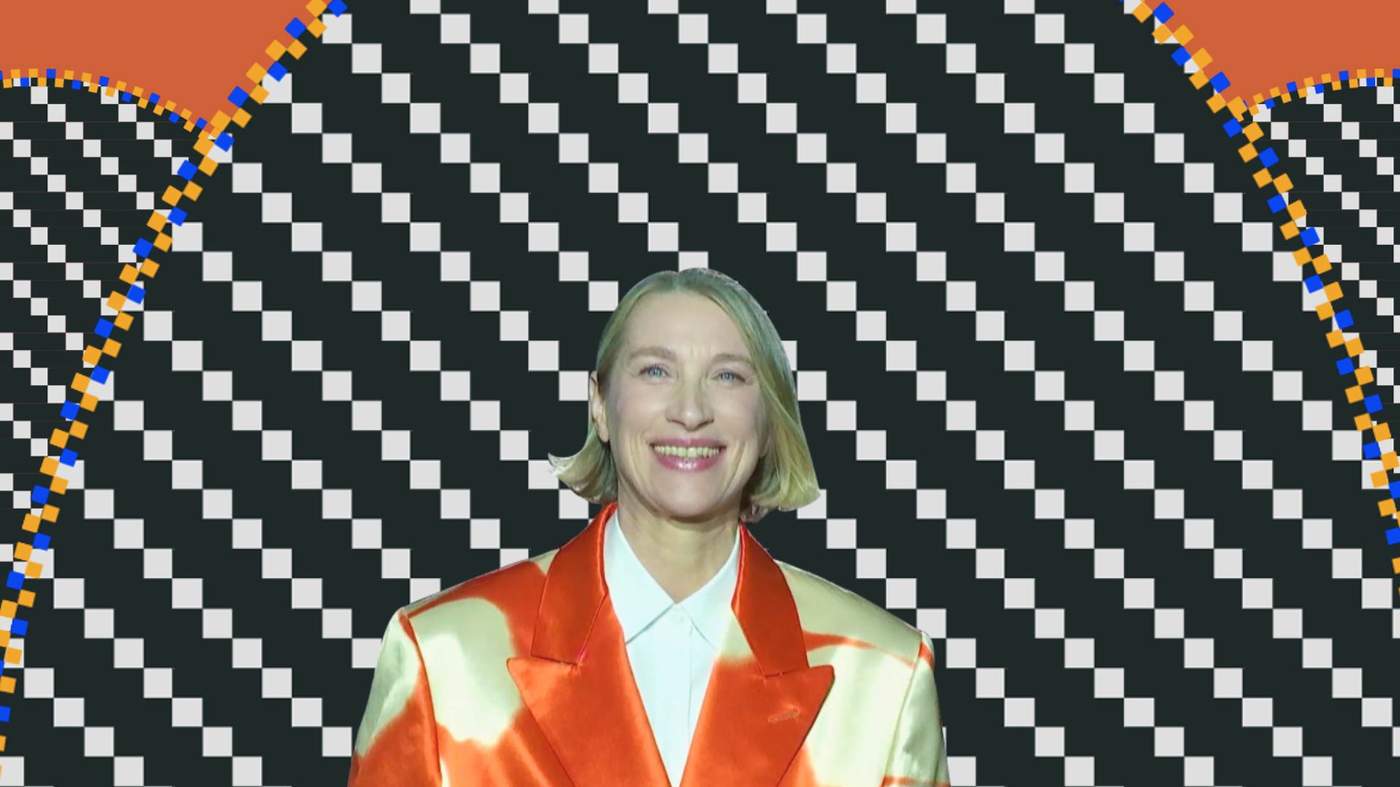 The De-Whitewashing Of Runways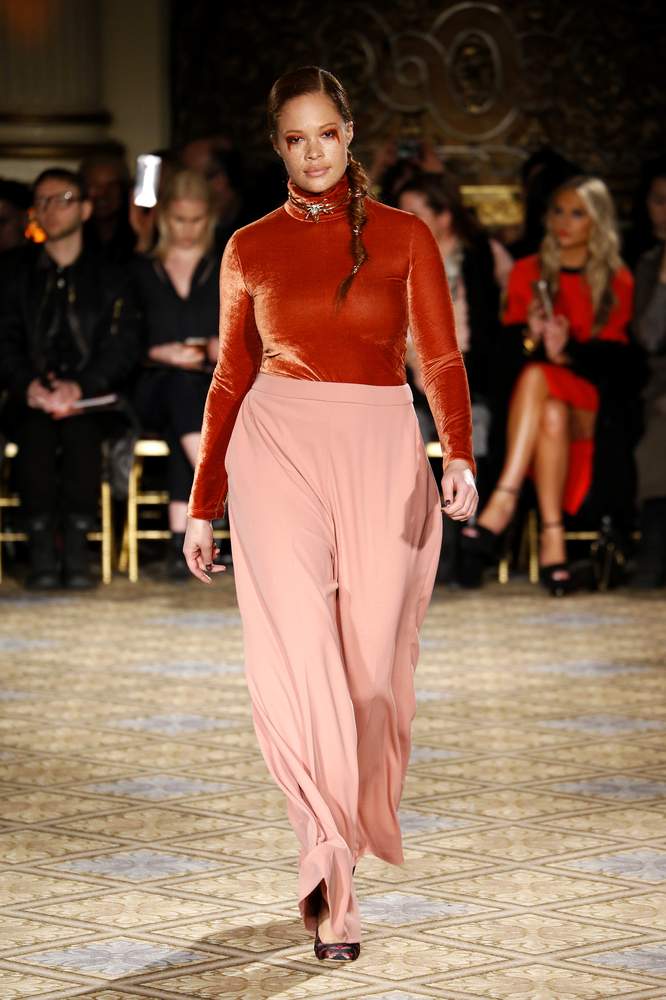 Fashion Week's lack of racial diversity is a problem, but fall '17 may have been a true turning point. Every city broke its own record: Nonwhite castings increased slightly in all three European fashion capitals, while NYFW featured a nonwhite model on every single runway, a first for any city, per The Fashion Spot's latest Diversity Report. (Stats for age and body diversity were less impressive, alas, though some designers, like Christian Siriano, were size-inclusive exceptions.) Ivan Bart, IMG Models' president, took to Instagram pre-NYFW to implore American designers to "celebrate our diverse talent by considering all of our models, regardless of their sizes and backgrounds… Everyone deserves the opportunity and privilege to wear your vision." Bart dove deeper for Refinery29 about why striving for diversity is non-negotiable: "We can't forget that models of color have to work 10 times harder, and it shouldn't be that way… If you don't have the conversation [about casting diversity] at all, then you're complicit in the industry's downfalls."
Are Some Fashion Editors Bullies?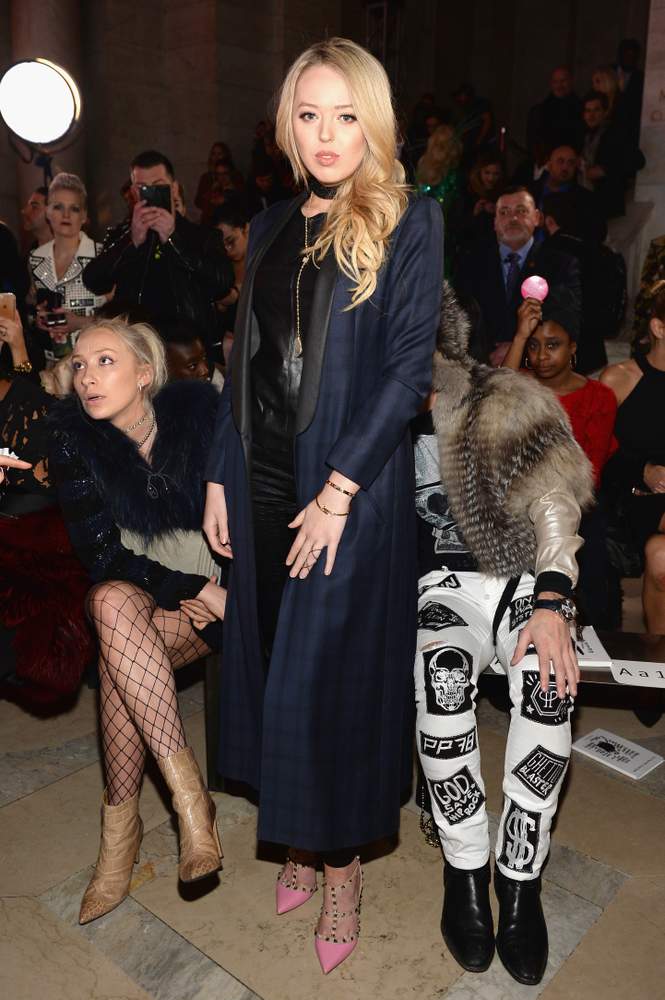 It went something like this: Tiffany Trump enters a late-night fashion show and sits down in her front row seat. Because of the hordes of paparazzi, certain fashion editors asked to be reseated as to not appear in photos alongside the youngest Trump daughter. A few fashion critics tweeted about it, and those tweets got picked by news outlets. The result? Fashion Editors Bully Trump Innocent (see: the Yahoo Style editor holding up the Planned Parenthood button in protest in paparazzi images of Tiffany). Pop culture has long profiled fashion editors as superficial, petty, and not afraid to throw the shorter, squatter, less-stylish female under the bus. The stereotype might be an entertaining one, but from our experience, there are many more editors who disprove the stereotype than confirm it — including the very editors involved in #seatgate.
The Yeezy 180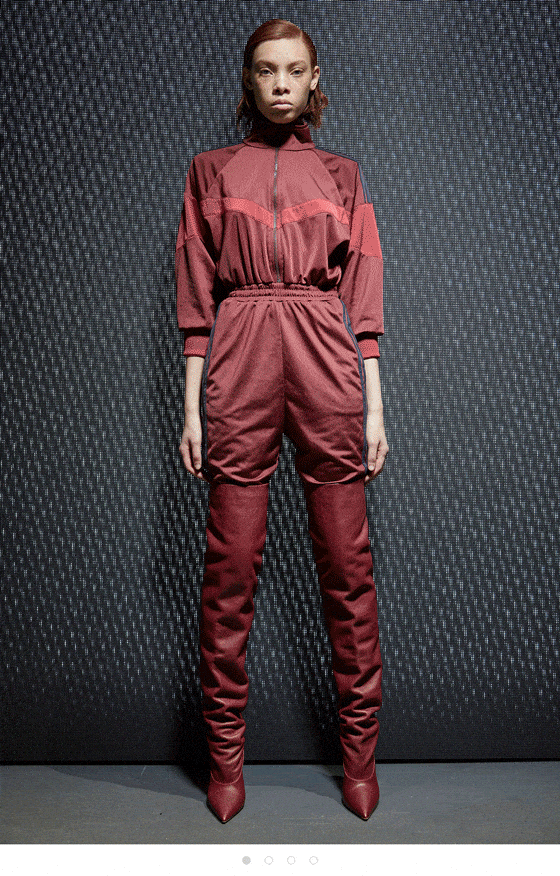 Perhaps more surprising than the lack of Kardashian-Jenners front row at Fashion Month (save for a few Kylie appearances in New York City) was the fact that Kanye West showed a collection of clothing that was, well...good. After last season's debacle (if you need a refresher, you can read about it here), people had a lot of questions: Would editors boycott West's attempt at fashion and refuse to attend? Would he choose some far-off venue? Would it be (yet another) collection of skin-colored spandex? The answer to all was, quite surprisingly, no. Yeezy Season 5 was the least Kanye production, ever — and that's a good thing. A standard New York Fashion Week venue (Pier 59); a 20-minute late start time (practically on-time, by fashion show standards); no massive crowd, no celebrity-packed front row, no new music drop, and, possibly the most un-Kanye thing of all: no end-of-finale bow. Fashion may have brought out Kanye West's modest side. And, suffice it to say, we kind of like it.
Models Get Mistreated — & It's Not Okay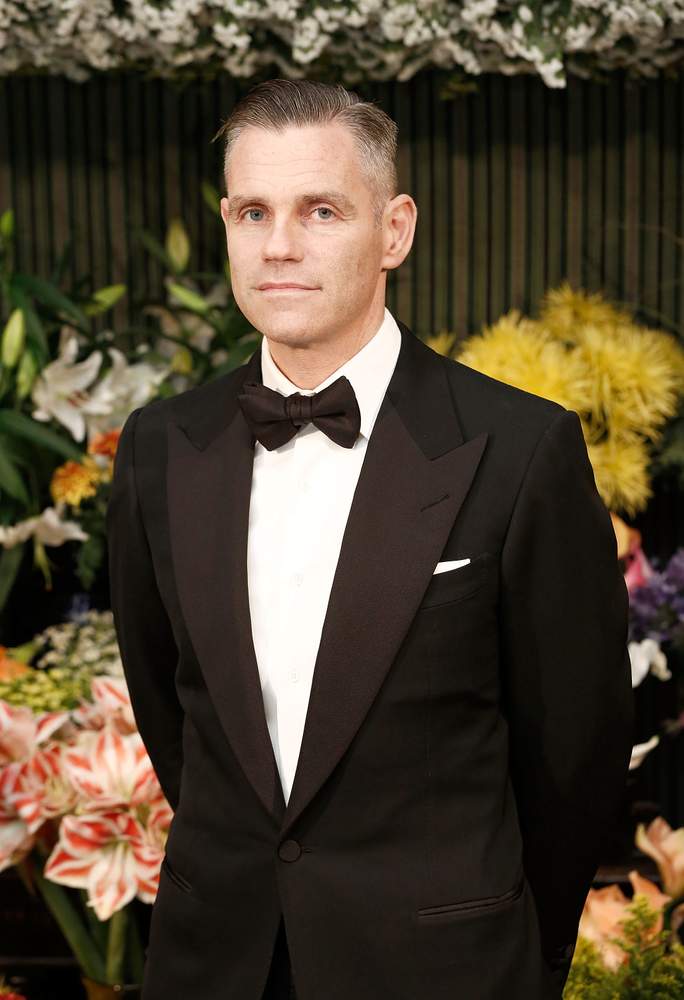 Glamorous as modeling may seem, it's perpetually rumored that the women who do it for a living deal with subpar working conditions, unfair wages, and unethical casting practices. Casting director James Scully, who works with designers like Tom Ford and Stella McCartney, has long been vocal about these issues, and he's taking designers to task for the way they treat models. He called the fashion industry "sadistic and so much more mean than you can believe" during a talk in December, and last month, that critique was proven in Paris. Scully posted on Instagram about the abusive conditions some models endured during Balenciaga's casting, along with Hermès, Elie Saab, and Lanvin. (Balenciaga's casting directors fired back, though Scully held his ground, and some models who'd been there confirmed his claims.) Model Alliance has advocated for models' wellbeing and working conditions since 2012; five years later, Scully's social media outing of abhorrent practices happening right now shows there are still serious strides to be made.
Chanel Brings Back Conspicuous Fashion Week-ing
Among all the fantastical things Chanel has managed to turn into a Fashion Week set (an iceberg, a grocery store, an airport, the entire world), a rocketship might not seem to rank that high on the list...until you realize that the goddamn thing TOOK OFF at the end. After seasons of comparatively understated shows without sets that, you know, involved fire, Chanel brought back the over-the-top, text-your-editor, is this real life or? fashion show that we thought the industry had outgrown. But judging from all the tweets, Instagrams, and fire emojis that poured into our feeds that day, it's clear that despite the trend toward subtler, smaller shows, a pop of pageantry still has a place during Fashion Week.
The Transformations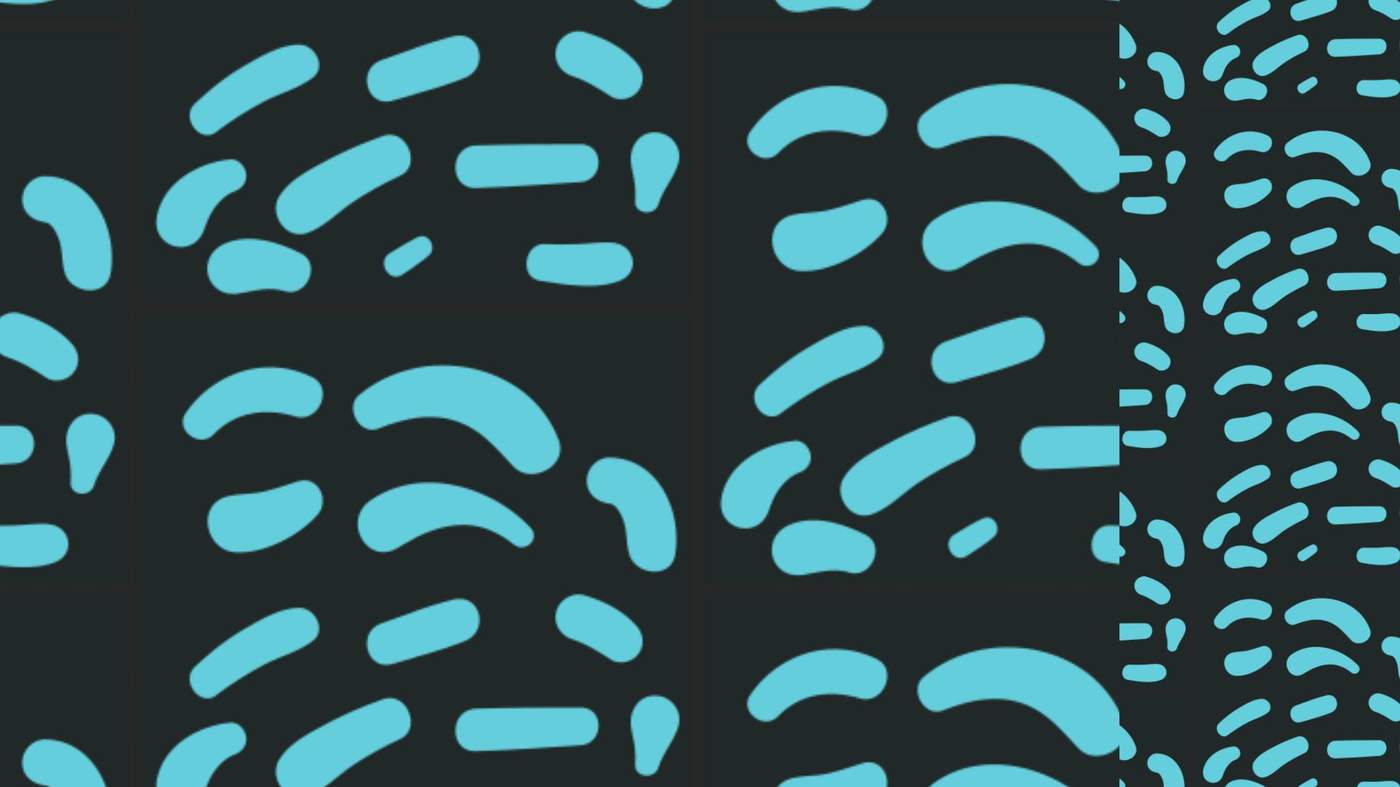 Friends & Family Casting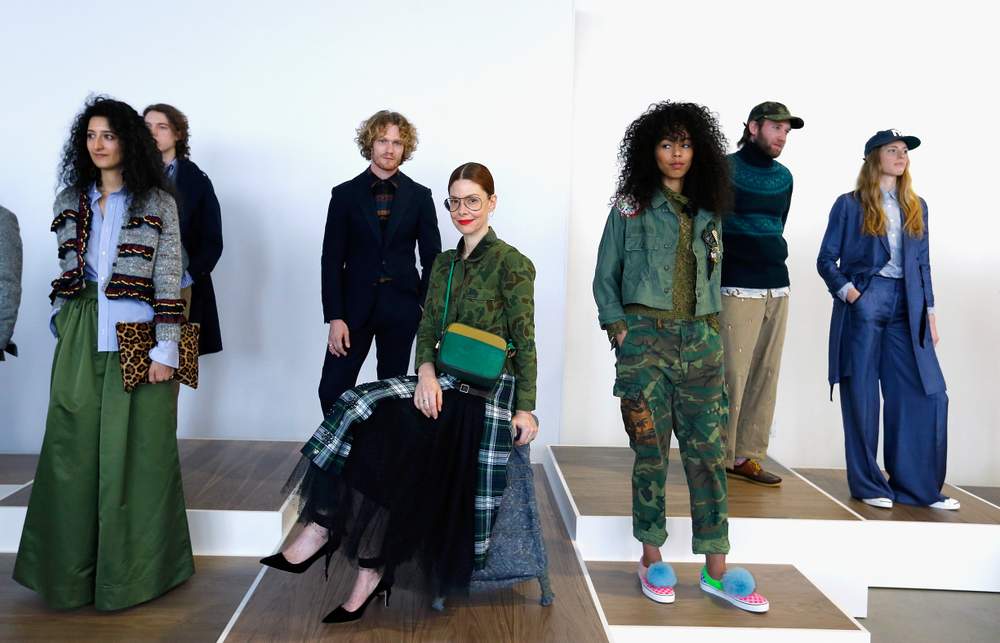 Over the past few seasons, there's been a lot of talk about how the time has come to question what's considered "conventionally beautiful." With that, street casting became more popular, and brands took up hiring non-models (people with a look, not an agency contract). This time around, an even more seismic shift occurred, with companies like J.Crew and Marques Almeida casting people they know on a personal level. But nothing was a "friends & family" affair quite like Dolce & Gabbana. The Italian house cast 149 mothers, daughters, sisters, brothers, customers, celebrities, bloggers, and other close confidantes of all ages and sizes. "We've had an attraction to this from the very beginning — our first show in the mid-1980s was on real people," Stefano Gabbana told Vogue.com. "The message is: You need to accept yourself as you are. That's it!"
Front Rows Look A Little Different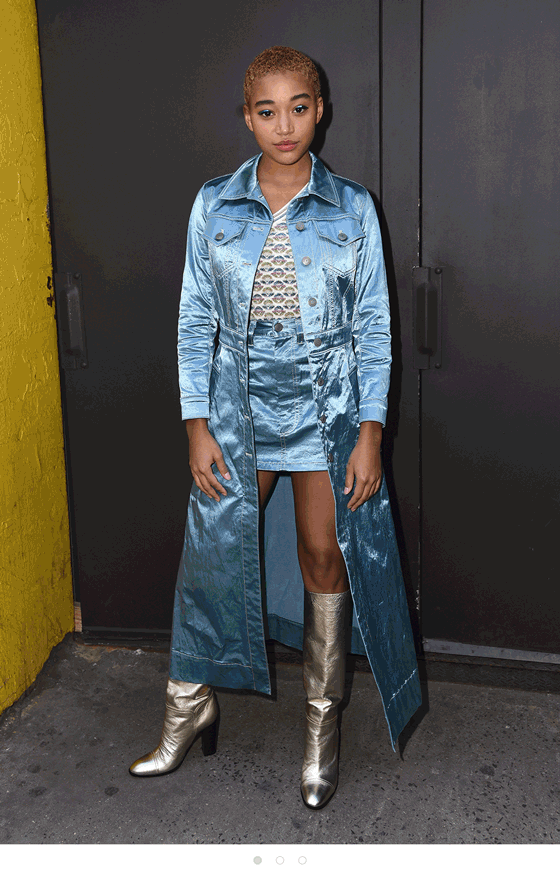 The Appeal (& Non-Appeal) Of New York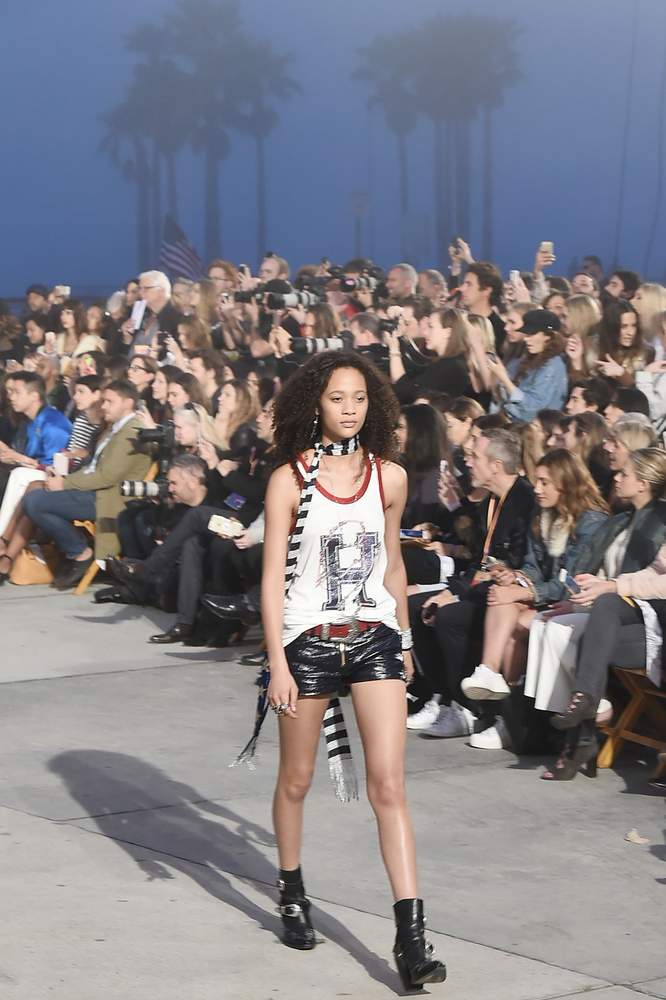 NYFW isn't technically a zero-sum game — it doesn't take one designer dropping out for another one to have the ability to show. But with an official roster of shows managed by the CFDA and a small window of opportunity to make an impact, designers are considering all their options. For some American talent, New York City doesn't have to factor into the equation anymore. Tommy Hilfiger and Rachel Comey opted to show their fall collections in L.A., the day before NYFW officially commenced. Others, like Rodarte and Proenza Schouler, moved their shows to Paris. On the other side of the coin, some European designers have migrated stateside, like Philipp Plein brought his over-the-top show from Milan to NYC. Does this mean that we'll be adding an additional city to the Big 4 of New York, London, Milan, and Paris? Or will these cities eventually become more differentiated in terms of type of designer versus where they're based? Stay tuned...
The Death Of The Afterparty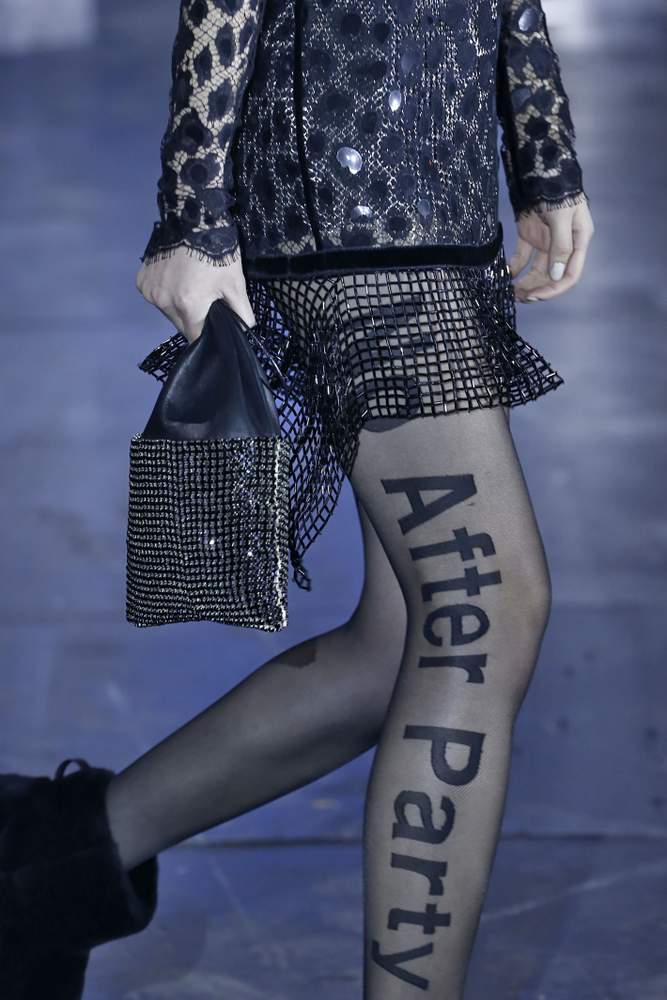 Once upon a time, Fashion Week events were normally split up into two shifts — work hours and after-hours. Those taking on the latter half could expect to party-hop until daylight, downing prosecco with designers, models, and reality show celebrities at parties that could have been plotlines from Gossip Girl. But chalk it up to the fact that we're all a little more tired these days — the Fashion Week afterparty seems to have gone the way of the peplum. The more anticipated events either devolved into fistfights, or didn't happen at all, which was the case of Alexander Wang's "No Afterparty"-named show, a theme that most attendees took as a red herring, considering that Alexander Wang has consistently put on some of the most debaucherous and entertaining after-parties of Fashion Week legend. But as the models headed backstage and the house lights came on, guests hailed cabs back downtown to go to bed without the threat of a hangover, which is SO last season anyway.
The Start Of Something New...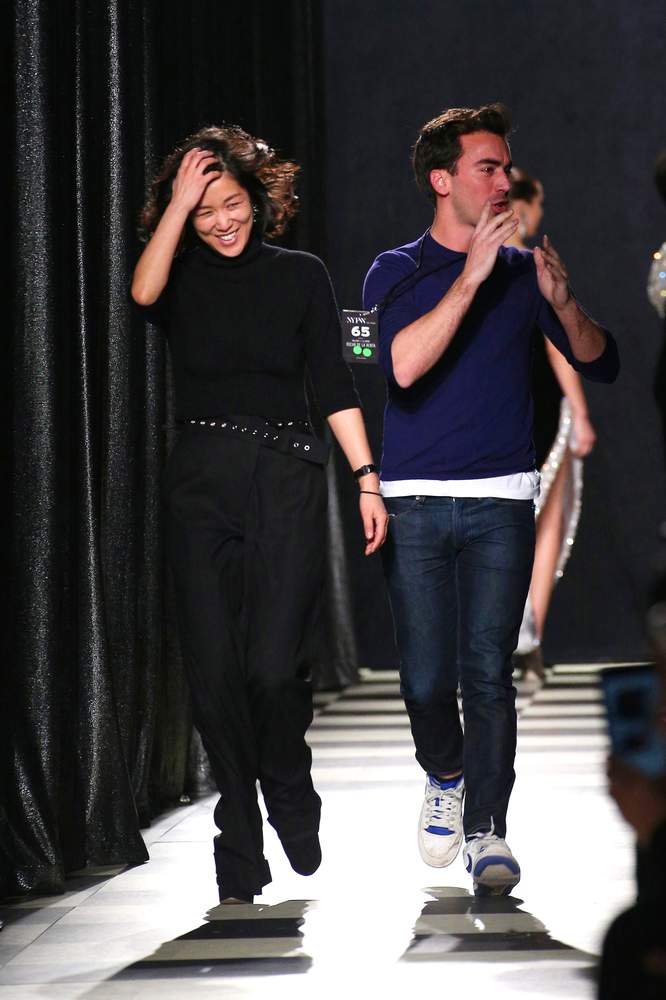 New York City's ears and eyes were abuzz for two of Fashion Month's most anticipated debuts: Raf Simons at Calvin Klein, and Monse designers Laura Kim and Fernando Garcia at Oscar de la Renta (where the duo both began as interns). This style renaissance of sorts didn't just signify a shift in creative directors (and, ultimately, creative vision): It helped usher in a new era for two iconic American houses that, since the departure of their namesake designers, have struggled to find their footing in the shifting climate. Though most first seasons are met with "learning moments" (see: Bouchra Jarrar at Lanvin, Maria Grazia-Chiuri at Dior), both moments received rave reviews. In a time where American fashion is having trouble finding its niche (Paris has its longtime labels, London has its crop of young, star talent), it couldn't be a more important moment to inject these old brands with new life. And it seems like the industry at large is finally paying New York some attention.
2017 Is The Year Of Fashion Milestones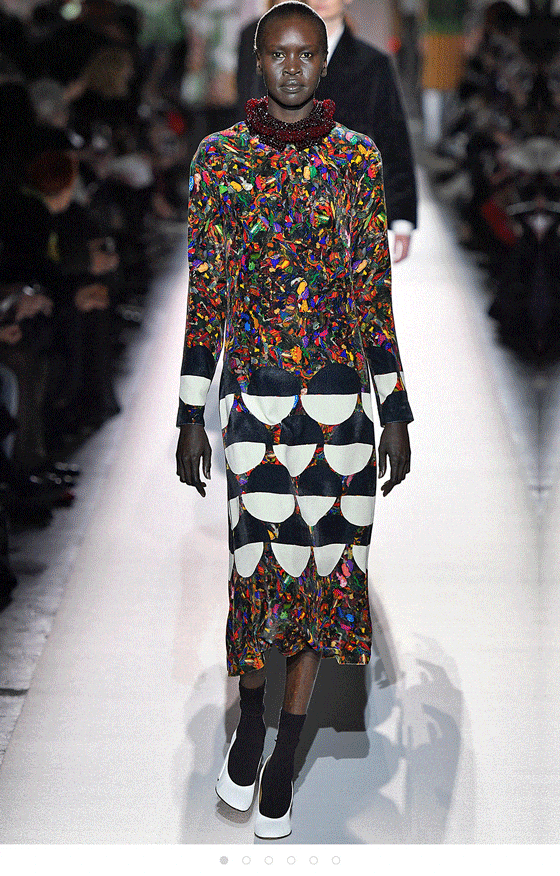 A range of New York and Paris labels had reason to celebrate this season. Rag & Bone rang in 15 years, albeit in a quiet (but very...meta) manner, and without cofounder David Neville, who stepped down as co-CEO in June 2016 (although he remains a significant shareholder). Coach, another NYFW staple, turned 75. The classic accessories label now turns out respectable RTW, frequently in glossy editorials and on covers, thanks to its creative director of four years, Stuart Vevers. Selena Gomez joining forces with the brand in December didn't hurt its recent spike in cool cache. Meanwhile in Paris, Dior — now helmed by a woman, Maria Grazia Chiuri, for the first time ever — turned 70, and got the historical documentary treatment. But, our favorite milestone had to be Dries van Noten celebrating its 100th runway show by inviting top '90s models who walked for the brand in the early days to come back for a reunion stomp. While brand-iversaries happen annually, that's a lot of milestones at once. It's an industry in which rapid trend cycles, creative director shuffles, and swiftly evolving business models are the norm — and it's great when we can take a moment to celebrate all that productivity, and fuel the engine that'll keep the party going next season, too.