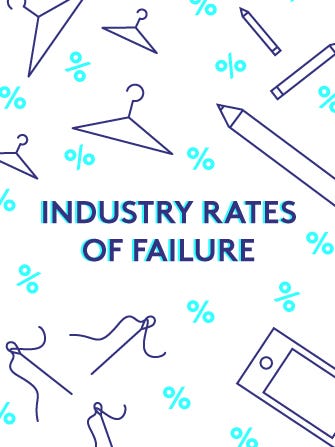 Illustrated by Madelyn Somers.
So, you say you want to start a business. What are its chances of survival? What types of businesses are voted "Most Likely To Succeed"? More importantly, what skills can you acquire to make sure your business is one of them?
Creating a viable business model helps. But, it's also important to stay on top of cash flow, says small business expert
Mike Michalowicz
, author of
Profit First: A Simple System to Transform Any Business From a Cash-Eating Monster to a Money-Making Machine
. He observes that the mismanagement of cash flow is a common downfall for business owners across multiple industries. His recipe for success: purpose plus profit. It's the second part of that equation that's often missing in many business ventures.
In fact, one 2014
analysis
listed seven pitfalls as the major causes of small business failures; six of them related to poor money management skills. Starting and owning your own business can be incredibly rewarding. A study by the Global Entrepreneurship Monitor described business owners as among the happiest people on the planet. But, one thing is clear: Your business depends on cash.
I spoke with successful business owners from five different industries with high rates of failure to find out how they beat the odds.
Illustrated by Madelyn Somers.
PR & Communications
The Odds: 47% chance of survival (after five years)
According to the U.S. Census, service-based businesses have about a 47% chance of surviving their first five years. The Bureau of Labor projects the need for public relations specialists to grow by 12% from 2012-2022. There's clearly a need, but the rate of failure (almost one in two) can be daunting.
Industry veteran Inna Shamis Lapin says it takes superior communication skills to survive. With nearly 20 years of experience, and a client roster that has included Martha Stewart,
Vogue, Elle Décor,
Elizabeth Arden Red Door Salon & Spa, Sprint PCS, and Crunch Fitness, Lapin is well past the five-year mark with her firm, the
AvantGarde Communications Group.
Lapin pointed out that unlike traditional advertising where clients of an advertising agency "pay to play" by purchasing advertising space on billboards, TV, magazines, and web sites, the public relations industry is a "crazy beast of uncertainty." PR work is dependent upon unpredictable factors like market timing, messaging, trends, and notoriously fickle editors. PR companies cannot always guarantee results, so communicating this industry fact, while remaining skillful enough to sell your services and close deals without scaring customers, is an essential talent.
Although the Bureau of Labor predicts growth in this area, Inna believes the market is saturated, which means you have to stand out from the crowd to survive. Building and nurturing relationships with clients, editors and colleagues is vital, as is staying ahead of trends and keeping up with any new forms of media.
How To Survive: Managing Client Expectation
Inna advises new PR agencies to carefully manage their client's expectations with honesty and candid feedback. She also advises PR agencies to only take on brands they feel passionate about and believe in. Agreeing to represent a junk food product when you yourself are passionate about farm-to-table eating is a recipe for disaster. Staying in love with your clients, their products and the PR industry as a whole is the key to having a long-term successful business in the industry.
Illustrated by Madelyn Somers.
Restaurant & Hospitality
The Odds: 49% survival rate (after three years)
There is a popular saying in New York City: "If you want to lose a million dollars, open a restaurant." And, for good reason. According to the National Restaurant Association, 30% of new restaurants fail in the first year. Of those that survive, another 30% close in the next two years.
According to Kurt Knowles Jr., a third-generation entrepreneur in one of the most prominent restaurant legacy families in New Jersey, businesses in this industry fail due to two main elements: cash-flow management and relationship building. Because food costs fluctuate daily, it's hard to negotiate long-term contracts with fixed pricing — a huge challenge when it comes to budgeting and cash-flow forecasting. Couple this with the fact that food is perishable. Knowles notes that it's easy for new restaurateurs to fail simply because they do not actively participate, daily, in the cash-flow management of their business.
How To Survive: Secure Quality Relationships
The challenges surrounding food costs is precisely why quality relationships, with strong terms from vendors, are key to survival. This is particularly true in the event and special occasion industry where entrepreneurs have high upfront costs to purchase food and alcohol, but may experience a longer cash-flow cycle (the time it takes to collect the money from the customer). Although having a contract that requires a deposit helps offset some costs, it rarely covers everything. Owners should be prepared for delays in getting final payments, particularly if working with large corporations when it sometimes takes 90 to 120 days to be paid. Having strong relationships with vendors who are willing to extend lenient terms helps to mitigate these hiccups in the cash-flow cycle.
Polished, professional and polite "front of the house" employees are also essential to a restaurant's success. Valets, hosts, waitstaff, and food runners can make or break the restaurant experience for customers. Knowles believes the "hospitality factor" is an innate talent a person has; it cannot be taught, unlike other restaurant skills such as how to set a table properly, clear a plate or punch a food order into a computer system. Like other experienced entrepreneurs, he understands that there is a benefit to keeping employees long term — finding and training people is a cost which can be easily overlooked. Creating a positive, stable work environment keeps employees happy. He says building solid relationships with his staff through meetings, conversations, and competitive benefits (including health care, a rarity in the hospitality industry) is critical to his restaurant's long term success.
Knowles's advice for freshly minted restaurant or hotel owners: Know your margins and your market. Study your industry and competitors and run forecasting models to see what percentage margins you need to keep in order to stay alive. Don't offer a fine dining experience in a pub, or only pub-worthy food in an elegant atmosphere. Your product — the food and experience you offer — is your most valuable asset.
Illustrated by Madelyn Somers.
Education
The Odds: 56% survival rate (after four years)
When we hear the term "education," it's easy to default to thinking about government-owned institutions such as public schools. But non-government-run educational services represent a huge industry. From tutoring, which as a global private market is projected to surpass $102 billion by 2018, to educational games like the wildly popular Cranium which was sold to Hasbro in 2008 for $77 million, to the wide variety of extracurricular activities for kids such as music, dance and instrument instruction, the education industry is huge. And the aforementioned areas don't even touch on the corporate education and training component — another prominent area of this market segment. Nevertheless, all businesses under the education umbrella have a 56% survival rate after four years.
How To Survive: Remember to be a CEO and a Teacher
Melody Stevens, who founded The Academy of Music and Dance in Spotswood, N.J., 14 years ago and recently opened
Mozarts and Einsteins Preschool
in Brooklyn, N.Y., advises developing a hybrid skillset. Learning to balance the "nurturing teacher" component, which is crucial to happy students and more importantly happy parents, while wearing a CEO cap can be a challenge to those who have recently entered this market. She advises everyone to stay away from the most common mistake: keeping tuition low and paying teachers high salaries, which means that you are leaving no room for profit. This is a surefire way to fail, and an amatuer mistake Stevens often observes with those new to her industry.
Another key factor is location. Convenience for parents is key, but negotiating a favorable lease or real estate deal for your facility is crucial to long-term success. She notes that one of the key investments you can make in the early stages of your business is to invest in a talented real estate lawyer and, perhaps, a broker.
To spot potential trouble coming down the road, Stevens pays close attention to the demographics in her area, and in particular to public school enrollment. Knowing if household income is rising or falling, or if public school enrollment is increasing or decreasing, are crucial pieces of information needed to plan the expansion or downsizing of her businesses.
Illustrated by Madelyn Somers.
Manufacturing & Retail
The Odds: 54% survival rate and 47% survival rate respectively (after four years)
Wholesale and retail business have a similar survival rate to education, with 54% of wholesale businesses in operation after four years. 47% of retail businesses remain in operation after the same amount of time.
Emily Holdridge, co-founder and owner of Everything Happy, a children's retail company, says that networking with people in her specific manufacturing industry has been vital to her company's longevity. She specifically sought out other "soft goods" manufactures to learn from their experiences and gather information on trends, fabrics and pricing.
How To Survive: Streamline
Holdridge has found that many of her professional peers, manufacturers, and retail companies, often want to offer everything to everyone — a dangerous undertaking that can cause businesses to buckle due to undercapitalization or lack of funding. Business owners new to the wholesale and retail market often spend large swaths of time and huge amounts of money developing new products and stocking a wide variety of inventory. This can put new businesses in jeopardy financially by tying up cash in unsold inventory or spending it to develop new products that don't have a strong sales track record. Her advice to those newly entering this market is to streamline. By keeping your product offerings simplified, and not spreading yourself too thin, you can build up the confidence, experience, and cash reserves you need for a steady expansion. Holdridge cautions new business owners to keep their eye on the prize at all time: sell, sell, sell. She advises against letting your focus falter to creating new things when you already have items sitting on the shelf or in warehouses. She suggests getting downright creative when it comes to marketing, focusing on the story of the company and the products to increase customer engagement and sales.
When things get tough, find and pose questions to a networking group such as
Savor The Success
and
7-Figure Clubs
. Don't be afraid to build your own network, too, says Emily. If there is someone in your industry who you think can help you, send an email or pick up the phone and ask for help. Surrounding yourself with insight and intelligent peers can keep you grounded and solution-focused when faced with serious business challenges.
Illustrated by Madelyn Somers.
Construction
The Odds: 28% survival rate (after 10 years)
Overall women-owned businesses are still a minority in the U.S., but this is nowhere more apparent than in the construction industry, where women represent only 9% of ownership in the U.S., and 11.2% in Canada. The prospects for a construction business's survival aren't bright either with only a 28.6% survival rate in the U.S. over a ten-year period.
When I recently saw
Kelsey Ramsden
, Canada's Top Female Entrepreneur in both 2012 and 2013 (and a TED talk presenter), speak at a women's business conference, I felt like I had found a needle in a haystack. Kelsey owns Belvedere Place Development, a construction firm, and Tallus Ridge Development, a residential project management company, both located in Kelowna, British Columbia.
How To Survive: Cultivate Vendor Relationships
Kelsey, like many other successful entrepreneurs, says managing your cash flow every single day and having quality relationships with your vendors and bankers should carry you through lean times.
When she first started to cut her chops in her industry, she said she made the mistake of grinding vendors down, seeking out the cheapest possible can't-you-save-me-one-more-penny pricing. Her suppliers finally abandoned her because they felt bullied and wanted to be in a two-way partnership with their customers. Kelsey now spends more time cultivating her vendor relationships by communicating clearly and understanding that getting the lowest cost on something comes at a cost — the lost value of relationships and quality services and goods. This can prove to be extremely challenging in a business where customers often go with the construction firm that provides the lowest price.
Again, this means the relationship factor comes back into play, but this time on the client side. If your construction firm provides quality, reliable services, the chances are higher that you can count on repeat business and word-of-mouth referrals. When encountering a crisis, Ramsden advises keeping your business alive at all costs. Cut costs, get lean, and lay off people quickly. Do not make the mistake of languishing in sorrow and feeling guilty about no longer being able to provide for your staff's livelihood. If you kill your business and empty out your coffers because of your failure to act swiftly, no one will have a job or a livelihood — and that includes you.