This is the time of year where my wanderlust kicks in big time. I spend my days gazing out the window, thinking about how I'd much rather be outside doing anything than be forcibly glued to my computer screen, which is why I've been using every weekend to escape the city.
Whether it's a road trip to Laguna Beach or a quick PCH drive, I spend every free moment on the go, exploring new places. My most recent getaway was to Catalina Island, a magical place filled with margaritas and fresh oysters. The minute I decided to make the trip, I booked a ferry ride and started packing — fast. I've become somewhat of a seasoned weekender and have my packing down pat. For the weekend warrior everywhere who's constantly in search of an impromptu adventure, see what to pack in your last-minute carry-on, ahead.
Never underestimate the power of a crisp silk blouse to dress up those old denim cut-offs you have lying around. And while there's a time and place for heels, an island getaway is not one of them. Instead, I'm packing my trusty Soludus for pain-free walking.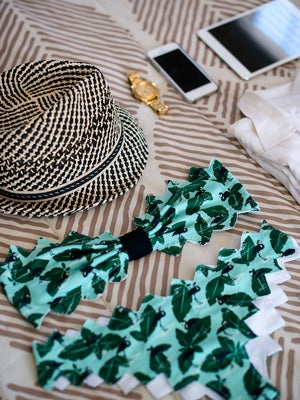 Photo: Courtesy of Kimberly Pesch. Marysia Swim Honolulu Bikini in Flamingo Print, $130 each piece, available at Marysia Swim; Zara Straw Hat With Ribbon, $14.99, available at Zara; Coach Boyfriend Bracelet Watch, $248, available at Coach.
I'm most excited to do absolutely nothing and lay out on the sand. For my beachside outfit, I'm throwing in this bikini by Marysia Swim. I love the flamingos and funky zigzag edges! The only accessory I'm wearing with my two-piece is this Zara straw hat. And of course, my electronic devices are with me wherever I go. I mean, did that brunch really happen if I didn't Instagram it? Just kidding. It happened. I ate it. But regardless, I need my iPad to not just stay in the social digital loop but flip through my digital magazines (Real Simple and Bon Appetit are on rotation right now).
Easy makeup is key when traveling, so I only pack multi-taskers like this
BB Cream by Revlon
. I can apply it with my fingers, which means I don't need to mess with any brushes and it leaves my skin moisturized and flawless without caking. It's also a huge space saver because I can skip my primer, foundation, and SPF by packing just this one product.
Photo: Courtesy of Kimberly Pesch. Topshop Single Spike Stretch Bracelets, $10 each, available at Topshop; Estée Lauder Bronze Goddess Powder Bronzer, $36, available at Estēe Lauder; Burt's Bees Natural Lip Balm, $2.99, available at Drugstore.com.
The only other beauty items I need are lip balm and a bronzer with a bit of sparkle. Even when I'm going barefaced on the beach, a swipe of moisturizing chapstick and dusting of this magic brown powder gives me a glow and adds some life to my skin.