I have a problem. I've confessed time and time again that I am a bit of a hoarder when it comes to
lip products
. I just can't help it. I have a compulsion to own every tube that has a slight variation in shade, shine, or sparkle.
So, it's no surprise that at any given time, I have three (or 10) lippies in my bag. You might call it obsessive, I call it being prepared — you never know what color mood will strike! And, since I carry lipsticks in all my purses, I tend to pair them accordingly. Allow me to explain. I usually reach for a nude lippy when I'm wearing my statement cobalt blue bag, or a hot pink with my funky, studded clutch. Sometimes, bags and lippies go hand in hand.
So, in time for the new fall collection, I'm matching three new bags with lip colors that I think will go smashingly. Get your credit cards ready, friends. It's time to do some damage.
I'm always toting a million things and feel like my bag is never big enough. I need something with a lot of space but is polished enough to take into an impromptu meeting. This maroon tote is the perfect workbag and its calf hair front makes it seasonally appropriate.
Since the bag has a pop of color, I like to keep my lips neutral with Revlon's
Super Lustrous Lipstick
in Honey Bare. It is the perfect barely-there lip color that still gives your face some dimension. Also a little trick: Want to bring this bag from day to night? Go for a berry lipstick, like Revlon in Plum Velour. No outfit change required.
Revlon Super Lustrous™ Lipstick in Honey Bare and Plum Velour, $6.99, available at Revlon; Loeffler Randall Work Tote in Maroon, $695, available at Loeffler Randall.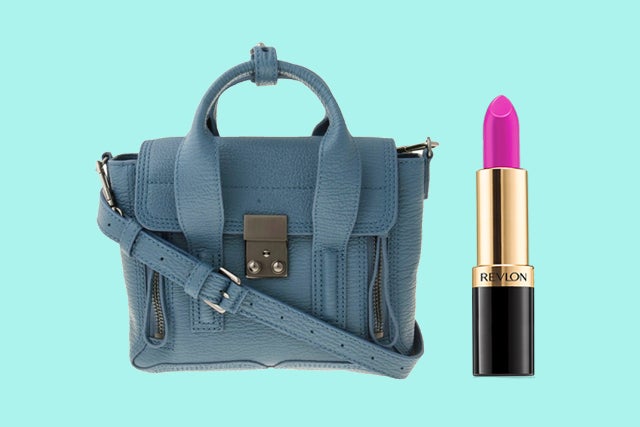 When the weekend hits, all I want to do is ditch the heavy, oppressive bags and swap it for a small cross-body like 3.1 Phillip Lim's Mini Pashli. In autumn, it's easy to fall into the blah color rut of blacks and tans, so I like to mix things up with my bag and, of course, my lip color.
Don't think I'm leaving the house without a bold lip to match this super cute cross-body like Revlon's Super Lustrous™ Lipstick in Fuchsia Shock. It's the perfect bright pink to complement this pint-sized bag. Don't forget to pack your lip primer with you so it stays on from coffee to cocktails.
I am always in the market for a new statement clutch. When it comes to date-night dressing, the sassier the better. Call me predictable, but I'm a creature of habit and I feel the most comfortable wearing an all-black ensemble with a pop of red on the lips, like Revlon's Rich Girl Red. It's creamy enough to keep my lips moisturized all night long. It's a bit matchy watchy, but I like to double down on the red with a DVF clutch in the same hue.
Revlon Super Lustrous™ Lipstick in Rich Girl Red, $6.99, available at Revlon; DVF Clutch, $365, available at Bloomingdale's.