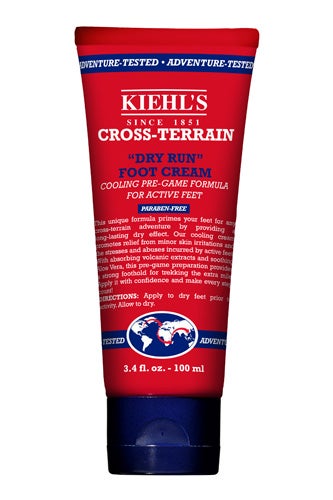 My oil slick of a face is with me 365 days out of the year, so I never have to switch to heavier creams in the winter. While my skin care routine doesn't change with the season, there are three body products that make their debut in my medicine cabinet when the thermometer breaks 75 degrees. These products help me stay cool in the warmer weather and get my bare skin ready for those short shorts I can't wait to wear this spring.
1. Kiehl's Cross-Terrain "Dry Run" Foot Cream
This is technically for athletes, but I'm known to "glisten" a bit more than others, so the "sweat-absorbing volcanic extracts" of the cream are more than welcome.
2. Caswell-Massey Almond & Aloe Talc
I can't think of many instances that are more embarrassing than having sweaty circular demarcations on your T-shirt. So, when I know I'm wearing thin fabric, I pat some of this talc on my chest, stomach, and under my arms, which helps prevent any undesirable perspiration from seeping through. I love the delicate, non-baby-powder scent, too
3. Prtty Peaushun Skin Tight Body Lotion in Deep Dark
When I'm wearing heels and showing a little leg, this is my moisturizer of choice. It's made by celebrity makeup artist Bethany Karlyn (who's worked with Sharon Stone, Dita Von Teese, and Nia Long) so you know it's gotta be good.
What I appreciate most is the fact that it's tinted and covers a multitude of skin sins. This lotion also has fine, light-reflecting particles, so when the sun hits your skin it looks like your legs are glowing — but not in a disco-ball kind of way. Just remember, a little goes a long way. I've accidentally tinted a handful of dresses before I figured out I only needed a dab.