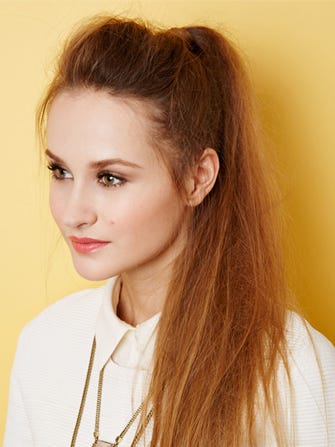 Photographed by Lauren Perlstein.
If we could sum up how we feel about our beauty routine when it's hot out in three words, they'd be "can't be bothered." Seriously. Have you ever attempted to put on a full face of makeup when the humidity is spiking? You know it's not a pretty scene. So, for those days when you're feeling extra lazy (and, hey, you totally deserve it),
Lipstick.com
has three tips to make you look put-together with the least amount of effort.
While the post lays out a trio of pretty rad suggestions, we have to give a special shout-out to one in particular. If you're running out the door and don't have a ton of time to do any makeup, Lipstick.com says to reach for your lengthening mascara. Instead of applying one coat, apply a few. Your lashes will draw attention directly to your eyes, while the rest of your face blurs into the background. This is a great option if you decided to stay in bed an extra hour and didn't have time to pull out your concealer tube. We've all been there.
That isn't the only advice the folks over at Lipstick.com have. Click through and check them out, because it's just too darn hot to consider giving your makeup your all. (
Lipstick.com
)

Like this post? There's more. Get tons of beauty tips, tutorials, and news on the Refinery29 Beauty Facebook page!