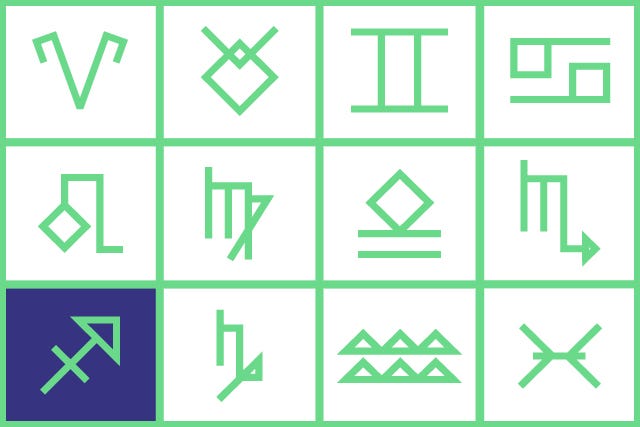 ILLUSTRATED BY GABRIELA ALFORD.
Sagittarius (November 22-December 21)
It's a seal the deal kind of week for you, Sagittarius, both in the business and romantic realms. Tuesday's full moon could find you putting your signature on a plum contract or agreeing to be exclusively entwined with a special someone. A project you've been working on behind the scenes could launch you into the public eye this week too. Don't leave the house in yoga pants; your "camera ready" moment could happen any time. On Saturday, the sun leaves your sign and moves on to Capricorn. Although this marks the end of your birthday time, life settles into a calmer groove. Frankly, you could use a little downtime to get life back into a manageable routine.
Capricorn (December 22-January 19)
Let your charitable spirit take the helm this week. Sign up for a volunteer shift or spearhead a fundraiser by collecting some cash for a meaningful cause. Family friction crackles near Tuesday but use this as an opportunity to clear the air — before the halls (or anyone in them) are decked next week. Your birthday time begins on Saturday when the sun blazes into Capricorn until January 19. Invest in your self-development or a life-changing experience. One caveat: with Venus retrograding in Capricorn from Saturday until January 31, hold off on any extreme makeovers.
Aquarius (January 20-February 19)
Dust yourself off and try again, Aquarius. You may have been burned by a friend or love interest, but being defensive or shut down is no way to live. This week, your ruling planet Uranus ends a five-month retrograde reawakening the social butterfly in you. Take a chance on a new crew. Get to know them slowly and organically and history won't repeat itself. With the Sun in your house of forgiveness from Saturday until January 19, you'll have the freedom to move on, even if that means shutting a door for good.
Pisces (February 20-March 20)
Who's on your friends and family plan, Pisces? A new star player could step forward near Tuesday's full moon. You'll be thankful to have such a supportive person in your entourage but be warned: A couple long-standing peeps could get a little jealous. Give everyone equal love and attention. On Saturday, it's time to step out of the grind and get into the festive spirit. With the sun blazing through Capricorn and your eleventh house of groups, you'll be flooded with invitations. With Venus turning retrograde, you may soon reunite with a group of women from your past.
Aries (March 21-April 19)
Time for your big reveal, Aries. Innovative Uranus has been retrograde (backwards) in your sign since July 17 and you've been buzzing away behind the scenes since then. Some of you may even have been spinning your wheels, but not after Tuesday. The revolutionary planet powers forward that day bringing public attention and the motivation to make a big change. Your originality is your calling card and could even bring a mother load of cash before 2013 is through.
Taurus (April 20-May 20)
Toxic frenemies begone! This week you could discover that a certain "ally" hasn't really been batting for Team Taurus. No second chances here, Bull. Evict the traitor from your camp, STAT. Tuesday's full moon could bring payoff for your hard work, even a new job or promotion. Wanderlust strikes on Saturday so get travel plans in motion for a trip you take by January 19. Your summer fling or long-distance love interest could make a return sometime between Saturday and January 31. If you've got a good thing going on close to home, don't rock the boat.
Gemini (May 21-June 20)
As the zodiac's twin, you thrive in partnerships but this week you'll make a splash as a solo act. Tuesday marks the annual full moon in Gemini, your day to hog the spotlight and command that all eyes be on you (and only you). A personal goal could hit a milestone mark. Self-promotion of the shameless variety is 100 percent sanctioned by the stars. Pump yourself up! This weekend, relationships intensify when the sun kicks off a month-long tour of your eighth house. You'll crave closeness, but Venus' backspin could bring a visit from the green-eyed monster too — beware!
Cancer (June 21-July 22)
Paging Jackie Stallone and Dionne Warwick. You're a regular psychic hotline under the light of Tuesday's full moon in your twelfth house. Pay attention to your gut feelings. If you get a "go for it" hit on a long shot, pursue. Of course, if the red flags are waving, you'll want to run (don't walk) in the other direction. On Saturday, it's relationship central for you as the sun blazes a trail through Capricorn and your partnership zone until January 19. Venus will turn retrograde that day too, until January 31st, which could bring a contender from the past back into the picture. Reunited, and it feels so good. Already attached? Join forces on a party plan or month-long project.
Leo (July 23-August 22)
Dot-com dreams come true this week, so click and ye shall find. From a promising prospect for a NYE kiss to ridiculously marked-down couture, Tuesday's tech-friendly full moon has your back. Plug yourself in to the goodwill grid too: This is a potent week for paying it forward. Put a few hours into a charitable endeavor and you'll walk away with a new friend and a feel-good buzz. An inconveniently timed health kick begins on Saturday when the sun heads into Capricorn until January 19. Don't get obsessive about a gluten-free Christmas but know that you'll be the first one on those treadmills on December 26.
Virgo (August 23-September 22)
Hello, head honcho. Tuesday's full moon in your success sector launches you to the top of your game. Don't let modesty prevent you from taking the reins. The throne is officially yours and you've earned your rightful place. When you give yourself permission to be you, you'll pretty much revel in the opportunity to boss people around. While you might catch a little flack here and there, most will be grateful that someone capable is taking the helm. The nonstop party begins on Saturday when the sun swoops into your festive fifth house until January 19. Off with the rag & bone blazer, on with the Nasty Gal cocktail frocks — or heck, wear them together since your parties may double as networking events.
Libra (September 23-October 22)
Keep your suitcase handy and your Skype app open. Tuesday's full moon in your global ninth house may put you on a quick flight or bring news from afar. No more stalling on that yoga retreat application. Book now, even if you don't take off for a few months. An unpredictable relationship gets on a clear course too, as Uranus ends a five-month backspin. By the week's end you'll know: Are you in or are you out? On Saturday, you're ready for some good, old-fashioned nesting. Hunker down by the fireplace and reconnect to family — especially female relatives. A lounge-y month lies ahead whether you're chilling at Maison d'Libra or on a white sand beach.
Scorpio (October 23-November 21)
Competition is only fuel for your fire this week, Scorpio and with Tuesday's full moon activating your fierceness factor, you are in it to win it. Be careful not to veer into cutthroat terrain though. The brass ring is basically yours but you won't enjoy it for long if you resort to underhanded (and wholly unnecessary tactics). Chemistry that's been bubbling for months could go full boil this week. Get a room, Scorpio! On Saturday, your social life kicks into high gear until January 19. Stranger danger? You'll have none of that. Get out and mingle with new peeps. The local scene could deliver fascinating diversions or you could scout out a new neighborhood that speaks to your soul.