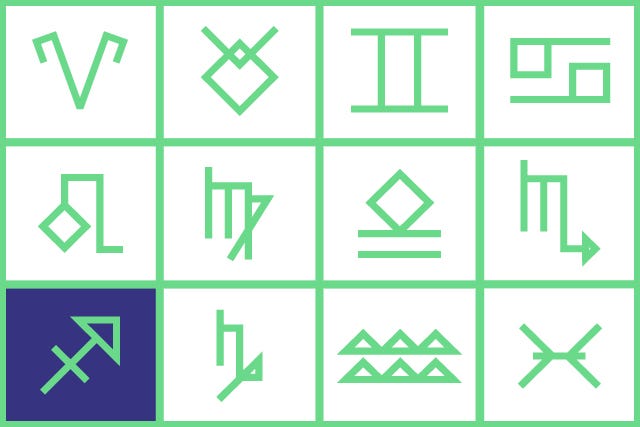 ILLUSTRATED BY GABRIELA ALFORD.
Sagittarius (November 22-December 21)
Keep that Manolo in your mouth, Sagittarius. Certain subject matter is not suitable for public broadcast—especially if it contains the details of your (or another person's) love life. Show that you can be trusted to keep a secret. You'll have a few spotlight dances this week but the most productive and fulfilling moments will happen behind the scenes.
Capricorn (December 22-January 19)
Hello Ambassador Capricorn. Be the bridge this week connecting people whose paths wouldn't otherwise cross. Just be mindful to stay out of the middle if a pair of people you love starts squabbling. If you take sides, they could both wind up turning their fire on you. If you haven't started that de-cluttering mission, grab the rubber gloves and Hefty bags and get down to it.
Aquarius (January 20-February 19)
Turn down the volume on that rebel yell, Aquarius. This week you might have to — gasp! — play by someone else's rules. Consider it a strategic move, positioning you for a climb up the ladder of success. Don't worry: You'll be calling the shots eventually. First, humble thyself and pay those dues. "Celebrity Apprentice" kind of has a ring to it, right?
Pisces (February 20-March 20)
Between climbing the ladder and connecting with your peeps, December's been full of demands. Monday's quarter moon in Pisces helps you bring your own needs back into the equation. If you need to cancel everything and retreat to the spa for a day, well, the sooner the better. Once you're restored, reconnect with a long-distance ally. This could spell money in the bank or a warm bed at night.
Aries (March 21-April 19)
Relationships are red hot this week, for better and for worse. On the one hand, you're fired up about forming a partnership with someone who is actually in your league. Pursue! You're also catching flak for failing to meet someone else's expectations. Don't forget where your bread is buttered, Aries. Give priority to the people who have had your back, even if there's no exciting conquest involved.
Taurus (April 20-May 20)
Confident or cocky? You're a proud know-it-all Taurus, but instead of trotting out your trivia, get interested in what other people have to say. You've been missing a great resource who has been sitting right under your nose. Exercise keeps you sane and stress-free (or less stressed for sure). Bundle up for a weekend adventure: Hit the slopes, take a snowboarding lesson, or strap on the cross-country skis.
Gemini (May 21-June 20)
As the week begins, tension crackles a colleague or client. If you're not getting your due props, speak up for yourself. Don't just silently seethe while people heap more and more on your plate. Set your limits so that you can do a bang-up job and end the year with rave reviews. Romantically, Mars makes this a red-letter week. Your flirtatious nature is in full effect — you might need to tone it down a little so you don't come on too strong.
Cancer (June 21-July 22)
You're at the top of your game this week, but leave the losers with their dignity intact. These could be your future allies — you just never know. In affairs of the heart, be assertive. People aren't mind readers, Cancer, although you wish they'd figure it out and make the first move. Alas, that probably won't happen. Spell out clear instructions for your amour on how to make you happy. Single? Make your interest in a prospective partner unquestionably obvious.
Leo (July 23-August 22)
Sexy is as sexy does. You don't have to drape yourself over a lowrider or resort to any Cher Horowitz acts of desperation. (As if!) A show of confidence and self-possessed cool is the ultimate aphrodisiac. Fake it till you make it; the process won't take long. Bonus: This shoulders-thrown-back mojo draws a new cadre of friends, dating prospects, and creative collaborators into your world.
Virgo (August 23-September 22)
There's strength in numbers this week, Virgo, so bring on that community spirit. While it's usually you rushing in for the save, the tables are turned. Tap your social network for support. You might even turn a solo mission into a joint venture; one that brings everyone involved recognition and reward. Early in the week, a romantically restorative lunar phase brings a relationship back into balance. Again, the key lies in asking for what you need instead of giving with hopes that people will return the favor in kind.
Libra (September 23-October 22)
Burning the candle at both ends, Libra? This week is about working smarter, not harder. The overflow that can't be outsourced should perhaps be trimmed away. Rome wasn't built, renovated, or redecorated in a day. Take the pressure off of yourself and map out your world domination tour in phases. The sweetness of accomplishing the first milestone will buoy you to keep on going.
Scorpio (October 23-November 21)
Although you hate the idea of hurting anyone's feelings, you can't withhold the truth any longer. This week's even-keeled planets set the stage for heart-to-hearts. Remember that it takes two to tango. Just as you're feeling frustrated by someone's behavior, they may be sharing the same experience. Create a "say anything" vibe where you both get to speak and be heard. Compassion is the key ingredient for keeping your temper at bay.