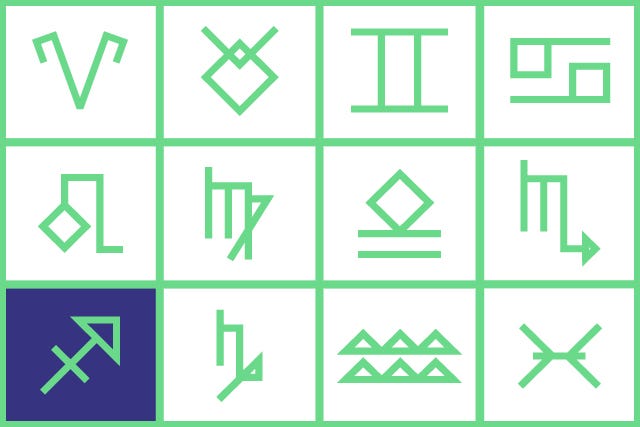 ILLUSTRATED BY GABRIELA ALFORD.
Sagittarius (November 22-December 21)
No need to wait until the 31st to put the Veuve on ice. Your cosmic New Year is Monday, courtesy of the annual new moon in Sagittarius. Yes, yes, you can celebrate on NYE, too, but make a wish list this week. Don't be modest: Order the crème de la crème from the universe. Map out six-month goals and desires, too. What would you like to accomplish by the corresponding full moon in Sagittarius on June 12, 2014? The seeds you plant this week will spawn a beautiful bean stalk. Climb away.
Capricorn (December 22-January 19)
Santa called, and he'd like his red suit and giant bag of swag back, Capricorn. You're the zodiac's provider, but it's time to give that role a rest. With a new moon and Mercury taxing through your twelfth house of rejuvenation, 'tis better to receive this week. Instead of stressing, call upon your social network for support. Head's up: You'll find out who your real friends are through this process. Rest up but don't fall asleep: A seven-month power period for your career begins on Saturday.
Aquarius (January 20-February 19)
Having friends from all walks of life is the Aquarius way. Gather your tribe together this week, paying no mind to their potentially clashing interests. Social experimentation yields fascinating results: Hello, Superconnector. After Saturday, the lure of distant lands may be too strong to ignore. With Mars moving into your jet-setting ninth house from December 7 until next July 25, a vacation avec passport, sabbatical, or semester abroad is in the stars.
Pisces (February 20-March 20)
Get your hustle on, Pisces. Monday's new moon in your career sector sets you up for a huge end-of-year victory — one that will carry you into 2014 on high-flying wings. On Wednesday, garrulous Mercury has you locked and loaded for success, too. Work that holiday-party circuit and network away. Meeting VIPs in a casual environment allows you to be charming and disarming. Red tape, begone. Radar in on the power players and don't waste another minute trying to woo the middlemen.
Aries (March 21-April 19)
Powder-white slopes or white-sand beaches? The time has come to hit the "Reserve Now" button on that dreamy getaway. Even if you don't actually board a plane for months, knowing this journey is in your future warms you through the cold, winter days. A relationship revolution begins on Saturday when your ruling planet Mars powers through Libra and your partnership zone for an extended, eight-month stay. That urge to merge — so rare for your independent sign — will be ultra strong. Table for two, please.
Taurus (April 20-May 20)
Is the heat cranked up too high? Nope, Taurus, that's just red-hot you, burning up the charts. With Mercury sizzling through your eighth house until December 24, your seductive powers are in rare form. Be careful what you wish for — as in make sure you really, really want it because what (and who) you draw in this week is going to stick around for a while. The demands of work heat up, too: Go easy on the sweets and don't skip your gym dates. You'll need to stay in tip-top shape to handle the productivity demands.
Gemini (May 21-June 20)
Make it a double, Gemini. With a new moon and your celestial ruler Mercury electrifying your partnership house, this week is all about the twosomes. Spell out your vision of love. Friends can help fix you up; or, if you're in a relationship, your sweetie will have a clear map to your happiness. Tired of hanging out in the gray zone with someone? Initiate The Talk. Approach this conversation with creativity and optimism instead of worry and anxiety. Paint a vivid picture of the dreamy future you wish to share. Who wouldn't want to get in on that, Gemini?
Cancer (June 21-July 22)
Back away from the cookie tray; put down that cup of cheer. There's more healthy living energy coming your way this week, courtesy of a new moon and Mercury in your wellbeing zone. Okay, you can have a little taste here and there, but don't snack on a gingerbread house and call it lunch. Work becomes busier so there's more motivation for staving off the sugar crashes. Movement is essential this week, not only to keep your spirits high, but also to burn off the stress of those end-of-year demands. Know your limits: A demanding coworker might need the "back off" speech.
Leo (July 23-August 22)
Cue the Lorde: You could be royal this week, thanks to a spate of star-powered planets. Is a project floundering for leadership? Take charge with your capable command, coronation ceremony optional. Plan ahead: What do you want to be the king or queen of in 2014? Monday's new moon begins a six-month manifestation period for your rulership, too. Sign up for any requisite training so you can be ready to take charge by the corresponding full moon on June 12, 2014. P.S. While you'll shine as a solo act, you might prefer to ascend as half of a dynamic duo. Begin casting for your kindred spirit on Saturday.
Virgo (August 23-September 22)
Long winter's nap, anyone? Your cosmic ruler Mercury hunkers down in your cozy fourth house until December 24 urging you to chill. While you'll prefer fleece over fancy frocks, break out the "fiestaware" at home. Hosting friends from far-flung places and feting the season with a dinner party is right up your alley. Don't sleep on your finances though. Your money-making mojo heats up on Saturday, as Mars cruises into your cash-positive second house until July 25.
Libra (September 23-October 22)
Lace up those running shoes, Libra. Life is about to get busy for you. This Saturday, go-getter Mars pops into your sign and stays there until July 25! Normally Mars only hangs in a sign for six weeks so this is a gift from the heavens. Work on developing an independent spirit. Not only are you a trailblazer now, but most people won't be able to keep up with you. Don't look for or wait for approval; just do you. The haters will soon become imitators — that's the way it always works, right?
Scorpio (October 23-November 21)
There's a fine line between being budget savvy and downright Scrooge-y. This week, make a list and check it twice. No, you might not be flush with cash for gift giving. But, if you plan carefully, you can give everyone on the roster a meaningful and memorable treat. Use your Scorpio sleuthing skills to suss out your loved ones secret wishes. Remember that you can treat people to experiences, too, like offering babysitting services to your sister who never gets to do anything for herself.