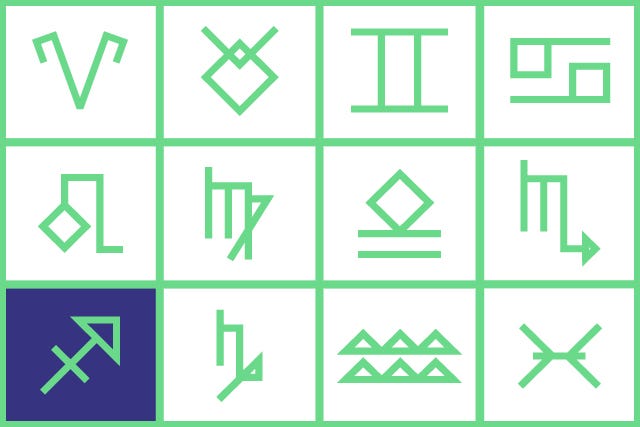 ILLUSTRATED BY GABRIELA ALFORD.
Sagittarius (November 22-December 21)
Let peace, love, and harmony be your holy trinity this week, Sagittarius. If you can't forgive people, just forget about them instead of fighting them in your head. A return to romance and more balanced relationships with, well, everyone, is in the stars this Thanksgiving. It's no accident though. Your willingness to stand up for your beliefs and set boundaries with pushy people has a hand in the calm. When people know clearly where your limits lie, they'll stop trying to push you around — at least the ones who belong in your life!
Capricorn (December 22-January 19)
Get to work on that Thanksgiving playlist, Capricorn. Music may be the missing ingredient in this year's Thanksgiving celebrations. An intergenerational selection might even have the older generation pushing back their chairs for a little Watusi demonstration (eek!). Goofy? For sure, but silliness is preferable to squabbling, isn't it? Early in the week, lay down some limits with Team Capricorn. People may not realize they've been dumping on you, but if they have, it's your job to speak up.
Aquarius (January 20-February 19)
Seal the deal, Aquarius. Monday's meetup of Mercury and Saturn could help you close on an impressive career coup. A man who has been hanging out on the periphery of your life could be cast in a more permanent role this week, too. Thanksgiving's stars are ripe for romance so stick the turkey in the oven and assign the basting to someone else. You'll want to slip off for a glove-in-glove walk or extended Skype date with the object of your affections. Single? Go dancing after you've polished off your feast. A fateful connection may be waiting under the disco ball.
Pisces (February 20-March 20)
Lock down a travel plan early this week. Maybe it's best to let someone else host Thanksgiving this year, Pisces, especially if that enables a sweet escape for the long weekend. Take the pressure off of yourself to keep the peace this Thanksgiving, too. Family is going to feud, but your best bet is to fend for your own feelings. If it's too stressful to be around a certain someone, excuse yourself from the table or leave her off your guest list. You'd rather focus on gratitude than deal with a bad attitude, and that's well within your rights.
Aries (March 21-April 19)
The week starts off on an intense note with you hitting Point Break with an important person in your world. While your modus operandi may be to walk when the heat gets turned up (who needs the drama, you figure) don't let that Aries hotheadedness get the best of you. This may be a special someone you're dealing with, Ram. Take a time out, regain composure, then go hash out a compromise. Thursday's Libra moon makes you grateful for the power of partnership. Forget about doing anything alone that day, be it roasting the turkey or celebrating at your favorite Chinese buffet.
Taurus (April 20-May 20)
You're not exactly the casual dating type, Taurus, and this week brings reason to rejoice. A Mercury-Saturn meetup on Monday (the third of three this fall) could make a relationship all the more official. If you're not wandering through Tiffany's to get sized for a ring, you could be inking a deal that sets your career on fire. Pay attention to the people who come into your world this week. One could be your future boss or betrothed. 'Tis better to give this Thanksgiving, so be of service, volunteering or helping out your host. Be a budget bacchanalian when the Black Friday sales hit. Limit your indulgences but get one of two things that will stand the test of time.
Gemini (May 21-June 20)
It's been a hustle this fall with delayed gratification to boot. (Grrr.) Breathe, Gemini, breathe. Your hard work could finally yield a payoff on Monday, however, when Mercury and Saturn meet up for the third of three convergences since September. If you're truly spinning your wheels, you'll know for sure now. Lay down an ultimatum with people who are taking advantage of your generosity. Thanksgiving's forecast sparkles with romantic potential. Forget about heading to the table in "Snuggie couture." Spend a little extra time sprucing yourself up. A mystery guest could swoon for your style and conversational skills.
Cancer (June 21-July 22)
True love or bad romance? Monday's grand finale of three Mercury-Saturn meetups reveals the truth about an important relationship. Read the tea leaves, Cancer — as well as the obvious signs. You'll either move ahead now or just move on. Thanksgiving's Libra moon puts in you a family-friendly state of mind. Take it upon yourself to warm guests up to each other. Cue up a soothing playlist, have a signature cocktail waiting, set up a play area for the kids. Ushering people into a relaxing environment keeps family feuds at bay. Then again, you might just opt to hide out in the kitchen — your culinary skills will be in demand.
Leo (July 23-August 22)
Everyone knows that you're "the host with the most," but your place isn't necessarily in the kitchen this Thanksgiving, Leo. In fact, you've had it up to here with the domestic bliss (more like domestic dissatisfaction) this fall. How about being the guest at someone else's table for a change? Getting out of town, if only for the night, would do your soul some good. You might visit a friend's instead of hitting the usual family celebration. If your apron strings can't be revoked, promise that you won't try to pull off the feast by yourself. Ask guests to bring sides and invite a few new people to join the festivities. They'll be a breath of fresh air.
Virgo (August 23-September 22)
No need to wait until Thursday to raise your glass to an important guy in your life. This "man of the hour" has been there for you through thick and thin. Treat him like the toast of the town this week by inviting him to tag along with all your exciting social engagements and openly communicating your appreciation. (A little gifting wouldn't hurt either.) Stick to a simple plan on Thanksgiving instead of trying to pull off a haute-cuisine feast. Catching up on sleep is more important than wowing guests with your brining skills this long weekend.
Libra (September 23-October 22)
More money, more problems? Not if you have clear agreements about who's paying for what. Don't just pick up the tab because you have extra cash in the bank or expect your well-heeled pals to do the same for you. Devise a strategic savings plan and you'll be able to treat and splurge without resentment. The moon will be in Libra on Thanksgiving, making you the belle of the ball. Wear a watch as you hop from luncheon to cocktail hour to dinnertime feast. It's easy to lose track of time, o' popular one, but that could anger your hosts.
Scorpio (October 23-November 21)
You're a powerful individual, Scorpio, and it's important that people see you as such. With expressive Mercury and authoritative Saturn meeting up in your sign this week, you'll have opportunities to flex your leadership skills. Your capable command will save the day so step up and take control — even if no one asks you to. Thanksgiving finds you in a charitable mood. Slip off for a shift at a shelter, help the elderly couple downstairs with setup and last-minute shopping runs. Don't OD on turkey and fall into a tryptophan coma. A can't-miss after-hours event calls your name.