You probably never thought there'd come a day when you'd look at a beanie and get confused about how you'd wear it, but there has been more than one occasion when a tacked-on Jil Sander veil or a particularly floppy shape has thrown you for a loop. Welcome to the new age of beanies, ladies — but don't be scared.
With more options than ever, wearing a beanie now is more interesting than just shoving it on your head. With some clever know-how (where to roll it up, when to plump it up, how to dress it up), these following six beanies can make you look just as pulled-together as if you were wearing a top hat (but, rest assured, not ridiculous). Click through for the step-by-step guide on how to sport six styles that are anything but old hat.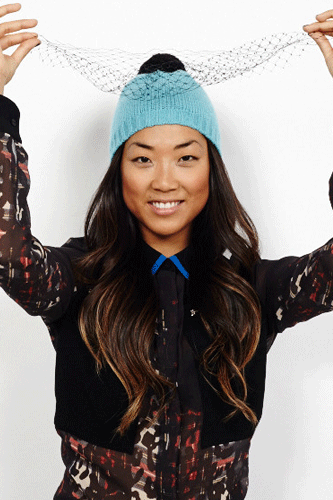 Photographed by Winnie Au.
The Veil Beanie — Don't be a scaredy cat and flip the veil to the back. Wear it in front of your face proudly. Make sure your hair is pulled back so it doesn't get caught in the mesh. Raised pinky finger: optional.
Bernstock Speirs Cashmere Veil Beanie, $176.75, available at Bernstock Speirs; Preen by Thornton Bregazzi Tartan Leopard Blouse, $771, available at Matches Fashion.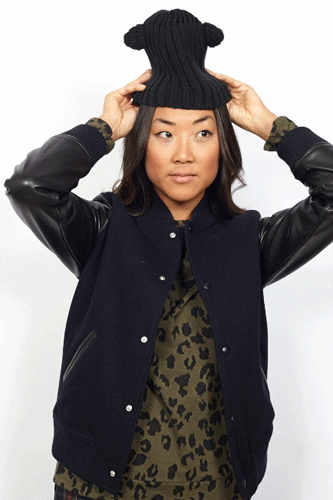 Photographed by Winnie Au.
The Animal-Ear Beanie — This beanie style looks best when it's pulled tight on your skull. If it's too long, don't be afraid to fold it over or under so it lies flat against your dome.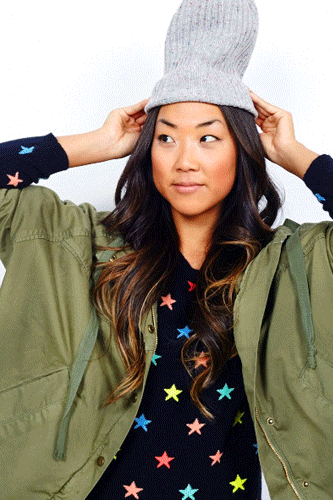 Photographed by Winnie Au.
The Skater Beanie — With a stiffer knit and a longer length, the skater beanie should be worn a little loose on the back of your head. If it's not sitting tight, we like to turn up the one side of the brim for a jaunty look.
Electric Corbett Beanie, $35, available at Electric; Chinti and Parker Mini Star Grid Sweater in Navy/Sherbet Rainbow, $550, available in store at Kirna Zabete, 477 Broome Street (between Wooster and Green streets); (212) 941-9656; Current/Elliot The Cadet Poncho in Army Green, $338, available at Current/Elliot.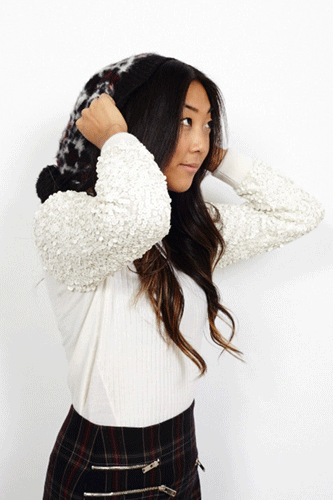 Photographed by Winnie Au.
The Stocking Beanie — The best way to wear this beanie is pushed back on your head to sit like a headband. Wear your hair down and loose.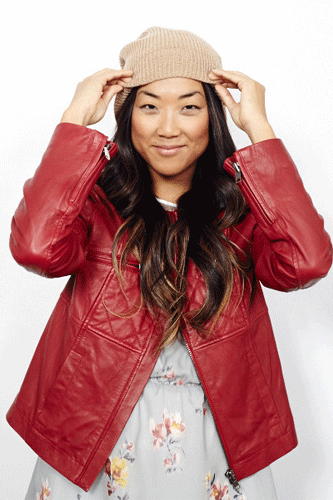 Photographed by Winnie Au.
The Basic Ribbed Beanie — Want a fun, new way to wear this style of beanie? Roll up the edges so they form a round, tight brim. Voilà! Instant bowler-hat action.
A.P.C. Ribbed Knit Cap, $95, available at A.P.C.; Zara Sheer Back Dress, available at select Zara stores; Comptoir des Cotonniers PIAM Leather Jacket, $540, available in store at Comptoir des Cotonniers.
Photographed by Winnie Au.
The Neon Beanie — If you part your hair to the side, exaggerate the asymmetry by wearing your beanie cocked as well. Sweep your hair around to leave the nape on one side of your neck bare, and pull the beanie over your ear on the side where your hair falls.