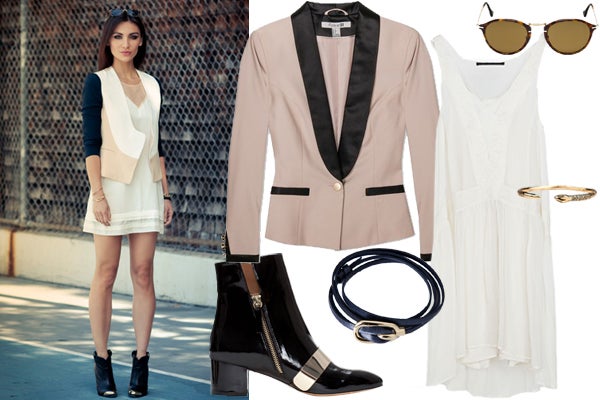 You may often find yourself face-to-face with your wardrobe, wondering what's really appropriate for your sartorially chill tech gig. You know the drill, you don't want to be that overdressed gal in the office, but you do want to stay true to your stylish self. It's an ever-continuous struggle, but we're not going to have you face it alone.
That's why we sought the guidance of the always-on-point blogger Tienlyn of
Say Hello Max
to show us
how to master the casual office ensemble.
Ready to learn from a pro? There are just five ingredient that make up her envy-inducing getup. Check them below, and snag one watercooler-chatter-worthy look of your own.
Essential #1:
The Girly Blazer
— No matter if the office dress code is all about T-shirts and jeans, owning a good blazer is essential. And, there's no need to go for a boring black rendition when a prettier hue, like this pale-pink, two-toned version, will make a much stronger statement. Just wear it with mixed solids to keep it looking sleek.
Forever21 Contrast Trim Blazer, $37.80, available at Forever21.
Essential #2: Statement Sunnies
— Outfits really have become all about sunnies as of late, and naturally, we're into it. To confirm you are committed to the look, roll into the office with your best shades-covered face forward. No matter what direction the sunshine may be heading, you will be bringing the heat. Just, yanno, take them off once you're sitting behind your desk.
Persol Polarized P03046s, $455, available at Sunglass Hut.
Essential #3:
The Little White Dress
— Who cares if Labor Day has come or gone, a LWD is always classic. Plus, this boho-inspired frock cleans up quite nicely with the aforementioned blazer, making it a-okay for work or play. Bonus: Wearing this number will make you feel like summer has graced our city — even if Karl the Fog is hanging around.
Zara Dress With Hip Seam, $99.90, available at Zara.
Essential #4:
Stacked Cuffs
— Have we forgotten how to have a truly fun arm party? Nah, the stacked bracelet days are still here in a major way. To rock a work-appropriate wrist of bangles, it's about throwing the soiree, without maxing out the venue. This means tossing on a few of your chosen mismatched materials, but knowing when to call it quits. We love how Tienlyn is featuring some leather in with her metals.
Dream Collective Snake Bangle, $100, available at Catbird, Miansai New Game Navy Leather Bracelet Gold, $85, available at No.3.
Essential #5:
The Sturdy Bootie
— While stilettos are never the optimal choice when hill hopping, we still believe in those extra few inches. This is why we are leaning toward the thickly stacked-heeled bootie. With these bad boys, you will be taking the stairs versus the elevator and
maybe
even walking to work. These are a necessity in any city girl's wardrobe, and we stand behind that statement.
Zara Block Heel Ankle Boot With Metallic Plate, $99.90, available at Zara.