In the last few weeks, we've done our best to give you gift ideas for everyone, from
your boyfriend
to
your parents
to
Gwyneth Paltrow
.
Now it's your turn, procrastinators!
You have exactly no time left to shop — and really, we don't want you near the stores tonight without full-body armor. Instead of engaging in hand-to-hand combat over a coffee-table book,
just pop out to the grocery store for a few simple supplies, pour yourself a glass of wine, and get just a little crafty
. You'll be done before the glass is empty. Then, pour yourself another, to celebrate.
Artisinal Instant Oatmeal
What is better on a cold winter morning than a warm, delicious bowl of homemade oatmeal? How about a warm, delicious bowl of homemade oatmeal that you can make in two minutes, in the microwave. Making your own instant oatmeal is a simple and flexible DIY. We love this cherry-almond combo, but use your own favorite dry goods and go nuts (or berries!).
Supplies:
5 cups quick cook oats
3/4 cup dries cherries
3/4 sliced almonds
1 airtight jar, bottle or Tupperware
Pour two cups of oats into a food processor or blender.
C. Wonder Polka Dots Soup Bowl, $12, available at C. Wonder, Cuisinart Mini-Prep Plus Food Processor, $39, available at Williams-Sonoma
Grind until oats become gritty powder — the secret ingredient. Yes, the secret ingredient to instant oatmeal is oatmeal.
In a mixing bowl, combine powdered and regular oatmeal.
Add cherries and nuts...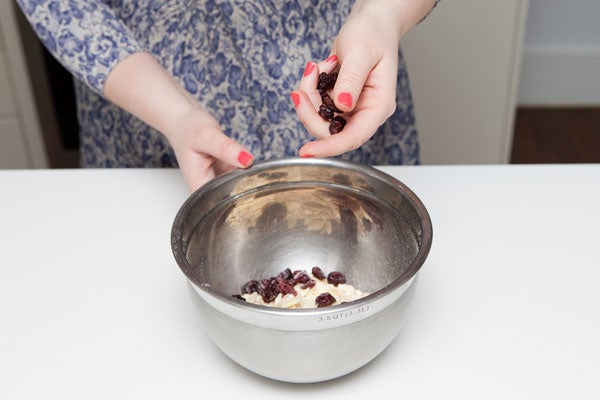 ...And stir until the mixture is evenly combined.
Pour into a storage container and seal. This will last all winter in an airtight container.
But we have a feeling it'll be gone in a week.
If you're a canning novice (do you know any canning pros?), this is a great way to get started. You get all the crafty, foodie, pretty points of preserving your own fruit, without all the scary hassle of sterilizing everything. Plus, you not only get a spiked fruit to sprinkle into drinks or on desserts — you get a homemade infused gin that will take cocktail time to a whole new level.
Supplies:
1-2 cups pomegranate seeds
Gin of your choice (we dig Bulldog for this recipe)
1 fresh orange
1 canning jar
Optional: smaller bottles to decant into multiple batches
Drop seeds into the bottom of your canning jar.
Fill the rest of the way with gin, leaving about an inch of space.
Peel a wide strip off the orange (make sure there's no pith, only peel, or your gin will become bitter).
Add peel to the jar and close tightly.
Let it sit for a couple days — or months! — giving it a good shake once in a while. The flavor peaks after one week, then maintains. If you're really under the gun, give with an "open date" on the label.
Eventually, the juice in the seeds will color the gin, and the gin will lighten the seeds.
Give the whole jar to a lucky pal...
...or decant into smaller bottles.
Trust, a little goes a very long way.
Vanilla-Infused Coffee
Breakfast is fine and cocktails are finer, but let's be real — coffee is mandatory. We all enjoy a fancy-flavored cuppa joe, but aren't so crazy about waiting in line to drop five bucks on it every day. A three-minute-or-less DIY, this homemade, fresh infusion will blow those Starbucks gift cards out of the water.
Supplies:
1 pound fresh, medium roast coffee beans
1 vanilla bean
1 airtight storage container
Using a small, sharp knife, cut the vanilla bean in half and split down the middle.
Scrape/squeeze the vanilla bean contents into a small mixing bowl.
Pour coffee into the mixing bowl.
Mix well to thoroughly coat the coffee beans.
Pour into your airtight container, and place the vanilla bean halves in, as well. The flavor will continue to develop the longer the vanilla stays nestled in the coffee.
Go ahead, get buzzed.