We know that technically this is the season of giving and all, but is it our fault all the things we're eyeing for loved ones have managed to captivate us as well? Every time we pick up a present, we can't help but think to ourselves how we desperately need that exact thing right now to make our lives amazing/perfect/livable.
Senior beauty editor Megan McIntyre is not immune to the siren song of covetable gifts, which is why she's stocking up on gifts for friends and some little luxuries for herself. In this month's Megan's Most Wanted, she shares the gifts she's giving, the ones that might be a bit too good to give away, and the primping essentials that keep her from looking like a hot mess during the holidays. Check it out, but don't blame us if you wind up wanting everything on her list.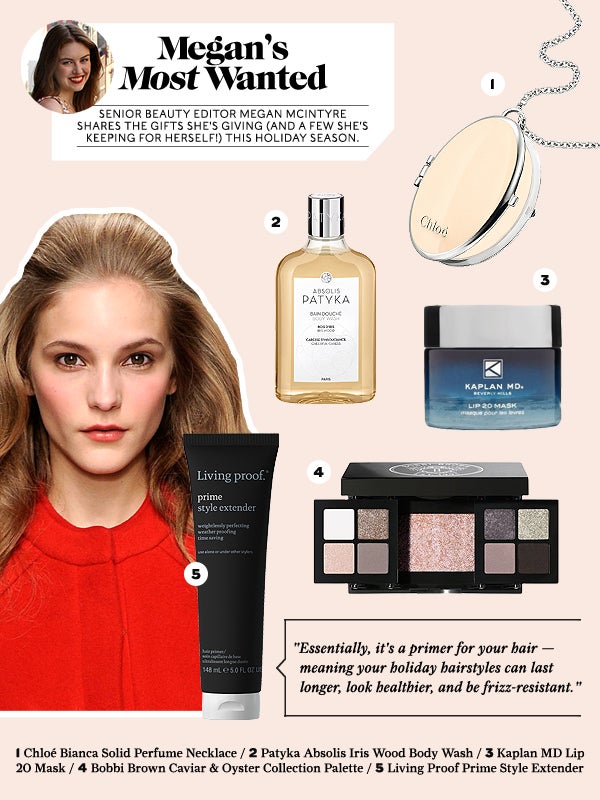 1. Chloé Bianca Solid Perfume Necklace
"A lot of fragrance necklaces can look a little chintzy — like something you'd find in a Cracker Jack box — but this gorgeous one from Chloé has an enameled front and actually looks like something I would want to wear. The scent inside is the original signature fragrance — with notes of pink peony, lychee, magnolia, rose, amber, and honey — a personal favorite of our NYC editor, Annie Georgia Greenberg."
$65, available at Bloomingdale's.
2. Patyka Absolis Iris Wood Body Wash
"Iris is a notoriously fusty, "old lady" scent, which is why I usually avoid anything that has it in it. That was until I came across this gorgeous body wash — it has a slightly spicy, woody scent that tones down the 'grandma's parlor' vibe that iris usually leaves behind. It's also organic, so it doesn't dry out your skin."
$45, available at Spirit Beauty Lounge.
3. Kaplan MD Lip 20 Mask
"I have tried what feels like every lip balm, scrub, and treatment on the market, but nothing was ever able to truly satisfy me in my quest for soft, flake-free lips. Then I stumbled upon this genius mask and my world was rocked. It features papaya enzymes and hyaluronic acid to dissolve away dead skin, hydrate, and plump up your pout. Just spread a tiny dab of the thick cream across your lips, let it set for two minutes, then tissue it off — your lips will be smooth and soft, the perfect canvas on which to paint your fave crimson lipstick.
$48, available at Neiman Marcus.
4. Bobbi Brown Caviar & Oyster Collection Palette
"This little kit is the best of both worlds. On one side, you've got four pretty, daytime-appropriate shadows, and on the other you've got more punched-up, party-ready shades for night. At the bottom of the palette is a brand new 'Skin Enhancer' shade in Ballet Pink. This soft, delicate pink shimmer is sheer enough to wear on your cheeks, but it can also be blended with the eight shadows to create a festive, unabashedly girly eye look."
$75, available at Nordstrom.
5. Living Proof Prime Style Extender
"While most of you may have already heard of (or use) a primer for your face, a hair primer is probably a new concept. This one from Living Proof (the company Jennifer Aniston just joined up with) features a so-called 'Miracle Molecule,' which is said to help prime your hair to keep humidity out, smoothing down the hair cuticle in the process. What I love about it is that it helps extend the life of your style, a definite must during the holidays when you don't have time to get blowouts on the reg."
$20, available at Sephora.
Photos: by Grace Sun, MCV Photo
6. Kiehl's Men's Refueling Kit
"Grooming gifts for guys can be tough — a lot of the shave kits out there are a little too high-maintenance (badger hair brush? Hot cloth shave cream?) for the average guy, which is why I'm a big fan of Kiehl's. I turned my husband on to their face wash and he's been a loyal devotee ever since. This kit comes pre-wrapped (in a blue box with red ribbon — nothing too fussy) and features essentials like the aforementioned face wash, moisturizer, scrub soap, and shave foam."
$42, available at Kiehl's.
7. Ellis Faas Light in Antique Silver
"I love the idea of silver eyeshadow, but in execution it always ends up looking too icy and frosty on my pale complexion. Thanks to a shot of champagne shimmer, this pretty shadow lets me wear shimmer without looking like I got slapped in the face by a snowflake. Plus the color payoff is intense — I only need the tiniest bit to cover my lid, and it doesn't crease, print, or rub off as the day goes by."
$42, available at Woodley and Bunny.
8. Josie Maran Vanilla Apricot Whipped Argan Oil Body Butter
"Lotion is a necessity this time of year, but I find many of the usual suspects feel too watery on my skin this time of year. Josie Maran's new Whipped Argan Oil gives you all the wonderful benefits of the natural argan oil you know and love, but in a velvety, luxe creme texture. The vanilla apricot scent is absolutely heavenly — I love slathering this on at bedtime after a long, hot shower and letting it sink in. My skin feels like silk when I wake up the next morning."
$35, available at Josie Maran.
9. Clinique Lashes Top To Bottom Mascara Wardrobe Set
"Bad news, friends and family: I was going to gift a few of you with one of these little babies, but after opening it and checking it myself, I'm holding onto it. I can't get over how good of a deal it is: 5 not-quite-full-size-but-definitely-not-mini mascara tubes in an array of formulas and finishes, for under $30. That's just crazy — you can barely get a decent full-sized mascara for that price nowadays, let alone five! Plus it features the amazing bottom lash mascara — which our global editor Connie Wang swears by. It's supposed to be used on the lashes under your eye, but the teeny brush is perfect for grabbing those tiny lashes on the inner corners of your eyes."
$29.50, available at Saks Fifth Avenue.
10. Deborah Lippmann Rock This Town Holiday Nail Lacquer Trio
"Featuring three brand new shades of polish, this limited-edition set is inspired by 'rock-star glamour.' I'm in love with the khaki-green and gold Chain Reaction, but coppery Phoenix Rising and shimmery lilac Moon Dance aren't so shabby, either."
$42, available at Blush.