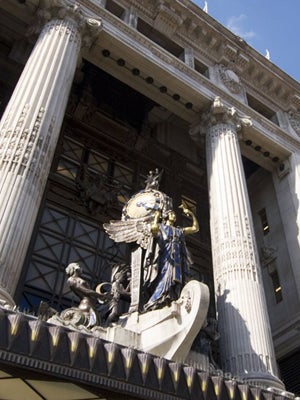 This is either utterly insane or completely brilliant: Next month, Selfridges is reintroducing its Silence Room. Located in the Bond Street store's Ultralounge, shoppers will be asked to leave shoes, phones and other modern distractions at the door, and shut the flip up. Kind of like visiting the home of a school friend with strict parents.
For those not familiar with the intimate details of Selfridges' history (what's wrong with you people!), the Silence Room concept was first developed in 1909 by the store's founder, Harry Gordon Selfridge. Back in '09, Harry ensured the space had dim lights, deep seats, and double-glazing. Fast-forward to the present, and the new Silence Room has been developed with the help of meditation experts Headspace, forming part of Selfridges'
No Noise
project.
According to
WWD,
Headspace will provide in-store zen sessions and pods to deliver "mindful messages and meditation practices." Whatever that may mean.
In the
WWD
interview, Selfridges creative director, Alannah Weston, said that the Silence Room "invites customers to find a moment of peace in a world where we are bombarded by a cacophony of information and stimulation."
There will also be a Quiet Shop, offering a selected range of "de-branded" products. Brands including Acne, Maison Martin Margiela, Yohji Yamamoto, Jil Sander, and Ann Demeulemeester will sit alongside the de-branded products.
Given that we can't go near a shop at the moment without being subjected to "Santa Baby" pumped out on loop, we reckon this Silence Room cannot come to life soon enough.