Laughter might be the best medicine, but if you ask us, food is the best thing to bring to a party. And there's nothing more thoughtful than a handmade gift, right? That's why we've concocted this go-to list of DIY party gifts that the host and the guests can enjoy for many, many dinner parties to come.
If you're a bit shy in the kitchen, this is the time to suck it up. These recipes might sound beyond your abilities, but once you read through the steps, you'll see they're actually easy easier than pie. From French delicacies to the perfect pantry treat for the creative cook, your gift will be the best in the house!
In any other country, they'd be called cheese balls. But in France, they're called gougères, which makes them — by our calculations — approximately 20 times more delicious. But don't take our word for it! These babies are as easy to make as they are to indulge in.
Ingredients
:
1 cup milk
1/2 stick unsalted butter
3 large eggs
1/4 cup grated Parmesan cheese
1 1/2 cup grated Gruyère or Swiss cheese
1 cup flour
Dash Cayenne pepper
Dash paprika
Coarse salt
Parchment paper
Preheat the oven to 375 degrees.
Heat the butter, milk, and cayenne pepper until it just begins to boil. Add the flour immediately and stir vigorously until the mixture forms a ball. Remove from heat and let cool for 5-10 minutes.
Add eggs and paprika, mixing until combined (this is called a pâte à choux, and it's okay if it's a bit lumpy).
Reserve a bit of Parmesan cheese, then mix in all the rest along with all of the Gruyère. Stir just enough to incorporate.
Spoon out about one tablespoon worth of the mixture and form it into a ball with your hands (watch out, it's sticky!). Place each one about one inch apart on a cookie sheet lined with parchment paper.
Sprinkle a bit of the reserved Parmesan, along with some coarse salt, on top of each gougère. Bake for about 30 minutes, until they are just beginning to brown on top.
Voilà! Julia Child would be proud...and the host of the party will be eternally grateful. Plus, you get to give your cake and eat it, too!
Note: Gougères are best fresh, but you can bake them a few hours in advance and then re-heat (in the oven,
not
the microwave) just before serving.
Candied Orange and Lemon Peels
One tip to automatically up your kitchen cred? Present these to any lucky pal. Making candy sounds like hard work, but it's remarkably easy! This is a gift that can be enjoyed on the spot or kept for weeks (though we doubt they'll be able to hold out that long).
Ingredients:
3 cups granulated sugar
4 oranges
3 lemons
Candy thermometer (You can use a meat thermometer as well, but they don't always go up high enough, and are tricker to dip in a pot of hot water.)
If you don't have a thermometer of any kind, you can test when the mixture reaches "thread stage." This is tough for first-timers, but basically, all you need to do is drop a tiny bit of the mixture into a glass of cold water. If, instead of spreading out into the liquid, it forms a thin thread, it's ready to go.
Begin by heating two cups of sugar and one cup of water in a pan. Monitor closely, but after about 20 minutes, it should reach about 230 degrees. Meanwhile...
Peel the lemons and oranges. If you've got a real sweet tooth, just take off the very top layer; if you like a bitter edge to your candy, go a little deeper to get some of the white underneath.
Once the water and sugar mixture has reached 230 degrees, drop the peels into the water. Reduce heat slightly and boil for about 5-10 minutes. Remove from heat and let cool.
Toss the peels in sugar.
Lay the sugar-coated peels out on paper towels to dry. It's best if you can wait overnight, but if you're in a crunch, leave them out as long as you can and then toss in a brown paper bag to release the moisture.
A handy mason jar, a bit of baking twine, and you've got a gorgeous gift with a handmade touch! Now, how to persuade them to open it and give you a taste before the party's over...
Again, this one sounds tough, but it's beyond easy. Sensing a theme here? The hardest will probably be tracking down the vanilla beans — make sure to call around first, 'cause they're not as common as you think.
Ingredients
2 cups granulated sugar
This recipe should sit in a sealed container for at least a week. However, it's up to you if that burden of painful temptation lies with you or with the recipient...
Set aside two cups of sugar in your container of choice.
Split the vanilla beans lengthwise.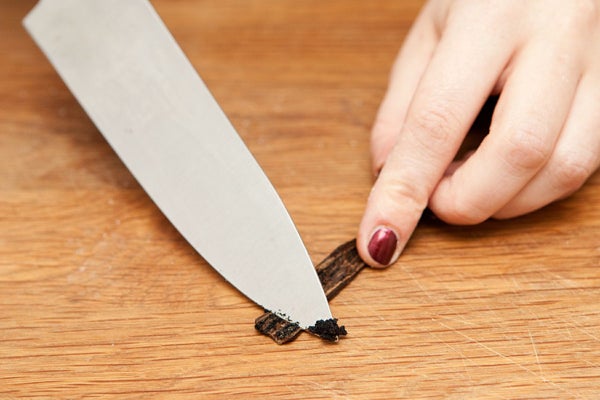 Scrape the inner contents of the bean out with a knife.
Add the contents of the bean, as well as the husks themselves, into the sugar. The more you add, the stronger the flavor — and if you're really hard core, you can blend the sugar and the inner bean contents in a food processor (but leave the husks whole).
Add the husks and seal tightly.
This is a delicious recipe that works on so many levels — for baking, in tea, coffee, or a hot cup of milk, or, you know, just a spoonful when you're feeling low.