Imagine this: You're visiting your man's parents for the first time, and you lose your neurotic soon-to-be father-in-law's prized pet cat — oh, wait. Maybe we saw that in a movie once…. But it doesn't sound fun does it? And, while we can't help you avoid an embarrassing Meet The Parents mishap, we can help you circumnavigate an embarrassing wardrobe disaster. Because before you blow your future family away with your sharp wit and simply shining personality, you've got to dress to impress and get their attention.
Since we know a thing or two about winning over Mom and Dad (and, you know, good style), we've put together three parent-perfect outfits guaranteed to show off your best assets without raising eyebrows. Whether you're meeting 'em for a casual weekend brunch, hitting the town at an oh-so-glamorous resto à quatre, or (gulp!) joining the fam for Thanksgiving dinner, our foolproof guide has you covered. So, while you may not end up feeling like the daughter they never had, at least you'll look damn good trying.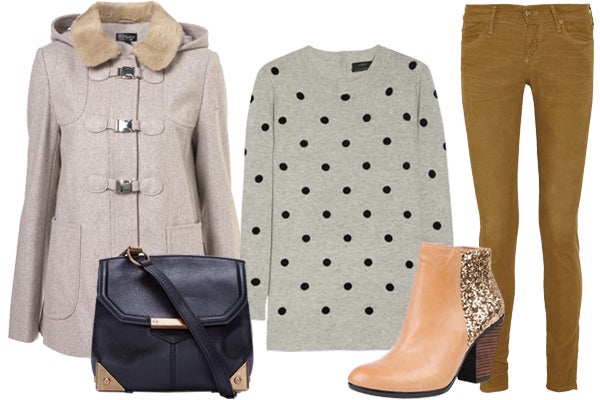 Brunch
For a daytime meal, you'll want to keep things casual but still pulled together. A nice sweater and an It bag will show that you put some thought into your ensemble, but laid-back cords give off that low-maintenance vibe.
Topshop Short Fur Collar Swing Coat, $150, available at Topshop; Alexander Wang Marion Bag, $650, available at Alexander Wang; J.Crew Polka-Dot Cashmere Sweater, $268, available at J.Crew; Vince Camuto Hariza Bootie, $59.99, available at Shoebox; Citizens of Humanity Avedon Corduroy Skinny Jeans, $95, available at The Outnet.
Black on black is a no-brainer when it comes to high-end affairs, so feel free to put the glitz factor on high. Keep your footwear on the subdued side (no sky-high stilettos here!), and add a pop of color with a brilliant statement necklace.
Topshop Premium Leather Calf Skirt, $300, available at Topshop; ASOS Metal Frame Clutch Bag, $31.66, available at ASOS; Raquel Allegra Stretch-Lace T-Shirt, $230, available at Net-A-Porter; Bauble Bar Azure Stella Collar, $32, available at Bauble Bar; Boutique 9 Justine Heels, $84.99, available at Zappos.
If you're joining your man for Turkey Day, be prepared to schmooze a lot of extended family. You'll want to dress comfortably (and leave room for those extra stuffing-induced inches), while still dressing the part of the stylish girlfriend — the sweater dress is your new best friend.
Madewell The Zipcode Boot, $208, available at Madewell; Bebe Multi Strand Beaded Necklace, $44, available at Bebe; Chinti and Parker Striped Cashmere Sweater Dress, $545, available at Net-A-Porter; Milly Jayden Satchel, $435, available at Milly; Diane Von Furstenberg Solid Tights, $41, available at Matches Fashion.