We're almost there, you guys — that season of cocktails and cocktail dresses. And as the weather cools, we seem to be spending less time out & about, and more time merry-making in each others' apartments. Seriously, it feels like with every degree the temperature drops, another seasonal cocktail party invite rolls in.
We enjoy the drinks at these shindigs as much at the next girl, but we'll confess: We're kind of there for the snacks.
We love apps. If you ask us, they've played second fiddle for far too long. They're small and pretty, and provide natural portion control when it's needed most — because let's face it, if the pigs weren't in blankets, we'd eat all the pigs.
But though they're small, these little bites can be deceptively time-consuming to create. (Raise your hand if you've ever lost an afternoon to deviled eggs.) So, since we know you have a life, we're skipping the headache and going straight to the yum. Check out this step-by-step guide to easy appetizers that will make you the queen of cocktail-party season.
Traditionally considered a cookie base, shortbread goes rogue in this recipe. Seasoned with savory herbs, flakey sea salt, and crunchy, coarse sugar, this is one un-cookie we can't keep our hands off.
Ingredients
1 stalk fresh rosemary
1 stalk fresh thyme
1 stick unsalted butter (room temp, but not too soft)
1 cup flour
1/2 tbps sea salt
1 1/2 tbsp coarse sugar (like raw, or Demerara)
Preheat oven to 350. Mix flour, 1/4 tbsp salt, and 1 tbsp sugar.
Tear the herbs into smaller pieces over the bowl, pressing them with your fingers (this helps release the oils).
Chop butter into the bowl, and incorporate it into the flour mixture with your hands, using a crumbling gesture with your fingers. You can also use a pastry cutter if you have one.
You're done when there are no unincorporated bits of butter, and the batter looks a bit like wet sand.
Scatter the batter evenly into a square baking pan, and press it flat and even. Top with remaining sugar and salt.
Bake for 10-20 minutes, just until the edges begin to brown. Remove from the oven and slice while it's still hot (it will get crumbly if you wait). Now let it cool, and...
You're golden.
Sweet & Salty Roasted Almonds
We love salted nuts. We love sweetened nuts. We got tired of choosing.
Ingredients
4 cups raw almonds
1 tbsp olive/vegetable oil
1 tbsp honey
1 tbsp white sugar
1 tsp cinammon
1/2 tbsp fine salt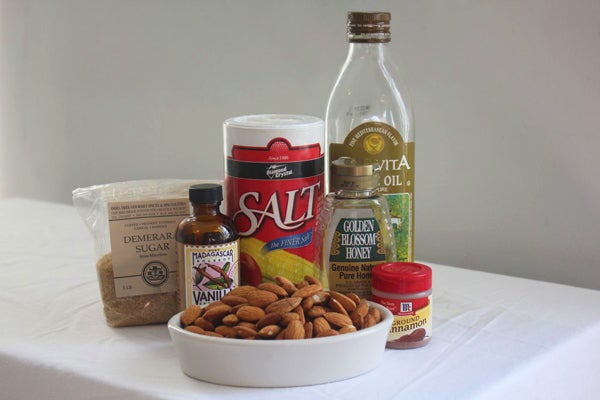 Preheat oven to 350. Pour almonds into a bowl with olive oil. Stir until nuts are well coated.
Pour in remaining ingredients, starting with the honey and toss/stir with a wooden spoon.
Spread almonds evenly onto a baking pan...
...and pop 'em in the oven for 15-20 minutes (rotate and redistribute halfway through), until they're dark and fragrant.
Best served in a fancy glass.
Nothing says retro like a cheese ball on a toothpick, and we're thrilled these Mad Men-style snacks are making a comeback. Like a savory truffle, you can roll them in anything from crushed pretzels to fresh basil to straight-up cayenne pepper.
Total time: 10 minutes (seriously)
Ingredients
1 4 oz package goat cheese (makes 7 balls)
A splash of olive oil
Topping recommendations: fresh herbs, pistaschios, raisins, bacon (!), or our pick, toasted sesame seeds.
Crumble cheese into a small bowl and toss with olive oil.
Pull about a tablespoon's worth of cheese out, and roll into a ball between your hands.
Pour a small pile of your topping onto a surface, and gently roll the ball in, being careful not to press too hard. Note: if the cheese is too soft to hold it's shape, pop the balls into the freezer for a few minutes.
Plate 'em up! These beauties can be made the night before and kept in the fridge until you're ready to serve.
(Or sneak a few right now!)