29 Big (Fashion) Ideas
Four thousand miles and 300 shows later, here are all the major moments that are sure to change everything — all over again.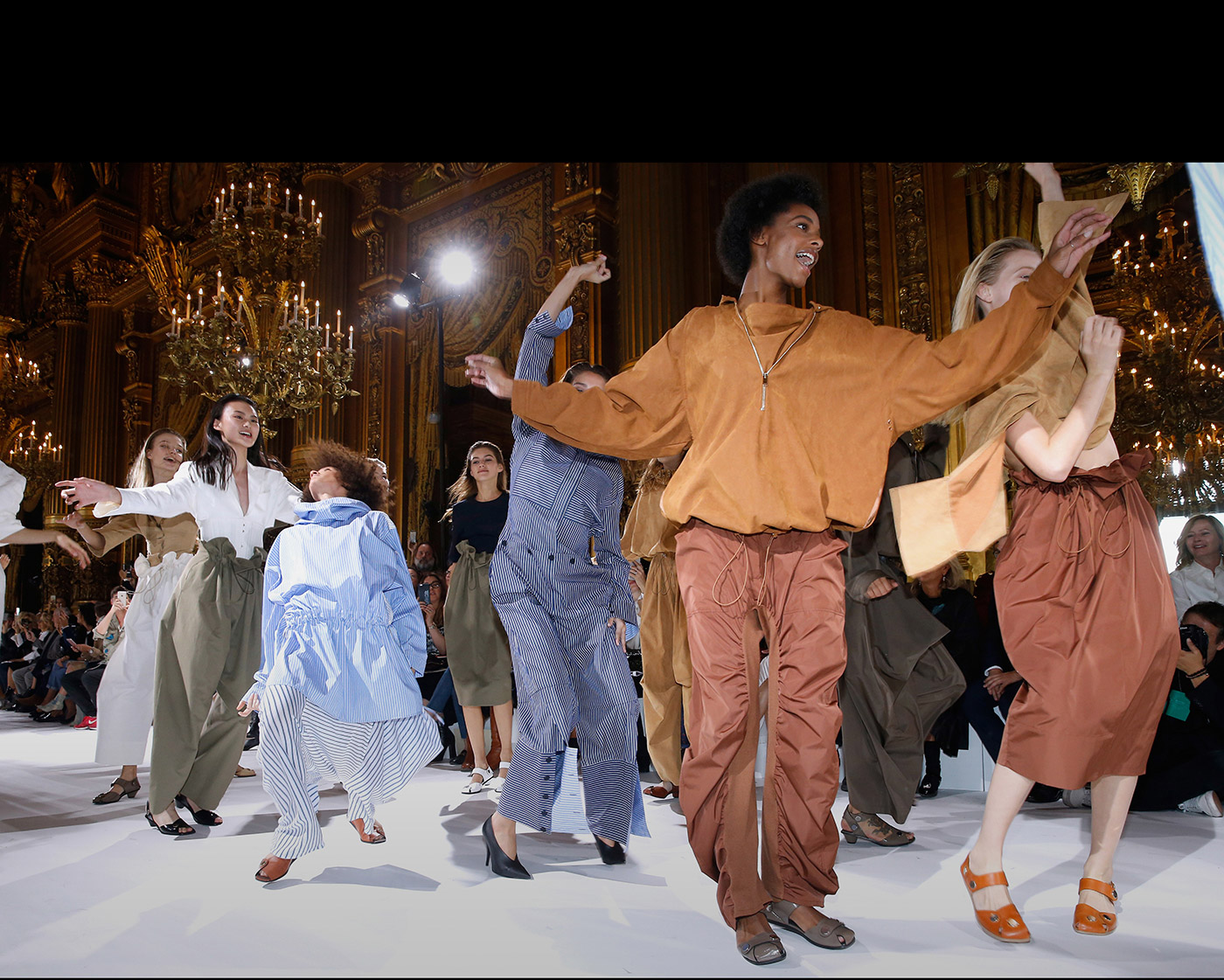 For the first time in a long time, fashion is confusing. Any decent pair of working retinas would discern the pop cultural — and political — cues: the proliferation of teeny alt labels producing sophisticated looks indistinguishable from thrift-store finds (translation: cool AF); the advent of $200 declarative T-shirts; teensy handbags you can't actually fit anything into. And feminism — yep, straight out of the Women's Studies 101 canon — influenced pretty much everything. Girls wore boys' clothes. Boys wore girls' clothes. And sometimes, people who didn't look identifiably like boys or girls wore clothes that you'd be hard-pressed to say with certainty were designed for humans (see: the double-ended boots at HBA).
Something's happened recently that's finally flipped convention on its head, and with it, the stereotypical notion that Fashion (capital F intended) should be pretty; that the people who wear Fashion should be white, skinny, and traditionally "good-looking"; that Fashion is the playground for the very rich and well connected. That's not to say that Fashion hasn't been artful, boundary-pushing, weird, and wonderful all along — because it has. But let's face it: In the past two decades, fashion has very clearly been for the few. And now, things are starting to get weird. Wonderfully weird.
Because nothing happens in a void, we can ascribe some of this to the strange new world we all find ourselves in: The world is reeling, and the fashion capitals in America and Europe look remarkably different today than they did five years ago. Attending shows in grand palaces in Paris requires stepping past the displaced, human consequences of war along the way. In New York, where one of the country's presidential candidates judges successful, effective women on their looks — it means something to see runway models who look more like your best friend, your mother, and your neighbor than a mannequin. And in London, where an immigration-influenced Brexit still reverberates through a shaken U.K., how could current affairs not provide context for designers and the women modeling their looks, who themselves represented every shade of brown, yellow, and black?
Change always represents opportunity. Those opportunities were worked out on the runway in some truly compelling ways. Some of them were just plain fun — beautiful distractions that make us want to pull out our credits cards. Others are the byproduct of an industry that's, finally, opening its mind, rethinking tradition, and confronting the future. And so, after five weeks on the road and thousands of collective hours logged attending and 'gramming hundreds of shows, our editors highlight the breakthrough moments, sure to influence the world one closet at a time.
Clothes We Can't Wait To Wear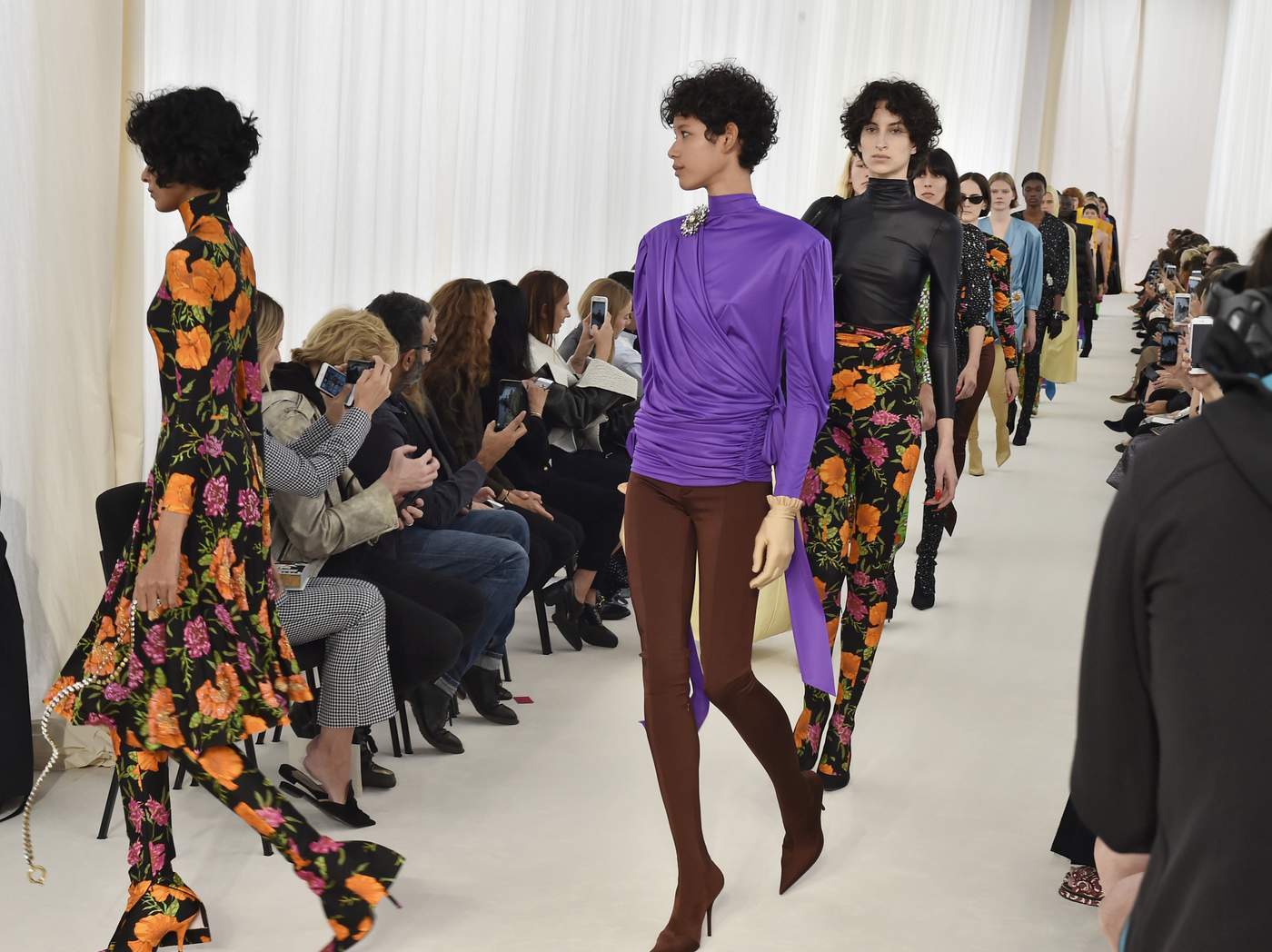 Leggings Shed Their Shame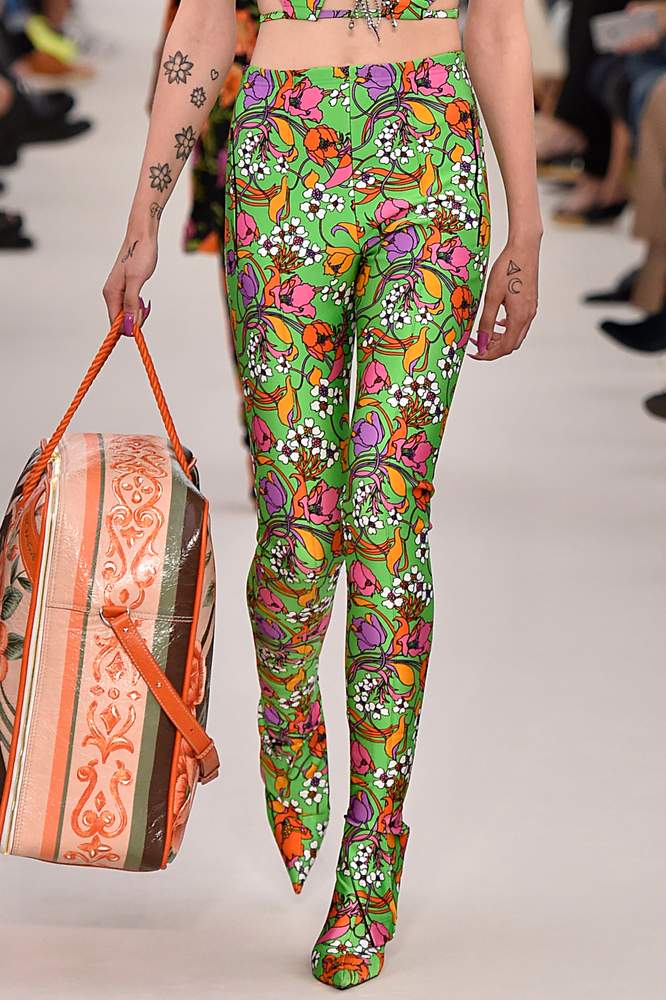 The great debate — perhaps the most argued in fashion — may finally have a clear winner. That is, everybody's favorite pair of stretchy, body-positive "pants" are finally making the shift from lazy afterthought to style renegade. To be clear, we're referring to the glamorous, dramatic versions we saw at Balmain and MSGM, as well as the '80-club-kid-makes-a-comeback types at Balenciaga and Carven. Shown in a variety of colors, fabrics, lengths (yes, some shoes were actually attached!), the notion of whether or not leggings can be classified as real pants was met with a resounding YES.
Merch at Shows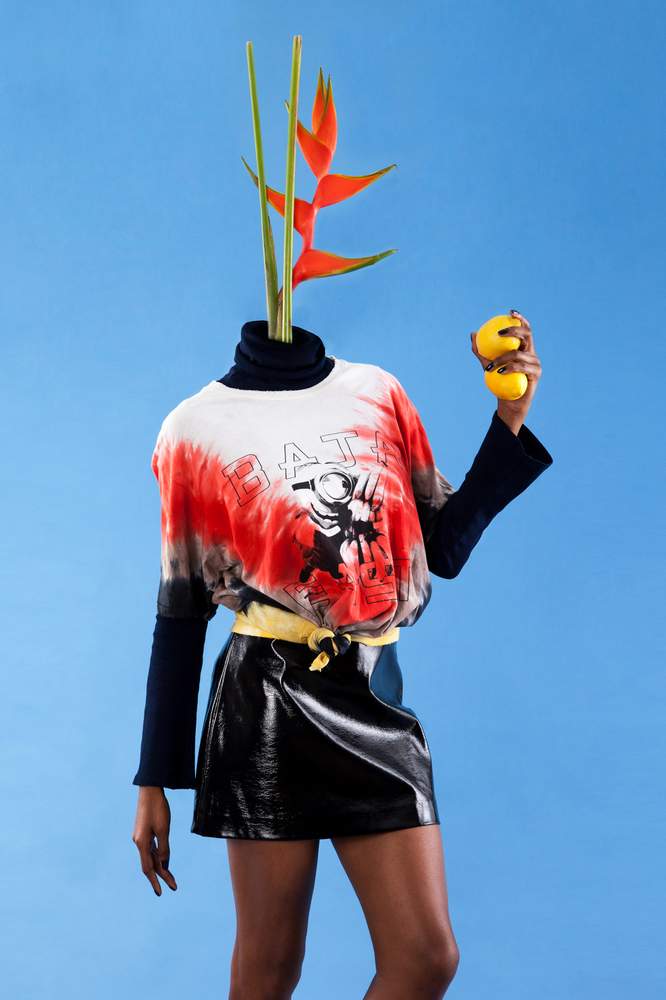 People like Kanye West, Alexander Wang, and Virgil Abloh probably know what the people want these days more than most traditional retailers — and with fashion shows about so much more than the stuff cruising the runways, what the people want is a souvenir to bring home afterward. A blurry Instagram isn't enough these days to prove that you were there: A limited-edition Yeezy Season 4 tee proves that you suffered through the hours of aggravation (and the near-$100 price tag). But, what does this say about an industry so rooted in exclusivity? Will the Fashion Week of tomorrow expand beyond its VIP-only repertoire and allow those not in the inner circle to participate (á la West's Madison Square Garden extravaganza last February) — even for a price? Eventually, that may be true. For now, however, commemorative merchandise — the same type Justin Bieber, Rihanna, Drake, and more are selling — seems to be 2016's version of telling the world that you were, in fact, "on the list."
The Luxury Statement Tee
It was the graphic that launched what felt like a thousand T-shirts: Vetements' DHL-branded tees were the unlikely signature of street-style stars across the globe. Unsurprisingly, many other designers looked to capitalize on the phenomenon Demna Gvasalia helped relaunch. For spring '17 alone, Dior, Haider Ackermann, and Dolce & Gabbana, among others, expressed their artistic vision in the most literal way: with shirts that just called it how they saw it.
Maria Grazia used T-shirts to make a feminist declaration at her inaugural Dior show — not surprising from the house's first female creative director. Our favorite, though? House of Holland's oversized top emblazoned with "Let's Breed Bella Hadid." Would you wear that?
Deep, Dope Pockets
Show us a woman who hates pockets, and we'll show you someone who hates everything practical, considerate, and useful in a life. Designer labels, like Marni, Stella McCartney, A.W.A.K.E., and Loewe riffed on everyone's favorite design element and gave pockets the moment they deserve, by adorning their separates with gigantic belt bags, detachable pouches, and cargo pockets so big, they might as well have been tote bags.
Giant Overcoats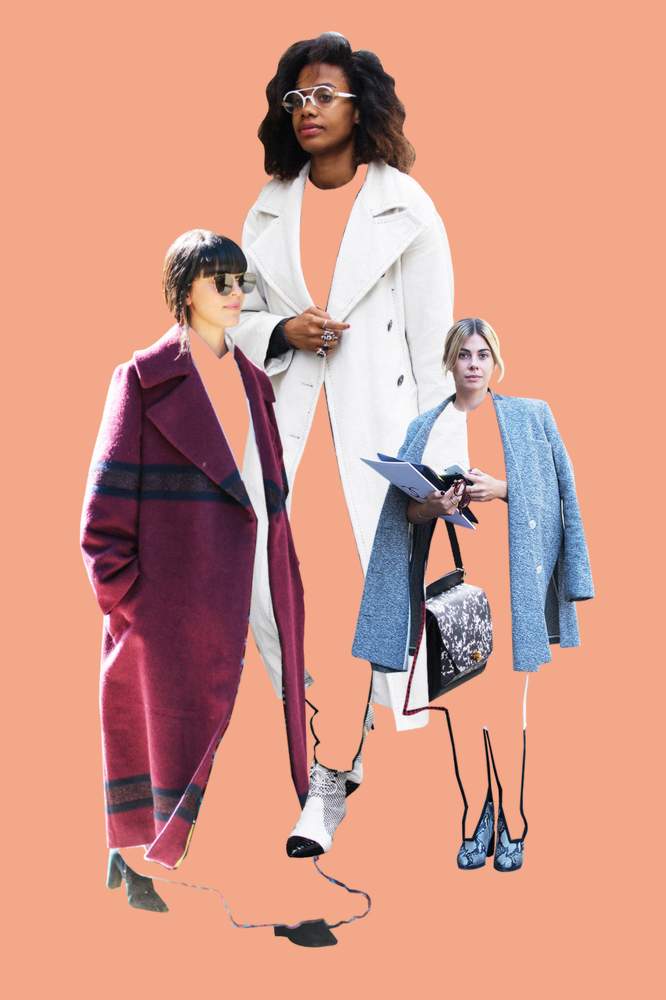 While the fashion world has long loved a good vintage comeback — Victorian lace blouses, stirrups, pointy toes (then square toes, then pointy toes again) — there are few trends that seem as totally of this time as the big, giant overcoat. If you want to make a movie's main character iconic, history tells us you might consider putting them in a coat that looks like it probably doesn't belong to them. John Cusack in Say Anything, Margot Tenenbaum, Molly Ringwald in Pretty In Pink, and likely too many Diane Keaton movies to count. Big coats call to mind rebellious people who think their own thoughts and don't give two shits if people think their outer layer belonged to a dead guy. Big coats are cool. They look dramatic and, quite conveniently, come with equally big pockets to put things in. But, big coats also defy stereotypes of gender, of class structure, and of what's "acceptable" fashion-wise or otherwise. Which is most certainly true as it relates to the newest crop spotted all over the runways and the streets (for the past few seasons, in fact) that looked like they were plucked directly from your local charity thrift store. So, if you're not quite as inclined to bite the bullet on a spectacular new Balenciaga version, rest assured, an option in houndstooth, glen plaid, or worsted wool surely awaits you in some smelly Salvation Army on the cheap.
The Return Of The Power Shoulder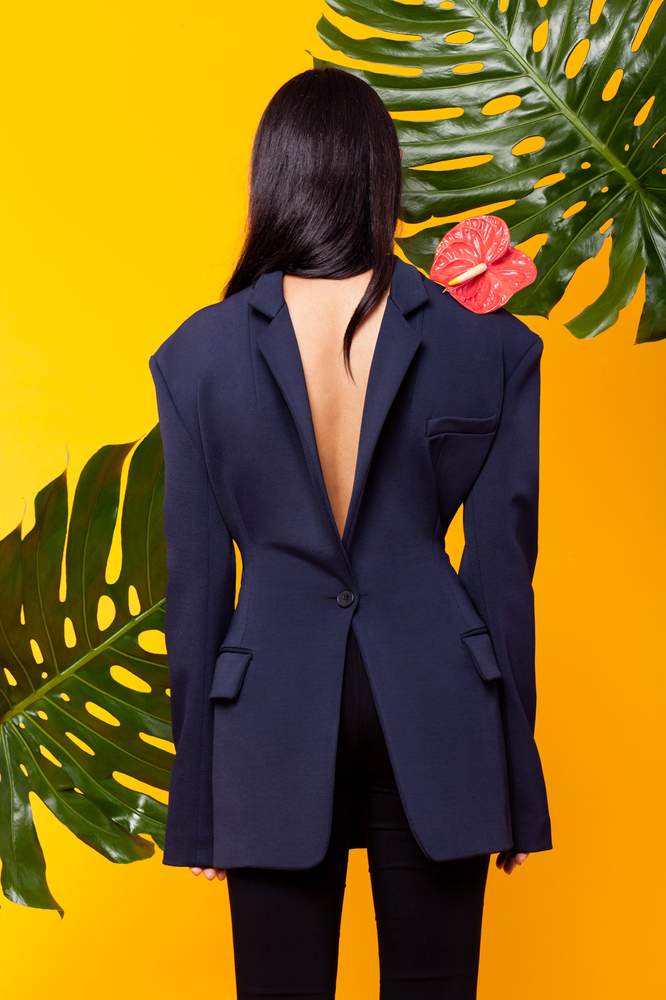 This season, after the long ubiquity of the bare shoulder, the unfathomable happened: Designers covered it up and added six inches of attitude to each side. Anthony Vaccarello declared his reign at Saint Laurent with '80s-style shoulders. In that same vein, Jonathan Anderson continued on his '80s trip at Loewe by doing up a parade of shapely necklines; Jacquemus took a similar, more romantic approach, with Victorian-era lace. Power shoulders are the clear antithesis to the exposed decolletage that dominated the warm weather, which feels like a sudden 180 considering how new (at least to the majority) the previous trend is. But, in lieu of '60s Bardot, designers went for '80s Melanie Griffith. Some may call it the Working Girl aesthetic. We call it a reminder for women to show the world who's leading the meetings (and with a woman at the precipice of holding one of the most powerful jobs on Earth, we can see why this feels inevitable, too).
The Details That Stood Out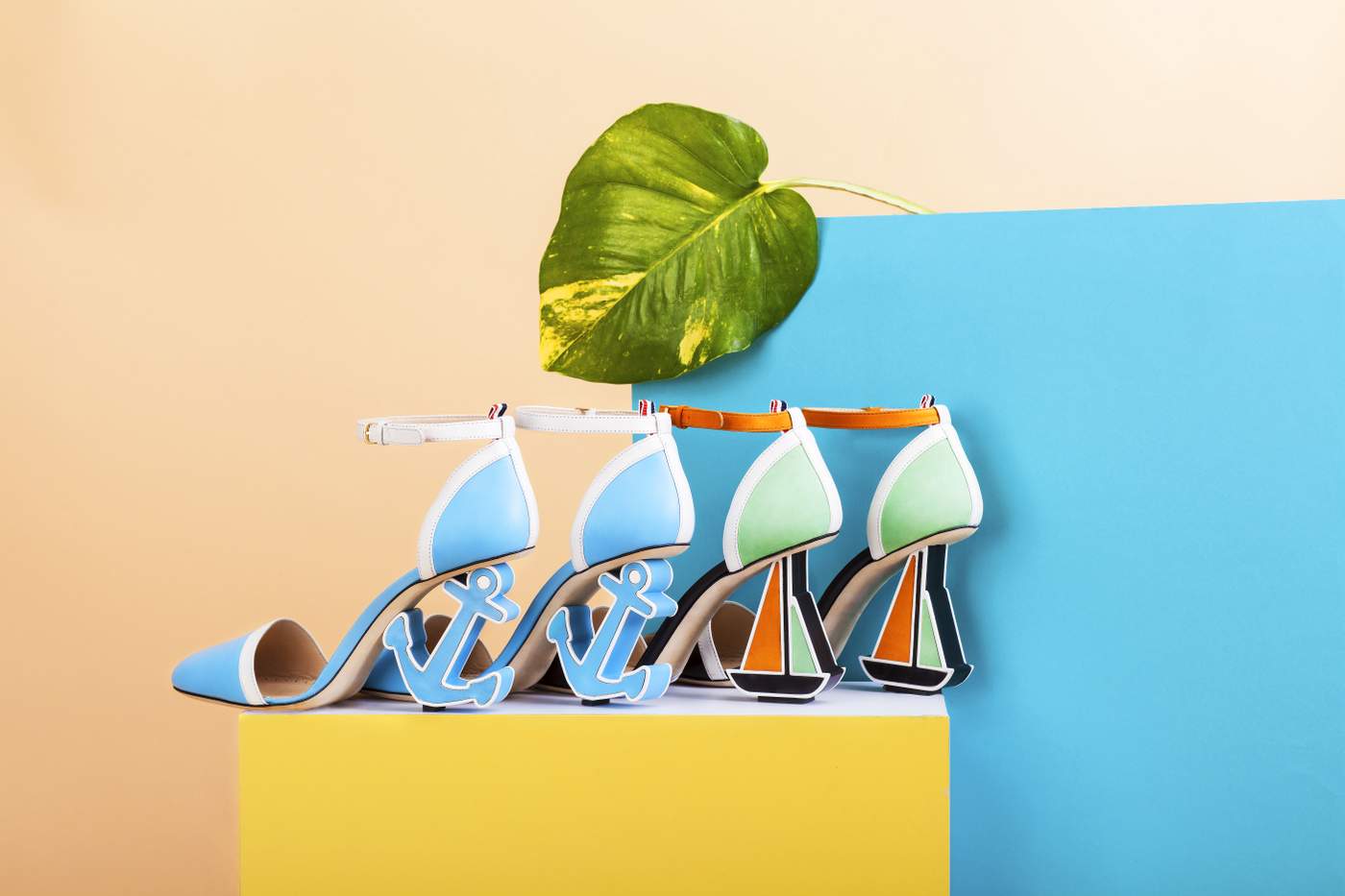 The Return Of The Precarious Shoe
After years of Sex and the City-fueled assumptions that high-fashion meant stilettos so high you could only teeter in them, our feet were thrilled to embrace the popularity of flatforms and grandma heels.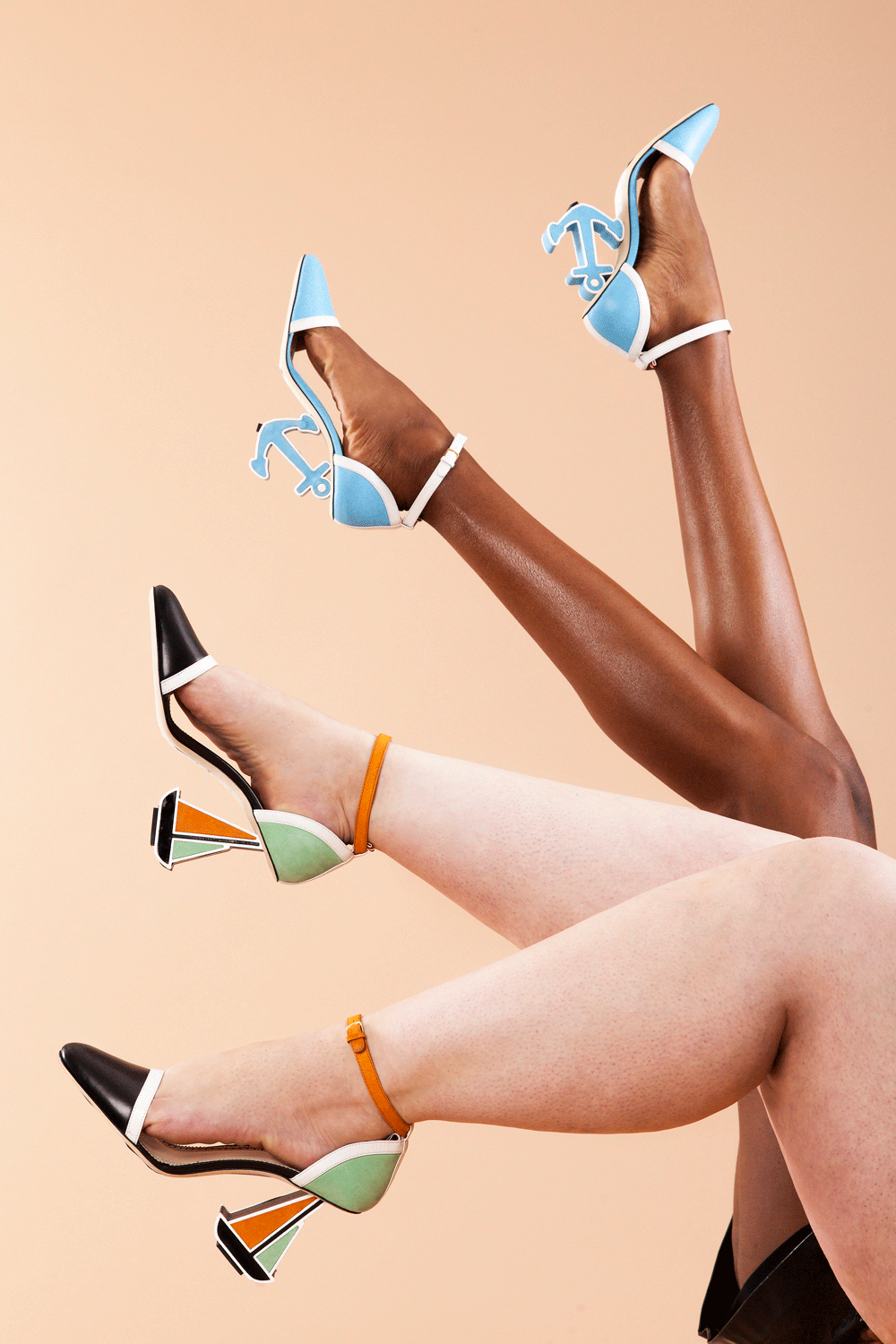 But alas, as with most things in fashion, all good things must come to an end — and, judging from the near-slips at Yeezy and Balenciaga, not even the runway models were ready for it. Granted, these two designers featured particularly booby-trapped shoes (those plexi-heels and extra-extra-high heel boots are not for the faint of fashion). But as far as trending footwear goes, we've fast-forwarded from the nostalgic '60s to the out-there '80s in the blink of an eye. By our count, we have about six months to get our back walk in check.
It Earrings Are The New It Bags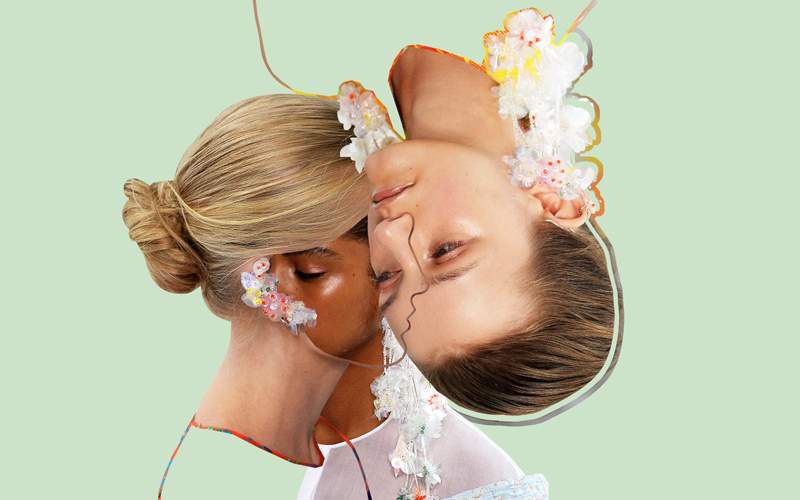 Hear us out — a pair of earrings this season could very likely save you thousands and thousands of dollars. What we're proposing is that the latest crop of super-sized, almost theatrical styles designers like Rosie Assoulin, Delpozo, Proenza Schouler, and Jil Sander ALL favored in their collections could very well replace your impulse to buy a new It bag. Consider the possibility: This latest batch of earrings, whether flowery and artful or spare and brutalist, have almost the same impact a shiny new designer bag does on your outfit routine, or, rather, the way we really like to dress these days — in classic jeans, a favorite T-shirt or button-down...and big, crazy earrings. Yes, thank you, done! Better still, the new It earrings take up way less space in your closet or your carry-on — a plus for all you Kondo-ers out there. And if by chance you start to endure a case of lobe ache (a common side effect of wearing earrings the size of a can of vegetables), you can simply stash them in your bag for safe keeping. Or decorating (they look pretty laying on a table, too).
Tiny Bags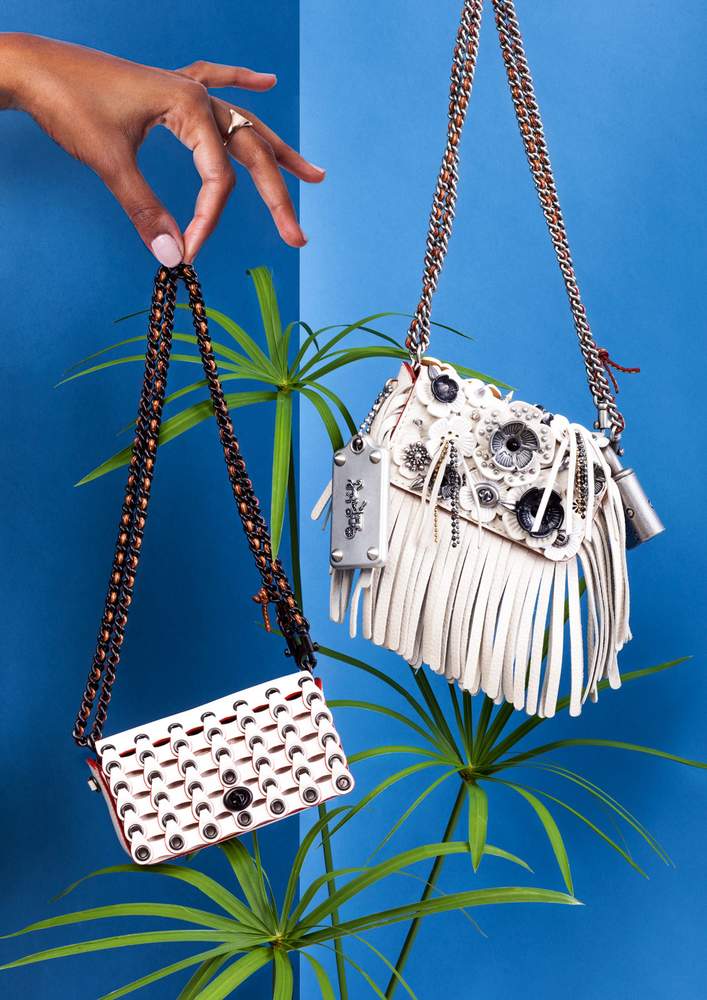 Are they practical? Hell no. Are they cute? Hell yes. Mini bags became the ultimate symbol of liberation and luxury, forcing today's bag ladies (a.k.a. all of us) to pare down and only carry the essentials. In practice, the women who carried bags like these during Fashion Week also represented the 1% at an event already representative of the 1% of events — the showgoers who had chauffeurs and could afford to keep their junk in the backseat instead of at the bottoms of their bags.
Perfectly Imperfect, Un-Done Hair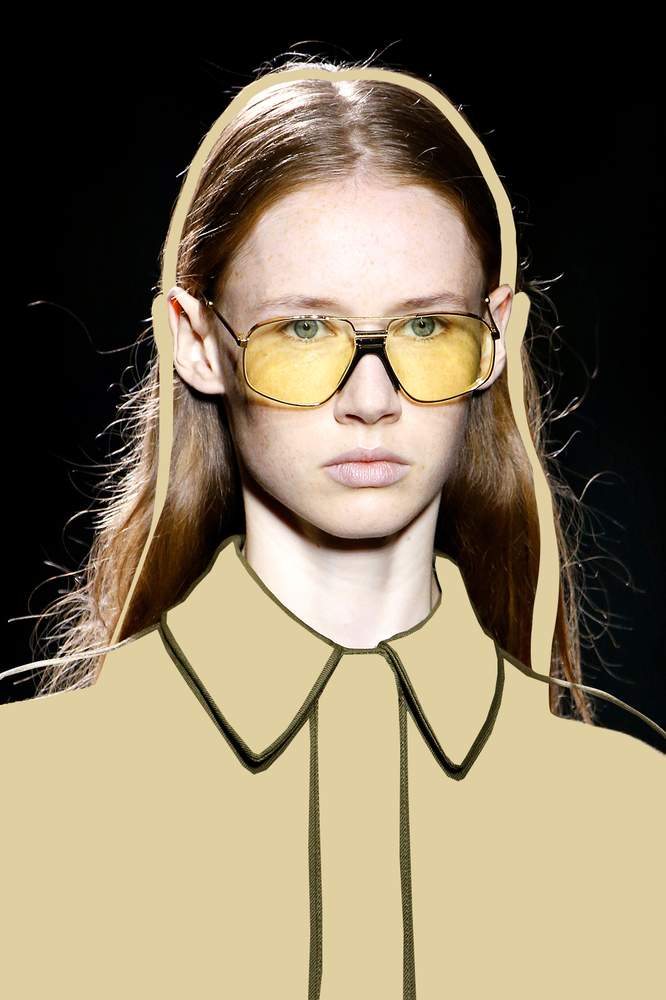 Unwashed, unstyled, and unkempt — and no, we're not just talking about the new wave of high-fashion sweatsuits. At shows and on the street, women seemed to give in to jetlag, forgoing expensive blowouts for just rolled-out-of-bed hair, playing into the laid-back, DGAF attitude the entire industry seems to be adopting. Good news for those of us who like to take advantage of every extra minute of snooze-time in the morning.
Amulet Necklace Swing Back In
We're not saying that the era of dainty, personal jewelry is over, but there's a new necklace in town, and — not for nothing — it's got the heft to crush a million golden micro chains. Massive amulet-style necklaces made of resin flowers (Prada), crystal slabs (Givenchy), and even lighters (Alexander Wang) made bold statements. And, unlike the bib necklaces of seasons past, there's nothing particularly precious or cutesy about these.
Unpacking The Biz Of Fashion Week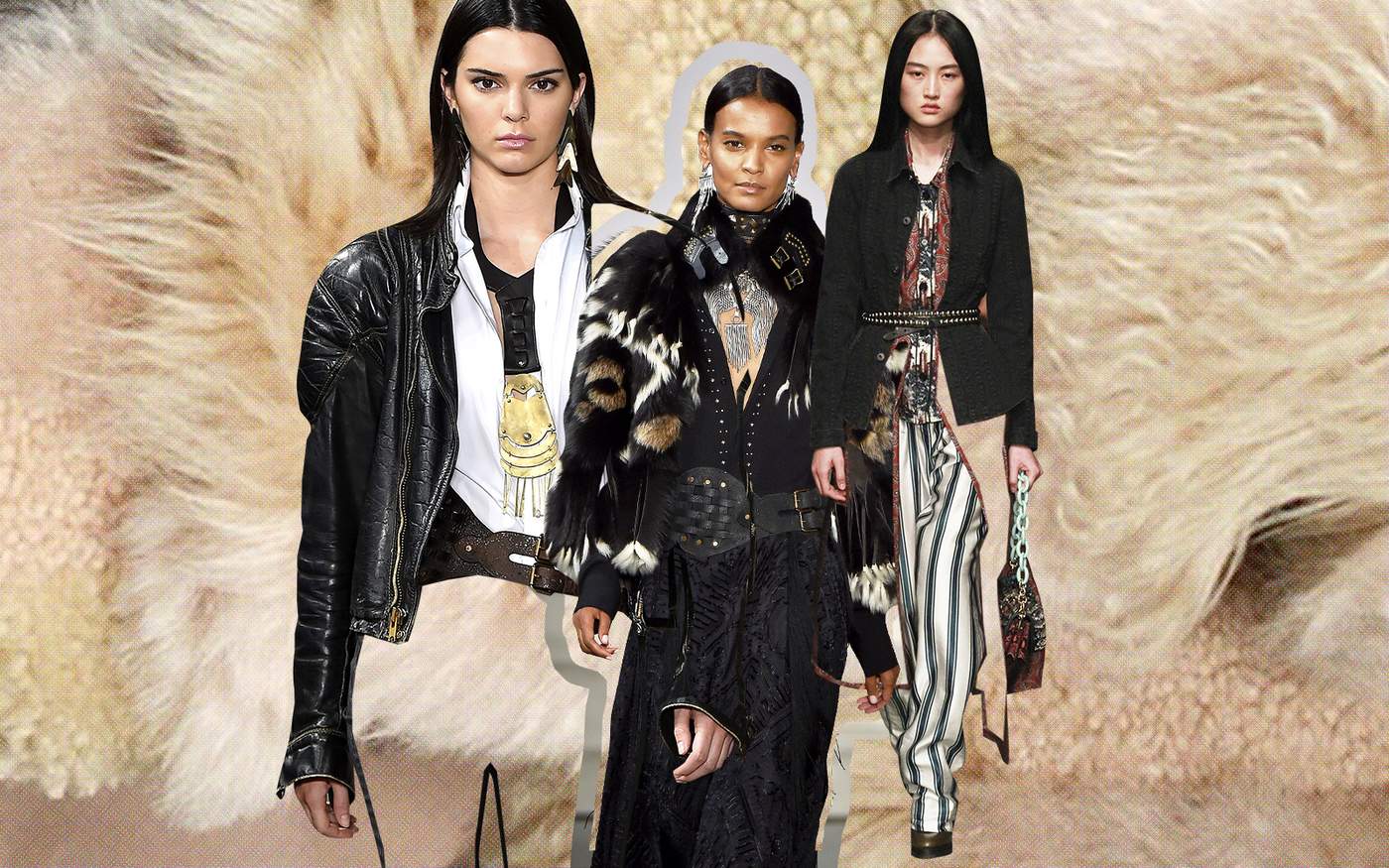 Meet The Mono-Season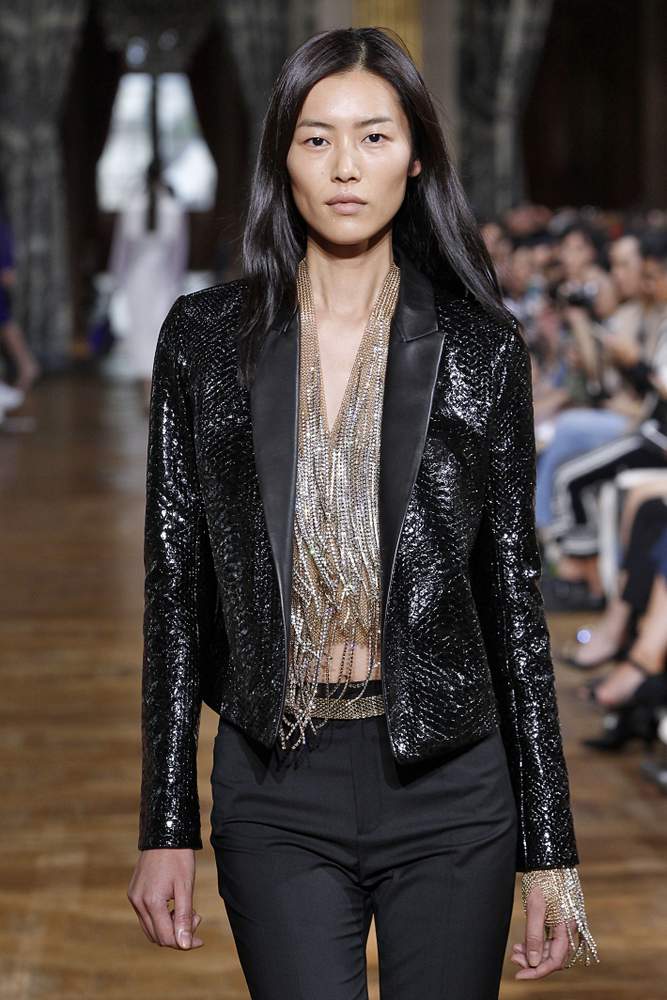 As impractical as it may seem, a September Fashion Month means seeing next year's spring collections this fall. But this time around, many designers opted for see-now, buy-now collections, like Ralph Lauren or Burberry; or, like Rebecca Minkoff or Tom Ford, re-showed past collections to stave off fast-fashion copycats (and we applaud you!). This all means that we got everything from spring '17 to pre-fall '17 to fall '16 — and sometimes, all three, all at once. Yes, the seasons have officially blurred, and this could herald a whole new fashion universe where we can all buy exactly what we want when we first see it — not months later, long after the desire to wear it has faded. Is it time to just nix seasonal categorizing altogether and embrace the mono-season? We shall see.
Diversity Isn't A Trend Anymore
Today, models need to have so much more than a "pretty" face. They need personality, edge, and that unmistakable thing that makes them memorable — which is why so many brands have begun to look past agency rosters and more toward "real" (read: still beautiful, but more relatable) people. Labels like Gypsy Sport and Eckhaus Latta championed the notion of diversity in all forms — size, ethnicity, age, and gender by "street casting" the men and women who walked in their shows. Other brands, like Tome, Rachel Comey, and J.Crew embraced the non-traditional model as well — giving fresh life to their collections and breaking the tradition of seeing the same faces on the runway over and over. Though we're far from seeing true diversity on the runways in ways that reflect the size and makeup of global fashion consumers, the days when designers could just have one Black model in a show and consider themselves "diverse" is thankfully over.
New Creative Directors, Some With Not-So-New Creative Directions
Let's count them off: LVMH sold DKNY to G-III Apparel; Diane von Furstenberg handed Jonathan Saunders creative control; Maria Grazia Chiuri broke from Valentino to set out on her own at Dior; Bouchra Jarrar was appointed creative director at Lanvin, and Anthony Vaccarello debuted at Saint Laurent. During a typical season, you'd expect to see one brand — two, tops — to debut under a different creative direction, which made this season's changing of the guard more exciting than ever. But to whether these new minds delivered on that hype is less clear. Saunders' reception was positive, but the reaction to the new DKNY, Saint Laurent, Dior, and Lanvin was lukewarm. Not miserable, but not marvelous, either — and the industry doesn't necessarily need more meh.
"Feminism" For Sale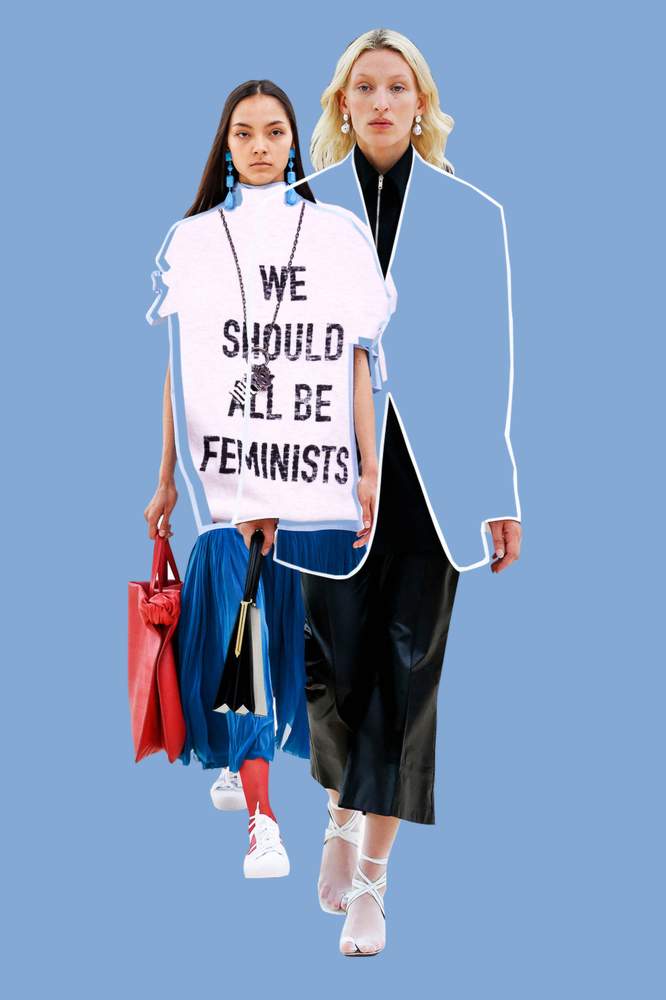 In an industry comprised of women who serve women, it's a funny thing that the idea of outright, in-your-face feminism hasn't always been part of the deal. But that might be changing, with many designers making overt attempts to connect their brands with feminism, including slogans on T-shirts at Dior, and the phrase in show notes, as it was at Lanvin. It's no coincidence that both those labels replaced long lines of male creatives with women for the first time this season. And in a global political climate where your gender can be either an asset or a handicap, it felt like a timely issue to connect with. But here's the tricky part: Fashion labels make money by marketing in desirability, and tying yourself to feminism explicitly says that it makes your brand more valuable. But is it actually good business to sell an idea that has always sold itself as beyond commodification? As these things go, some brands did it clumsily, and some did it well, but they were all saying that being a feminist was something to be desired and displayed.
Let's Talk About The Budgets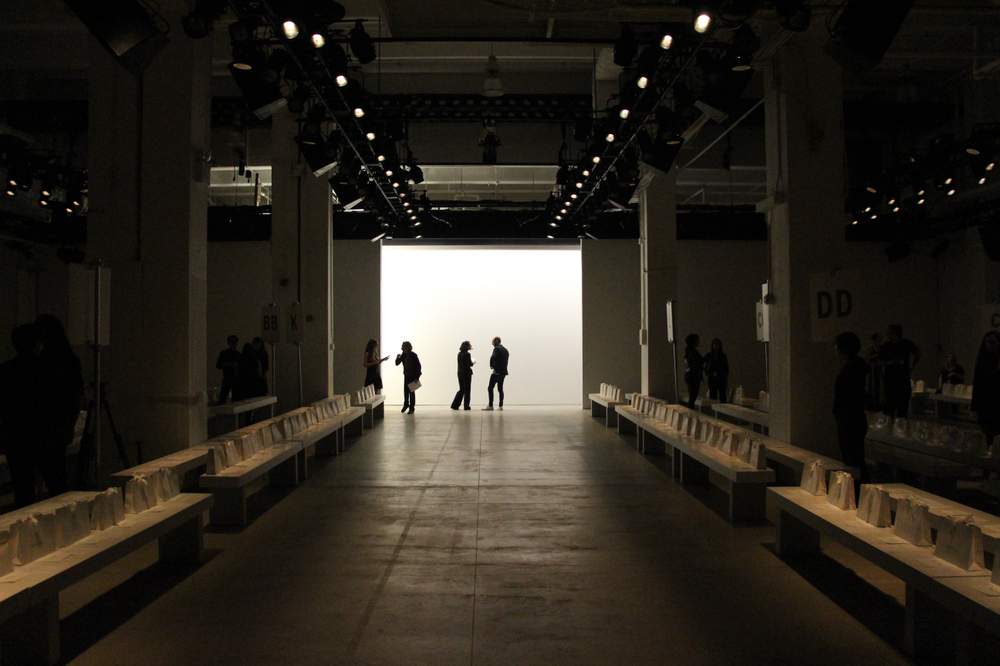 What's Fashion Week without the opulent shows with elaborate sets, palatial spaces, and gimmicks so expensive and extravagant (three words: Chanel grocery store) that you couldn't be sure if Zoolander was behind it all? But, whether brands had come-to-Jesus moments, or the financial health of the global economy is finally chiseling away at the fashion industry, designer collections — and those who went to see them — reflected a more conservative approach. Publications were sending fewer editors overseas, and many opted for AirBnb over hotels. Shows were smaller, and not as elaborate, and even Chanel — which in the past shipped an iceberg from Sweden to Paris and built a working carousel in the middle of the Grand Palais — pared back with a "computer"-themed show that was modest in comparison.
Everyone's Thinking About The Future
There are some familiar straws that designers grasp for when they want to create clothes that seem groundbreaking. To evoke the future, they sometimes recall the past's interpretation of it. Case in point: how Chanel incorporated Jetsons'-style helmets into its show this season, or Paco Rabanne brought in Dune-style desert-wear. Designers have also leaned on "high-tech" gadgetry that sometimes feels gimmicky (Dolce & Gabbana's light-up heels) and sometimes feels interesting, but not really practical (Chalayan's belts that project your brainwaves and heart rate...really?). Sometimes, designers do things as blatant as putting the word "future" on their stuff (thanks, Gucci). But this season, there were some brands that took on a much more effective strategy, making statements through casting about the future conceptions of gender and beauty. Regardless of the approach, many of these shows were all tapping into the apprehension that future consumers seem less tuned into the fashion establishment, and more interested in DIY labels and indie brands. Whether any of these attempts to connect with this younger generation will work is still up in the air, but Gen Z should know this much: Fashion is coming for you.
The Big Headlines Of The Month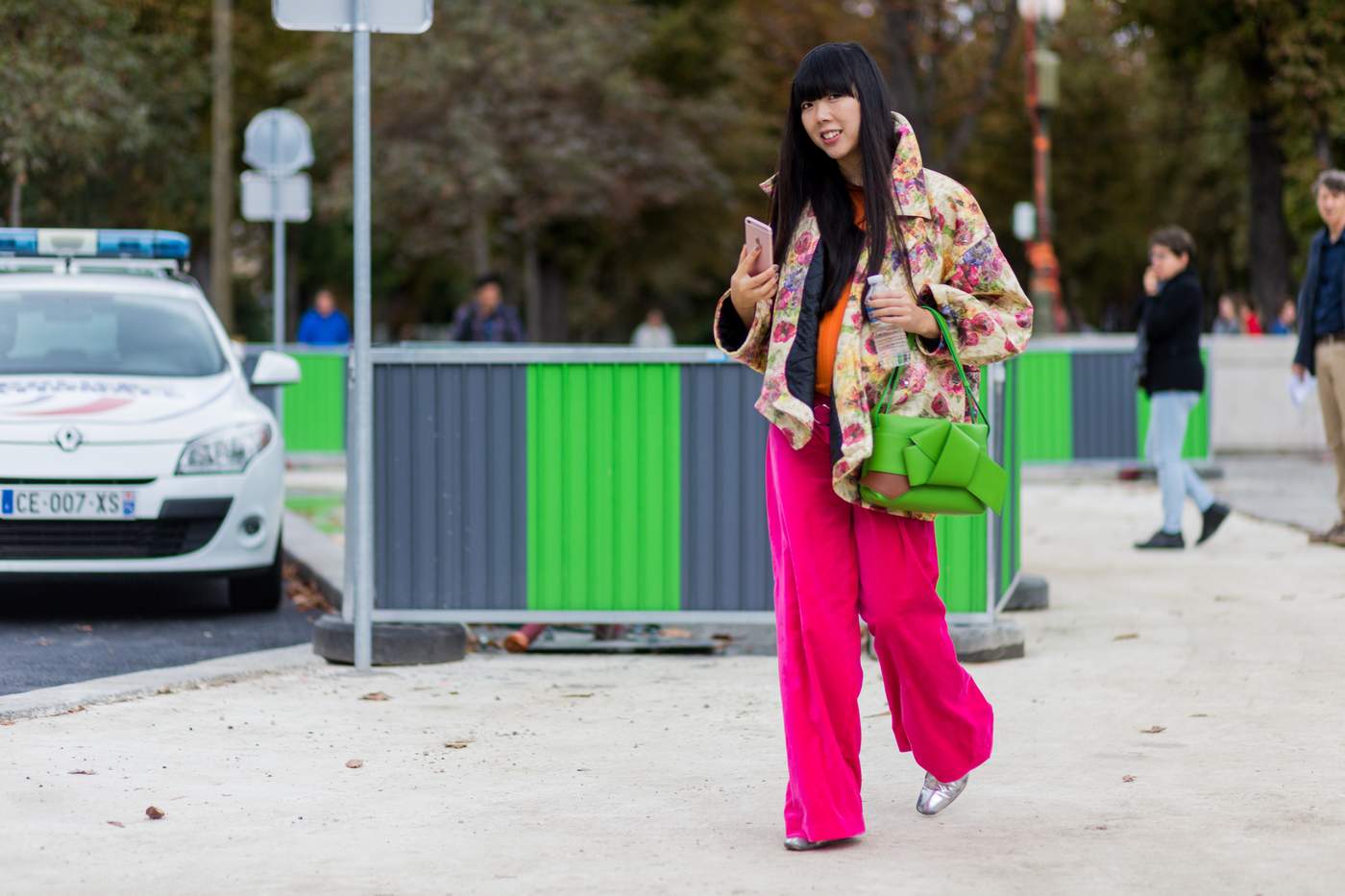 That Thing With Bloggers On Vogue.com
At the heart of any major industry is the constant fight between the establishment and the new guard, and though both sides of the fashion industry have been playing somewhat nicely ever since bloggers started being invited to Fashion Week, Vogue.com kicked the tension into overdrive this season. In a recap post of Milan on the site, four editors took "professional bloggers" (a.k.a. social media influencers and individual media personalities) to task, writing that the fact that they get dressed up in multiple outfits a day in order to get photographed is "pathetic" and "desperate."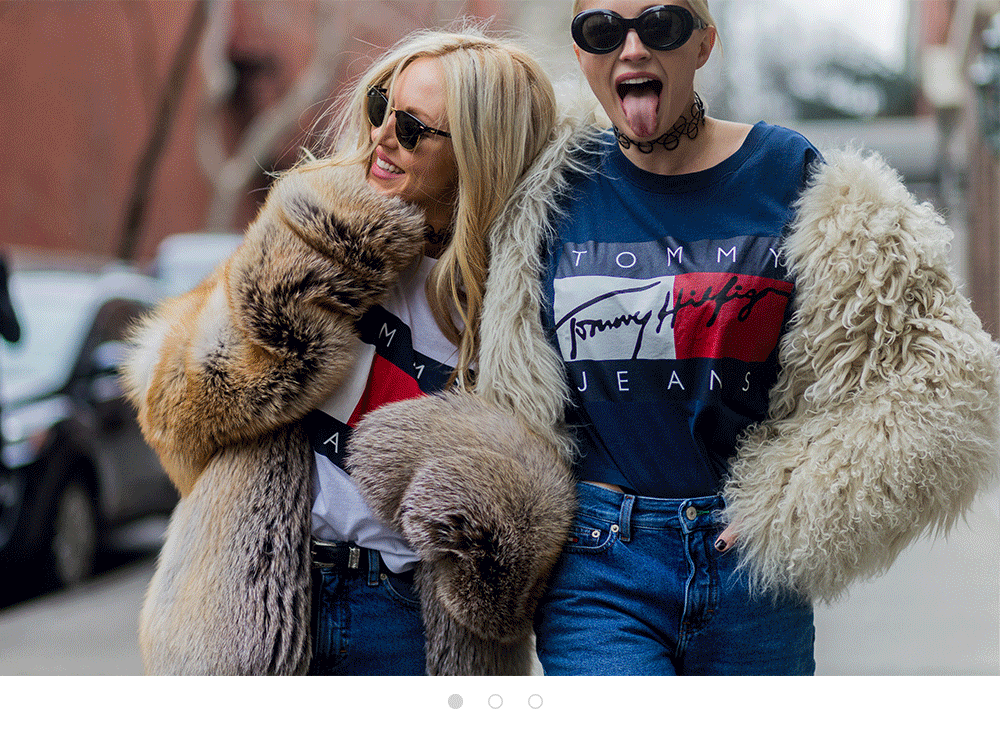 There were a lot of tone-deaf moments to criticize in the piece, and many people did, digging into the main hypocrisy that established editors also borrow clothing and get paid to promote items, but have the luxury of doing it behind their print titles. All of this made for a veeery strange Paris Fashion Week where Vogue.com editors were routinely sat across from these professional bloggers. Awkward.
The Power Of The Twitter Critic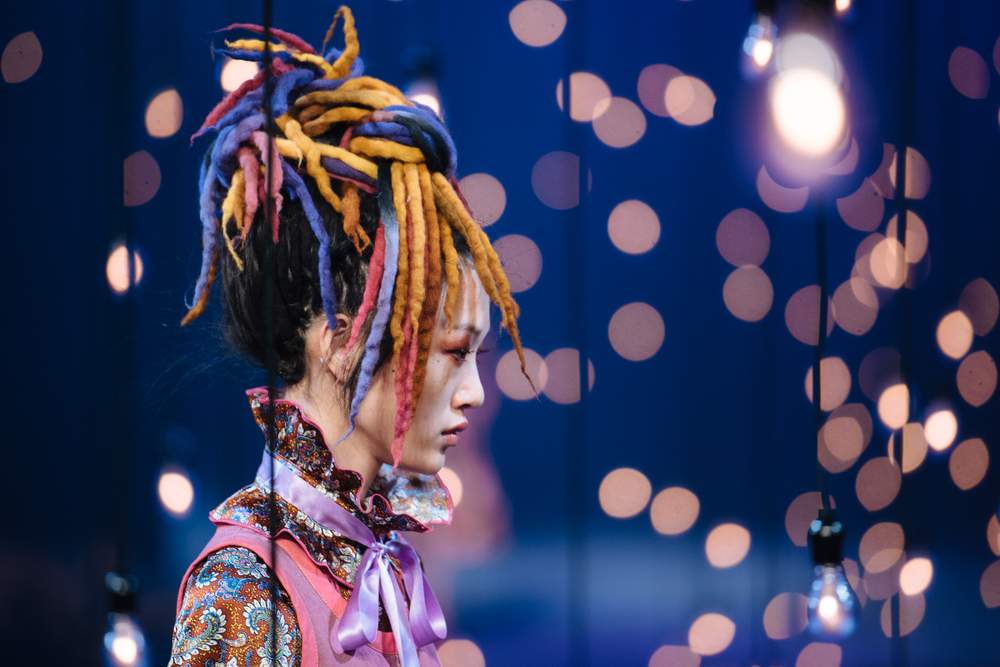 The fashion show experience changed dramatically when Instagram, Twitter, and even Vine (remember when that was a thing?) began inadvertently democratizing these once ultra private events, allowing the ticketless masses to get real-time, front-row access to the catwalk. And social media still serves that purpose, but showgoers and those following on their smartphones are taking to different platforms to air their grievances with brands, posting immediate critiques (live-tweeting the uncomfortable experience that was Yeezy Season 4, for instance) and calling out designers making problematic decisions with their collections (to wit: dreadlocks at the Marc Jacobs' show). As a result, there's more accountability and conversation, with more widespread reactions and cultural temperature-checks that, though fleeting, remain documented.
When Athleisure Gave Way To Athluxury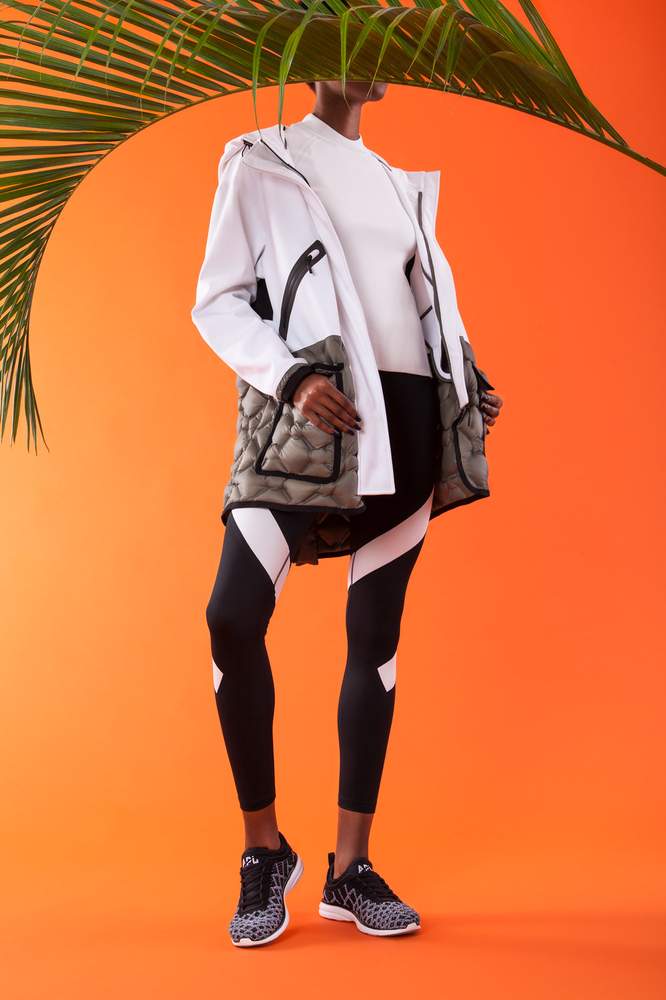 We're all well acquainted with athleisure by now. It's the dictionary-sanctioned approach to dressing, and it's a big business, estimated to be worth $100 billion by 2020. It involves leggings as pants and the mash-up of workout garb and "real" clothes (read: Things you cannot, in fact, go for a sweaty run while wearing.) The next frontier? Athluxury. The industry's most coveted collaborators are not fast-fashion retailers, but rather, big-name athletic brands. Alexander Wang's big reveal at his spring '17 show was a capsule with Adidas, and Kanye West has had a well-documented, Yeezy-spawning, lucrative pair-up with the German sportswear brand. Rihanna works closely with Puma and took the spectacle abroad to Paris this season with an opulent, Marie Antoinette-ish take on sportswear. That iconic swoosh has gotten chicer, too: Olivier Rousteing, Riccardo Tisci, and Kim Jones all design for Nike. There's also Tim Coppens' collection for Under Armour, which involved a sleek NYFW showing. And while Stella McCartney has had an Adidas line for years, she was an anomaly...until now. Prabal Gurung paired up with luxury fitness retailer Bandier on a size-inclusive activewear line that's economical compared to his RTW creations, but pricy for workout wear. Hey, if you can't afford the Prabal gown, at least you can wear the $200 leggings, right?
Fashion Shows Its Political Side
Politics is not a new subject for designers to address by any means, but there's an urgency of acknowledging that our legislation affects...well, everything that this generation hasn't felt before. No kidding, then, that that's reflected on the runways in pretty blatant ways. Baja East's designers created – and themselves wore – pro-Hillary shirts on the runway at NYFW. Pyer Moss' Kerby-Jean Raymond critiqued capitalism and greed in his spring 2017 show. In London, Ashish tackled Brexit's political and cultural strife. There were HRC fundraisers at both NYFW andPFW this season, too. And beyond the runways, election merch has gotten a lot cooler, taking shape as graphic tees riffing on '90s-era logomania and Kanye-inspired faux tour merch. While many designers apply that stodgy dinner party etiquette pointer — no religion, sex, or politics chatter allowed — to their runways, we commend those who do use their slots to explore more ambitious agendas than just radical hemlines.
The Celebrity "Pranks" That Just Weren't Okay
Celebrities (both in the front row and on the runway) and the ample security their presence ensues: For years, that's been part of the veritable circus that is Fashion Month. But being famous at Fashion Week became a dangerous proposition this season. First, Gigi Hadid was attacked — hoisted off her feet and into the air while exiting the MaxMara show in Milan alongside her sister, Bella. The attacker, former Ukrainian entertainment reporter turned serial celebrity stalker Vitalii Sediuk, went on to assault Kim Kardashian just days later with another bizarre "prank" (attempting to kiss Kardashian's most famous asset) that wasn't the slightest bit funny.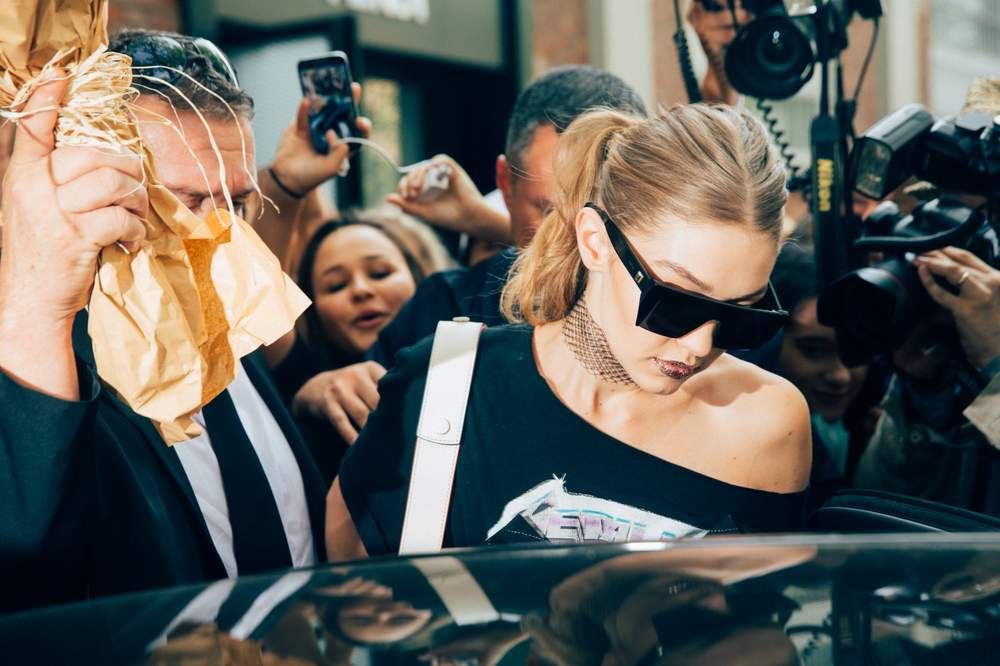 Kardashian was then gagged, held at gunpoint, and robbed just a week later in another even more atrocious invasion of privacy. Contrast this to the celebration of women on the runway and the message that clothing should set you free and allow you to express yourself, and these violations of women's bodies and personal space feel all the more sinister.
Size Inclusivity Is At An All-Time High (But…)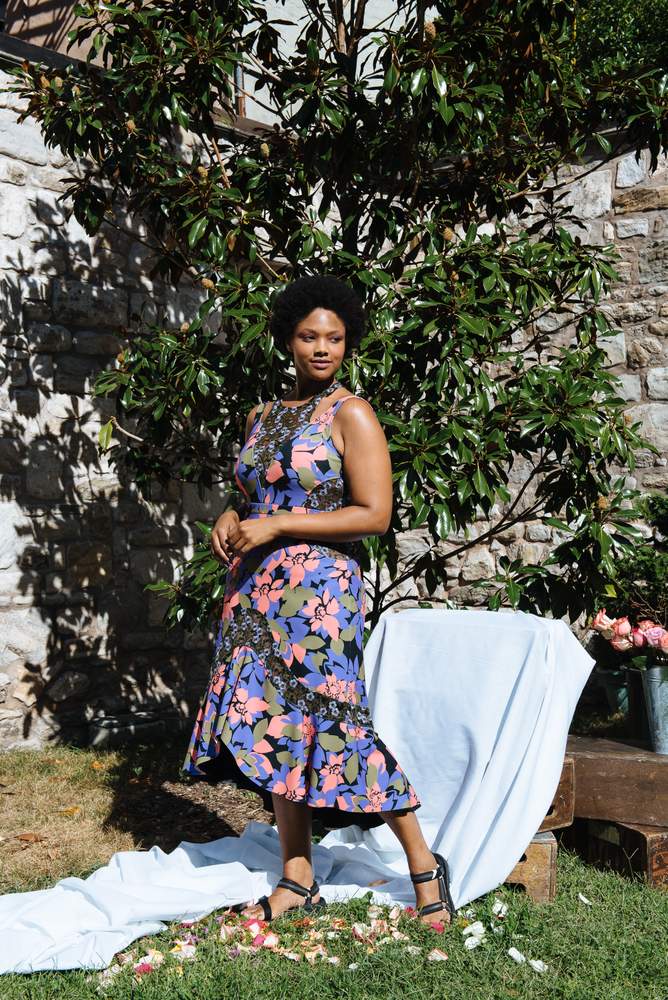 It was an unprecedentedly body-positive season in New York. There was Christian Siriano, finally bringing his long-held focus on inclusivity — in the celebrities he dresses for the red carpet and the collabs he partakes in — front and center on his catwalk. Chromat's shows consistently showcase a wide range of sizes, gender identities, and skin tones, but spring 2017's outing included curve model Iskra Lawrence making her runway debut (yes, she's somehow never walked at Fashion Week). Tracy Reese also showcased a refreshing range of shapes in her presentation, and introduced extended sizing for the first time. Still, just .54% of this season's NYFW castings were plus-sized, according to TheFashionSpot's latest Diversity Report — but it was even bleaker elsewhere. There was just one non-straight-sized model apiece in Milan and Paris, and none in London. The 67% Project — our acknowledgement and celebration of the sizeable majority of women in the U.S. that wear a size 14 or above, yet only account for less than 2% of mainstream media images — aptly underscores the need to see a spectrum of sizes on runways and in stores. NYFW is moving in the right direction, but still has a ways to go — and seriously, European fashion capitals? It's pretty embarrassing, in 2016, to have such a dearth of body diversity.
The People Who Made An Impact
The Rise — & Fall — Of Kanye
For three seasons of Yeezy, the industry was divided on whether or not Kanye West should be revered as a legitimate designer. Sure, he had the support of Anna Wintour, the vote of confidence from designers Olivier Rousteing and Riccardo Tisci, and a consistent sell-out footwear record (not to mention a relentless fan base). But when it came to Season 4, not even a triple Kardashian-Jenner sighting could save Yeezus from himself.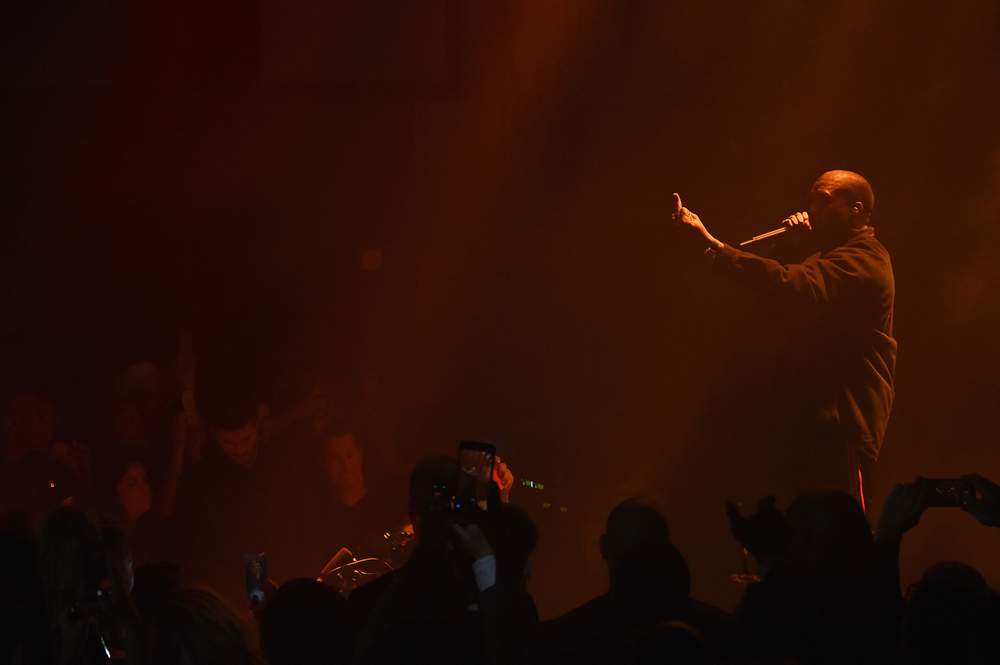 Before, industry folk would take the scheduling inconveniences they could expect every season from West — an off-the-CFDA-calendar presentation, a last-minute confirmation of the details, a multi-hour affair — simply because it involved him, and that in itself was newsworthy. But day-of ticket arrivals, an interminable bus ride to a mysterious show venue, scorching temperatures, and a lack of care for fainting, overheated models (that had showgoers thinking less about the collection, and more if they should call the paramedics), it was hard to understand the point of it all. Was West making some grand artistic gesture, and we totally missed it? Performance art or not, watching women suffer in the name of spandex-like pieces we've seen time and time again reminded us of exactly what the industry shouldn't be.
The Not-So-Secret Comme Des Garçons Unveil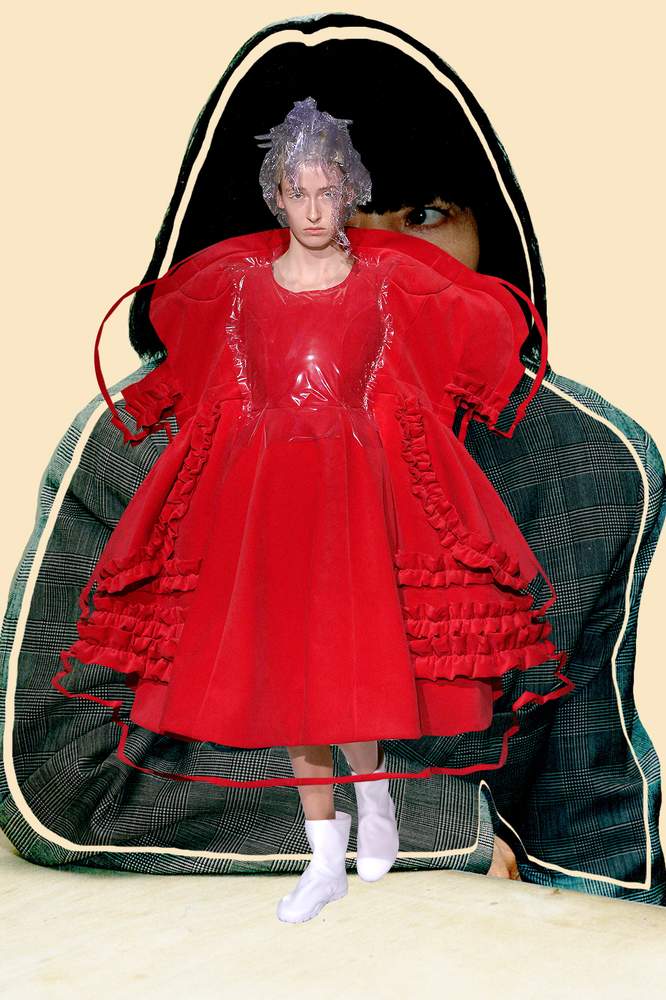 Andrew Bolton isn't typically a Fashion Week fixture, but when the curator for The Met's Costume Institute sat front row alongside Anna Wintour at Comme Des Garçons' spring '17 show in Paris, rumors began flying that Rei Kawakubo would be the next focus of The Costume Institute's exhibit. And why is this important? Well, The Met's Costume Institute gala is one of the few moments in fashion that your dad and his buds would recognize as important, and it gives this industry that's notoriously been cast as frivolous some weight. Few designers can be considered artists, but nothing is a stronger stamp of approval than a nod from The Met. Officially announced last week, the Rei Kawakubo exhibit will be the first time that the Institute would have celebrated a living designer in a standalone show. Rei is one of the few designers who flout that art-or-fashion divide, and there are few living designers who reflect the best and worst parts of contemporary culture (in its anxiety-ridden, sometimes pessimistic, sometimes cruel state) as well as Rei.
The Bill Cunningham-Shaped Hole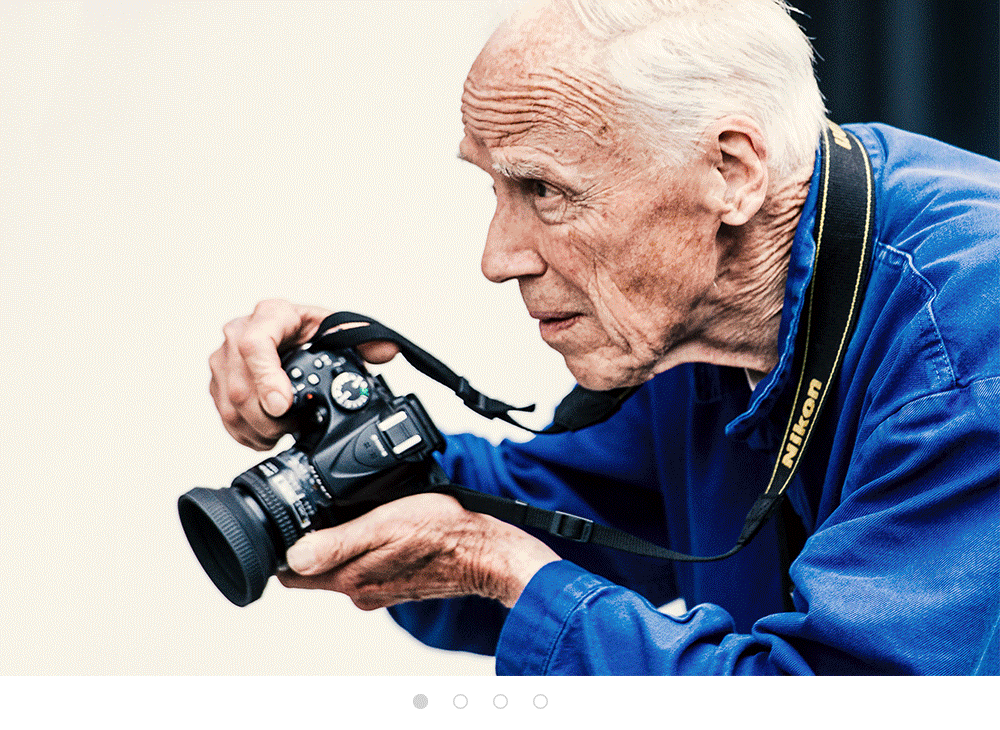 The first-ever New York Fashion Week was held in 1943, but it might not have become the event that it is today if Bill Cunningham hadn't started training his pen, and then his lens, on the stylish women and men who attended. In the past 10 years, when the event became a spectacle and outfits became street style, Bill was a constant fixture (it was a common refrain among attendees that it wasn't actually Fashion Week until you spotted Bill's blue jacket in the crowd). Bill's death this past June left behind a void that was visceral, and it wasn't surprising that the street style energy in New York felt more somber than usual. If street style is a collection of personal style, and personal style is a reflection of what we're all feeling and thinking, then the message was clear: We miss you, Bill. We really do.
Teen Takeover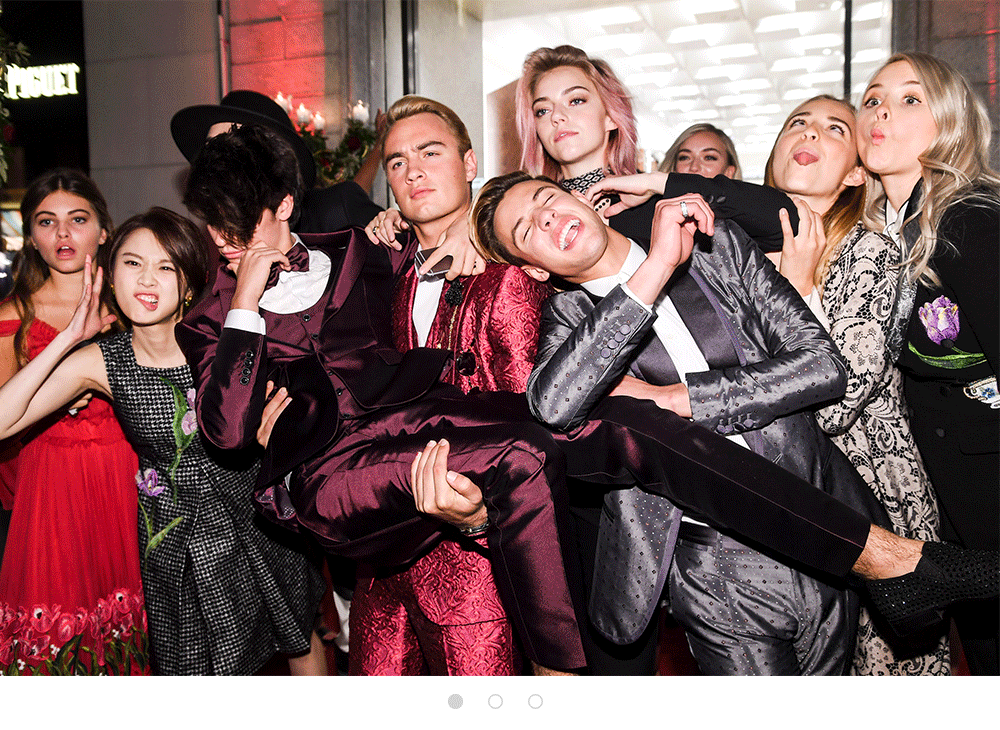 ICYMI, it's all about Generation Z, and these young powerhouses might not be able to legally drink or rent a car yet — they're the under-20 set — but they're making shit happen across industries. They've started transforming the fashion landscape, and they're doing it with a markedly inclusive perspective on how the world works and where their values lie. Status symbols for today's teens aren't exorbitant designer buys; they're items "exclusive" because you have to know how and where to find them, not because you have to obliterate your bank account (or settle for the knockoff). They form deep friendships and fashion allegiances (cliques, if you will) online to a degree that wasn't possible for previous generations. Designers are looking to these burgeoning superstars for inspiration, too; Dolce & Gabbana even dedicated an entire show to them this season. They determine what's cool, and retailers and brands are taking note.
The Lotta Volkova Revolution
Everyone at Fashion Week it seemed, whether on or off the runway, was gravitating toward that nonchalant, sinisterly cool look that mixed a Laura Ingalls Wilder stoicism with a hip-hop approach to sweatshirts — accentuated by middle-parted hair, dewy skin, and not much else. For those who don't recognize it, get ready to see it everywhere in the coming seasons. For those who do, they have Russian stylist Lotta Volkova to thank. Her influence began at Vetements and spread to brands as diverse as Balenciaga, Sies Marjan, and Mulberry, and she's always managed to make the case that any brand is going to look a little cooler with her particular brand of mumsy-meets-modern. Our verdict? We're into it.
Waiting For Raf...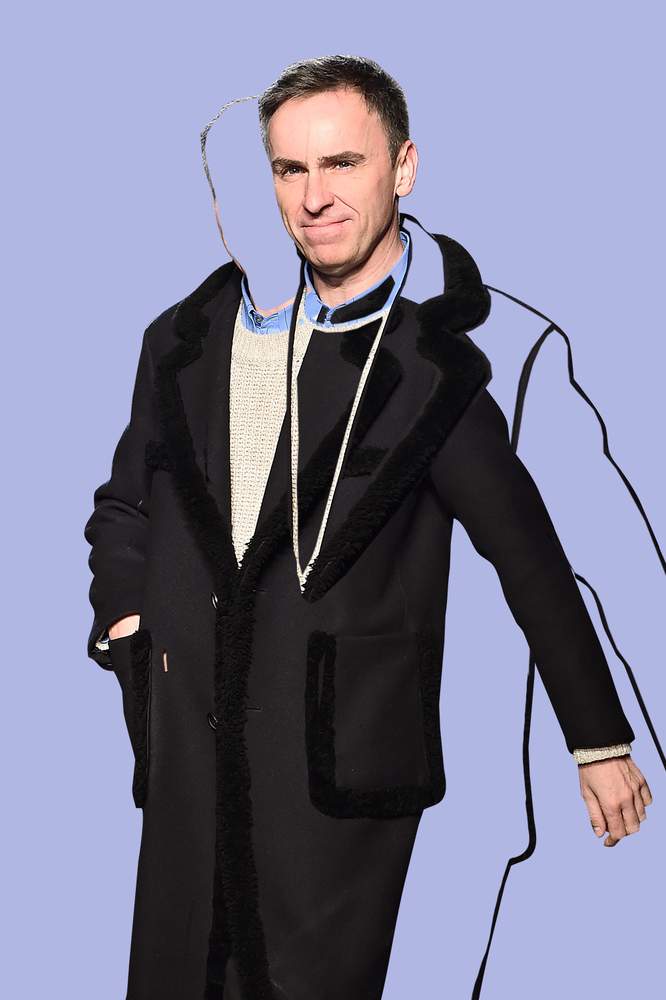 It wasn't just us feeling a bit of a void during this past NYFW: It was the blank spot on the fashion calendar, notifying us that Calvin Klein would not be showing this season. Not for any suspicious reason, but instead to decisively clear the decks for the preparation of Raf Simons' impending arrival. This skip-over seemed smart. We've had to feign appreciation a few too many times over what WWD's Bridget Foley has referred to as "the placeholder collections" — runway shows meant to bridge a brand between a departed designer and the one who hasn't yet arrived. But this wasn't the case. After many (many) months of industry-wide speculation, Raf was on board — and so were we. We know we're not the only ones who have deep respect for this particular visionary. Yes, it was his defining work at Jil Sander, and then a killer two years at Dior that squarely pegged Simons a big house player. Yet, it's a poignant scene in Dior and I, a film that documents his first collection at the House of Dior, where he becomes visibly emotional, tears even, thanking his extraordinary team of couturiers — the people cutting, sewing, counting beads, draping, and doing it all over again and again and again to get each piece perfect. That Raf will be debuting his first collection as executive creative director of Calvin Klein next February, here in New York. The skies will be gray; the industry will still be spinning in flux, but a new day will be dawning here in New York and in American fashion...and we simply cannot wait.