In the current exhibit,
Royalists to Romantics: Women Artists from the Louvre, Versailles and Other French National Collections
, at the
National Museum of Women in the Arts
, the curators aims to shed a little light on some old-school women's issues. The museum is showcasing the influential works of 35 female artists who worked amid the social and political upheaval of 18th-century France, in spite of not being allowed to study art, display their work publicly, or receive much recognition for their contributions.
To bring a bit of our Enlightenment-era foremothers to life,
haute couture designer and fashion historian Celia Reyer
is working on-site through a live residency. What does that mean, exactly? Over the next few weeks,
Celia will create a historically-accurate couture piece inspired by the portraits on display
, using only period-appropriate techniques and materials. In that era (and this one), a lady's ensemble communicated carefully coded messages of wealth, status, and politics, so take note as Reyer gives a rare and fascinating glimpse into fashion history, design, and culture. We're giving you a sneak peek at the exhibit, but admit it: This is a pretty good reason to take a long lunch, right?
When: Celia Reyer residency: Sundays, starting March 18 through April 8, from 12 to 5 p.m. Exhibition runs through July 29.
Where: National Museum of Women in the Arts, 1250 New York Avenue NW; 202-783-5000.
How gorgeous is this gown? Those tiers are simply sublime. Reyer finished this look on the bodice with a prototype of a traditional Brunswick hooded coat.
Photo: Courtesy of Celia Reyer/Igor Djeri
The designer adjusts draping and makes final patterning changes to a second prototype.
Photo: Courtesy of Celia Reyer/Igor Djeri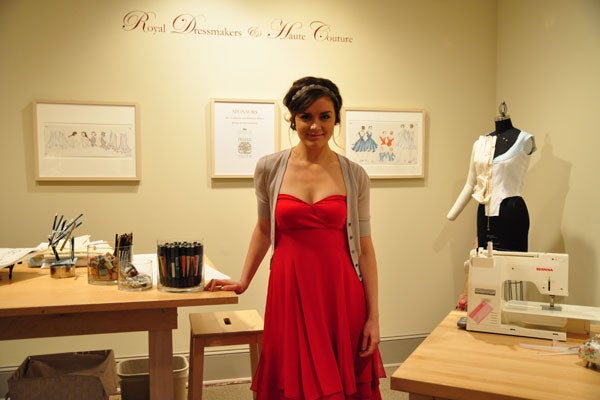 Designer Celia Reyer in the finished gallery space inside the Museum of Women in the Arts.
Photo: Courtesy of Celia Reyer/Igor Djeri