Is Elle Macpherson's Secret To Smooth Skin The Most Painful Yet?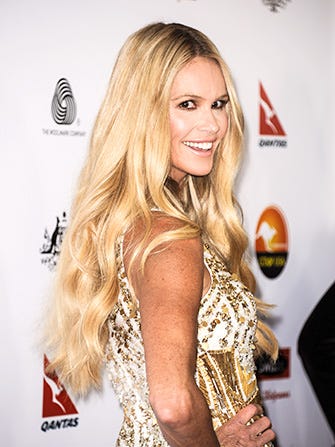 Photo: Rob Latour/REX USA.
If beauty is pain, it's no wonder Elle Macpherson is still seriously gorgeous at age 50: The Telegraph reports that the supermodel has released a new line of beauty gadgets, including a hot-wax epilator. Yes, you read that right.
For those unfamiliar with epilators, the pocket-sized device essentially pulls out hair from the root through a motorized mechanism. It's not exactly the most pleasant process — as
we found out for ourselves last summer
— but the pain (supposedly) dissipates with continued use. We honestly don't know firsthand because we've never been able to get past the first, torturous use.
What's got us really grimacing is the addition of hot wax to this already-uncomfortable procedure. "I'm a big fan of waxing as it removes hair from the root so the results last for longer," Macpherson told The Telegraph. "My new hot wax epilator is perfect for achieving salon smooth legs at home. It's even effective on really short hairs and the aloe vera-infused wax means it's ideal for all skin types." Riiight.
We're not doubting the efficacy of the device (after all, this is coming from a woman nicknamed "The Body"), but we must admit that this sounds like something that might be better suited for use under the strict supervision of a salon professional. So many things could go wrong with this dastardly duo. Of course, this all raises the question: What lengths would
you
go to for silky-smooth stems? Let us know in the comments below. (
The Telegraph
)
Elle Macpherson Homedics - Hot Wax Epilator