Collect All 30 Spring Wardrobe Essentials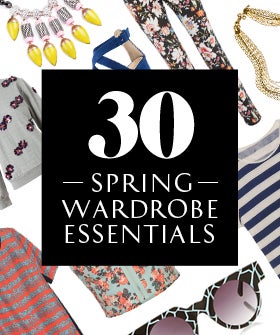 View Fullscreen
The dawn of any new season brings with it the hope of newness in every way imaginable. But, really, springtime trumps them all. Peeling off the layers and packing up those heavy black booties isn't just a rite of passage for your closet, it's a rebirth for YOU.
Spring is about possibilities, hope springing eternal, hot pink, cool prints, and putting yourself out there
. Not just dialing it in but dialing it up!
So, take a tip from your friends at R29 and make this spring season count. Be ruthless when cleansing that closet in preparation for sourcing only
the very best essentials you'll need to have your very own revival
— from statement sunglasses and floral trousers to tunic dresses and denim motos, it's all right here. So, get ready ladies…this spring could be the ONE.