Throw A Super Bowl Soirée In No Time, On A Dime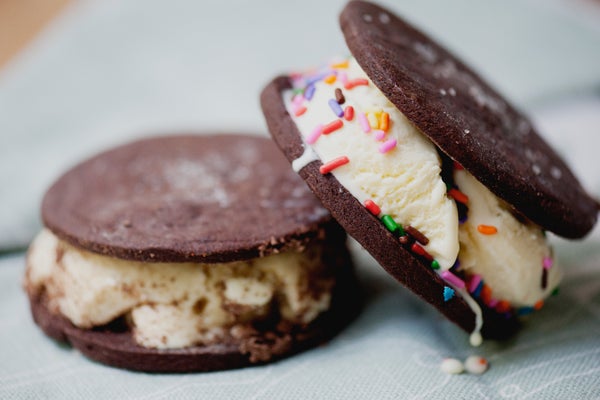 Homemade Ice Cream Sandwiches
These are the ultimate plan-ahead dessert. Bake some cookies, stick a little ice cream between them, and leave them in the freezer until you want to eat them. Add toppings for texture and an extra pop of flavor, and you've got an upscale version of a crowd-pleasing favorite.

Dark Chocolate Cookie Ingredients for 12 sandwiches:
8 oz butter, room temp
1/2 cup powdered sugar
1/4 cup brown sugar, packed
2 cups flour
1/2 cup cocoa powder
1/2 tsp salt
2 tsp vanilla
1/2 cup grated or finely chopped bittersweet chocolate

Ice Cream Sandwich Ingredients:
1 quart of your favorite flavor ice cream
Toppings of your choice

Directions:
Preheat oven to 350F. With a mixer, blend together the butter and sugars until pale and fluffy. Sift together the dry ingredients, and put your mixer on a low speed.  Add the vanilla and chocolate, and blend until the dough becomes a rich, dark brown. On a floured surface, roll out the dough to a 1/4 inch thickness, and using a cookie cutter, cut out individual cookies. Place on a baking sheet covered in parchment paper, then top with sugar crystals if you like.  Bake for 15 minutes and cool completely on a rack.

You can make the ice cream sandwiches ahead and freeze them, or make them to order. Just pick your favorite flavor, scoop out about a 1/2 cup, and press onto the cookie (softened ice cream works best). Top that half with another cookie, and roll the sides in your favorite topping (nuts, sprinkles, chocolate, whatever!).

Photographed by Claire Thomas.
---