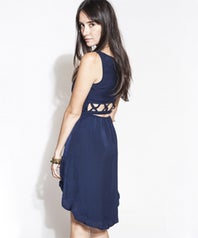 We can't help it: As soon as the mercury starts creeping up, we scramble to change into our summer go-tos. Maybe it's our Chucks, our favorite striped tee, or those cutoffs that are destroyed just so...problem is, those pieces are so comfy and so easy, we don't want to change out. And that, ladies and gentlemen, is how summer go-tos transform into a summer style rut.

So, before you get all the way to August and realize you've been wearing the same outfit since Easter, allow us to present some alternative warm-weather looks — the following 10 adorable dresses from Rad + Refined.

From flutter-hem, floral tea dresses to sexy, asymmetrical night-out numbers, there are dresses here for every mood. Better yet? They're just as easy to wear as those Levi's, which we're guessing could use a wash right about now.