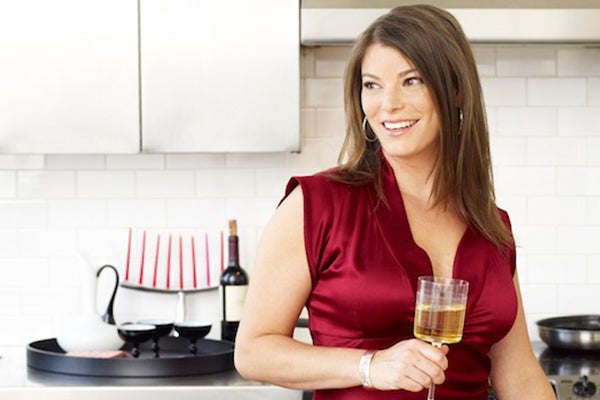 Photo: Courtesy of The New Potato.
On a quest for the next big thing in the food industry, sisters Danielle and Laura Kosann have begun the journey with The New Potato. Profiling chefs, restauranteurs, and celebrities alike with cuisine questionnaires, the world of dining has reached a whole new level of delish.
We all know and love Gail Simmons, host of hit television series
Top Chef: Just Desserts
, and regular judge on Bravo's original series,
Top Chef
. Simmons manages to both write and talk about food in a way that makes everyone hungry – and we've fallen in love with her presence on and off the screen. She is indisputably the expert on everything food. In fact, we found it hard to write this Q and A without pausing to visit all of the food spots she mentions below. With her new book
Talking With My Mouth Full
coming out in just a week, Ms. Simmons still managed to find time to let
The New Potato
in on her new favorite food spots, her go-to place for dessert and how to make her chicken and barley stew recipe…
Your new favorite spot…
"This minute? Wong and Selinas."
The best place for dessert…
"
The Big Gay Ice Cream Shop
on 7th Street between 1st & Ave A or ABC Kitchen."
RELATED: A Chat With Top Chef's Cat Cora
What's the drink you just discovered?
"The Siam Sour at
Maenam
in Vancouver: Vodka, roasted coconut water, lime, soda, ginger and bird's eye chilies."
What's the restaurant you just discovered?
"
Hangawi
in Koreatown."
What's your new favorite brunch spot?
"
Saxon & Parole
."
Your go-to recipe for eating in?
"My mother-in-law's chicken and barley stew with lots of veggies, herbs, lemon and parmesan (see
Food & Wine's
March 2012 issue for the
recipe
)."
The recipe that just became good again…
"Kasha & Bowties (with Mushroom-Onion Gravy)."
The recipe you just discovered…
"Farro with Roast Chicken, Butternut Squash and Fresh Oregano from Mindy's Fox's
A Bird in the Oven and Then Some
cookbook."
What's a new, New York food area you've just become obsessed with?
"Boreum Hill/Cobble Hill/Carrol Gardens."
A food trend that's starting to grow on you...
"Slightly savory, salty desserts."
RELATED: Karlie Kloss' Almond Milk Hot Chocolate Recipe

What's the new perfect spot for when you want to order takeout?
"Not necessarily new but always delicious:
Dirty Bird
."
Where have you recently decided you'd love to travel for food?
"Argentina."
The classic dish that will always be "new" to you…
"A chunky, chewy chocolate chip cookie."
The restaurant that never goes out of style…
"
Balthazar
or
Annisa
."
What's not present in New York food yet, that should be?
"Great quality, authentic and affordable Greek and Thai food (in Manhattan!)"
And most importantly…How do you feel about new potatoes?
"Pretty darn good. Especially when slightly smashed and roasted to crispy with olive oil and salt."