How To Wear Black In The Summer Without Depressing Everyone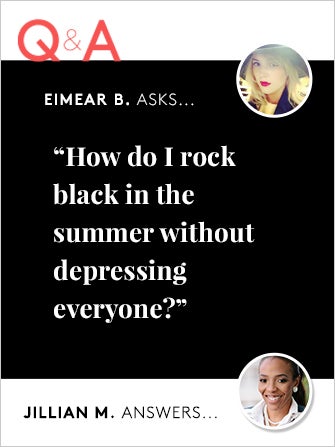 Summer is in full effect and for most of us that means whipping out the most blinding colors and loudest prints. But there are the select few who like to wear black all year round. Come 90% humidity or 100+ temps, I have a friend who refuses to change out of her dark-colored garb. And Elmear B. from London is one of them: "How do I rock black in the summer without depressing everyone?"
So, for those of you who refuse to be peer-pressured into giving up your black attire, here are a few tips on how to keep the dark color still in tune with summer fare, ahead.
Keep your black down low — Limiting your black to your bottoms as a pair of shorts or a skirt will keep you comfortable in your black realm but leaving your gams free to soak up some vitamin D. The black won't look so stifling when reserved to a pair of short shorts like this one from Asos.
Go see-through — Wear your black in lightweight, sheer materials like this crochet dress. Fabric that looks breathable instantly translates to summer, regardless of the darker hue.
Show some skin — If you're hell-bent on wearing black from head to toe, you can do just that with some strategic cutouts. Though black, this backless jumpsuit with the deep V makes it summertime appropriate for a chic rooftop fete. Besides, anyone depressed by your outfit will just have to deal.
Like this post? There's more. Get tons of news, tips, and street pics on My Stylist now!
How To Wear Black - Summer Style