Are You Flying The Wrong Airline?
comments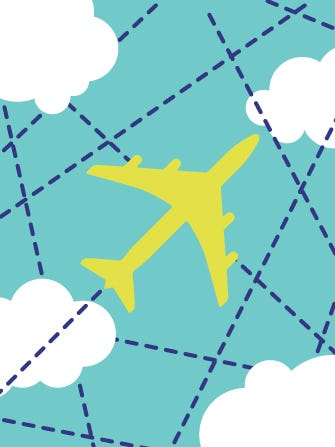 Illustrated by Elliot Salazar.
We all know frequent flyer programs can offer serious rewards — but
ever-changing policies
may make it difficult to choose the right one for you.
Fortunately,
a study from MileCards.com
surveyed 1,600 frequent flyers to tell us which programs are friendliest, easiest to navigate and will take you the furthest.
Which one came out on top?
One contender is United Airlines: About 41% of its frequent flyers nearly always buy United, and 55% would recommend the program to a friend.
Unfortunately, US Airways didn't fare as well: 17% of its flyers claimed it was "impossible" to redeem an award. And, of all airlines surveyed, US Airways left its customers least likely to recommend the program to a friend, and least satisfied overall.
Southwest Airlines may just be the winner. According to the survey, these flyers have the highest satisfaction level overall: 64% reported it was easy to redeem their award miles, and 62% would recommend the program.
A few more considerations when choosing a frequent flyer program: Do you live by an airline's hub airport (say, Atlanta for Delta Airlines, or Dallas/Fort Worth for American Airlines)? If you've already racked up miles with one airline, it may make the most sense to continue building up your miles account with them.
RELATED: Can A Travel Agent Actually Save You Money?
And, whether it's non-stop flights, easy first class upgrades or boosting your status to platinum, choose an airline according to your specific interests, even if it wasn't the highest ranking.
RELATED: Are Frequent Flier Miles Actually Geared Toward The Rich?
But, no matter what you're looking for, do your research. Saving up miles with the best program for you could not only lead to memorable vacations, but could also save you some serious cash.
Not a frequent flier but still want to save on travel? Check out the
best time to buy plane tickets
and how to
beat airline fees
.
NEXT: Save Money On Airfare In August
Sure, we'd all like to be earning more. But, even if that bonus check is nothing but a dream, LearnVest is here to help you make the most of what you've got — read their stories, use their tools, and talk to a pro planner about getting a financial plan custom-designed for you.