7 So-Awesome Work Outfits From D.C.'s Chicest Gallery Girls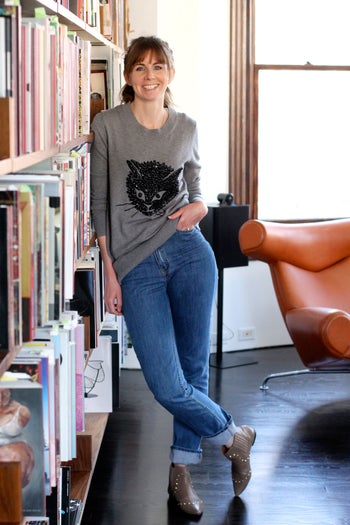 Marissa Payne, Geoffrey Diner Gallery

How did you land this job?
"Very randomly. I was working as a freelance writer and wanted to pick up a more steady side income, so I decided to go for a part-time job and answered an ad. I got the job because my personality clicked with the owners and I speak Russian, which was attractive to them, as we have a pretty international client base."

What's your favorite part of working in an art gallery? What would people be surprised to know?
"I suppose the most obvious answer is the art. It's a pretty big thrill to be able to get within a nose-length of paintings by artists like Nicolas de Stael and Andy Warhol and not have someone yell at you, like when you're at a museum. It's also pretty great that our office chairs are original Eames. My butt's been spoiled...As for surprises, I guess it's that most of our time isn't spent drinking champagne and staring at the art, but corresponding with clients or auction houses, arranging shipments (we maintain art warehouses in both D.C. and New York), and doing a lot of research. There's a lot more analytics that go into art dealing than one might think."

How do you dress for a job in a creative environment? Are there any guidelines you use?
"The biggest plus about working in a creative environment is that you can pretty much wear whatever you want. My basic goal is to not look like a schlub next to all the great art, so I try to dress fashionably, but not so overtly trendy that it looks like I'm trying to compete with the art. Clearly, an original George Nakashima table will always be greater than whatever I'm wearing to work. Plus, if I'm around a client, my goal is to get them to comment on the art, not my outfit."

French Connection sweater, BLK DNM jeans, Schutz boots.
---