Relish
Runways watchers will be pleased to find the most design-centric brands in D.C. at this…
Zelaya Shoes
Shoes more than make the woman, and with theses unique finds, ladies will score big.
Bluemercury
Want to feel like an ultimate beauty obsessed kid in a candy store? Head here.
Treat
Catch designer goods on the cheap, sourced from stores and showrooms around the country…
Tabletop
All sorts of gorgeous homemaking items stock this outpost, from well-designed gifts to…
Lucketts Store
Old Lucketts unites the words and vibes of "farmhouse" and "chic," allowing customers…
Violet
The adorable (and reasonably priced) cocktail dresses and jewelry means this boutique…
Trohv
This store is practically bursting with inspired items that are easy on the eyes and have…
Tari
When D.C.'s most elite clean out their closets, Tari might be the first stop they make…
Treasury
An inspired selection means the store isn't overflowing, but is rife with pieces that…
Sassanova
Well-heeled D.C. women know where to scoop up shoes for work and play.
Rue 14
Hip young things will be right at home at the bright, cheerful Rue 14.
Rock It Again
Great men's and women's basics for those with a passion for superior thrift…
Proper Topper
Proper Topper caters to stylish D.C. moms and their adorably bedecked children.
Pretty People Vintage
This mecca for the new and old is packed with quality, handpicked pieces that are sure…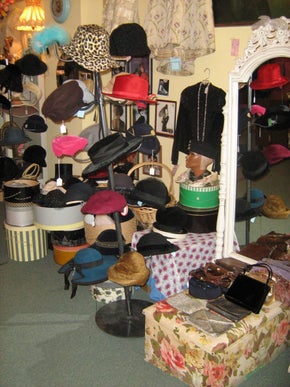 PollySue's Vintage Shop
For a true thrifting connoisseur, a trip to PollySue's will yield classic vintage at…
Muleh
It's not an easy feat to do both furniture and fashion well, but the proprietors at…
Mint Condition
Swing by this adorably bedecked row-house for gently used upscale duds.
Lou Lou
This jam-packed accessories store has every type of ring, bracelet, earring, bag, knitted…
Julia Farr
Well-heeled gals looking for the next smart ensemble will feel right at home in this posh…
It's Vintage Darling
With each piece hand-picked by the owner, expect a small, but quality selection that rotates…
Hu's Shoes and Hu's Wear
Editorial-ready brands like Brian Atwood and Mother Denim are perfect for those who are…
Hill's Kitchen
Welcome to a fully stocked foodie central, where all your most specific cooking needs…
GoodWood
Imagine searching through a grandparent's most prized possessions, and you'll begin…
Ginger
Work attire, weekend-wear, and inspired baubles are all presented in a lovely, laidback…
Forecast
Forecast's home décor—from fragrances to bespoke chocolate—means glorious gifts…
Dalton Pratt
This is where Blair Waldorf would go to shop if she were in the Capitol City and looking…
Bellacara
This outpost is your safest bet for all your new beauty needs in Old Town.
Annie Creamcheese
This Georgetown gem has plenty of retro-fab finds for anyone who digs bright colors and…