Warm
Nolita boutique, Warm has all the laid-back chic looks a Cali girl would need, downtown…
Dagny & Barstow
Dagny & Barstow is a great place to get that eclectic downtown mix.
Reformation
A cool girl (and guy) one-stop shop for downtown duds.
Opening Ceremony
Fans of the OC in-house line make many-a pilgrimage to the SoHo flagship.
Rag & Bone
Rag & Bone's everyday scores and special occasion gowns are a regular stop on our retail…
Maryam Nassir Zadeh
Expect to discover a plethora of downtown-ready indie designers lining the racks.
John Derian
Go ahead and immerse yourself in John Derian's treasure trove of decor and other curiosities…
Sandro
Carine Roitfeld enthusiasts can brush up on their Parisian chic at this gorgeous French…
Bird
Though Grand Street has lots of great shopping, Bird isn't just a standout; it's a…
OAK
OAK is basically New York-ese for "up-and-coming", must-see design…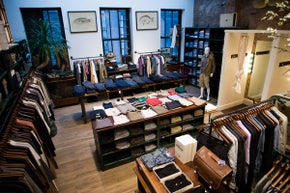 Steven Alan
Steven Alan is pretty much a NYC fashion institution, crafting and selling cool American…
Barneys
This sprawling department store isn't just a one-stop sartorial destination—it's…
In God We Trust
In God We Trust is a multi-boutique, mini-empire catering to in-the-know locals and loyalists…
Isabel Marant
This Parisian export brings the best of the Left Bank to the downtown crowd
10 Ft. Single
The name of this sprawling vintage haven has been known to change, but whatever you call…
Mafalda
Attentive service and an easy-to-peruse layout make this a top Brooklyn spot to score…
Alexander Wang
The downtown mainstay has come into his own with this soaring but lush boutique, featuring…
Space NK
This is truly the ultimate place to discover the most innovative and effective new skincare…
Castor & Pollux
This hyper-curated women's boutique plays host to an impeccable selection of stunning…
Onassis
Onassis is a no-brainer one-stop for the guy who hates to shop.
Epaulet
Button-downs don't necessarily have to be all buttoned up, and Epaulet proves it…
Future Perfect
Design aficionados will be overwhelmed inside the store that helped define the high aesthetic…
Stuart & Wright
This vintage-modern boutique offers major scores for both men and women, all with a wearable…
Freemans Sporting Club
Very few places could pull off having an incredible restaurant, an incredible barbershop…
Surface To Air
This French import is flush with modernized basics that instantly upgrade a wardrobe.
What Goes Around Comes Around
WGACA is fully stocked with jaw-dropping finds from Chanel, Balenciaga, and plenty of…
Odin
The stock at Odin will get any well-heeled gent excited; Cufflink junkies take note.
Alter
Both men and women do equally well in these two stores that exist across the street from…
Thistle & Clover
Thistle & Clover is a perfect representation of the Brooklyn 'hood where it resides…
Pixie Market
The only thing that bests the haven of Pixie Market's online shop is the actual brick-and-mortar…
Love, Adorned
Love, Adorned is a crowd pleaser for gorgeous accessories made for those who operate outside…