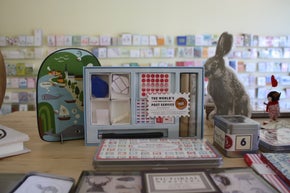 Paper Doll
Paper Doll's papergoods keep you and your giftees well wrapped.
Chalk
Anyone who thinks high fashion exists only within the city limits will be pleasantly surprised…
Sofia
Sofia's highly curated offerings always allow customers to get a feel for what's on trend…
Sir & Madame
Sir & Madame comes fully stocked with everyday items like wool cloaks, knee-high socks…
Lush
A truly knowledgeable staff will help any customer learn more about some of the finest…
Bonnie And Clyde's
For those willing to venture into the world of dark asymmetry, high fashion, and cutting-edge…
The Edit
Lots of silk, knits, and great sales make this an easy go-to for general seasonal stocking…
Shrine Haberdashers
What to get the dude that has everything? Shrine knows, because this fully stocked man…
Seek Vintage
A sublime vintage store that'll send you on a trip to the past, Seek Vintage is worth…
Sarca
If you're looking to make a serious style purchase from exclusive brands, Sarca is the…
Roslyn
Roslyn is must-shop for our local street style stars, as well as out-of-town lasses looking…
Robin Richman
Gorgeous pieces for ladies looking to venture outside the norm, RR is a mainstay for the…
Wolfbait & B-Girls
Wolfbait reaches out to the community to source their wares, which include Chicago-oriented…
p.45
A perfect spot for cool gals who want to look more refined than trendy.
Mulberry and Me
Office-friendly and post-work attire is well-stocked, but there's lots of weekend-ready…
Morlen Sinoway Atelier
Housing international design stars like Artifort and Foscarini, MSA was designed for the…
Lori's
Statement wedges, pumps, clogs, and boots come from some seriously sought-after brands…
Post 27
Post 27 a design addict's dream, and nothing beats dropping into this store to check…
Penelope's
This slightly edgy, gorgeously designed store carries everything a well-assembled Chicagoan…
Sprout Home
Intensive garden systems to simple home décor…
Lissa
Find streamlined garments from top designers.
Labrabbit Optics
Hand-selected designer and vintage frames.
Knee-Deep Vintage
As authentic as DIY thrifting gets.
Fix
A haven for stellar brands like A.P.C. and Rag & Bone.
Eskell
A perfectly concocted boutique with an in-house brand.
eDrop Off
Luxury-laden consignment store/eBay find.
Dovetail
Dovetail refines its vintage vision by specializing in mid-century must-haves.
Cynthia Rowley
Fun frocks, brightly colored silks and prints, and feminine off-the-runway styles.
Akira
Plenty of on-trend items and easy-to-wear brands, plus a flirty in-house brand.