Warm
Nolita boutique, Warm has all the laid-back chic looks a Cali girl would need, downtown…
Dagny & Barstow
Dagny & Barstow is a great place to get that eclectic downtown mix.
Sui Generis
A consignment store, stocked with highly covetable brands, geared toward men.
Relish
Runways watchers will be pleased to find the most design-centric brands in D.C. at this…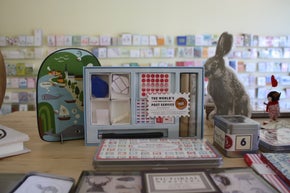 Paper Doll
Paper Doll's papergoods keep you and your giftees well wrapped.
Alchemist
This gorgeous interior is almost as aesthetically pleasing as the runway-leaning clothing…
Opening Ceremony
An L.A. institution, Opening Ceremony will take you from L.A. to NYC, Paris, and back…
Acrimony
Acrimony made waves in S.F. fashion when it brought in-the-know labels to the city.
Unionmade
A mecca for the discerning man with a hankering for heritage-inspired Americana style…
Satine
This indie-minded boutique proves that 3rd Street is first in our hearts.
Reformation
A cool girl (and guy) one-stop shop for downtown duds.
Gravel & Gold
This light-soaked Mission gem is all about celebrating the indie crafters that hawk stuff…
Mira Mira
Mira Mira packs a big punch in a small space.
Pure Therapy
This luxurious boutique is meant to cater to Magic City's every sumptuous wish.
Opening Ceremony
Fans of the OC in-house line make many-a pilgrimage to the SoHo flagship.
Chalk
Anyone who thinks high fashion exists only within the city limits will be pleasantly surprised…
Zelaya Shoes
Shoes more than make the woman, and with theses unique finds, ladies will score big.
Vigi
Animal print and florals can coexist peacefully, and Vigi proves it.
Rag & Bone
Rag & Bone's everyday scores and special occasion gowns are a regular stop on our retail…
Maryam Nassir Zadeh
Expect to discover a plethora of downtown-ready indie designers lining the racks.
John Derian
Go ahead and immerse yourself in John Derian's treasure trove of decor and other curiosities…
Sandro
Carine Roitfeld enthusiasts can brush up on their Parisian chic at this gorgeous French…
GEE
This Canadian original sets the standard for skincare and beauty in Miami.
Guy & Girl
This space is quite snug, but filled with an impressive mix of labels.
Bluemercury
Want to feel like an ultimate beauty obsessed kid in a candy store? Head here.
Treat
Catch designer goods on the cheap, sourced from stores and showrooms around the country…
Sofia
Sofia's highly curated offerings always allow customers to get a feel for what's on trend…
Bird
Though Grand Street has lots of great shopping, Bird isn't just a standout; it's a…
The Brooklyn Circus
This "circus" isn't a big top soiree as much as it is an edited selection of men…
Painted Bird
Find absurdly well-picked vintage and modern consignment.
Cris Consignment
Think major vintage labels in good condition or higher-end brands that have been gently…
BellJar
Antlers and skeletons mingle among handmade soaps and ultra-girlie wares.
M.A.C.
Loads of the dreamiest high-end labels, but none of the snobbishness that usually accompanies…
Wasteland
With some seriously vintage-savvy scores in back, plus to-die-for brands up front.
Welcome Stranger
With rugged décor, this Gough Street locale is for the guy who enjoys a quality garment…
Voyager
A concept space that houses an art gallery, jewelry shop, housewares selection, and clothing…
MAAS & Stacks
A straightforward shop for a no-frills type of guy.
Metier
With 20 years under its belt, Metier provides well-hewn basics and incredibly fierce splurges…
Marmalade
This darling Cow Hollow gals' haven prides itself on being as inviting as possible…
Seedstore
Both men and women get equal attention with a solid helping of youthful basics and brands…
Revolver
Inspired by tiny Japanese shops, this jewel in the lower Haight could be our fave boutique…
Reliquary
Lose yourself in heaps of vintage, under-the-radar designers, and truly unique accessories…
Prairie Collective
Handpick goods to complement the gorgeous flora.
General Store
Outer Sunset hosts waves, good eats, and one of our favorite shops in the entire city…
Erica Tanov
This sophisticated designer proves that it's possible to exist as a fashion force outside…
Chloe Rose
Youthful brands are nestled alongside with a jam-packed sale rack, make this a Union Street…
Dish
Dish provides unique but foundation-building clothing that'll live in your closet forever…
Eden & Eden
Immaculately displayed finery meets playful curiosities at this downtown boutique.
Crossroads Trading Co.
Though there are locations scattered around The Bay, we have to say our favorite resides…
Conifer
We sure do love to flip out over darling florals, flouncy skirts, bright colors, and everything…
Candystore Collective
A go-to for unique gifts with a local bent.
ACRE/SF
ACRE/SF features a same sharply edited selection of affordable goods.
Creatures Of Comfort
An indie store is renowned for carrying the coolest hard-to-find labels on both sides…
TenOverSix
Chances are, if she's put-together and picture-worthy, she shops at TenOverSix.
Kelly Wearstler
Fans of this visual genius will be in major lust with the interior designer's namesake…
Shareen Vintage
This veritable warehouse of incredible vintage picks is one of the few stores we can seriously…
Roseark
The exquisite jewelry here is heritage-worthy, proving anyone'll want to "put a ring on…
Feal Mor
Feal Mor keeps well-stocked in surfer/biker-ready styles and everyday essentials.
THVM
Angeleno brand THVM stocks plenty of up-and-coming names.
Resurrection
A vintage mecca that contains more collector items than assorted fun finds.
Post 26
Post 26 is a great Brentwood outpost caters to both the high-end and vintage-loving crowd…
Planet Blue
Cali girls love to shop at Planet Blue for their summer festival needs.
Mona Moore
Shoe lovers, prepare to gasp, sigh, and get weepy at Mona Moore.
Milk
Angelenos with a taste for something out of the ordinary would be hard-pressed not to…
Mohawk General Store
Even the most anti cool-kid shopper will find a serious score at this Silverlake gem.
Hillary Rush
Hillary Rush is one of the spots that gets trend-watching so right.
Intermix
Intermix is one of those shops where local girls know they can check pretty much everything…
Madison
Sophisticated shoppers will find plenty of reason to dig deep into their wallets at this…
Maxfield
Prepare to peruse with the celebs while coveting the season's freshest finds.
Heist
Heist is teeming with the hottest up-and-comers from across the pond.
Fred Segal
This villa-like boutique is a landmark of the L.A. scene and a pioneer for cool new labels…
Feature
The airy, upbeat space is the perfect setting for indulging a post-work shopping binge…
Elyse Walker
Elyse Walker proves you don't have to venture to Beverly Hills for incredible designer…
Arcade
Be enticed by the amazing zebra-print furniture, but stick around for distinctive finds…
Curve
This sleek boutique brings a bit of edge to the Robertson Boulevard area.
Beckley
Cocktail party musts make Beckley a go-to for any rising fashion star.
The Way We Wore
This La Brea go-to has it all, with garments arranged pleasingly by decade.
Decades
A two-level haven of vintage and gently loved modern designer goods.
American Rag
Easy, breezy, and full of your new favorite jeans, American Rag is a Los Angeles retail…
Kili Watch
Kili Watch's Design District location and cutting-edge separates mixes art and fashion…
STND/OHWOW
Imagine the coolest book club you can think of, run by some of Miami's most respected…
I On The District
To help you get the right pair of specs, this spot literally has its eye on the Design…
Curve
The Curve empire expands appropriately on Collins Avenue.
Oxygene Boutique
Moms, and their adorable kids, need high fashion, too!
Fly Boutique
You'll have to dig at Fly, but once you do, you'll be thrilled with what you'll…
The Webster
Well designed and mind-bendingly curated —and with some of the most exclusive collections…
The Closet Boutique
A boudoir-like interior — complete with a lush red rug — makes this deal shopping…
Scarlett Boutique
Rebel
Mini-dresses, pantsuits, and upper echelon shoes for the discriminating customer.
Posh Vintage
This by-appointment shop has literally mind-blowing collectibles in perfect condition…
Barneys CO-OP
Because nothing is more South Beach-ready than Barneys' high-fashion wares.
Joanna Paige
Well-pedicured ladies rejoice, because your Shangri-la has been found.
Jessie Boutique
DThose with a penchant for of-the-moment pieces would do themselves right by swinging…
Hip-E Boutique
A clean but cute space will most definitely get you in the mood for some retail therapy…
Habit
For an affordable selection of basics and an easy-to-navigate experience, make this address…
Boutique Ella
Boutique Ella caters to those who die for the youthful and the eternally bright.
Aurum Collections
A Miami gallery that focuses on small-batch or one-of-a-kind jewelry and statement pieces…
Acqua Fashion Group
An easy-breezy boutique with an approachable attitude, Acqua Fashion prides itself on…
Miss Pepper
This ultra-girly Coral Gables boutique has all of the fixins you'll need for putting…
Miami Twice
This vintage shop can host some pretty fantastic steals, from costume jewelry to '80s…
Isa-Beles Boutique
Isa-beles is a go-to for any Miami gal who's looking to revamp her style…
Lady Lux Boutique
A must-stop spot for ladies on-the-go looking for an easy post-work outfit or some bright…
Base
Base doesn't specialize in any one thing, except being a spot for savvy audiophiles…
Sir & Madame
Sir & Madame comes fully stocked with everyday items like wool cloaks, knee-high socks…
Lush
A truly knowledgeable staff will help any customer learn more about some of the finest…
Bonnie And Clyde's
For those willing to venture into the world of dark asymmetry, high fashion, and cutting-edge…
The Edit
Lots of silk, knits, and great sales make this an easy go-to for general seasonal stocking…
Shrine Haberdashers
What to get the dude that has everything? Shrine knows, because this fully stocked man…
Seek Vintage
A sublime vintage store that'll send you on a trip to the past, Seek Vintage is worth…
Sarca
If you're looking to make a serious style purchase from exclusive brands, Sarca is the…
Roslyn
Roslyn is must-shop for our local street style stars, as well as out-of-town lasses looking…
Robin Richman
Gorgeous pieces for ladies looking to venture outside the norm, RR is a mainstay for the…
Wolfbait & B-Girls
Wolfbait reaches out to the community to source their wares, which include Chicago-oriented…
p.45
A perfect spot for cool gals who want to look more refined than trendy.
Mulberry and Me
Office-friendly and post-work attire is well-stocked, but there's lots of weekend-ready…
Morlen Sinoway Atelier
Housing international design stars like Artifort and Foscarini, MSA was designed for the…
Lori's
Statement wedges, pumps, clogs, and boots come from some seriously sought-after brands…
Post 27
Post 27 a design addict's dream, and nothing beats dropping into this store to check…
Penelope's
This slightly edgy, gorgeously designed store carries everything a well-assembled Chicagoan…
Sprout Home
Intensive garden systems to simple home décor…
Lissa
Find streamlined garments from top designers.
Labrabbit Optics
Hand-selected designer and vintage frames.
Knee-Deep Vintage
As authentic as DIY thrifting gets.
Fix
A haven for stellar brands like A.P.C. and Rag & Bone.
Eskell
A perfectly concocted boutique with an in-house brand.
eDrop Off
Luxury-laden consignment store/eBay find.
Dovetail
Dovetail refines its vintage vision by specializing in mid-century must-haves.
Cynthia Rowley
Fun frocks, brightly colored silks and prints, and feminine off-the-runway styles.
Akira
Plenty of on-trend items and easy-to-wear brands, plus a flirty in-house brand.
Tabletop
All sorts of gorgeous homemaking items stock this outpost, from well-designed gifts to…
Lucketts Store
Old Lucketts unites the words and vibes of "farmhouse" and "chic," allowing customers…
Violet
The adorable (and reasonably priced) cocktail dresses and jewelry means this boutique…
Trohv
This store is practically bursting with inspired items that are easy on the eyes and have…
Tari
When D.C.'s most elite clean out their closets, Tari might be the first stop they make…
Treasury
An inspired selection means the store isn't overflowing, but is rife with pieces that…
Sassanova
Well-heeled D.C. women know where to scoop up shoes for work and play.
Rue 14
Hip young things will be right at home at the bright, cheerful Rue 14.
Rock It Again
Great men's and women's basics for those with a passion for superior thrift…
Proper Topper
Proper Topper caters to stylish D.C. moms and their adorably bedecked children.
Pretty People Vintage
This mecca for the new and old is packed with quality, handpicked pieces that are sure…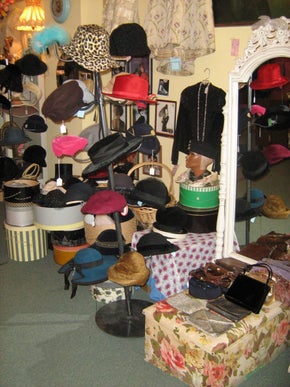 PollySue's Vintage Shop
For a true thrifting connoisseur, a trip to PollySue's will yield classic vintage at…
Muleh
It's not an easy feat to do both furniture and fashion well, but the proprietors at…
Mint Condition
Swing by this adorably bedecked row-house for gently used upscale duds.
Lou Lou
This jam-packed accessories store has every type of ring, bracelet, earring, bag, knitted…
Julia Farr
Well-heeled gals looking for the next smart ensemble will feel right at home in this posh…
It's Vintage Darling
With each piece hand-picked by the owner, expect a small, but quality selection that rotates…
Hu's Shoes and Hu's Wear
Editorial-ready brands like Brian Atwood and Mother Denim are perfect for those who are…
Hill's Kitchen
Welcome to a fully stocked foodie central, where all your most specific cooking needs…
GoodWood
Imagine searching through a grandparent's most prized possessions, and you'll begin…
Ginger
Work attire, weekend-wear, and inspired baubles are all presented in a lovely, laidback…
Forecast
Forecast's home décor—from fragrances to bespoke chocolate—means glorious gifts…
Dalton Pratt
This is where Blair Waldorf would go to shop if she were in the Capitol City and looking…
Bellacara
This outpost is your safest bet for all your new beauty needs in Old Town.
Annie Creamcheese
This Georgetown gem has plenty of retro-fab finds for anyone who digs bright colors and…
OAK
OAK is basically New York-ese for "up-and-coming", must-see design…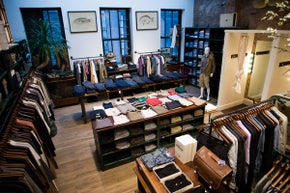 Steven Alan
Steven Alan is pretty much a NYC fashion institution, crafting and selling cool American…
Barneys
This sprawling department store isn't just a one-stop sartorial destination—it's…
In God We Trust
In God We Trust is a multi-boutique, mini-empire catering to in-the-know locals and loyalists…
Isabel Marant
This Parisian export brings the best of the Left Bank to the downtown crowd
10 Ft. Single
The name of this sprawling vintage haven has been known to change, but whatever you call…
Mafalda
Attentive service and an easy-to-peruse layout make this a top Brooklyn spot to score…
Alexander Wang
The downtown mainstay has come into his own with this soaring but lush boutique, featuring…
Space NK
This is truly the ultimate place to discover the most innovative and effective new skincare…
Castor & Pollux
This hyper-curated women's boutique plays host to an impeccable selection of stunning…
Onassis
Onassis is a no-brainer one-stop for the guy who hates to shop.
Epaulet
Button-downs don't necessarily have to be all buttoned up, and Epaulet proves it…
Future Perfect
Design aficionados will be overwhelmed inside the store that helped define the high aesthetic…
Stuart & Wright
This vintage-modern boutique offers major scores for both men and women, all with a wearable…
Freemans Sporting Club
Very few places could pull off having an incredible restaurant, an incredible barbershop…
Surface To Air
This French import is flush with modernized basics that instantly upgrade a wardrobe.
What Goes Around Comes Around
WGACA is fully stocked with jaw-dropping finds from Chanel, Balenciaga, and plenty of…
Odin
The stock at Odin will get any well-heeled gent excited; Cufflink junkies take note.
Alter
Both men and women do equally well in these two stores that exist across the street from…
Thistle & Clover
Thistle & Clover is a perfect representation of the Brooklyn 'hood where it resides…
Pixie Market
The only thing that bests the haven of Pixie Market's online shop is the actual brick-and-mortar…
Love, Adorned
Love, Adorned is a crowd pleaser for gorgeous accessories made for those who operate outside…