INSTAGRAM
Join the party. Tag #R29Festivals and #HMLovesMusic.
TOP ACTS
Hurray For The Riff Raff

Date: July 27


Jenny Lewis

Date: July 25


Mavis Staples

Date: July 27


Conor Oberst

Date: July 27

Fashion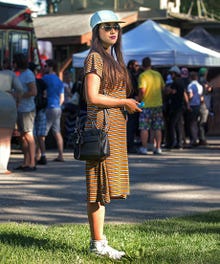 The Oscars red carpet, Soho House's roof deck, Nobu Los Angeles, music festivals; if you're on the prowl to spot a...
Maybe we're all a bit too hung up on the eccentric, urbanized flavor of music fests held in big-time cities, but down...
Beauty
Kim Kimble is Beyoncé's hairstylist, which means she knows her way around a good head of hair. But, Queen Bey doesn't...
Each winter, while we dream of summer, we always forget about one major thing: sweat. Hot, sticky sweat — melting our...
CAN'T MAKE THESE FESTIVALS? NO SWEAT. WE'VE GOT 'EM COVERED.
News
There have been many complaints that Lollapalooza 2014 features the same old acts of years past. Well, we can't argue...
Newport 2014 ain't your granddaddy's folk festival. That's not to say this three-day soiree isn't about roots and...
Travel
Whether you've got a pile of Louis Vuitton luggage or a teeny-tiny carry-on that will no doubt still be poked, prodded,...
We're staunch believers in the to-each-their-own theory of festival dressing. But, whether your Coachella suitcase is...