We all have that friend. She's on a first-name basis with the doorman at every club. She's been to every hot new restaurant and bar before it's even officially opened. And, despite her protests to the contrary, you've never seen her have a bad hair day or a chipped nail.
It turns out that we have 10 of those friends.
We've tapped our favourite London ladies — from fashion designers to actresses to presenters and PR pros — to open up their little black books and share their insider secrets to living fabulously in the Big Smoke
. Nail salons, hairstylists, nightspots, restaurants, gift ideas — they're spilling it all. All you need to do is grab a pen, and prepare to start shaking up your routine, sister.
Read on to get the dirt on which cocktail you simply must order, who offers the best blowout, and more — straight from the gals who really know.
Photos: Courtesy of Sketch, Dalston Superstore, Ottolenghi, Casa Negra.
Poppy Jamie, TV presenter
"I find London to be such an exciting place. There is always something new popping up and always a friend to have coffee with in a cute café! I spend my life in cute cafés with a large skinny latte, my laptop, and a book. Nothing better!"
NAILS:
"I love
Nails Inc
."
HAIR:
"Try
Paul Edmonds
if in Knightsbridge, or
Hershesons
at Selfridges if central. Just £25 for an amazing 30-minute blowout!"
PARTY:
"My friend Nick House's new place,
Rusty Nail
, is my new favourite hangout."
EAT:
"Head to
Little House
or
Electric Diner
."
DRINK:
"
La Bodega Negra
has the best margaritas."
GIFT:
"Buy a personalised diary. Everyone always needs a new one to store those adventures!"
Monet Mazur, actress
"Being a newbie to London, everything is amazingly refreshing to me. There's always something super cool going on, from Shoreditch to Mayfair. I've embraced it all — from pub culture to the rain. (Well, maybe not the rain so much.)"
NAILS:
"I go to
Pink & White Nail Bar
in my 'hood on Essex Road."
HAIR:
"Try
George Northwood
at Four Salon."
PARTY:
"I've got the Babyshambles concert coming up at the
Roundhouse
."
EAT:
"For day, it's
Ottolenghi
on Upper Street; for night,
Les Trois Garçons Shoreditch
."
DRINK:
"
Mr Fogg's
and
The Four Sisters Bar
both make insane custom mixed drinks. Yummy!"
GIFT:
"For a man, buy the
Santa Maria Novella
shave kit. The ultimate gift, though, is an iPod shuffle full of handpicked music."
Mademoiselle Robot, style blogger and consultant
"London is really big and I have lived in many different parts of town. One thing that remains the same is that I enjoy exploring my own neighbourhood, so I try to do as many things as I can locally."
NAILS:
"I get my nails done at home, and I use
Perfect 10 Mobile Beauty
."
HAIR:
"I go to
Taylor Taylor
on Portobello. I get my hair cut there by Jenny, and she is the best!"
PARTY:
"I hit up
Dalston Superstore
for dancing, and I love
Dock Kitchen
for cocktails on a summer evening."
EAT:
"I like
The Electric
(it is my local) for a quinoa salad, or if I am in town, the
Riding House Café
is always a winner."
DRINK:
"The Bloody Mary at The Electric is amazing!"
GIFT:
"A whole-day spa experience is always a good one, otherwise a really amazing, life-changing, tearjerking book."
Chimere Cisse, PR at Unsigned Group
"I won't lie, I do love a new London opening. Bars, restaurants, galleries — there's always something fresh to discover in this city. My list of 'to try' is a mile long. If I wasn't so loyal to all my favourite haunts, I could get through them. As the saying goes, 'When a man is tired of London, he's tired of life.'"
NAILS:
"
MWnails
combines my nostalgia for '70s air travel with my penchant for red nails."
HAIR:
"Girls with curls should have
Fedro James
on speed dial. He's a frizz genius."
PARTY:
"Check out
The Playroom at Casa Negra
, where you can grind to '90s hip-hop and pretend you know the words."
EAT:
"Aside from having an awesome name,
New World
in Chinatown also makes the best dim sum in London. My Sunday regular."
DRINK:
"Order negronis at
Spuntino
or martinis at
Dukes
for something more decadent."
GIFT:
"Dinner for two at the newly refurbished
Marcus Wareing restaurant at The Berkeley
, or something lacy from
Helena Christensen's spring/summer '14 lingerie collection
."
Morwenna Lytton Cobbold, model, photographer, and DJ
"I'm based in Whitechapel and love my local haunts, but it's also fun to explore other parts of the city and have a little adventure."
NAILS:
"I tend to do my own nails, but the
WAH
team are brilliant, when I've worked with them on fashion shows."
HAIR:
"See Steve at
Neville Hair & Beauty
."
PARTY:
"Wherever I'm DJing, haha. I usually spend Saturdays in the Parlour at
Sketch
."
EAT:
"Enjoy high tea at
The Orangery at Kensington Palace
. They have yummy orange-scented scones."
DRINK:
"I've never had anything like the Cereal Killer with Coco Pops milk at
Berners Tavern
."
GIFT:
"Get tickets for the
Imax at the Science Museum
. I'm a closet geek."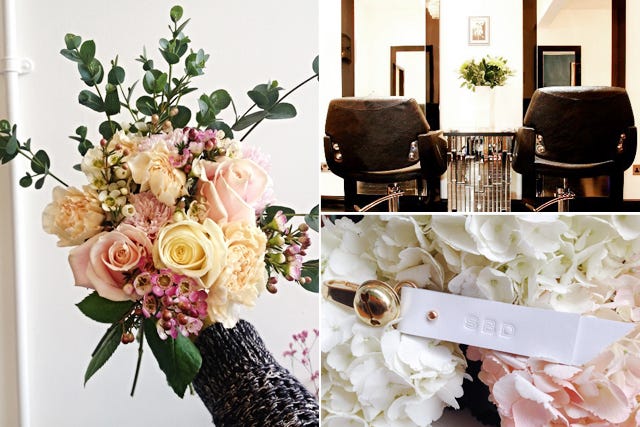 Photos: Courtesy of Petalon, Daniel Mikhael Haute Coiffure Salon, Moxham.
Angela Scanlon, TV presenter
"London still feels new to me. I get lost at least once a day, which keeps things fresh! I've stumbled on some of my favourite ever places here by taking the long, coastal route!"
NAILS:
"My go-to place is actually in Dublin. I'm a DIY kinda gal, but when I want some art, the gang at
Tropical Popical
are the best."
HAIR:
"My mates
Maurice Flynn
and Anthony Usher are amazing and I never go further. If it's face painting,
Justine Jenkins
is my go-to girl. Flawless but always fun!"
PARTY:
"
The King's Head
on Kingsland Road is filled with giant taxidermy, does great roast dinners, and stays open 'til later than should be acceptable. I saw Kelis perform her new album,
Food
, there last week."
EAT:
"
Clutch
in Hoxton has the best fried chicken ever, but their brunch is insanely brilliant: chili scrambled eggs, halloumi, guacamole, roasted tomato, and sourdough toast. Throw in a fresh mimosa (they make the syrup with flowers from the Columbia Road flower market), and I may just stay all day! David Bailey eats here, too. It's a hidden little East London gem."
DRINK:
"I like a Bloody Mary pretty much anywhere. But, for a relaxed, chill-out drink, it's beer at Offord or a glass of red at
Sunday
. Both are neighbourhood haunts that I dearly love!"
GIFT:
"Flowers delivered by bike from
Petalon
are my favourite thing to give and get. If I'm splashing out, then something personalised from
Smythson
. I've got a ridiculous amount of notebooks but love looking back over them. I think it's important to write stuff down and have a physical record. It feels more emotive, and for me, if it's not written down, it's not happening!"
Marina Guergova, designer at MARINA LONDON
"London is about building a little black book for me; it's about finding delicious restaurants, quirky cafes with amazing coffee blends, and falling in love with new areas, such as my new love Bermondsey."
NAILS:
"I tend to always do them myself, but if I feel like pampering or getting some shellac for summer, I go to
Chloe Nail & Spa
."
HAIR:
"At
Josh Wood Atelier
, Ivan is my guy. He's a gorgeous Brazilian and a genius with long hair. I don't cut my hair often at all, but when I do I always go to him."
PARTY:
"I dance everywhere. Festivals, at home,
The Box
in Soho. I dance often and a lot."
EAT:
"I have so many, but
The River Cafe
is delicious for dinner.
Beigel Bake
on Brick Lane does super-cheap, but spectacular smoked-salmon bagels. And, at last there is a great health-food café called
The Good Life Eatery
. It's a bit pricey, but a good start for others to follow."
DRINK:
"Amaretto sour at
Shoreditch House
or
The Edition Hotel
. If I go to
Experimental Cocktail Club
, I'll have a St Germain, because there is nothing quite like it."
GIFT:
"I think the best gift anyone can receive is a ticket to somewhere. Anywhere at all.The gift of travelling is the best, because it's about collecting experiences and photographs to look back on when you get old. That or one of my
MARINA
silk tops — they make wonderful presents for the ladies."
Madeleine Moxham, accessories designer at MOXHAM
"I love that London is a 24-hour city and everything is on your doorstep. Daily, you discover new restaurants, bars, and exhibitions and never have to worry about how you are getting home because you are never that far away. I love London's variety and flexibility which allows you to be spontaneous!"
NAILS:
"If you're in London, surely it has to be
WAH
. Ever since I heard the founder Sharmadean Reid talking on the radio about how she started the business, I have been hooked. A brilliant story about how hard work and a clear vision pays off!"
HAIR:
"My mum modelled in a show many years ago and had her hair cut by the hairdresser and stylist
Peter Lux
. Now Peter's a firm family friend, and I never need to visit a salon because he is the very best."
PARTY:
"Head down to the
Bussey Building
(saved in 2009 from demolition) and grab a bite to eat at the
Peckham Refreshment Rooms
en route."
EAT:
"
The Camberwell Arms
(part-owned by the team behind the renowned Anchor & Hope in Waterloo) just opened up at the bottom of my street. This is where you will find me for the next few months."
DRINK:
"Amaretto sour. My friend introduced them to me one night at
Shoreditch House
. I've never looked back."
GIFT:
"Something from MOXHAM, of course! Our
monogrammed leather clips
should do the trick."
Ping He, fashion designer at PINGHE
"London's art and culture is the best in the world. It has given me so much inspiration over the years."
NAILS:
"When it comes to a manicure, I'm not one to enjoy them, I prefer to get my hair done!"
HAIR:
"It has to be
Toni & Guy
. They offer great service, fantastic cuts and blowouts, and are always a reliable team."
PARTY:
"The
V&A
stays open late one Friday each month. They have a live DJ in the grand coffee room."
EAT:
"
Patara
on Fulham Road is my favourite, I just love the food."
DRINK:
"
Harvey Nichols
has a great Champagne bar on the fifth floor. I also like
Galvin at Windows
at the Hilton on Park Lane."
GIFT:
"The
PINGHE Voletta full-embroidery skirt
is definitely at the top of my gifting list."
Amber Atherton, founder of My Flash Trash
"I love wandering the streets of London. Every borough has its quirks and charm. You can go from down by the Southbank feeling a real sense of British pride overlooking the river and Big Ben to pretty Primrose Hill for a more bohemian vibe, and Chelsea for when I'm feeling posh. But, I'm really in Shoreditch most of the time, because there's a creativity there where fashion designers and tech start-ups meet. It's always something new, and always something weird."
NAILS:
"
Nails Inc.
does a great gel mani, but for nail art it has to be
WAH
."
HAIR:
"
Daniel Mikhael's salon
behind Marble Arch is the best. Such a chill vibe and conveniently located next to
Cocomaya
for an après blowdry chocolate fix!"
PARTY:
"The basement at
The Edition Hotel
is fun."
EAT:
"
Aubaine
is so chic. Delicious fish, salads, and the prettiest little cakes for dessert."
DRINK:
"I love a tequila-based cocktail. Medicina Latinas go down a dream at
La Bodega Negra
."
GIFT:
"Jewellery is always a great present option. I love these
new star-sign pendants
featuring the constellation of your horoscope in a cluster of diamonds!"