Spring Fever! 10 Cute Anthropologie Dresses For That First No-Tights Day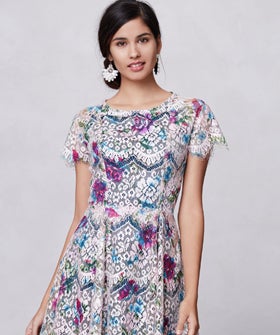 View Fullscreen
There's lots to love about spring — sunny days, alfresco dining, shoving our parkas in storage for the year. But one of the absolute, giddiest feelings is that glorious day when we rock a dress without tights for the very first time. The feeling of non-Arctic air on our skin
more
than makes up for that other harbinger of spring: hay fever (pass the Claritin, please!).
Anthropologie
is a girl's best friend at a time like this. Anthro specializes in the sort of swingy, feminine frocks that look perfect with a simple updo and a cute pair of flats — no mounds of scarves or elaborate layering needed.
From chic, monochrome-striped maxi-dresses to sweet, floral-print minidresses, click on for the 10 best dresses to get you ready for the (long-awaited!) return of spring.