Miroslava Duma Dishes On The One Thing She Loves More Than Fashion
comments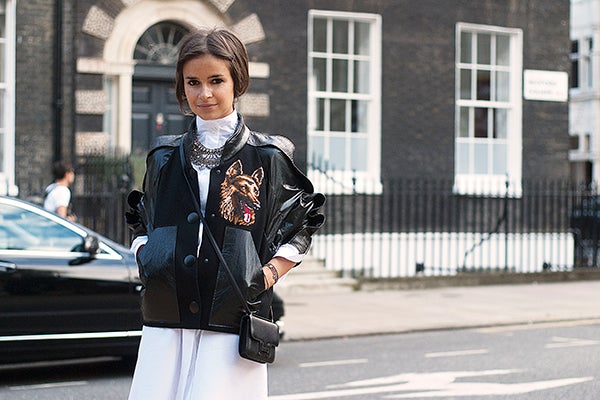 Chances are, if you see a street-style-photographer firing squad forming during Fashion Month, Miroslava Duma will be at its centre. Obviously, Mira, as she's known to her friends, has been famed for her relentlessly chic presence on the international fashion scene, for quite some time now. And yet, we continue to be inspired by her style, time and again.
Translating her innate ability for turning trends into fashion journalism, Mira first caught our eye as an editor at
Harper's Bazaar Russia
, and she's since written for everyone from
Vogue
to
L'Officiel
. Between caring for her young family, furthering her charitable efforts, and digitally taking over the world with her own online platform,
Buro 24/7
, Mira's a busy girl. But we tracked her down anyway, asking her to spill on all things stylish.
How would you describe your aesthetic in three words?
"Experimental, mixed, and playful."
Did you always know you'd work in fashion one day?
"I always loved fashion, even from a very early age. However, putting together outfits and dressing up was just a hobby that I never thought would later lead me to my career path."
So, from playing dress-up to becoming a fashion editor...how did you make that leap?
"At that time, very few people in Russia took risks in dressing like the western world, and this was looked at as some sort of a taboo. My different way of dressing caught the attention of Russian media while I was promoting my charitable organisation,
Planeta Mira
(Planet in Peace) and organizing fundraisers. I was approached by some publications to get involved in a journalistic capacity."
And now you have your own online platform, Buro 24/7. What led to its launch?
"I wanted to combine my interest in fashion with my journalism background and launch something that would be new, hip, and make a difference, which became Buro247.ru. And now, it's one of the largest Internet-based projects in Russia and covers everything from fashion to street style to architecture to culture to the luxury sector to the latest news. We update the site with 25 news items each day, have readers from all across the globe, and we have yet to launch an English version!"
You're one of the most recognized faces on the Fashion Month circuit, but what does a typical day look like, when you're away from the shows?
"Because I have launched a project that is still relatively new, my days end up being very business related. Typically, I wake up in the morning, eat breakfast with my husband and son, answer emails, and then go to the office. I have lunch meetings, and try to finish my day in time to greet my husband when he returns from work and spend some time with my family, which is the most important thing in my life."
What do you think you'd be doing if you weren't working in fashion?
"I knew I wanted to work on a project that was meaningful and would make a difference in this world, so I started Planeta Mira, the charitable fund that I still run. If I wasn't working in fashion, I would go back to dedicating all my time to running the fund."
So many people cite you as their style crush, so we're dying to know: Whose style inspires you?
"I have so much respect for talented and wonderful people like Ralph Lauren, Raf Simons, Christopher Bailey, Nicolas Ghesquière, and Coco Chanel, who have contributed so much to making fashion what it is today. If we talk about contemporary women who work in fashion and have incredible style, then it would be Taylor Tomasi-Hill, Tilda Swinton, and Chloë Sevigny."
Which up-and-coming designers are currently on your radar?
"Of course Vika Gazinskaya, who is my dear friend, and also Ulyana Sergeenko. I also currently love Ostwald Helgason, Josh Goot, and Paula Cademartori."
Can you give us a sneak peek at what's next for you?
"I'm currently working on a few projects with Chanel and Ralph Lauren — but I've got
so
many projects in my mind and in the works, so you just keep following me and you'll know everything very soon!"