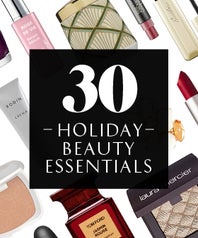 The holidays present quite the conundrum — on the one hand, it's the busiest social season of the year, but on the other, it's unbearably cold out there. We love nothing more than getting all dolled up from our heads to our toes, but we're less fond of stepping outside and having the wind whip our hair into a frenzy, cause our eyes to water into a full-blown mascara meltdown, and chap our skin and lips into a flaky mess.

Lesson Learned. Since looking fabulous and harsh winter weather don't really go hand-in-hand, it's important to arm yourself with primpers that gussy you up and nourishing treats that help protect you from the ravages of Old Man Winter. Here, you'll find our list of holiday beauty essentials to up the glam factor and keep the rest of you from falling apart. Because it's hard to look chic when you're suffering from a severe case of wind-chapped everything.

Like this post? There's more. Get tons of beauty tips, tutorials, and news on the Refinery29 Beauty Facebook page!
Illustrations by Ammiel Mendoza