Devendra Banhart, Misfits, & More Shows To Catch This Week
comments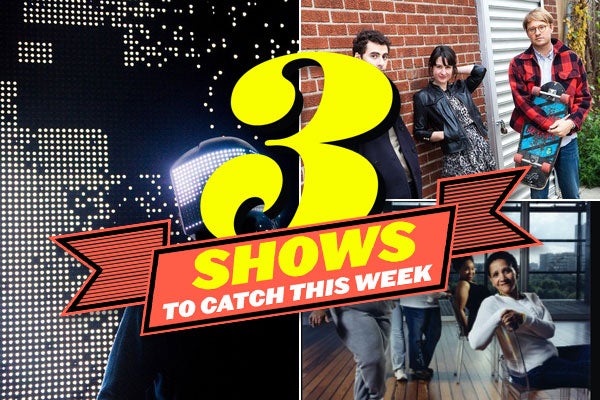 Swans, Devendra Banhart: Music Hall of Williamsburg: October 29, $35
Okay, you guys. So,
apparently this Swans show really is still happening tonight
Update: The Swans show at Music Hall of Williamsburg has been canceled, so don't go there. Or outside, if you can help it.
If you can make it to the Bowery Ballroom, prepare to usher in Sandy with some of the best, heaviest music being made by just about anyone right now. Swans can sound apocalyptic on a nice day in June, so imagine what this is going to sound like with 40 mph winds outside. Be safe, y'all.
Monday, November 3, 8 p.m. Music Hall of Williamsburg, 66 North 6th Street (between Kent and Wythe avenues); Brooklyn; 718-486-5400.
Misfits, With Attack, Heart of the Matter, Japanther: Highline Ballroom, October 31, $35
We're crossing our fingers that the storm will pass us by before All Hallows Eve. Assuming it does, why not spend the night with the Halloween band to end all Halloween bands? While Danzig may have long departed the group, the reincarnated version of the classic horror-punks still put on a great show. "Halloween," "Astro Zombies," and "Vampira" just don't sound as good on any other night.
Wednesday, October 31, 6 p.m., The Highline Ballroom, 431 West 16th Street (between 9th and 10th avenues); 212-414-5994.
Woods, Widowspeak, Purling Hiss: Music Hall of Williamsburg, November 3, $15
The folky beardos in Woods have made a name for themselves releasing some of the most consistently great tunes this side of Neil Young. This year's Bend Beyond, is their most developed album yet, shedding a bit of their lo-fi fuzz without losing any character. Supporters Widowspeak and Purling Hiss are also sure things when it comes trippy, guitar-heavy rock.
Saturday, November 3, 7:30 p.m. Music Hall of Williamsburg, 66 North 6th Street (between Kent and Wythe avenues); Brooklyn; 718-486-5400.
Up for more? Here are some bonus shows:
November 1 : Tom Tom Club and HITS play
Brooklyn Bowl
.
November 1: Freelance Whales play
Webster Hall
.
November 1: ESG and Sinkane play
Bowery Electric
.
November 1: Squarepusher, Bonobo (DJ set), Holy Fuck, Mount Kimbie play
Terminal 5
.
November 2: Grass Widow and Habibi play
285 Kent
.
November 2: Hospitality and TEEN play
Bowery Ballroom
.
Photos: Courtesy of The Bowery Presents