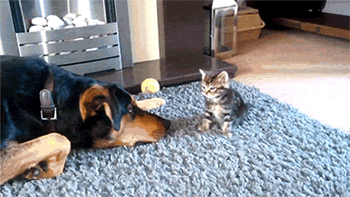 Today is Monday and, as you know, scientific research conclusively indicates that the best thing for your health at this time is to spend a recommended 60 or so seconds watching GIFs of cute animals. Because Refinery29 cares about your health and safety, we are here to provide for you.
Above, a pugnacious dog (not a pug, incidentally, but we'll let that slide) is seen nose-bopping a sweet little kitten. This is also a helpful check to see if you are a living, breathing human being or not. If you don't find this extremely adorable, you may want to seek professional medical help immediately.
P.S.: Shoutout to /u/Sethos88 for bringing this to our attention on
Reddit
.