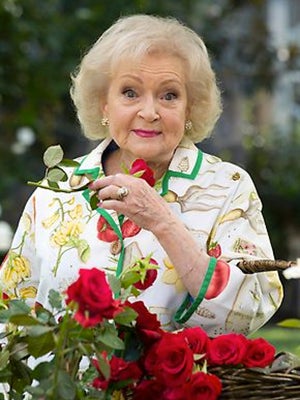 When it comes to aging, no one's done it better than Betty White. She's 91 years old and as cheeky as ever. The stand-out star of the sitcom
Hot in Cleveland
is also the host of NBC's
Off Their Rockers
, which is like
Punk'd
for the mature. Ms. White is the queen of shattering stereotypes of the "elderly". So when Barbara Morris, an anti-aging expert and author, published an
op-ed piece
claiming White's
Off Their Rockers
is demeaning to older people, we couldn't resist unpacking her comments.
"Unfortunately, she is not doing old people a favor with her TV show Off Their Rockers with its premise —a troupe of senior citizens pulls pranks on unsuspecting folks," Morris writes.
"The 'unsuspecting folks' are usually embarrassed young people. The whole idea is embarrassing to a lot of us older folks, too."
Morris argues that White's concept is actually playing into the stereotype of the loony older person.
"It's disturbing to watch the cast of her show behave like irresponsible teenagers," she writes. It'd be great if Morris had done a survey to back her claims up, but the frustration Morris feels — which is the basis of her claim — comes from her gut. She feels the idea that the show plays upon the discomfort young people have while around their elders is a bit awkward, and no group of people want to be characterized as "bumbling."
That said, we'd argue that her problem stems more from a distaste for hidden camera-esque storylines than the fact that old folks are involved. If you don't like seeing people mess around and behave immaturely, then
Off Their Rockers
probably isn't for you. But if you don't mind that stuff and you love Betty White, there's no reason not to love it — plus, there's the added benefit that White is providing one of television's few representations of the elderly outside the two standard tropes of the sickly nursing home type and the wise onlooker. And while we're on the subject, can we just say we'd be honored to be punked by one of the
Golden Girls
? C'mon, it's Betty White! (
PR Newswire
)
Photo: Courtesy of NBC.