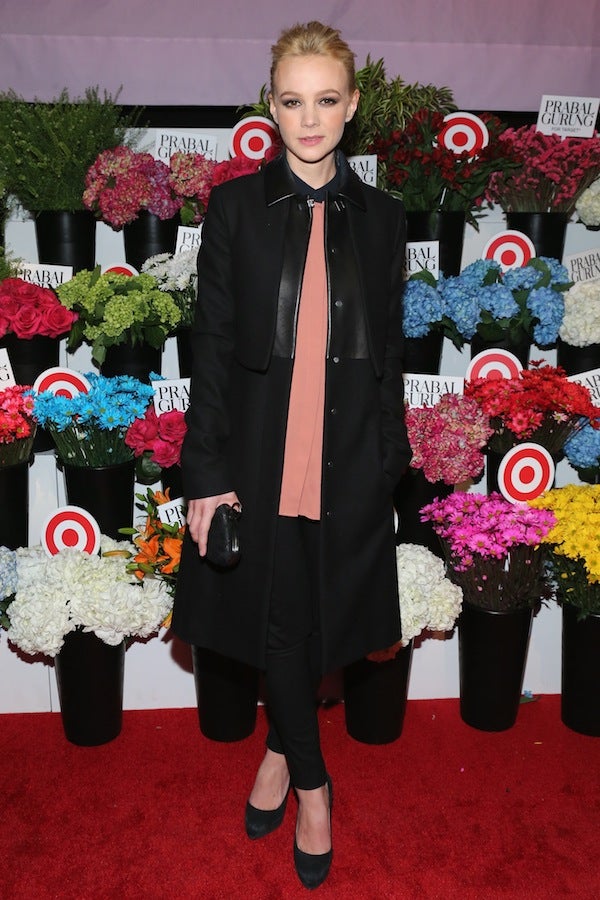 Spotted: Carey Mulligan at Prabal Gurung's show this past Wednesday, looking like she could outshine even Daisy Buchanan in a sleek, polished outfit paired with a — what is that, a new 'do? No, she didn't dye her hair, but we are noticing something different about the Brit's cropped mane. The 27-year-old newlywed has become a bit of a hair chameleon since her break out role in 2009's
An Education
. While she hasn't taken huge color risks like Rihanna or Lady Gaga, she's gone through enough shades that it's starting to take its toll on her precious locks. So much so that we're learning
the Oscar-nominated actress has turned to a special hair supplement
to reverse the damage.
Friends close to Mulligan have said,
"she would do anything to have long, natural hair again, but she can't grow it."
A perpetual good sport, Mulligan has always been happy to oblige directors when a role required a change of hair style or color. For
An Education
she went dark brown; bottle blonde after that for her role alongside Johnny Depp in
Public Enemies
. Since then, she's struggled to grow it back. Rather than get extensions (
have you heard the latest head-scratching news?
), Mulligan has turned to Kérastase Nutrients.
The supplement delivers things we probably learned about in biology class (but have since replaced with cat memes, pop culture, and fashion knowledge) like zinc, taurine, and grape seed extracts. At the end of the minimum eight-week treatment, hair is denser, softer, and healthier. Sounds like a solid result, no? And honestly, if Carey Mulligan, who's been an avid organic eater and ethical clothing fan can get behind this trend (Reese Witherspoon and
Bravo's
own hair specialist, Tabatha Coffey, are also known supporters), we're thinking we could check it out, too. Thoughts? (
The Daily Mail
)
Like this post? There's more. Get tons of beauty tips, tutorials, and news on the Refinery29 Beauty Facebook page!
Photo: Getty Images for Target.