Hey Girl, You Look Tired. Have A Seat.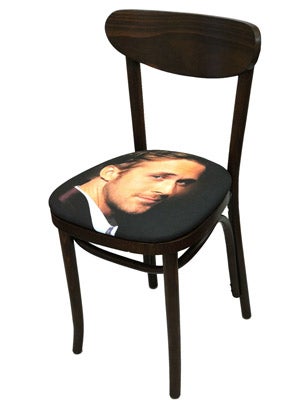 Of all the crazed-fan groups in this world (Twihards and Beliebers, to name a few), we consider Ryan Gosling lovers (Gos-heads?) to be relatively sane — and only partly because we're some of his biggest fans. However, this brand new RyGos chair might just put Gos-heads into the realm of the fully obsessed.
FaceChairs.com
, a new celebrity collectibles company, has just launched a line of chairs with Mr. Gosling's face screen-printed right on the seat, so that...well, you get the idea. For a mere $374 (!), you can have the man of your dreams plastered to your tuchis whenever you please. And if, for some reason, RyGos doesn't do it for you, they've got chairs with George Clooney, Ryan Reynolds, and even...wait for it...Barack Obama. We wonder what the First Lady would think of that.
Photo: Courtesy of FaceChairs.com
Ryan Gosling Face Chair - FaceChairs.com