"Wellness Tights" Want To Massage Your Legs With Or Without Your Permission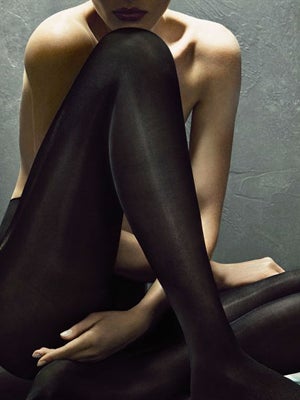 That niche market for clothes that promise to revamp your bod sans exercise just won't go away — and now, it's officially snagged a spot in the hosiery department. Evolution, a.k.a. the world's first "wellness hosiery" by DKNY, is a new brand of tights that look normal but may or may not actually function differently than the leggings you're used to. That is to say, they'll make your gams feel "energized" and like they just checked out of a day spa while you're at work, on the train, wherever.
All-over graduated compression and something mysteriously called "micro massaging" are the tricks to this, erm, wonderwear (had to). Of course, we've never really checked just our legs into a day spa while the rest of us goes to work, so it's hard to say what these might feel like — or if they really work. Either way, we're intrigued, and all we really wanna do is order a pair and try 'em out for ourselves. Can you hear us, DKNY PR girl? (
Racked
)
Photo: Courtesy of DKNY.
Wellness Tights - Compression Hosiery